Huskies battle through double overtime, complete Beanpot three-peat with a 5-4 win
February 11, 2020
It was the best of times, it was the worst of times. In a tale of two NU teams and two BU teams, the No. 12 Northeastern men's hockey team pulled off a miraculous four-goal second period to come back from a dismal first stanza and secure their seventh Beanpot title and first three-peat in program history, 5-4 in double overtime. 
There are few games over the course of the season where there are more eyes on the Huskies than the Beanpot final, this year even more so, with over 17,800 fans representing the highest attendance in Beanpot history. Anyone watching couldn't possibly have been disappointed, as the game was riveting from start to finish with constant swings. Momentum sat squarely with BU for the first period, NU for the second, BU for the third and overtime No. 1, but NU with the second overtime period and the game-winner.
"I thought it was a great hockey game. They pushed, we pushed, they pushed back. Back and forth chances," said NU head coach Jim Madigan, who has now won six Beanpots, three as a player, three as a coach. "From my end, it was a great Beanpot game. I've been involved in a lot of them as a player, assistant coach, coach, I've seen a lot of them over the last 30 years."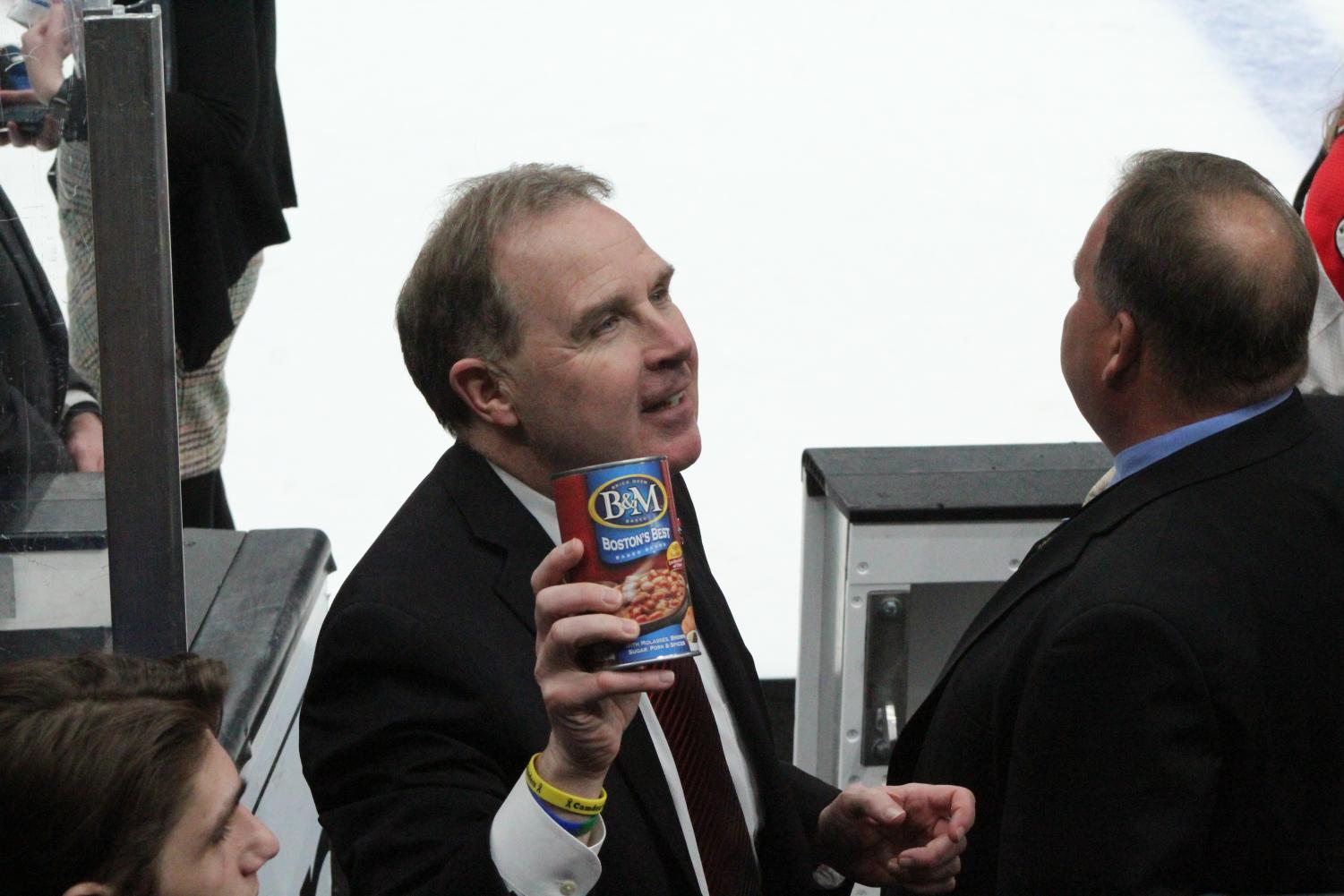 Freshman forward Aidan McDonough and sophomore blueliner Julian Kislin led the way for the Huskies with four (one goal, three assists) and three points (three assists) respectively, while senior defenseman and captain Ryan Shea chipped in two of his own. Fifth-year senior Craig Pantano played a big role for the Huskies as well, recovering from a rough first period to save 40 of the 44 shots he faced en route to the Eberly award for the goaltender with the highest save percentage in the tournament. 
"First and foremost, it is our student athletes who have worked hard and earned this victory… it's always about the players," Madigan said. "For our freshman who haven't won, for Craig Pantano and Brendan van Riemsdyk who are grad-seniors, I'm thrilled for them and the whole team."
The ultimate hero for the Huskies was sophomore defenseman Jordan Harris, who finally brought the second-longest Beanpot championship to an end with a game-winner late in the second overtime period. Harris potted the winner on the power play while junior forward Zach Solow was crowding the net, earning an honorary assist for his screen. 
"[Harris is] an elite player," Madigan said. "He's an even keeled young man, well-balanced and wants to get better each and every day. He's grown as a player and it's good for him."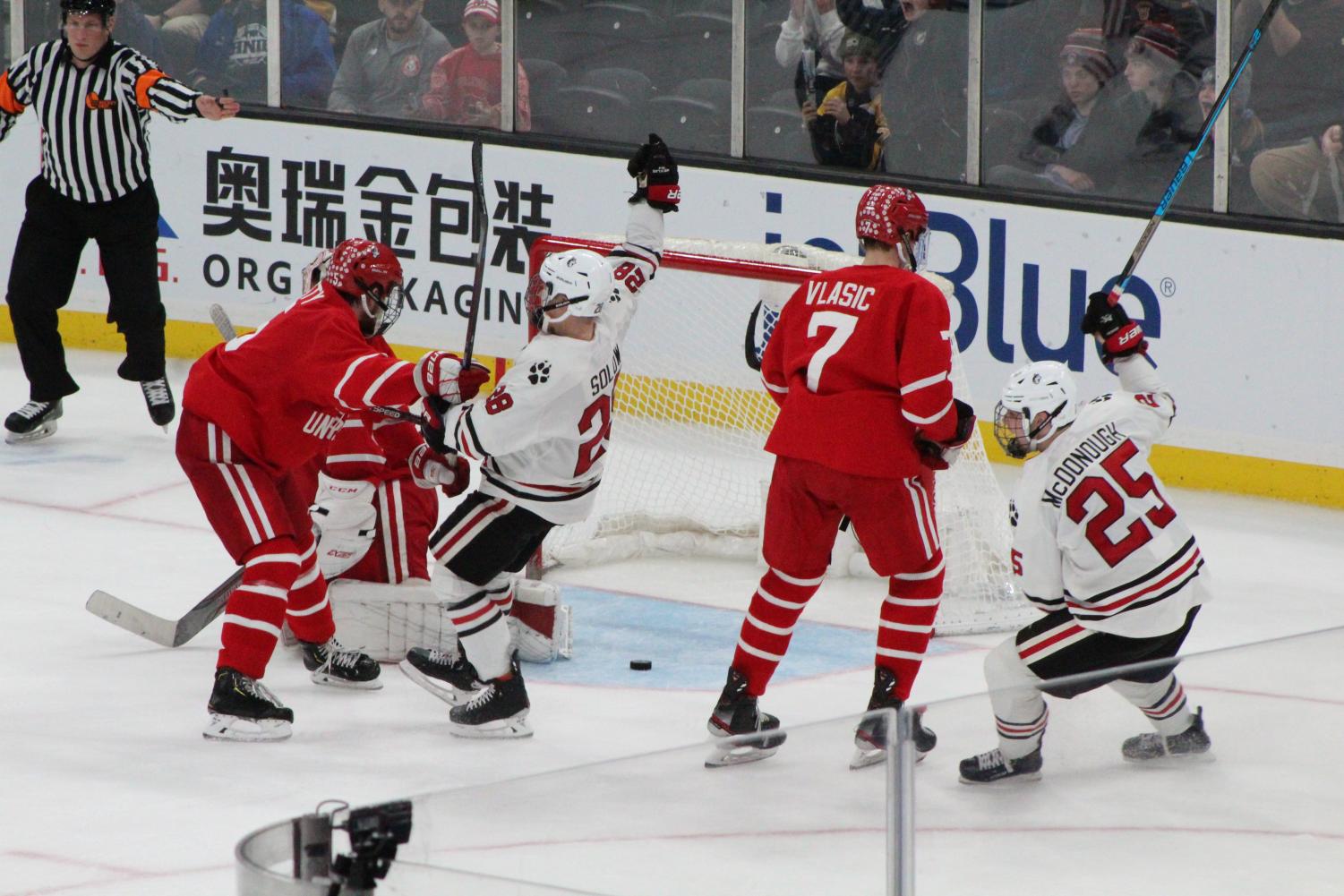 Solow had a goal and an official assist to go along with his 2019 Beanpot MVP trophy. 
"This award could've gone to everyone on our team, that's what makes our team so effective. Every guy plays like an MVP every night and that's what makes us so dangerous," Solow said. "When we have everyone going, we're a hard team to beat. I have to thank my coaches, my teammates and everyone who put me in this situation."
Outside of winning the opening faceoff, NU had nothing going in the first. BU controlled the puck from start to finish, and for over half the period, NU had just one shot on net. While BU didn't look to generate a ton of high danger scoring chances, they completely dominated puck possession and trapped the Huskies in their own zone. 
Fifth-year senior Craig Pantano struggled out of the gate, like the rest of his skaters. On BU's first real setup in the Husky defensive zone, sophomore forward Matthew Quercia sent a shot off Pantano's pads. In a play that seemed to move in slow motion, Pantano could neither cover the rebound or slide to the opposite post to cover the net. Instead, fellow sophomore forward and Massachusetts native Jake Wise got there first, tipping the puck in and taking an early 1-0 lead for the Terriers just under three minutes into the contest.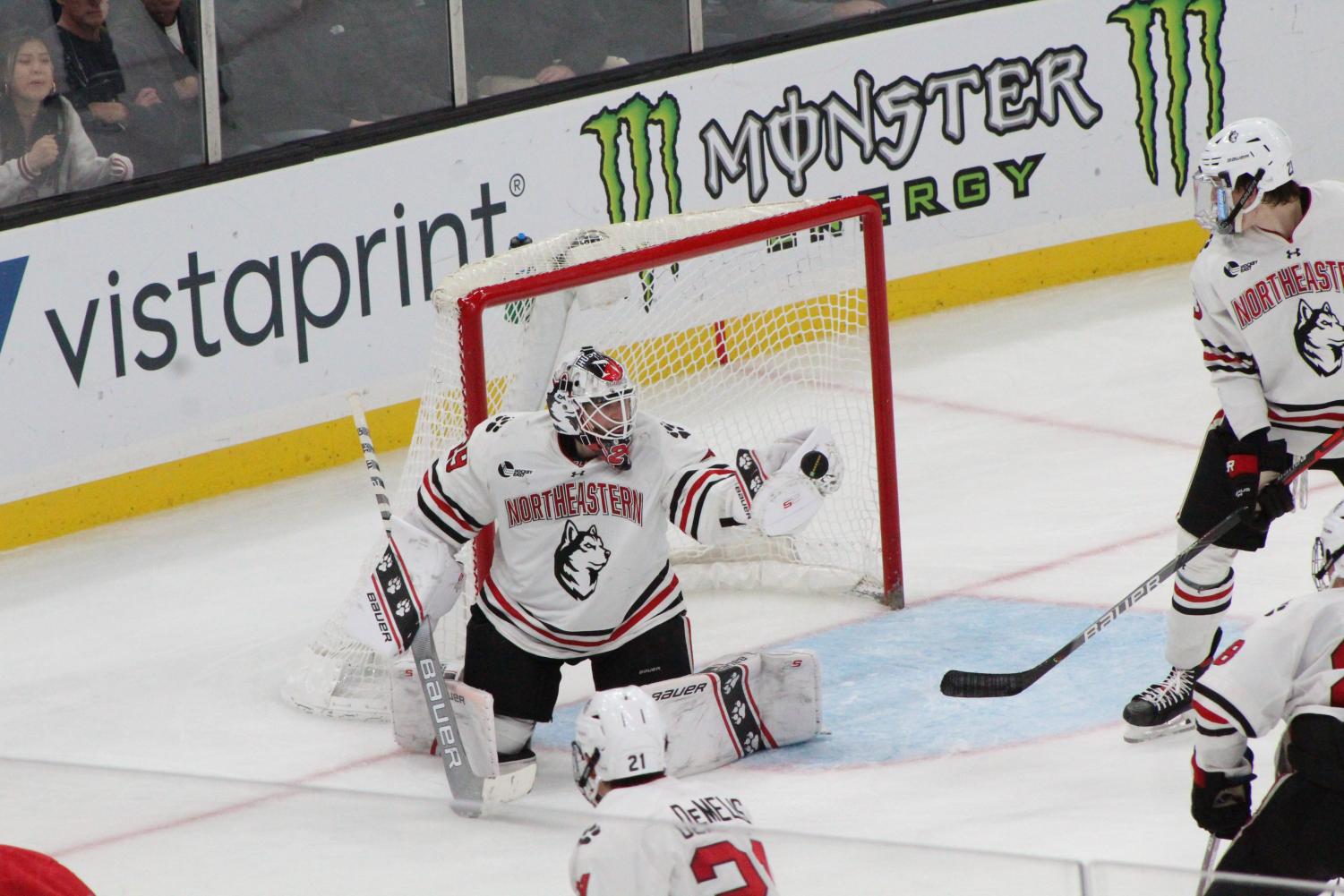 Just five minutes later, with little success from the Husky skaters to show, BU struck again. NU's star sophomore center Tyler Madden was physical with BU from the puck drop, but it proved costly for the Huskies as he picked up a boarding minor. BU's power-play unit took advantage when Terrier freshman forward Trevor Zegras beat an out of position Pantano with a clean, unscreened wrister from the edge of the circle, beating the former Merrimack goalie glove-side to push the lead to 2-0 BU. 
Whatever was said in the NU locker room during the intermission had an impact. In the next period, the Huskies looked like a brand new team, outshooting BU 12-9 but shifting momentum completely. They ran over the Terriers and controlled their zone, limiting BU to minimal shots and kept high danger situations to a minimum. When Pantano was tested again, he came through, flashing the leather, making an athletic kick save and coming well out of his crease to stand on his head and blank the Terriers. 
"Our guys came out and competed harder. We talked about it in the locker room about playing heavier, playing faster and getting pucks below their goal line," Madigan said. "Our go-to guys stepped up for us, Madden, McDonough and that line. It was a good second period for us."
For the skaters, it was an incredible turnaround that showed almost instantly. The four-goal period was kicked off by a fantastic play by Madden, Kislin and McDonough just under three minutes into the second. Madden won the faceoff to Kislin, who snuck a puck through traffic to McDonough, who sent it along to Madden in the slot, where the star centerman could set up shop and cash in with a beautiful wrister to sneak past Terrier freshman netminder Ashton Abel.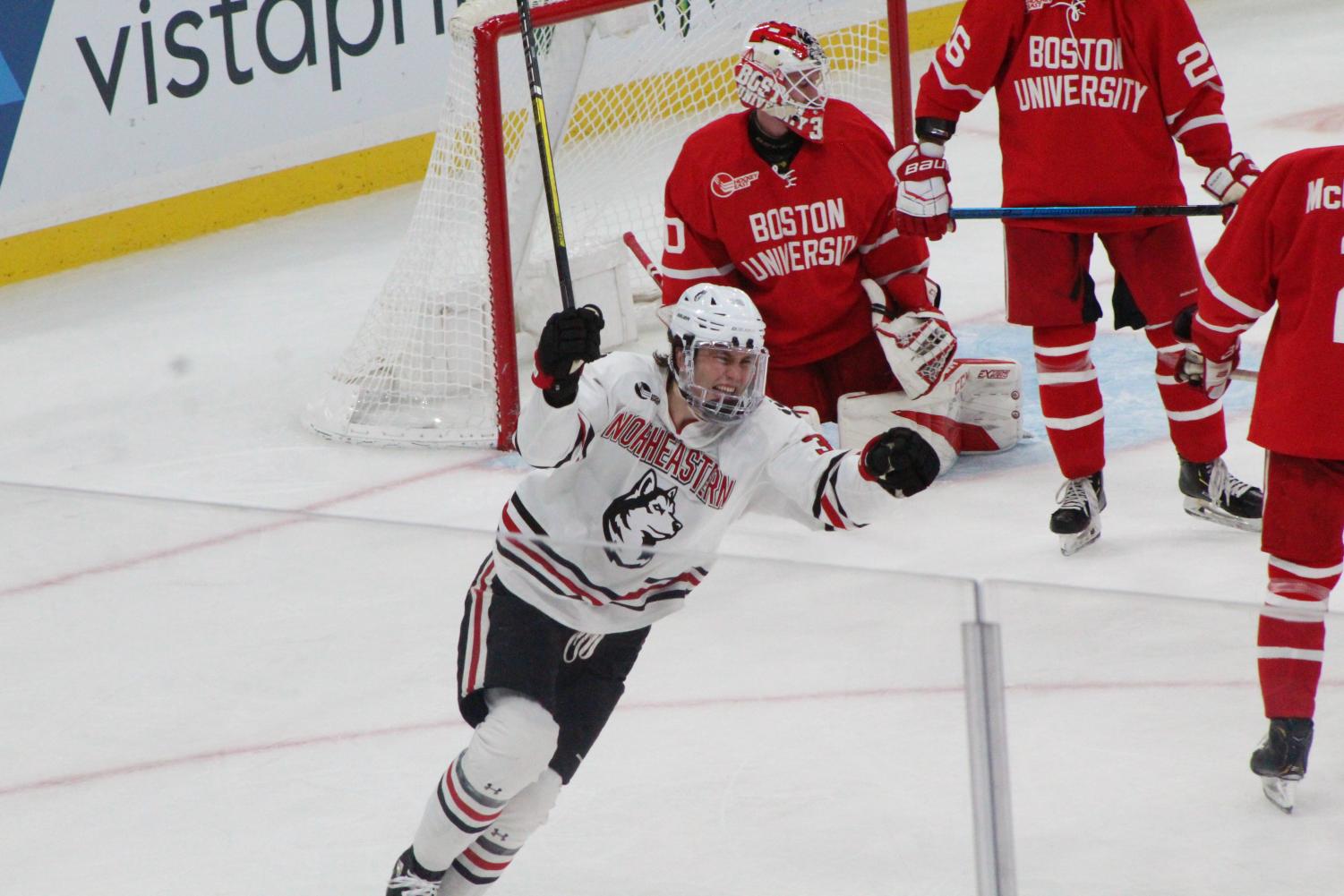 Kislin and McDonough kickstarted another goal just three minutes later. Captain Ryan Shea ripped around the back of the net after receiving a pass from Kislin and hit McDonough in the slot, where the freshman got his second point of the contest with a sharp wrister through traffic and into the net. 
For the fourth game in a row, junior forward Zach Solow got one on the man advantage, this time on a five-on-three to take the lead in the Beanpot, 3-2. Again, Shea and McDonough were involved, each picking up assists on a beautiful passing play that gave another Husky a golden opportunity from the slot, where Solow beat Abel stickside, sending chills through the crowd as the DogHouse erupted in cheers.
"Our student section that we have here gave us a little boost. You don't really think about the situation when you're out there, you're kind of in the zone. You just try to take it one step at a time and hope for the best," Harris said. "There is nothing like the Beanpot honestly. Whenever you get a chance to play on a stage like this, it's unique. Like Ryan said, it's why I came to Northeastern."
Mercifully, Abel's night ended on the next Husky tally. A second power-play goal, this time from senior winger Grant Jozefek to stretch the Husky lead to 4-2. "Sieve" chants rained down from the top level as the NU section shook the Garden celebrating the Huskies' fourth goal in under 10 minutes. As the second period ended 4-2 NU, the mood and the momentum couldn't have possibly shifted any more in Northeastern's direction. 
Despite the wave of NU offense, BU wasn't quite ready to throw in the towel. Under two minutes into the third, they got one back. Junior D-man David Farrance ripped a shot from the point and was given an unofficial assist by a Husky stick, which deflected his shot down and through Pantano's five-hole, bringing BU within just one shot of tying it up.
Abel's replacement, graduate student Sam Tucker, shined for the Terriers, picking up 18 saves on 19 shots as he blanked the Huskies the rest of the way through regulation. His highlight of the game came during a period of two NU power plays in succession, both of which the Terriers killed. In each two-minute stretch, Tucker stepped up and bailed out his penalty killers, most notably on an incredible three-save sequence that left the goalie with his pads sprawled post to post and then laid out with just his chest left to stop a Madden chance, keeping the score 4-3 as BU tried to crawl back in.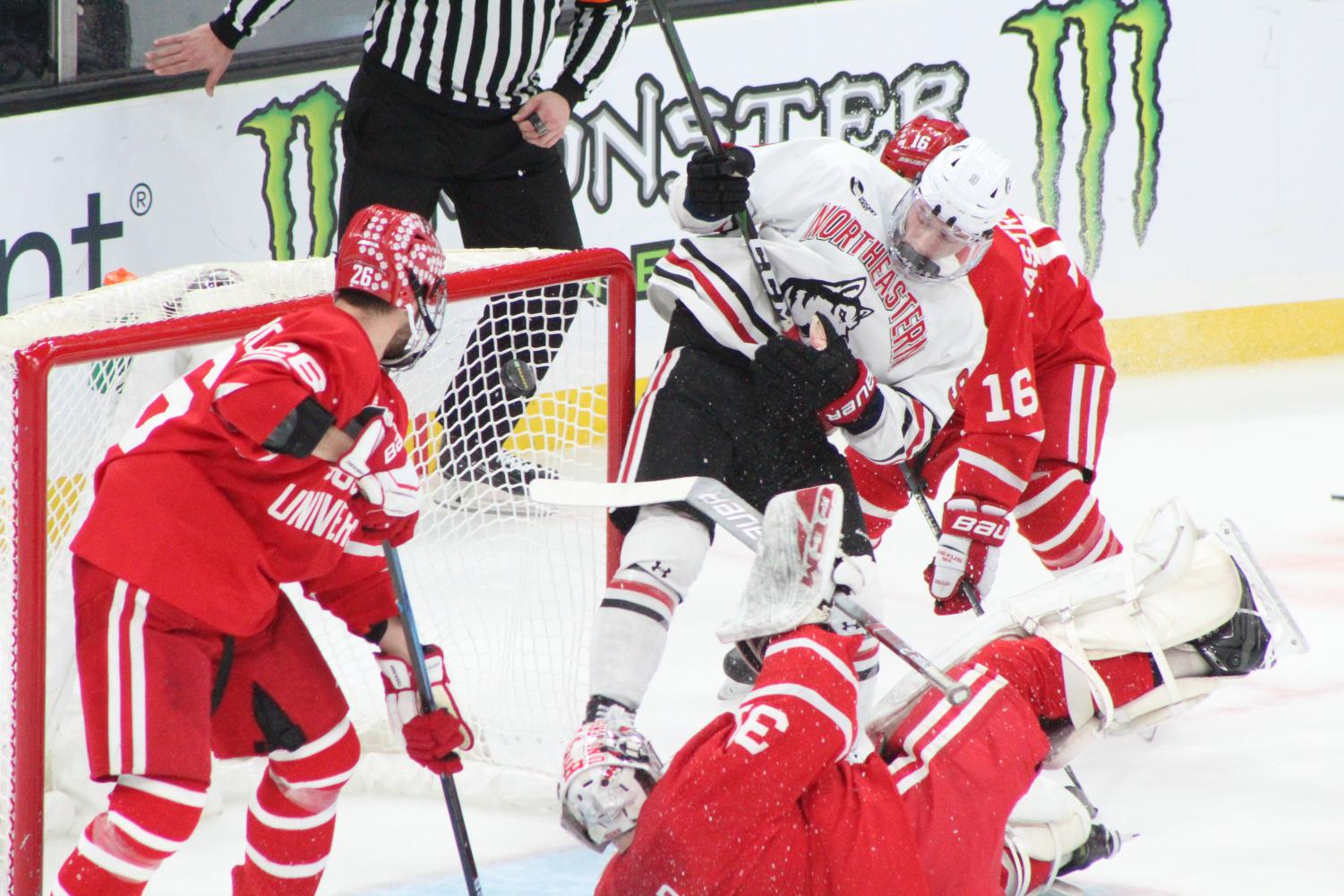 The game remained tight-checked throughout the third, but off the back of some great Pantano saves, great puck-possession and stick-work by the Husky skaters, NU looked poised to hang on to their 4-3 lead while BU roared back to their first period offensive play. 
Instead, the Huskies were foiled by the BU empty net. An amazing keep at the blue line kept the six-on-five chance alive as NU struggled to clear the puck and Pantano made save after save for NU. Zegras just had one shot too many for the Husky netminder, as Pantano's diving attempt with 1.2 seconds on the clock failed and BU's freshman phenom sent the final to overtime. 
"They scored pretty late there; we were a little defeated. The message was just stick together, stay simple, we've been in this situation before," Solow said. "We had a couple overtime games last year at the Garden, so just use our experience, stay simple and make the right plays."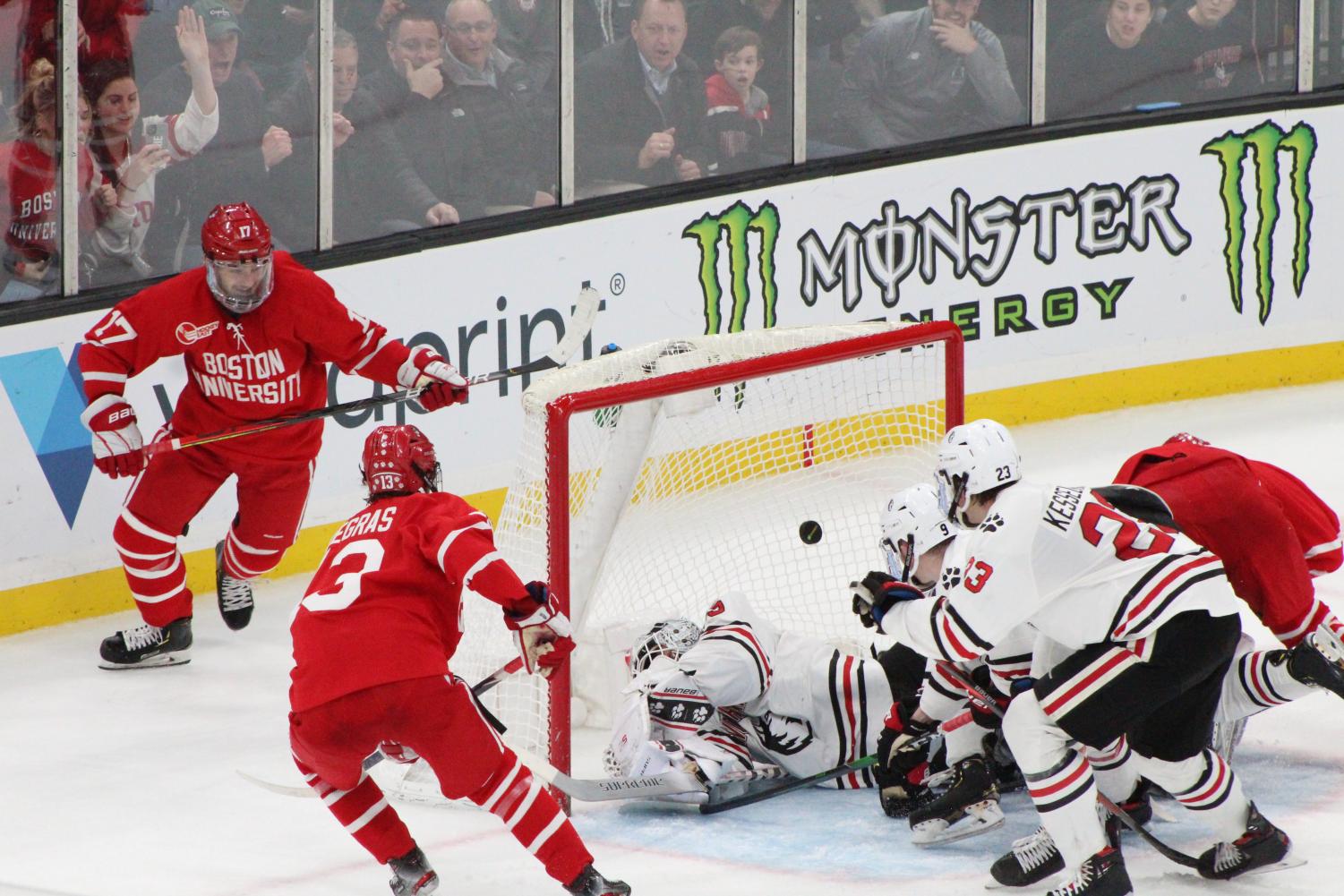 With overtime came a return of the first period Huskies. The Terriers took over momentum and peppered Pantano with shots. The fifth-year kept the Husky pulse beating as NU couldn't find a way out of their zone. Without Pantano's glove, the game would've ended 5-4 BU on numerous occasions. 
Once the Huskies got a little time in their locker room though, the championship energy poured out. 
"I took a look around the room …. no one was worried. Everyone knew we were going to win, not knew, but hoped, believed. We've won two in the past," Shea said. "The winning culture that we built here, that the guys before us have built, it's amazing. Coach said it in between periods twice, this is why I came to Northeastern – I wanted to win a Beanpot."
As the second overtime period began, the Huskies came out of the 17 minute intermission with energy. BU managed to get set up in the Husky zone a handful of times, but Pantano continued his redemption tour after the rough first period and kept his skaters in the game. They returned the favor with some great offensive zone time and plenty of blocked shots. Finally, they truly paid him back with a winner. 
"We got 14 guys on our roster from Massachusetts, so the Beanpot is a big thing. We're a Mass team now and that's great for our kids," Madigan said. "They come in wanting to be part of this Beanpot and win it because they've grown up around it.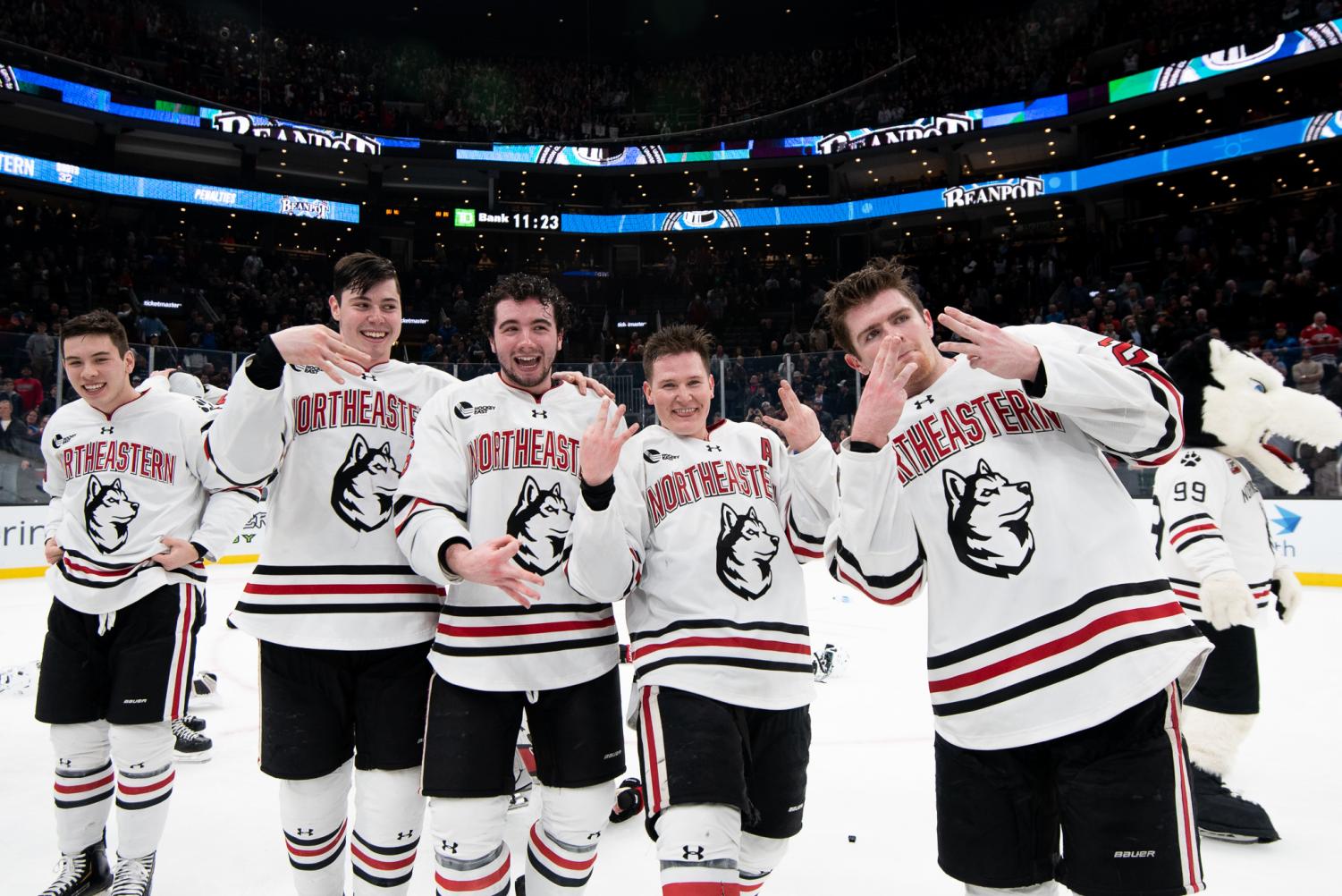 Shea forced a turnover in the Husky zone, took it zone-to-zone and drew a tripping penalty. With 6:42 left in the second overtime, NU jumped on the power play. From the blue line, sophomore defender Jordan Harris turned himself into an NU legend. Harris ripped a shot from the point, Solow was net-front and the six ounce chunk of rubber finally found the twine one more time, bringing NU a hard fought 5-4 double overtime win.
"It is the four corners of the institution. It's our student body who were there cheering us on… it's our alumni, it's our administration, it's our athletics department," Madigan said. "This is another window of excellence into the university. We've got so many great things happening and today is one. It's another window of excellence on Huntington Avenue."