Drought ends: NU wins record 17th Beanpot with MacInnis double OT winner
February 12, 2020
Each Northeastern and Boston University women's hockey match this year has been tight-checked, ending 2-1, 2-0 and 2-1 in NU's favor. This game was no different, besides the fact that it was a double overtime Beanpot final, with NU heading home from Walter Brown Arena with Beanpot glory by virtue of a close win at a final score of 4-3. 
"An unbelievable hockey game from start to finish. Both teams battled, extremely exciting, up and down, fast paced and obviously the crowd was awesome. What an atmosphere," said NU head coach Dave Flint. Tonight's attendance: 1,790, a Women's Beanpot record. 
Until it was over, there was no point that either team truly took grasp of this game. Each period ended close in the shot column. Each period ended tied. For the entire match, both teams were within one shot of the Beanpot title. That shot finally came over three hours after the puck first dropped, from junior defender Lauren MacInnis on the power play.
"A ton of emotions ran through my head. We won, we won Beanpot. I saw my teammates cheering and I was still kind of in shock. It was honestly just amazing," MacInnis said. "It's a dream come true. We talk about it all the time – Beanpot is the battle of Boston. That's what all the Boston teams are battling for, it's just an honor to be able to play in this tournament."
Normally, MacInnis wouldn't even be on the power play, but after junior defender Skylar Fontaine was ejected midway through the second, NU head coach Dave Flint trusted the veteran blueliner with the all important role.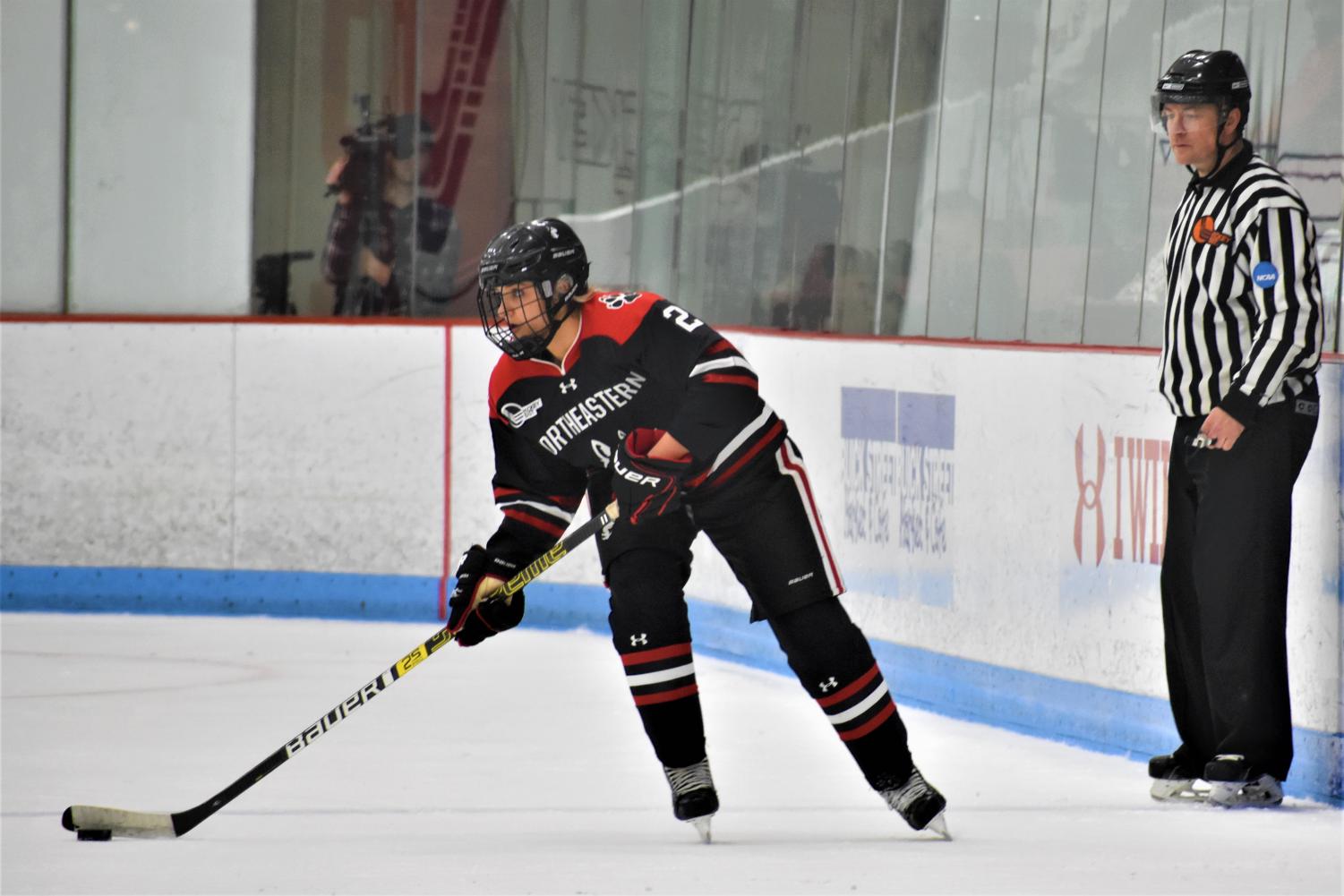 "When Skylar got ejected, we moved Lauren in on that power play. She hasn't been on our power play all year," Flint said. "I made a comment to her out on the ice… it's all that time on scout power play that helped her in that situation."
Also on the ice for the game winner was Beanpot MVP Chloé Aurard. Her two goals were instrumental for the Husky win and she also earned two assists, including one on the game winner. Her linemate freshman forward Jess Schryver impressed as well, scoring the go ahead goal for NU in the third and picking up two assists with the primary on MacInnis' Beanpot winner. 
The game got off to a rough start for NU. When freshman forward Katy Knoll drew an early tripping call in the fourth minute, the Huskies looked likely to jump on the board first. Junior center Kristina Schueler of the Terriers had other plans. Midway through NU's power play, she picked a pass, raced uncontested toward junior netminder Aerin Frankel, who came charging out of her own net on an aggressive play. Unfortunately for NU, Schuler deked past Frankel and picked up an unassisted goal with a back-hander, setting the score to 1-0 BU. 
The Huskies refused to end the period down though, and after much back and forth play with few serious scoring chances for either team, they tied it up. A great effort in the neutral zone by the Huskies prevented a Terrier puck dump and gave sophomore winger Chloé Aurard a chance to rocket down the left wing and rip a hard shot through junior Corinne Schroeder's five hole. 
The completely even period would end tied up in the goal column, 1-1. Neither team took momentum and neither team stole control of the game early, as NU often does by the end of the first. The shot column was nearly even: 10 shots for BU, nine for Northeastern. 
Just under seven minutes into the second, Aurard struck again. The Huskies got the puck behind BU's goal line and ratcheted up the pressure. Aurard waited in the slot as her linemate Schryver fought for the puck. Schryver got it out of the scrum and found Aurard's stick, who then hesitated just a moment before beating Schroeder stick side for her third goal of the tournament. Just like their first goal, it came quick and unexpectedly for NU without much setup in the zone.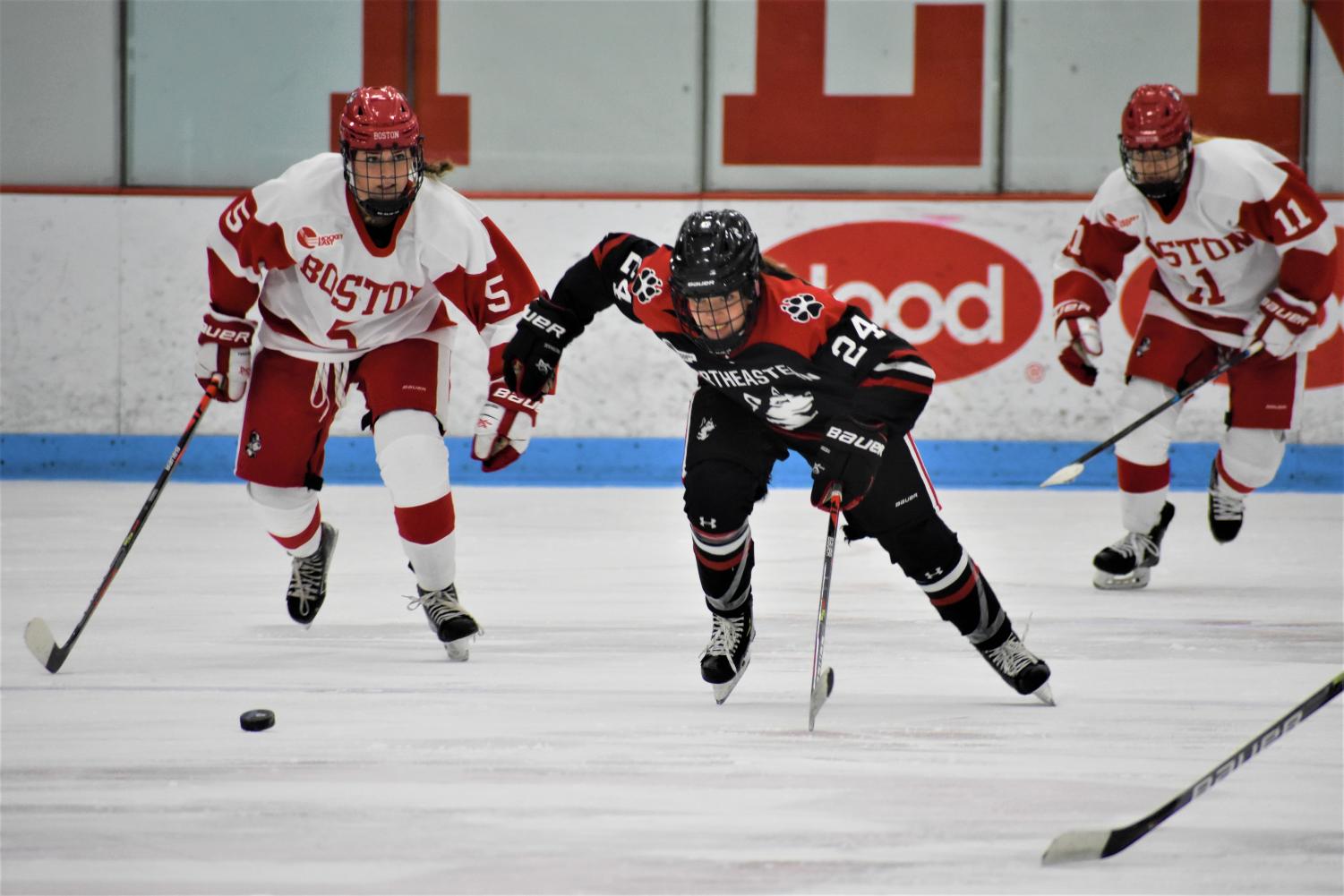 Moments later, NU was on the kill. They nearly cashed in a short-handed goal as sophomore center Alina Mueller had a golden one-on-one with Schroeder, but the Terrier netminder impressively had the nation's fourth best scorer's number. Chaos erupted as Schroeder covered the puck while Huskies and Terriers converged on the net. 
Amongst the scrum, junior Husky blueliner Skylar Fontaine was assessed with a major and misconduct for contacting the head after striking a BU skater high with her stick after the whistle, leaving the D-core down a skater for the rest of the contest. The team rallied though, particularly MacInnis.
"At first, I was really nervous. I've never played that many minutes in a game before and I was pretty tired," she said. "But that is when our mental toughness kicks in and you have to step up, not just me but everyone."
Frankel, the rock of NU's defense, agreed. 
"I think we showed a lot of character tonight. We didn't give up," Frankel said. "We saw a lot of players play some huge roles, like Lauren especially, that we hadn't seen in the past and I think that speaks volume about our team."
The major proved costly. In the remaining three minutes of the power play, BU cashed in with a long shot from the point. Through traffic, Frankel was unable to find senior blueliner Abby Cook's shot and it snuck in, tying the game back up at two goals a piece. Cook, who is third in Hockey East amongst defenders in points, was nearly blocked by two Huskies and two of her own Terriers. NU's best chance at a block was Knoll, whose near-miss left her laying on the ice for a few moments. 
"I thought we went into panic mode a little bit in the five minute major and I think we were a little caught off guard. I thought we had pretty good momentum when we went up 2-1, but then we kind of went back a little bit," Flint said. "Then we had a media timeout and I just regrouped them and told them to relax and to refocus.
"I thought after that they did a really great job. When you lose your best defenseman for more than half the game, that's a tough thing to deal with and they dealt with it like champs."
Just as the first did, the second period ended all tied up, this time at two goals. Again, the shot column was nearly even. BU managed 11 shots on net, just edging NU's eight. Heading into the third, it was still anyone's game. 
"I think through the game, it was difficult," Flint said, describing the challenge of keeping a level head among the raucous crowd. "Our emotions were getting the best of us a little bit… The crowd was really into it and you play with a lot of emotion, which is good sometimes but can hurt you sometimes."
Through most of the final stanza of regulation, the Terriers held Northeastern's high flying offense in check while the Husky defense did their work, as usual. With just five minutes and 19 seconds to go, it looked like the Huskies found that shot on the power play as they moved in front, 3-2. 
A long shift in the Terrier zone allowed the Huskies to get all the gunners up, as they peppered Schroeder with shots. She held strong, but once the puck was loose in her crease, NU seized the opportunity. Schryver was involved in scoring again, but this time, she was the finisher, not the playmaker. The freshman collected a pad-rebound and sent it in, prompting every Husky on the bench to roar in celebration.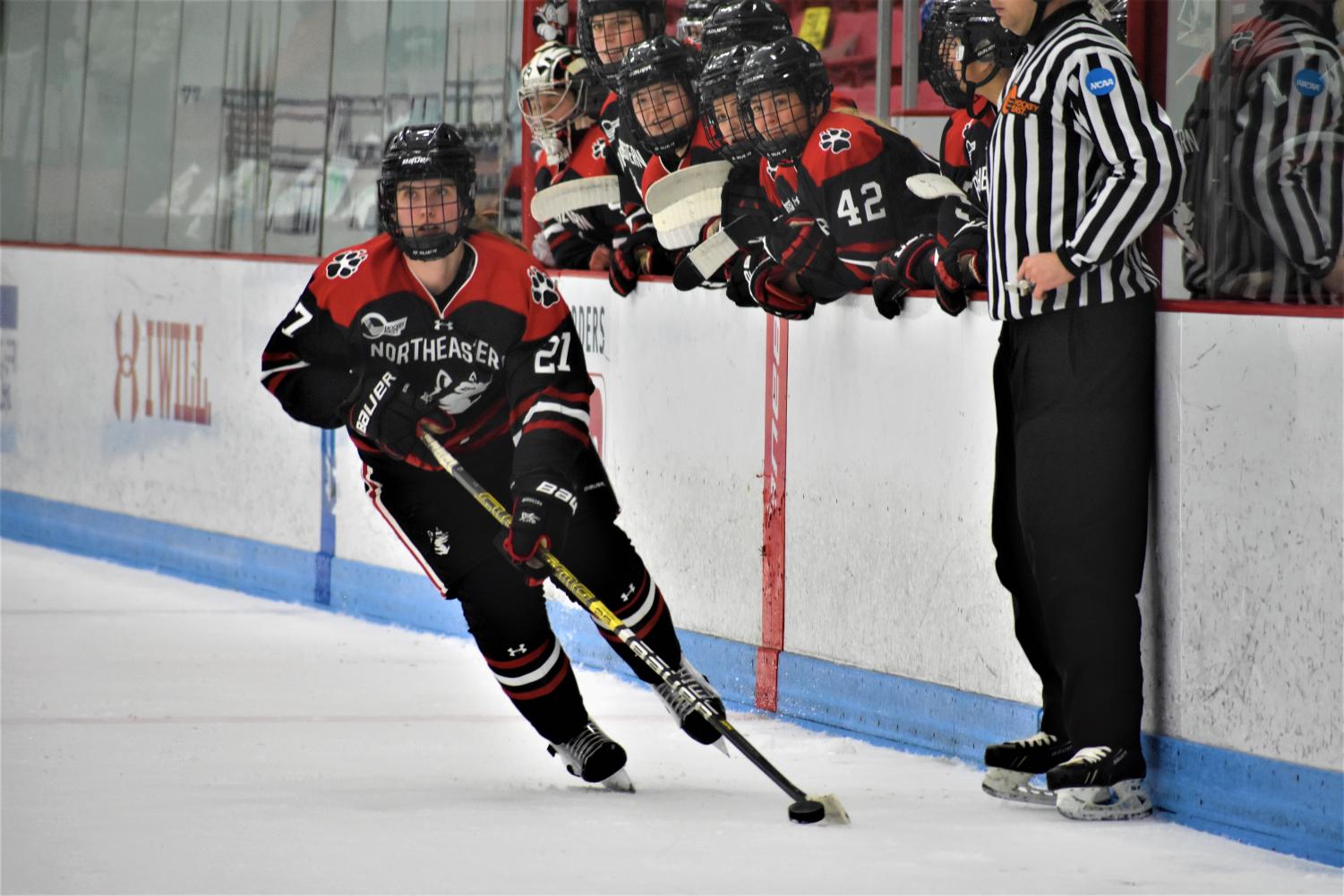 However, the celebration would be short lived. With less than 30 seconds left and an empty net, BU found their way right back into the game. Pressure on Frankel mounted, and a partially saved shot sat comfortably outside the goal line, just long enough for every NU player to take a breath, but not long enough for any to clear it out. BU senior forward and captain Sammy Davis forced her stick in and and clipped the puck into the unguarded net, sending the final to overtime. 
"I always tell myself it's never too late for a team to get a goal back, and that's a perfect example," Frankel said. "It's not a good feeling, but I have all the trust in the world in these guys and they proved why I do."
By virtue of a late third period penalty on BU and a near instant OT penalty on NU, the skaters had plenty of ice to work with as four-on-four action ensured. The extra ice and extra time didn't lift either offense, sending the game into double overtime. At the conclusion of the first overtime period, the teams couldn't have been closer. Three goals each, 30 shots for Northeastern and 29 for the Terriers. 
Throughout the second overtime, both goalies stepped up. Frankel and Schroeder each had major highlights, with Frankel's coming on a game-saving penalty kill midway through the period and Schroeder's coming during a long shift in her zone propelled by excellent keeps at the blue line by MacInnis and senior captain defender Paige Capistran. Frankel finished with 30 saves while Schroeder had 36.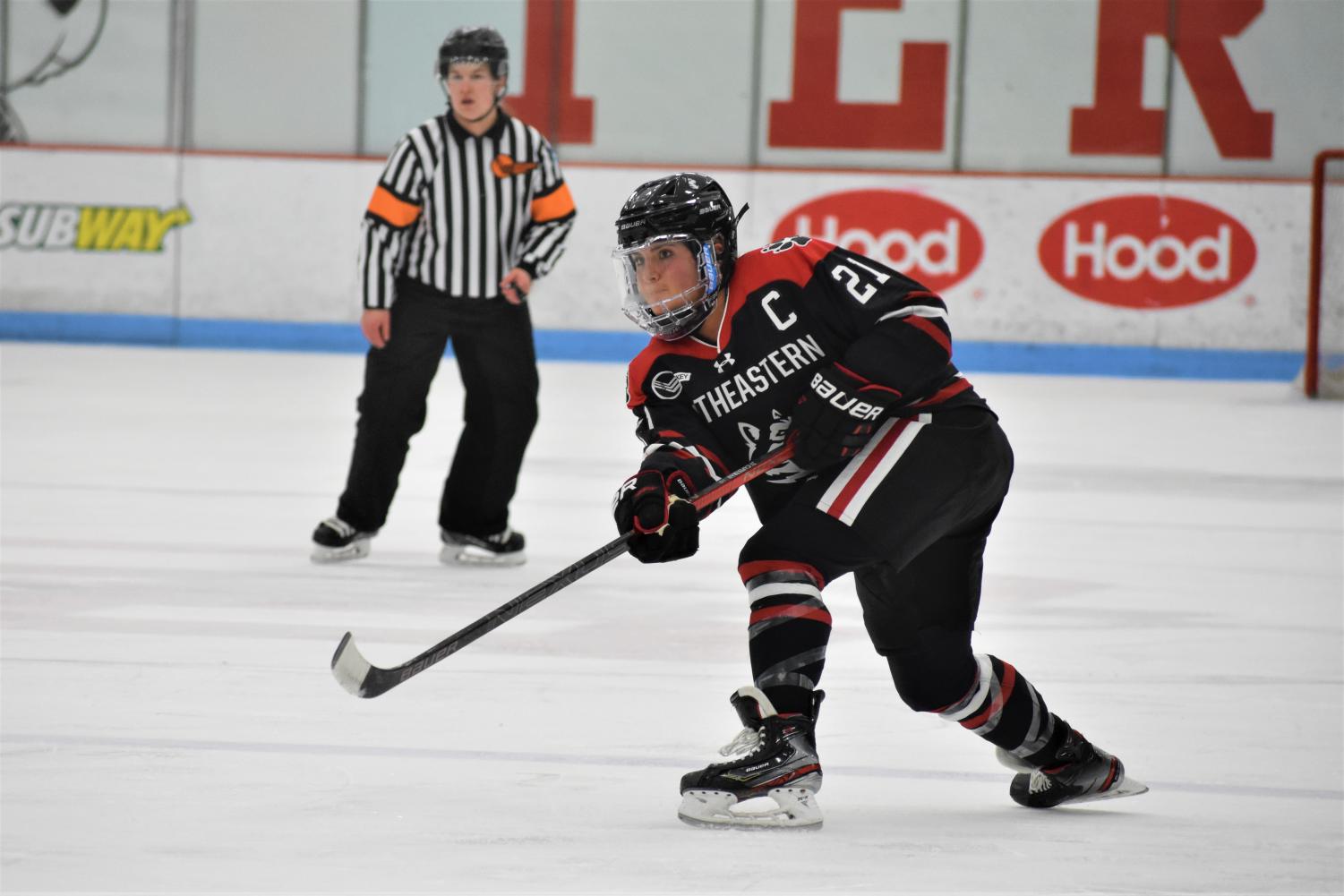 At long last, that one shot finally came. NU jumped on the power play with just over four minutes left in the second OT. The Huskies pinned BU and got to work. Moments later, they were champions of the city. 
MacInnis, the NU hero, caught Schroeder off guard as a rebound skittered out into the slot. Without hesitation, MacInnis seized the opportunity, carving the Northeastern University name onto the trophy and sending the Huskies home with their first Beanpot title since the 2012-13 season. 
"It was on the power play. The puck popped out and it was a scrum in front of the net. I saw it, I shot it to the net. I didn't even look at the net, I just figured something was going to happen," MacInnis said. "I don't think I've ever been that close to the net with that big of an opening… especially never on a power play in overtime."
Aurard, who earned an assist just feet away from MacInnis' game-winning tally saw the whole play, including MacInnis' quick trigger which brought Northeastern the Beanpot. 
"I was right behind Lauren and I just saw her getting the puck on her stick. She didn't even bring her head up, she just shot the puck. My first thought was, if you miss that net… but then, she just put it in the net and it was happiness," she said. 
For the first time since 1988, both Beanpot trophies will spend the year at Huntington Avenue. 
"For us to bring the Beanpot back to Northeastern and do it the same year the men did, it is really a special moment for us, but also the university," Flint said. "It is a tremendous feeling and it is a testament to the program and the school. Hopefully there's many more in the future."