Northeastern student petitions the removal of lead actor from West Side Story revival on Broadway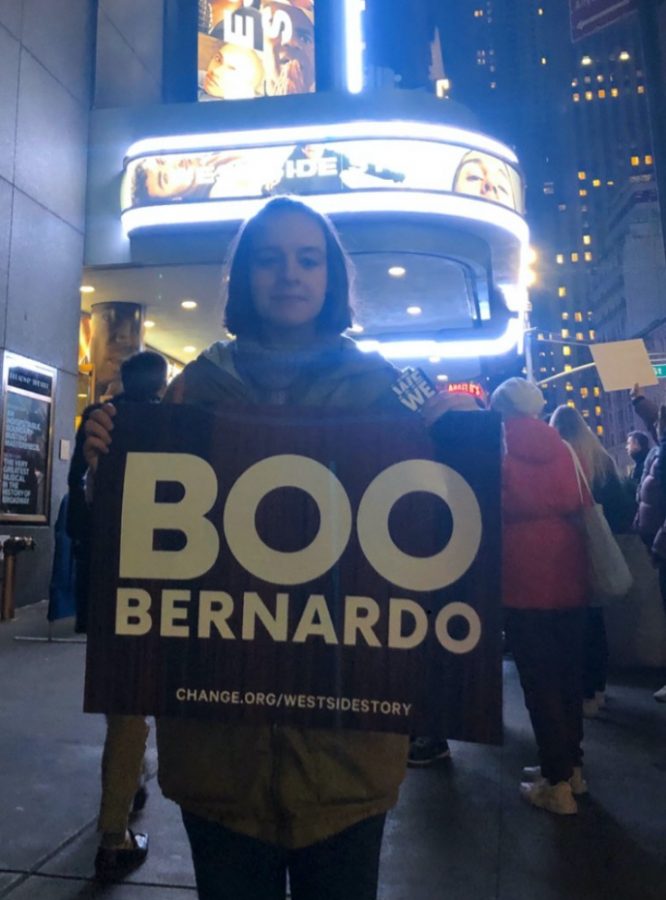 Amid controversy surrounding the current Broadway revival of West Side Story, Northeastern student Megan Rabin was fed up with the lack of impactful action. She knew she had to do something. 
Rabin is the creator of a petition that aims to remove Amar Ramasar, a principal dancer of the New York City Ballet who is accused of sexual harassment, from playing the lead role of Bernardo in the revival of West Side Story on Broadway.
"It just felt like no one was doing anything," said Rabin, a second-year behavioral neuroscience major. "I felt like the only way to take action was through a petition."
Ramasar was dismissed from the New York City Ballet, or NYCB, in September 2018 shortly before being named in a lawsuit alongside fellow principal dancers Chase Finlay and Zachary Catazaro by Alexandra Waterbury. Waterbury had accused the three of sharing explicit photos and videos of female dancers, including herself, without consent. 
However, in April last year, Ramasar was ordered by an arbitrator to be reinstated by the NYCB and was subsequently cast as Bernardo in West Side Story on Broadway.
Rabin created the petition through Change.org in early December last year and it almost immediately gained traction. 
"I would say it started growing right away," Rabin said. "Within a week or so, I feel like it got to about a thousand or more." The petition currently has 25,716 signatures and counting.
Rabin was an admirer of Waterbury from a young age and felt a particularly strong commitment to this cause.
"I grew up doing ballet, and I danced for almost 10 years," Rabin said. "I followed a lot of dancers who were training at the School of American Ballet on social media. I started following Alexandra, and I felt like I had this connection to her."
Rabin contacted Waterbury in her attempt to spread awareness about the petition. 
"Most of our communication was just through Instagram DMs," Rabin said. "She was very responsive."
Along with a campaigner from Change.org, Rabin and Waterbury used the momentum of the petition to plan a protest outside the Broadway Theatre Jan. 31, where Rabin and Waterbury met for the first time. While an earlier protest took place Jan. 24, this was the first one that Rabin was actively involved in.
"That was so awesome," said Rabin. "It ended up coming together like two days before, and so we all went down. It was insane." The protest amassed 40 people and gained significant attention and press coverage. 
"We handed out 400 information sheets, and the response of people on the street who were waiting in line was, 'I had no idea this was happening,' 'Why is this not common knowledge?,'" Rabin said. "People were saying that they would have never bought tickets if they had known." 
There are more protests scheduled to take place shortly, including Feb. 20, the day the revival of West Side Story opens on Broadway.
With Rabin's early dreams about performing with the NYCB, her passion for the subject is clear.
"[The harassment scandal] shattered the image that I think a lot of young dancers created of the New York City Ballet," Rabin said. "I think he doesn't deserve to perform again or to be around young women and to threaten their safety just for him to have his moment to shine."
Rabin is not the only one who has strong opinions about the situation. Carla Mirabal, a fifth-year theatre major who is directing a play for New Renaissance Theatre Company, a theater club with a focus on the representation of students of color, shared her thoughts. 
"I think it's terrible that Amar Ramasar, a sexual offender, is one of the few people of color on Broadway," said Mirabal. "I definitely don't believe that him being a person of color justifies him getting to stay."
Antonio Ocampo-Guzman, associate professor and interim department chair of the Department of Theatre at Northeastern, said he was initially planning on seeing the show. 
"Even though I admire [Director] Ivo van Hove's work tremendously, and was looking forward to seeing his take on this production, I don't think that I will go see it until this person is not in the role anymore," he said. "I wonder what [Ivo van Hove] thinks about it."
While the management behind the revival has yet to release a statement, Rabin is hopeful for the future of this cause.
"The word is that they're starting to squirm," Rabin said. "Now that people are taking notice, I think it's going to get a little more uncomfortable for them to keep him in the cast. I really do believe eventually they're going to take him off the cast. It's just a matter of them seeing all this pressure that's being put on them to do so."
In the midst of the #MeToo movement, this case is not the first example of sexual harassment in the workplace.
"Unfortunately, as you know, this is not a new story," Ocampo-Guzman said. "There's been sexual abuse in the world of theatre, and in the world of dance in phenomenal dimensions throughout generations."
Rabin is committed to ensuring that the accused understand the consequences of their actions.
"In the future, I think it comes down to setting that precedent. Hopefully, if something like this happens again, which it probably will, if not definitely, there won't even be this thought of the ability to continue being in the spotlight and succeeding," Rabin said. "The consequences will be so evident that hopefully it will discourage people from taking advantage of their power."
Rabin said a series of small actions can make change happen. "I think a lot of people sometimes just need someone to get the ball rolling. Any small action can have a big impact."