A first and a last Beanpot: A dream come true for McDonough and Picking
February 13, 2020
The two Huskies have dreamt about this moment since they were young. Both from Massachusetts, the Beanpot was a tournament any young hockey player could only dream of winning. And they did it.
Senior forward John Picking is no rookie to a Beanpot win, he won his first in his sophomore year and another in his junior, despite not playing in the final. Meanwhile, freshman forward Aidan McDonough earned his first Beanpot Monday night in a close final game against Boston University.
McDonough had a stellar performance picking up four points that night: one goal and three assists. 
"I was trying not to think too much," said McDonough. "On the bench and in the locker room I might have been a little bit nervous, but once I got on the ice I tried to block everything out and just play my game and move my feet as much as possible."
Growing up in an athletic, hockey-loving family in Milton, Massachusetts, McDonough learned to skate at the age of 2 and started to play at the age of 5. With the university's prestigious academic opportunities, and him growing up three streets away from head coach Jim Madigan, it was only fitting that McDonough would head to Northeastern.
Picking's father was quick and eager to get a stick in his son's hand and the senior forward started young at 4 years old. After a successful and exciting NU career, in his final semester, he was ready to win one last time and to leave his mark on the 11 freshmen NU picked up this season.
"When you're a freshman, you get to watch the upperclassmen really focus on the little details and the process it takes for them to play at such a high level," Picking said. "Now I feel like I'm on the other side of it, and just talking with the freshmen and every day setting the example for the freshmen."
According to McDonough, Picking is already setting a strong example.
"He's probably one of the best leaders and one of the most hard working guys ever. Really dialed in and detailed with everything he does in terms of eating, sleeping, recovery," McDonough said. "But he's also funny, he has a good dry humor. My roommates and I love spending time with him because you always get a good laugh. Really smart guy too. I always like to pick his brain about nutrition and stuff like that because he knows everything."
For Picking, the feeling is mutual:
"He's a really funny kid, he keeps the energy and the mood light," Picking said. "But when it's time to work, he likes to put his work in. Definitely a big jokester, he's your typical Massachusetts kid."
He's a typical Massachusetts kid who couldn't contain his excitement about playing in his first Beanpot tournament.
"[I'm] really excited, I would say over-the-moon excited," the freshman said before the tournament began. "Also a little bit nervous. As it gets closer I'll get a little more nervous. But I'm really excited, and I don't think we're going to need any extra motivation to gear up for the game. I think we'll all be moving our feet right from the puck drop."
What, like playing Harvard is hard?
The puck dropped at TD Garden Monday, Feb. 3, and the Huskies stomped out the Crimson 3-1. In McDonough's eyes the win was not their strongest of the season.
"I was definitely a little bit nervous and excited for the first few shifts of the period," McDonough said. "Obviously wasn't our best game, but I think it shows a lot about our team and how we can still come out with that big win."
As for what they could work on for the next game: "The little details," Picking said. "Not turning the puck over, not letting the other team transition quickly."
What didn't need to change was their religious pre-game ritual: A pasta and meatball dinner at sophomore defenseman Jordan Harris's house. For McDonough, a consistent wake up time, a smoothie from Panera and morning stretches. For Picking, a pre-game nap, a coffee on his way to the rink, three waters before the game and more, a system he's got down to a science.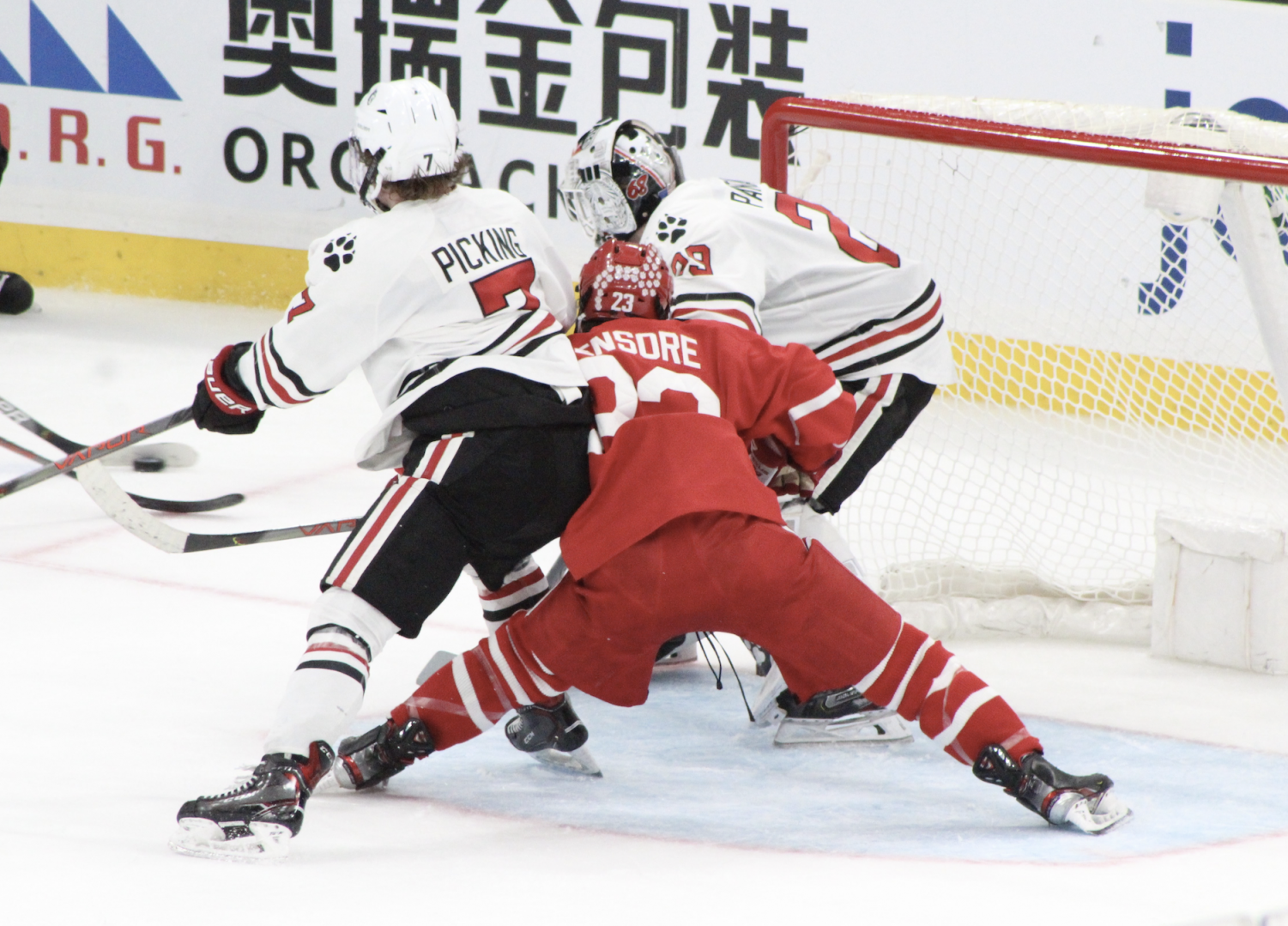 Despite not securing as resounding a win as they desired, the atmosphere and the stadium added a surreal moment to their careers.
"It's a bigger crowd, a pro rink, a pro arena and the lights are really bright. We watch the Bruins all the time on TV and we're playing in the same rink," Picking said. "It is a little intimidating but it's also really fun, and I think it heightens a lot of guys' games. I know it does for me, I always feel more energetic and more focused when I play at the Garden."
The Garden was full of support from family, friends and the DogHouse.
"We had so many friends and family in the stands and obviously the huge support from the DogHouse was awesome," McDonough said. "Just looking up and seeing all of them there, knowing they have your back and that they're there cheering."
Both players had large personal support systems and were excited to see more in the stand come the next game of the tournament against BU, with Picking's parents flying in and McDonough's local groupies coming from all over the area.
"It's a little bittersweet," the senior said about his last Beanpot game. "But I just really want to get Northeastern's third win in a row. I couldn't be any more stoked, and I can't wait to get it done."
Sucks to BU
In double overtime and in the second longest championship game in Beanpot history, the Huskies returned the Beanpot trophy to Huntington Avenue.
"It was probably the best game I've been apart of," Picking said. "A really memorable game. Beanpots are always really close, but with them scoring at 1.2 seconds and then us coming back in overtime, it was a back and forth game. It was really exciting and fun and I had a blast."
The Huskies took off in the second period after a lame first period and scored four of their five goals in those 20 minutes.
"We definitely refocused and regrouped," McDonough said. "Our upperclassmen, our coaches and our captains really calmed us down and said 'We still have a lot of game to go, we still have 40 minutes left and a lot of hockey.' We went back to our game plan and did what we knew we had to do."
After Madigan's speech and traditional jump off the team's jersey case, the best way to celebrate their three-peat was together as a team.
With a Beanpot win under their belts, the team was back to practice, focused on their next game against UMass Lowell and with their eyes on another Hockey East Championship. 
"This win is really important, it launches us into the end of the second half of the season and we have a lot of important games coming up," Picking said. "Now we know how hard we have to play and what it takes to win."
McDonough's next three years of his NU career are full of promise, and Picking has no doubt that he'll step to the plate.
"He's got a lot of skill and he's got a good mindset, so I think that stuff comes natural to him," Picking said. 
As for advice: "Keep getting better everyday, watch the older guys, see what they do day in day out."
Drafted in the seventh round by the Vancouver Canucks in 2019, McDonough plans to finish school and play for the Canucks.
For two hockey players from Massachusetts, on the first two Mondays of February, a childhood dream was reached and a three-peat was achieved.
"It was everything I'd ever dreamed of," McDonough said.