No. 4 women's hockey punches ticket to Hockey East final with 3-1 nail-biter over Maine
March 7, 2020
It's the playoffs, anything can happen. That's the mantra hockey coaches across the world, No. 4 Northeastern head coach Dave Flint included, preach throughout a postseason run. For two periods, it looked as if the Maine Black Bears would continue their upset run to reach the Hockey East Championship game for the first time in their program's history. But then, the third period happened.
After trailing 1-0 since nearly the beginning of the contest, NU turned it on in the third and completely took over momentum to win the game 3-1. They trapped the Black Bears in and pelted senior netminder Carly Jackson with shots, outshooting Maine 18-5 in the final stanza. Jackson had been lights out all game, but finally, sophomore center Alina Mueller and junior defender Skylar Fontaine broke the Black Bear dam.
"I give [Fontaine] a lot of free range. What makes Skylar Skylar is that she's so dynamic and so creative, so I don't want to stifle that, Alina too," Flint said of the two Huskies that scored NU's three goals. "Alina is one of the smartest hockey players I've ever coached. You just kind of let those players go and do their thing. As long as they're staying within a certain structure, we let them go."
Fontaine kicked off the scoring for NU with an early third period goal on the power play, which the Huskies desperately needed to claim momentum back from the Black Bears. Soon after, Mueller capitalized after being denied by Jackson all afternoon, scoring the eventual game-winner. Fontaine provided the final nail in the Maine coffin with a last-minute empty-netter. On Fontaine and Mueller's first goals, the other picked up an assist.
"They've stepped up time and time again for us. We had a lot of players that step up, but they drive us. When Alina scores a goal, we're 21-0, now 22-0," Flint said. "That tells you how big it is, and the team feeds off her energy. Skylar, she's so dangerous when she's on the ice. She stepped up today in a huge way for us."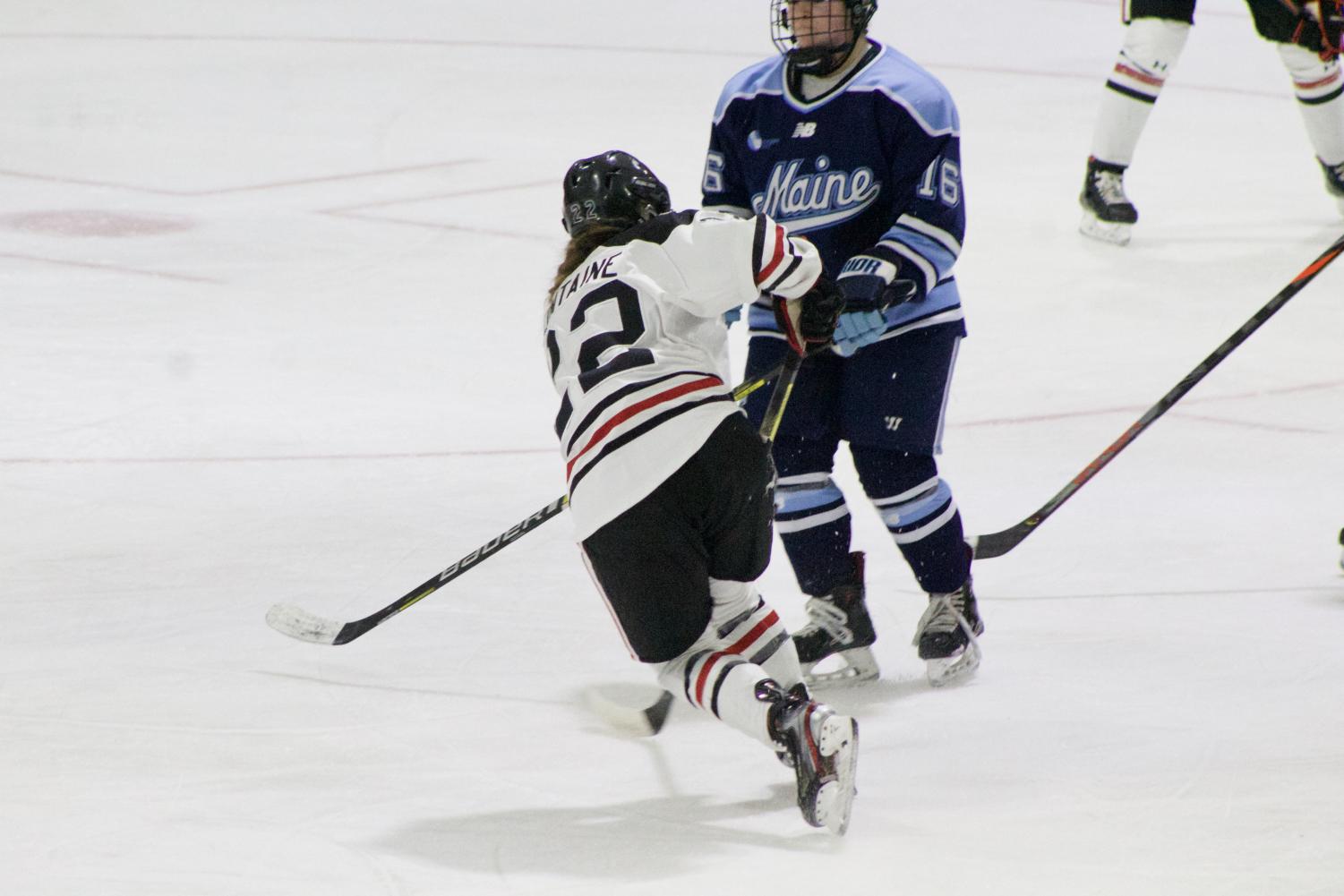 Against Vermont during the quarterfinals, NU struggled to open games hot, and in the frigid Lawler Arena, their struggles continued. Four minutes in, with neither team getting much going, freshman forward Jess Schryver was called for tripping, sending Hockey East's second best power play onto the ice. It didn't take the Black Bears long to capitalize.
Barely 10 seconds into the power-play chance, sophomore blueliner Ida Press put Maine up 1-0. The Black Bears moved the puck well from board to board as players cycled along the point. Once Press got it at the top of the zone, she faked a slapshot as the front of the net became cluttered with skaters. After her fake, Press opted to rip a wrister rather than pass it off. The puck found its way through and went bar down, just sneaking past junior goalie Aerin Frankel, who finished with 20 saves in the contest.
"It was a nice shot. It had eyes to get through the screen and get in the net," Flint said.
After Frankel's lone mistake of the evening, the Hockey East Goaltender of the Year locked in, matching the performance of her adversary across the ice. With just under seven left in the first, the puck hovered just above Frankel's crease for a long 20 seconds as the Black Bears and Huskies fought for the puck. With her pads pinned to the ice and her eyes glued to the puck, Frankel was able to fight through the confusion and keep the Black Bears to one goal as her skaters began to gain momentum.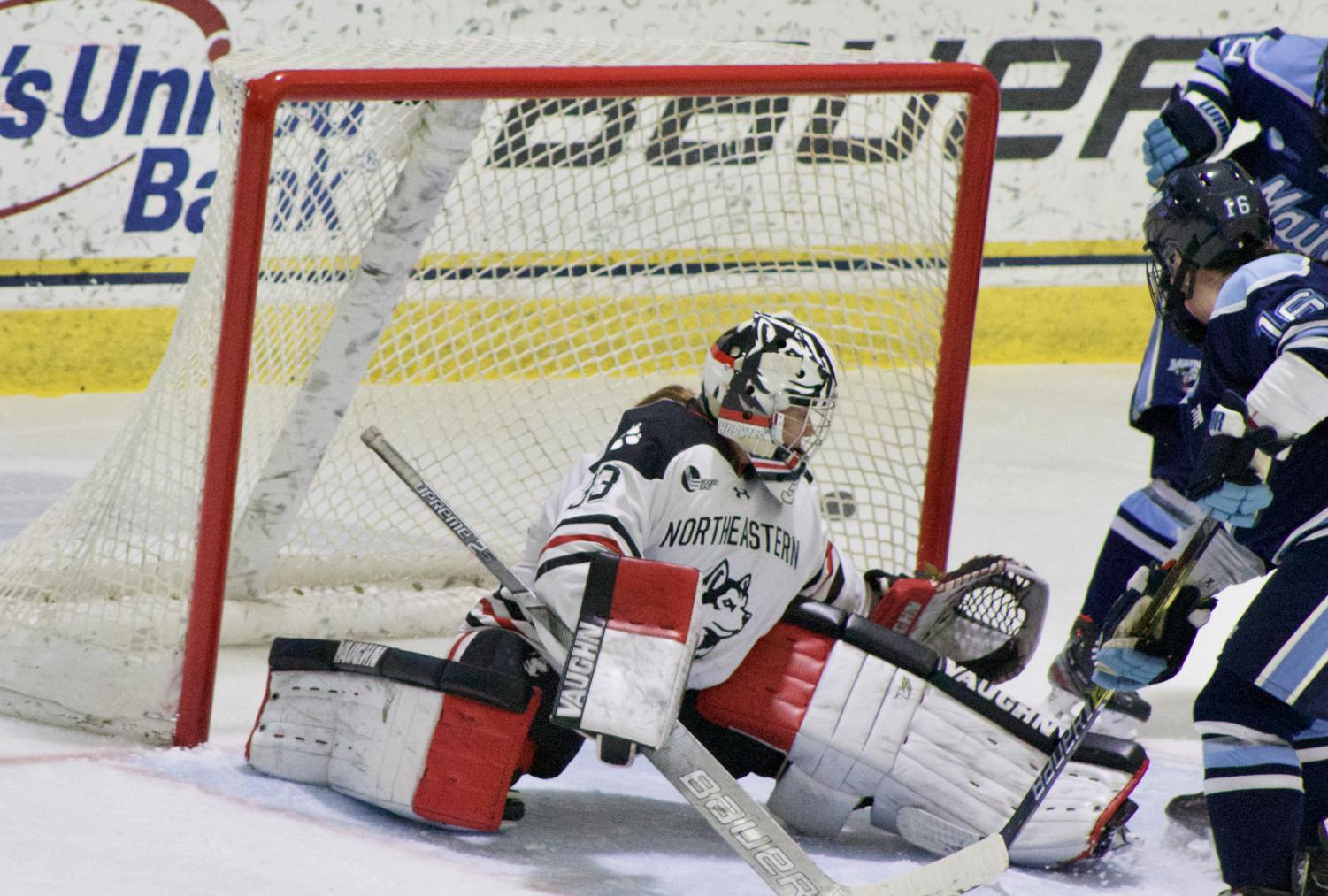 Heading into the first intermission, the Huskies had finally begun to shake off their slow start, so it seemed. While NU outshot the Black Bears in the first, 12-9, Maine looked to be the stronger team, keeping NU hemmed in their own zone.
"Our philosophy has been the same all year, and I think that was the key for us last weekend. Two years ago we made a bit of a mistake and hyped up the weekend too much. This weekend we just stuck to what we did all season," said Maine head coach Richard Reichenbach. "We try to attack in our D-zone, and put a lot of pressure on them defensively. We try to be smart on the forecheck and get people in different lanes where we can get turnovers high in their zone or neutral zone."
The momentum gained at the end of the first didn't carry over much into the second. For five minutes, neither team managed a shot on goal. NU's first shot came on a golden scoring chance, one that the Huskies have finished countless times this season, but were denied on this time around.
Sophomore forward Chloé Aurard made a strong defensive play to kick off a breakaway, while her linemate Mueller blazed down the ice to generate a two-on-one. Aurard made a smart last-second backdoor pass to set up a near open net for Mueller, but Jackson made a brilliant sliding save to shut down the Patty Kazamier contender with her pad. Jackson's play was phenomenal throughout, and she finished with 35 saves to punctuate her spectacular playoff run.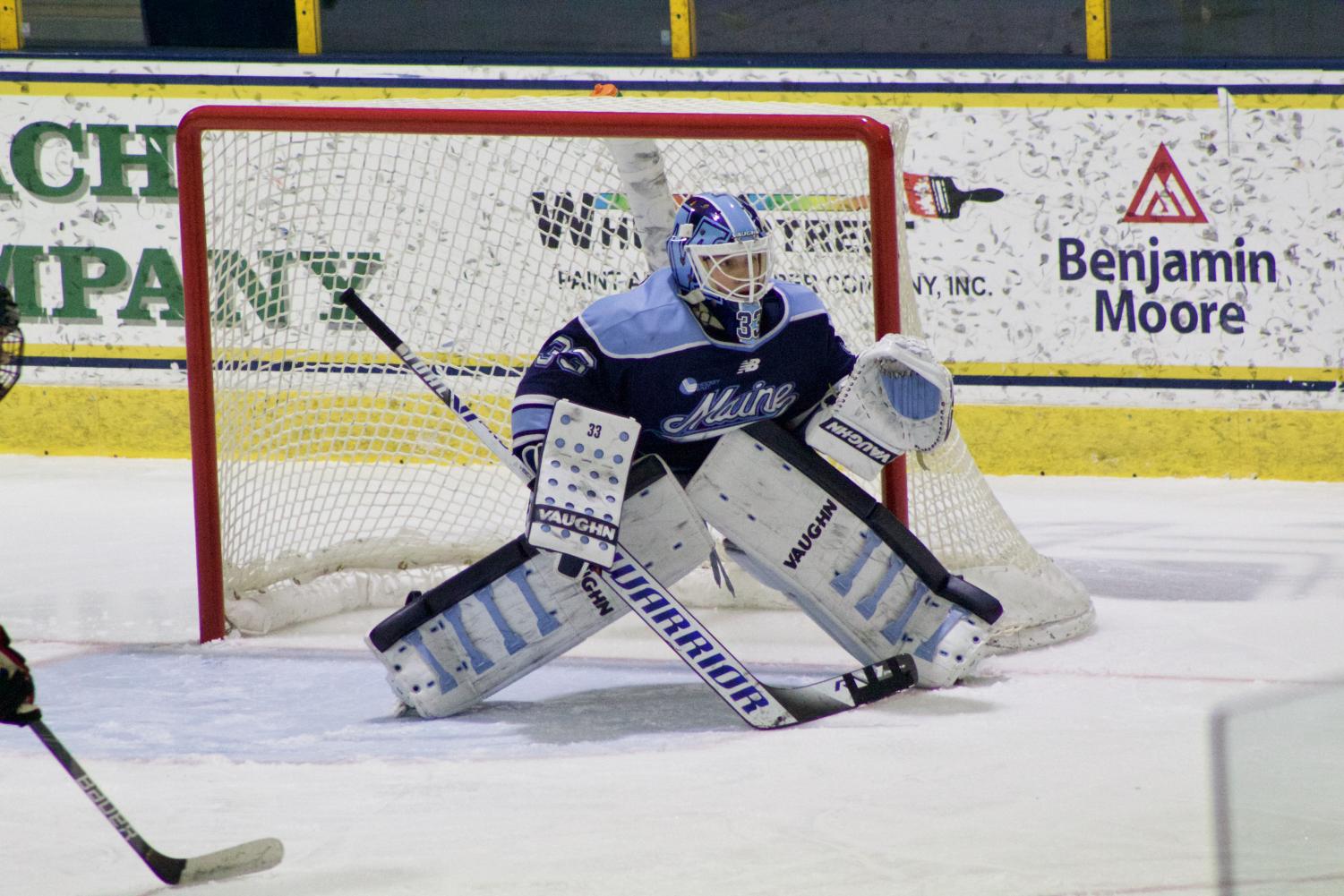 Jackson turned away Mueller on another two strong shots during the second, once with her glove through traffic, and another with her pads. Mueller looked to be bearing down on the Maine net and like her last attempt, it looked wide open after Jackson cleared her crease with her stick. Again, a pass came to Mueller, but again, Jackson closed the net down at an astounding rate, kicking the top-notch scoring chance out and causing Mueller to stare at the ceiling.
"She played great. Both times, I got nice passes from my teammates. I one-timed it twice and she came over very well. She robbed me," Mueller said of Jackson's initial denials. "I tried to keep calm. I knew there was a lot of game left, and I know we are a strong third period team. Luckily, it went in on maybe my eleventh shot."
In the third, the Huskies began to finally get their revenge on Jackson. On a power play to open the third, Mueller and Fontaine shuffled the puck at the point as traffic began to clutter the shooting lanes and get into Jackson's eyes. After waiting patiently, Fontaine took a nearly invisible shot through the screens, and at long last, the puck struck the twine of Maine's cage on a shot where it looked like Jackson couldn't even glance at the puck.
"It felt great, we were working hard all game and kept getting pucks to the net, but it didn't seem to be working for us," Fontaine said about her first goal. "Finally, to get that one in, it was a nice release for everyone on the team. I think it made our entire team and bench more lively."
After Fontaine's goal, the Huskies completely took over the contest.
"I think we got ramped up. We played a little looser after we got that first goal. I think everybody was like 'Ok, we're good now let's get rolling.' I think Maine went back a little bit too," Flint said. "Maine was feeding on energy, since they got the first goal. They defended really well, blocking shots and doing a lot of good things. That goal went in early in the third, and kind of took the wind out of their sails and put the wind in ours.
"Our team has been pretty resilient all year, so being down a goal going into the third… I went into our locker room and I could just tell by our demeanor that they were confident in each other."
Reichenbach agreed, highlighting how the pressure of the playoff contest may have affected his players.
"We just haven't been in a lot of situations like this in our program's history," he said. "We were wavering a little bit back and forth between feeling the moment and going back to our gameplan. After they scored that second goal, it kind of knocked us back.
Minutes later, NU again imposed their number one-seeded talent on Jackson. After being denied on numerous beautiful scoring chances earlier, Mueller finally got one through. Fontaine battled for the puck near the corner and won, allowing her to send a puck into the slot for Mueller. The newly crowned Hockey East Player of the Year finally finished a backdoor chance, sending a short-range wrister just inches past Jackson's pad to earn a Husky lead, 2-1.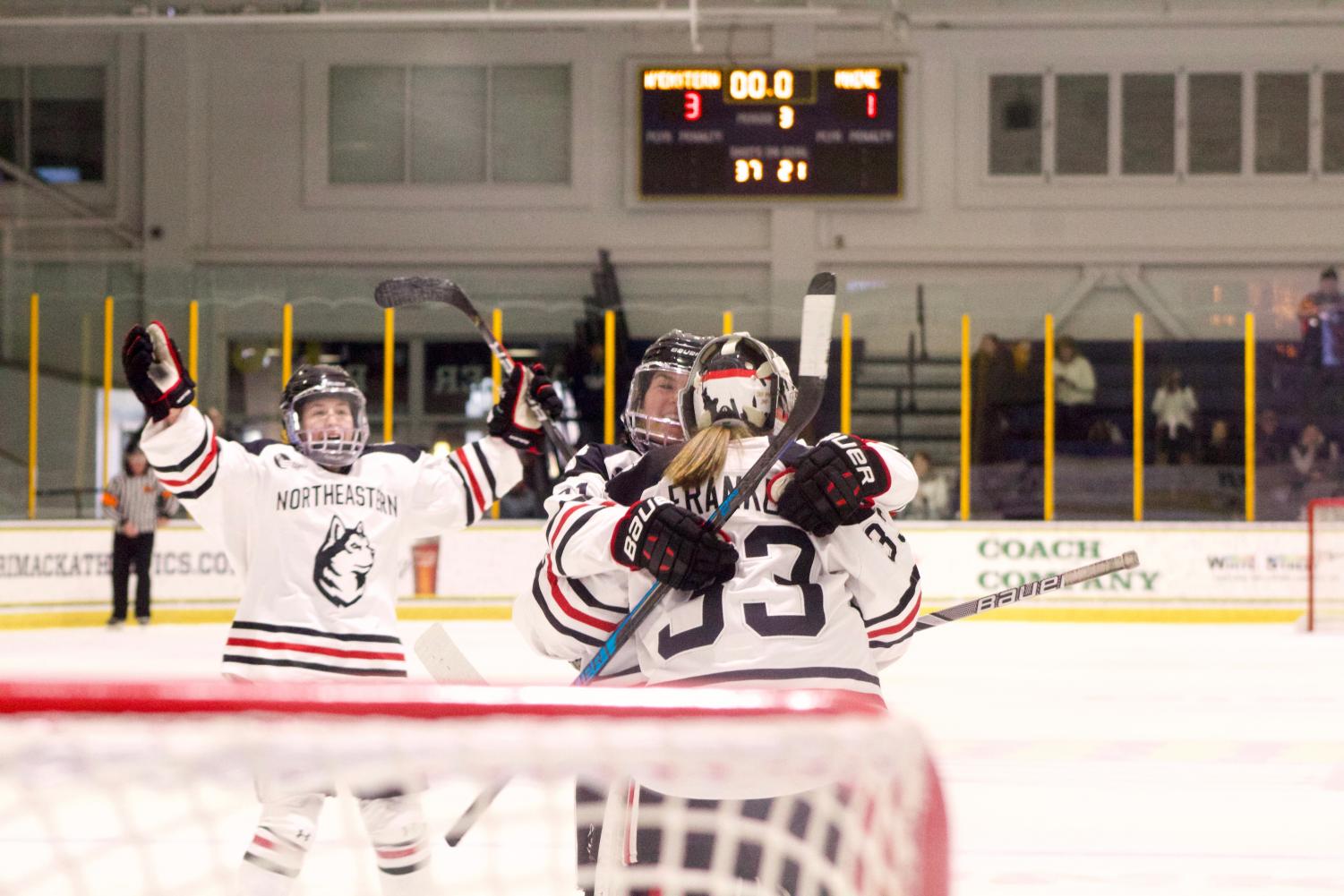 After taking the lead, NU had one more challenge ahead of them, to hold on and kill a penalty in the waning moments of the contest. NU has made a habit of taking late penalties, and as usual, it didn't come back to bite them.
"They understand what wins hockey games. I try to preach to them, don't ever sit back on a lead. We don't change our approach, they just know what they need to do and they know how to manage a game," Flint said of his team's ability to remain aggressive while protecting their lead. "When you start winning, it's infectious and they get that confidence in themselves so that when they have a one-goal lead, they're like 'We got this.' It's really great to see, even on the bench, just the confidence they have."
Soon after the kill, Fontaine finished off the contest with an empty netter. She grabbed the puck in the neutral zone and fought her way to the blue line. As she fell, she launched the puck toward the empty Maine cage, connecting one more time to lock in a championship game berth.
"I was very relieved. At the blue line, when Sky stepped, I knew she's so fast she'll make a great play. I saw that it went in … it was a lot of fun," Mueller said.
Tomorrow afternoon, the Huskies will look to finish their championship run against either UNH or UConn. If they come through, it will be their third straight Hockey East crown.
"This time of year, they'll be ready. They've been through the ringer all year. [We have] had a lot of games this second semester, especially that Beanpot week, so they're used to playing a lot. They'll be up for it, they're in great shape," Flint said.