Pure dominance: No. 4 women's hockey takes third-straight league championship with 9-1 win over UConn
March 8, 2020
No. 4 Northeastern women's hockey came onto the ice at Lawler Arena and proved what fans of the conference have been thinking all season: the NU Huskies are the best team in Hockey East. By virtue of a dominant 9-1 victory over UConn, Northeastern completed the Hockey East three-peat and have yet to lose in the tournament since claiming their first title in 2018.
"We probably played our most complete game all year. Start to finish, we were flying," said NU head coach Dave Flint. "[Northeastern] played really well, and they played as fast as I've seen them play, moving the puck well, doing a lot of things and it was really special to see."
NU was led by star sophomore center Alina Mueller and sophomore winger Chloé Aurard, who each tied a championship record with four points on a goal and three assists. The duo joined Hayley Skarupa of BC as the only players to ever hang up four points in a championship game or tally three or more assists.
"She's proven she's one of the best, if not the best player in the country," Flint said of Mueller. "I said it the other day to [Hockey East Commissioner] Joe Bertagna, I don't think I've coached a player that's as smart as she is. She's got all the tools."
The tournament MVP wasn't alone in her prolific scoring though, as 13 other skaters picked up at least one point. Junior goalie Aerin Frankel, who was named to the All-Tournament team, was strong in net for NU as well, posting 19 saves on 20 shots. Both Aurard and junior Skylar Fontaine were named to the All-Tournament team, in honor of Aurard's five championship weekend points and Fontaine's total of eight points across the postseason.
The team as a whole tied a tournament record with their nine goals, while taking sole possession of the record for most goals in a championship final. They also nearly doubled UConn in shots, putting 36 on net while allowing just 20 pucks to reach Frankel.
Throughout the contest, Mueller's line took control. Freshman Jess Schryver, Hockey East Player of the Year Mueller and First-Team All-Star Aurard were absolutely buzzing, contributing to each of NU's early tallies. The trio combined for six points in the first period alone, and the majority of their shifts were spent assaulting senior goaltender Morgan Fisher. By the end of the contest, Schryver had two goals and an assist, while Aurard had four points off a goal and three assists. In total, the line racked up 11 points despite sitting out the second half of the third period.
"They were a buzzsaw. They were flying. We talked about utilizing our speed. When we try to force pucks we are not very effective, but when we get pucks behind other teams' defenses and we use our speed we are tough to defend, and today they were really good at it," Flint said about his first line's success. "They were utilizing their speed, they were taking the D wide, getting pucks in, establishing a good forecheck and it was really clicking today and it paid off."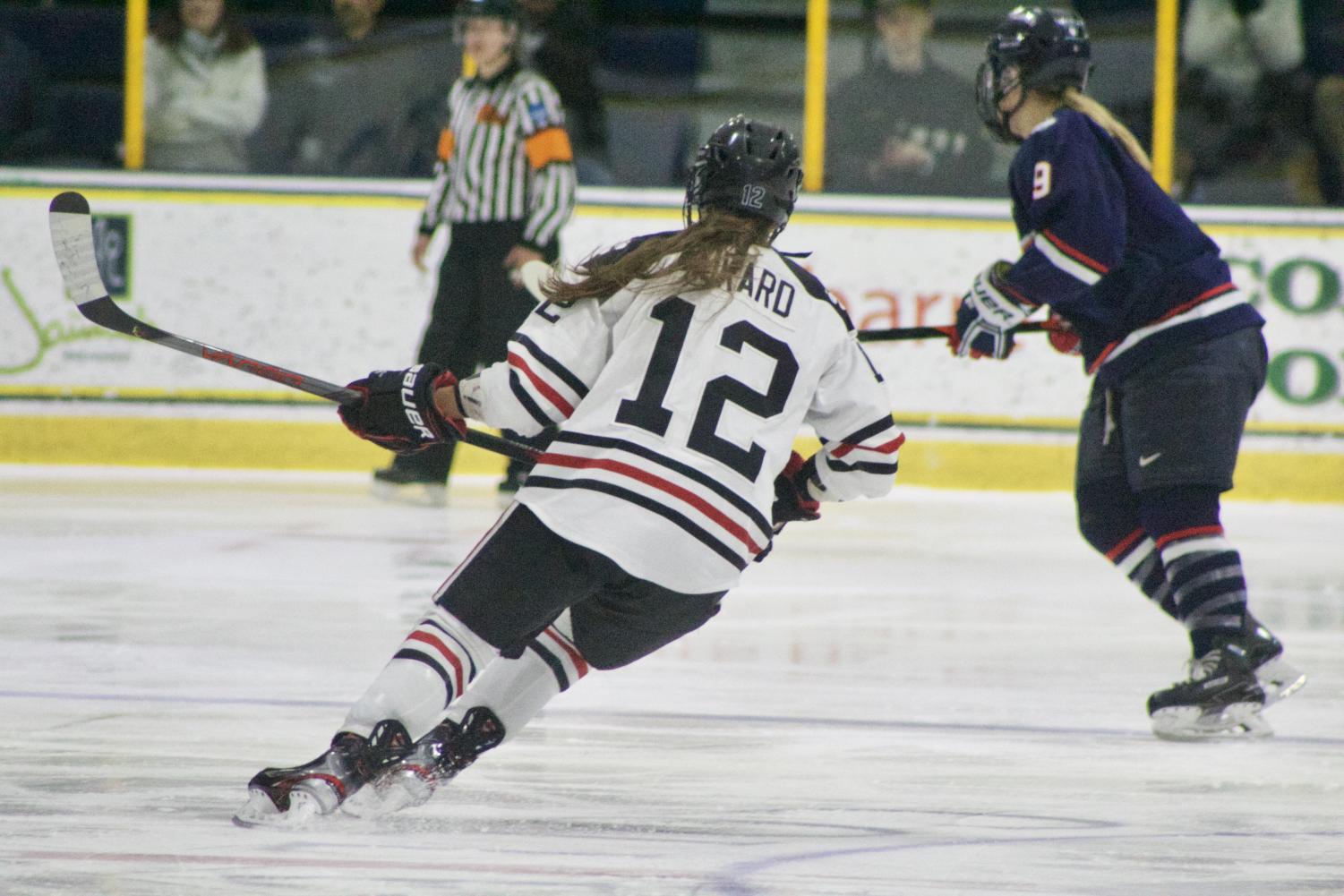 While UConn won the opening faceoff, that was about all the Connecticut-based Huskies would win in the first. Unlike the rest of the NU Huskies playoff games so far, Northeastern truly dominated the first period with an aggressive forecheck and a flurry of flying Huskies.
"I hope they realize after that, 'Hey, if we play 60 minutes doing what [the coaching staff] ask[s] [us] to do and stay within our systems and execute, we're really good,'" Flint said. "It was good to see it all come together."
The first goal was a beauty. Aurard picked up the puck in the neutral zone and whipped around the back of the net as Fontaine hit the ice and collided with the right post. As she worked her way back to her skates, the NU Huskies completed the cleanest cycle they possibly could. From the goalline, Aurard found Megan Carter at the point. Carter sent it on to Mueller at the left circle, and instead of taking a short range shot, Mueller made a brilliant pass to Fontaine, who was still on the right post, for a spectacular backdoor goal to put NU on the board six and a half minutes in.
"It was a great play from Chloé from behind the net … We were talking about it, either going in front of the net or getting it loose behind the net," Mueller said. "I'm better next to the net than in front of the net, so I saw an open space there and [Carter] saw me."
Their next tally came 12 minutes later, courtesy of a hard net crash by Schryver. Again, Aurard came roaring across the blueline to kick off an NU chance after receiving a pass from Mueller. This time, Schyrver was trailing her and speeding into the slot. Aurard put the puck on Schryver's stick right as she reached the crease, where the freshman beat Fisher. Initially, the goal was called off for potential interference, but upon video review the officiating staff determined the puck had snuck through Fisher's five-hole and across the goalline before Schryver made contact with the UConn netminder, who was parked extremely deep in her own crease.
"Chloé is a great player and Jess does a lot for us. We are on the ice [together a lot] during the week, and that's why we practice: To find each other, to build a bond," Mueller said of her linemates. "I just usually know if [Chloé's] going to pass or shoot. I try to work hard and find them because they do the same for me, and we are more happy if someone else in our line scores than ourselves."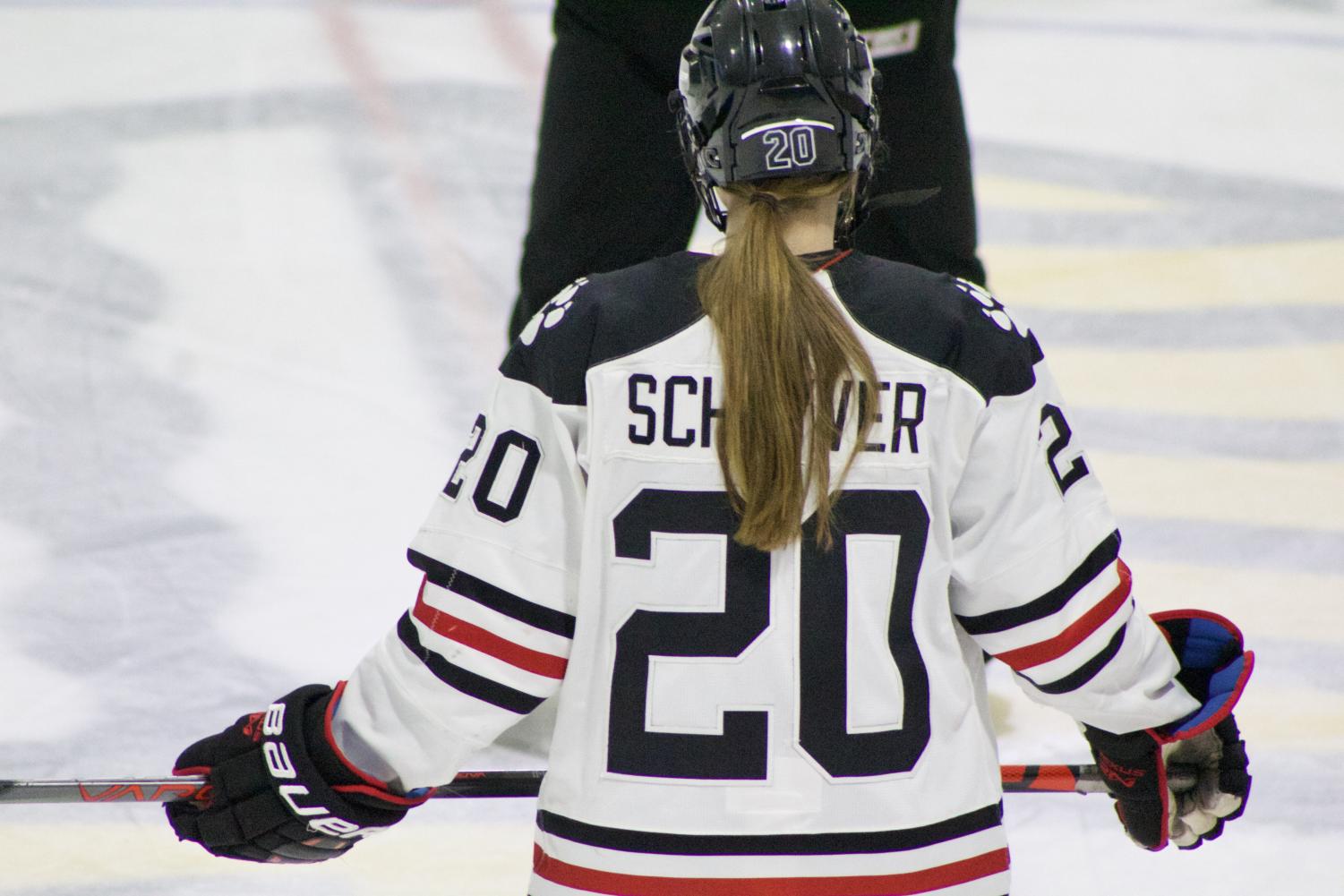 UConn looked to keep the game from getting completely out of reach, and struck back a couple minutes later. Frankel had come a bit out of her own net to play a puck, but collided with an NU skater. As she recovered, the UConn Huskies were working the puck along the blue line and sent a puck on net. Frankel blocked it out, but the rebound was just out of her reach as she extended to lay along the ice. UConn senior right wing Catherine Crawley got the puck before Frankel could, and chipped it top shelf to push the score to 2-1.
The UConn comeback bid would be extremely short lived though, as only two minutes later, the Husky top line struck again. Aurard served as the playmaker for the third time, and on this goal, she picked up another primary. Aurard worked down the left side once again and her center called for the puck. Aurard didn't answer the call right away, instead drawing another UConn defender toward her, but soon after she weaved a pass through traffic to Mueller, who ripped a hard slap shot through a collection of UConn screens to demoralize UConn and send the NU lead to 3-1.
The NU Husky onslaught continued early in the second, and after just 43 seconds, NU was back on the board. Junior alternate captain Brooke Hobson worked it to captain Paige Capistran with a point-to-point pass, and the senior defender proceeded to send it toward the side of UConn's cage, where the third of NU's captainship, senior center Matti Hartman, was waiting. Playing in her NU record 152nd game, Hartman picked up her 31st career goal to make it 4-1 NU.
"We just wanted to carry our momentum from the first period into the second, so it was good to get that goal. Paige and I have been practicing getting a goal together our whole time here," Hartman said. "It finally came, so we were very excited. Brooke made a great play to set [Capistran] up, and I was just trying to get in front of the net."
The dominance by the Boston-based Huskies continued throughout the rest of the second, as a strong forecheck and good work in the D-zone kept UConn from threatening Frankel. At the end of the stanza, NU led the shot column battle 21-8, and their 21 pucks on net weren't just biscuits from the blue line either, as the Huskies constantly kept Fisher on her toes with dangerous shots.
The third period was no better for UConn, and if it wasn't apparent already, the first minute of the last stanza was enough to show which group of Huskies would be the Hockey East champs. NU picked up two goals in the first minute, one coming from Aurard who one-timed a puck that popped out near Fisher's crease, and the next coming from junior forward Katie Cipra, who took advantage of a loose puck that came from the center ice faceoff to rip down the right wing and beat Fisher for a sixth time, giving NU a 6-1 lead to build on.
"The whole season, we've been thinking about this weekend, and so we stressed even in the beginning of the week to have goals as a team and to execute those goals even during practice," Hartman said. "I think that really carried into the game. We were ready to go and I think that showed on the ice."
Three more Husky goals would follow, all from the Boston dogs. The first line struck again, as Schryver pumped in her second of the contest midway through the third. After a good zone entry from Mueller, the Patty Kazamier finalist showed off her excellent stick skills to work through two UConn defenders and make a cross-crease pass past a third, setting up Schryver for another backdoor play which Fisher had no chance to stop.
"As time goes on you kind of forget the results, and you have the memories of the time you spent together … Morgan's done a lot for us," said UConn head coach Chris Mackenzie about his graduating netminder. "This doesn't define her career and she's one of a great list of goalies we've had … I hope this motivates us to get back, I'm motivated to get back right now and make it right, so I think that's my hope that it propels our program even higher."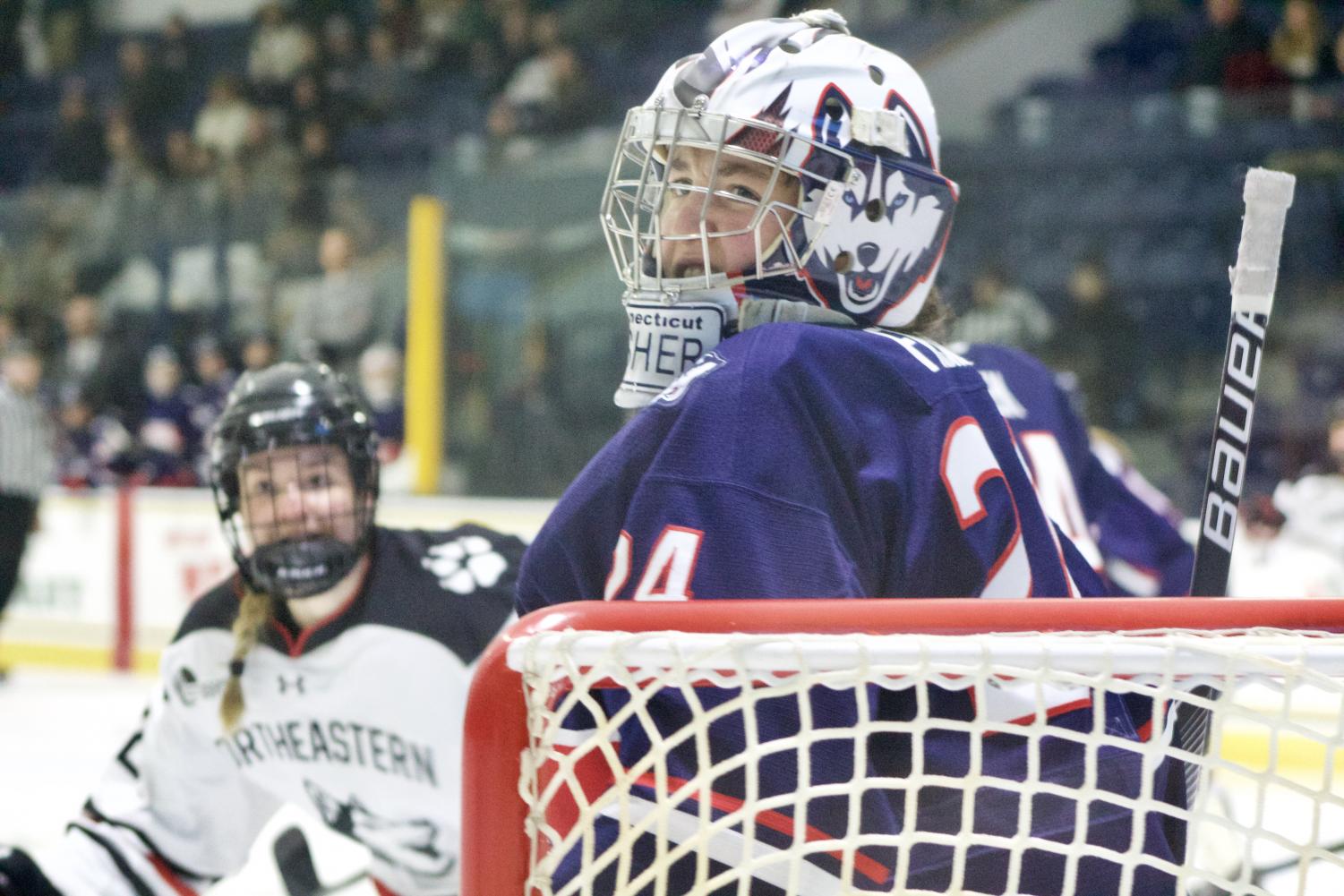 A minute later, senior Codie Cross joined in on the goal parade. After an attempted wraparound by freshman winger Peyton Anderson, the puck skittered out to the slot. Beanpot hero Lauren Macinnis attempted a shot, but she was blocked by a UConn skater. Fortunately for NU, Cross was able to pick up and shoot the rebound, which deflected off a UConn stick and into the net.
Anderson wouldn't be denied two minutes later, pumping in NU's ninth goal with a smile on her face. On a long delayed penalty, a strong NU zone entry gave Anderson a good scoring chance on the right wing, where a laser shot beat Fisher one final time to secure a tie for the most goals ever in a Hockey East tournament game while taking a commanding lead on the most goals scored in the final game, which was previously six goals scored by UNH in 2006.
Outside of hoisting the trophy though, NU has more work to do before their season ends. The team now has a chance to make the Frozen Four for the first time in program history with home ice to start the tournament. They will likely face Princeton to begin their national title bid.
"We were focused on this weekend, and we knew it was probably going to be Princeton, so what we'll do is tomorrow, we go to work and do what we do normally." Flint said. "The nice thing is, we got some time to prepare … I think they are pretty similar to us: They got one line that is really, really good, they got good team speed, they got goaltending and they are pretty good defensively, so it should be a good challenge."
But before kicking off the NCAAs, Flint and his team have plenty of celebrating to do. Mueller reached 66 points on the season, Aurard now has 49 and Fontaine has pushed her total to 42. In net, Frankel's GAA shrunk to 1.07 and her save percentage moved to a remarkable .958.
"We have great kids in our program and we got a great support staff," Flint said. "It's just really a great thing to be a part of."