The loss of a possible national title, two iconic NU leaders
March 23, 2020
Today should have been special. In fact, every single day of the past two weeks should have been life changing for the Northeastern women's hockey team. In the end it was, but for the wrong reason.
Today could have been a day of celebration for a recently crowned national champion. Instead, the days and weekends devoid of hockey were one of many "what ifs" that will end the seasons of countless athletes across the world, including the No. 3-ranked Huskies who stood poised to compete for a national title in Boston after playing one of their most complete games of hockey all season.
"That's the part of it honestly, that stings the most. The toughest part is that that will linger with us forever, the 'what ifs' of the season," said senior forward and alternate captain Matti Hartman.
Everything led up to this moment. Thirty-two wins, 116 penalty kills, 149 goals compared to just 37 scored by their opponents and a dominant 9-1 victory in the Hockey East Championship game more than showed how capable the Huskies were. A team like this doesn't come together every year, nor does the chance to fight for a NCAA title in its own city.
"When we first found out that the national championship would be at Agganis in Boston, the seniors were just like, 'Wow, this is our chance, this is our opportunity,'" Hartman said. "It was like a Cinderella story this year, and we had accomplished all that we wanted to up to that point. It seemed at that time that everything was falling into place … Then, to just get all of that ripped away in one day, was just very overwhelming."
The national tournament was called off days before it started, part of a wave of cancellations due to the COVID-19 pandemic that has halted the sports world.
"In life, we face adversity all the time. For them, this was a year they poured their hearts and souls into and they really felt that they had a legitimate shot of winning a national championship and then all of a sudden, that's gone," said NU head coach Dave Flint. "It's really, really hard to come to grips with.
"What I try to explain to them, is sometimes in life, there [are] things bigger than sports, and everybody's health is way more important than winning a national championship."
Regardless of necessity, the decision by the NCAA to cancel all winter championships and spring seasons comes with great anguish.
"No one would ever imagine in September when we're talking about the future of the season that this would be how our careers end," said senior defender and captain Paige Capistran. "I know other seniors from other schools, and everyone's just sad, but we understand what they had to do. It's just very unfortunate that it was our last year."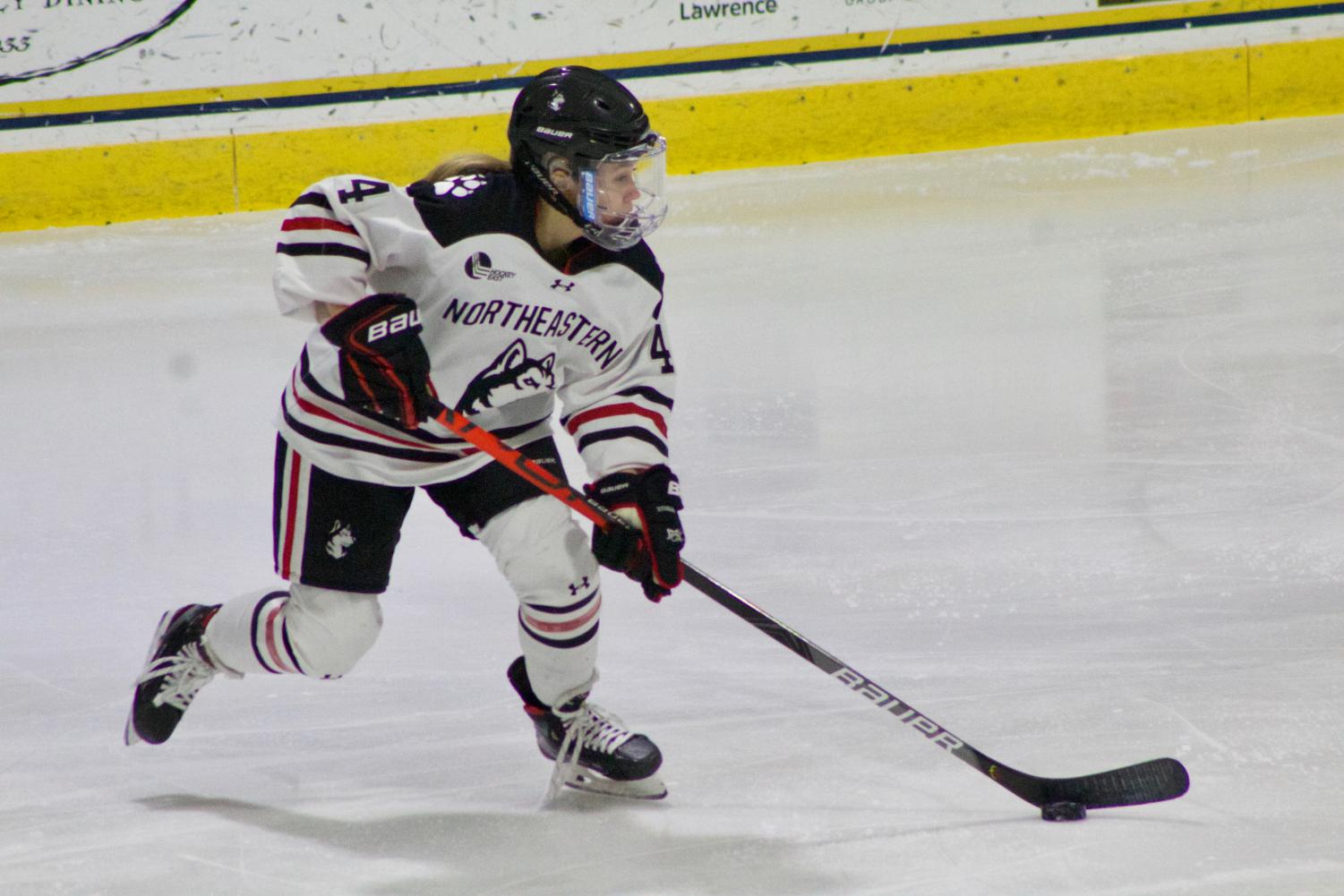 The team that was held up just short
No Northeastern women's hockey team has won as many games as this one has. Their average final score was 3.9-1.0.
Less than four percent of their opponent's shots have found the twine. The team scored seven shorthanded goals and allowed just 11 power-play goals.
Star sophomore forwards Alina Mueller (27-39-66) and Chloé Aurard (21-28-49) are among the top scorers in the nation. Junior Skylar Fontaine (17-25-42), is among the highest scoring defenders in the country. Junior Aerin Frankel, the star goalie who backstopped arguably women's college hockey's top defense, was in the top two nationally for GAA (1.07) and save percentage (.958). Each earned Hockey East First-Team All-Star honors, just the third time in Hockey East history a team had four players make the First Team.
And that elite four was far from alone in reaching a new peak of their game this year. Flint referenced sophomore winger Mia Brown's point production, junior center Tessa Ward's versatility and sophomore forward Miceala Sindoris' strong bottom-six contributions as additional examples of major player progressions.
And at the Hockey East banquet, the Huskies cleaned up. Capistran was honored with the Hockey East Sportsmanship Award while Hartman received the Best Defensive Forward honors. Fontaine locked up the Best Defenseman award, and Frankel was named BW Windjammer Goaltender of the Year. Freshman forward Katy Knoll and junior alternate captain Brooke Hobson were named Third-Team All-Stars. Freshmen Knoll and Megan Carter played huge roles and each was rewarded with All-Rookie honors.
Flint, for the second year in a row, was named Hockey East Coach of the Year. In addition, Mueller is a top-three finalist for the Patty Kazmaier award, the most prestigious award in women's college hockey, and secured the Cammi Granato Hockey East Player of the Year award.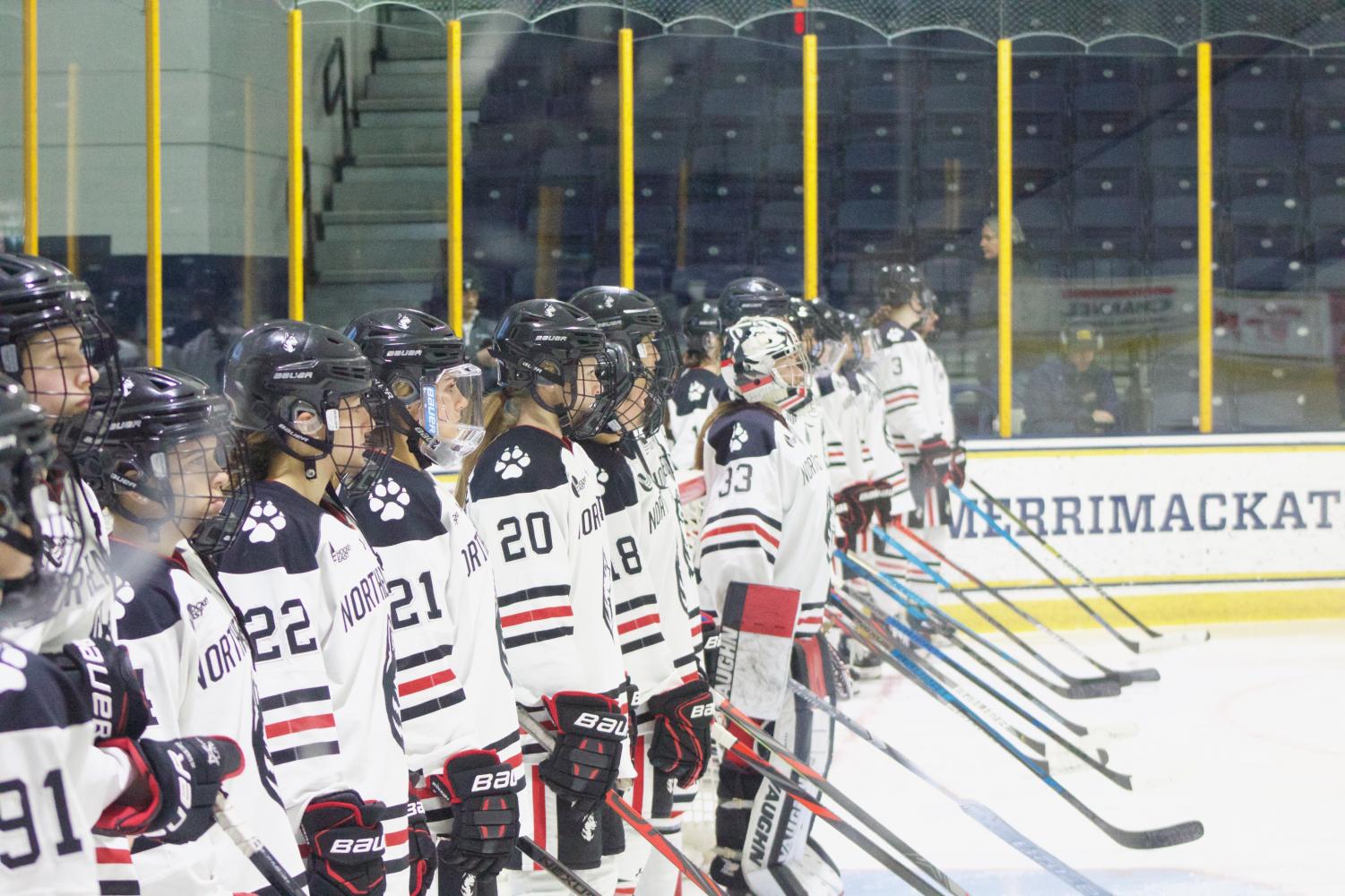 "It's a long season and sometimes you have dips in your season, you have let downs and you have to battle through them," Flint said. "We had some little blips and dips, but nothing major. I don't think I've had a team that's been as consistent throughout the course of a season. It just shows how tough they were, mentally and physically."
Flint, Capistran and Hartman agreed that the Huskies will continue to battle and find success in the future.
"I have all of the faith that they will be back next year, and make it hopefully to where we did this year and beyond," Hartman said. "They have a great core group of girls, some great younger players as well to carry on what we have built over time here. I think the program is only going to get better."
Capistran agreed, noting that only three of the 27 high-flying Huskies will be leaving next year.
"Next year, it will be a new team, but I know that their culture will continue to be great on and off the ice and hockey-wise, they're not really losing much," she said. "They're going to be very good next year and I have so much confidence in them that they will win the national championship."
The final game
Neither Capistran nor Hartman expected their 9-1 victory over UConn in the Hockey East Championship to be their final game in a Northeastern uniform.
"We felt so prepared, so excited," Capistran said. "We felt like our momentum was in a really good spot coming off of the Hockey East Championship."
They sat just one win away from the program's first Frozen Four berth, two away from the national title game and just three more wins away from a national championship.
"If we were able to accomplish that, that's what we've worked for our whole lives. Especially for women's hockey, it doesn't get much better than the NCAA National Championship," Hartman said. "Not only just to do that, but also in our own city with our own family and friends there. It would have been really incredible."
The Huskies were peaking at the right time. After having slow starts in their first three playoff games, NU came out firing against UConn. They lit the lamp less than seven minutes into the game and ended the first period up 3-1. They never let off the gas, racking up five tallies in the third period.
"That's what you hope for, and you work for all year and you hope your team peaks at the right time," Flint said. "It's always tough for everything to come together, especially at the right time, and have all your players playing well, have the team working together, so it was great to see that and it gave me a lot of hope for the potential to win a national championship."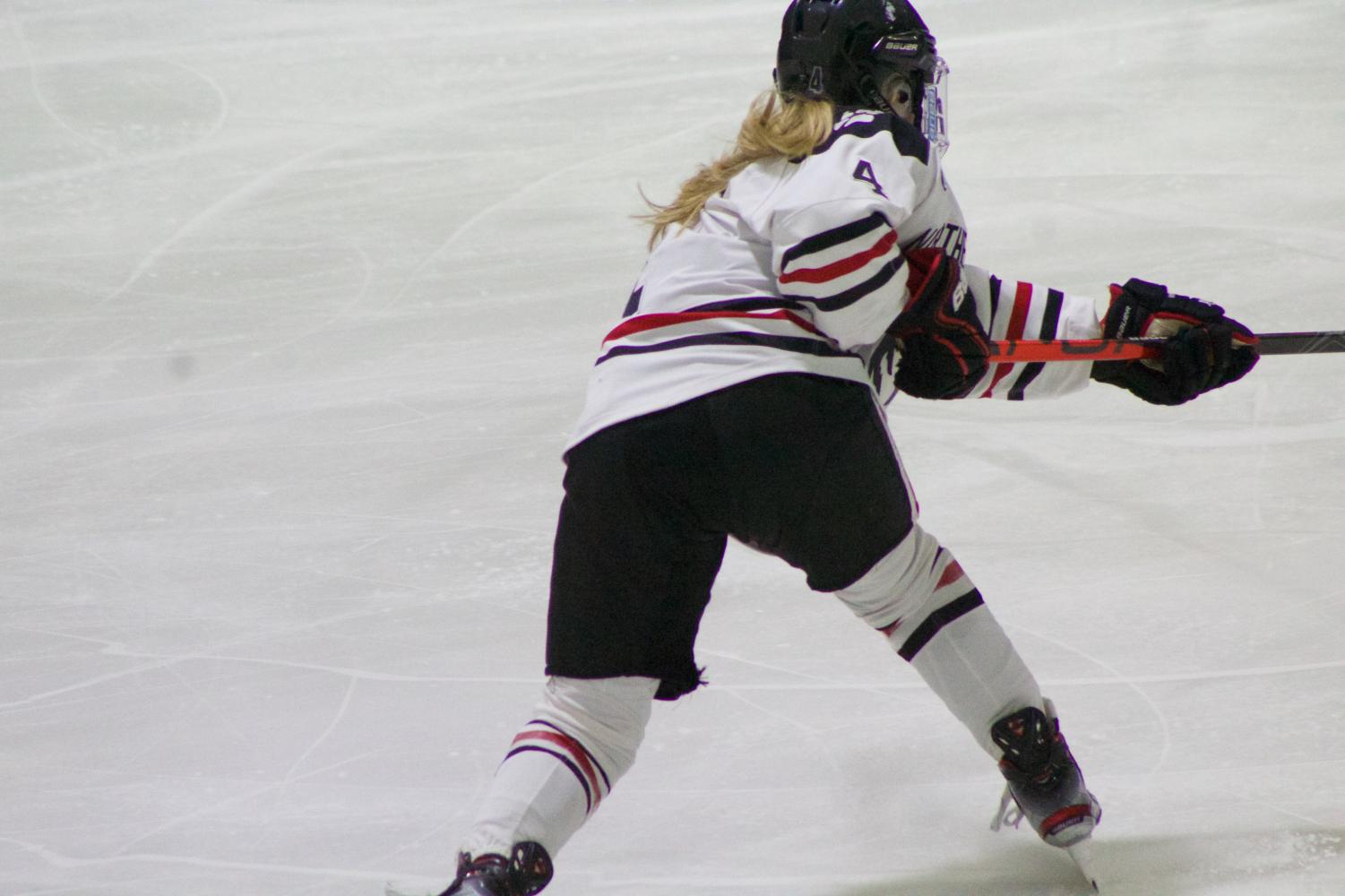 Each of the three graduating seniors scored a point in the contest to close out their Husky careers. Late in the third period, senior blueliner Codie Cross found the back of the net for her final score as a Husky.
For Capistran and Hartman, the point they tallied carried some extra weight.
Under a minute into the second period, Hobson had the puck on her stick at the point. She passed it across to Capistran along the blue line, and Capistran sent the puck hurtling toward the net. On it's way, Hartman changed the puck's path with her backhand to send it into the net.
"[Hartman] is my teammate, my absolute best friend, so it was just a very special moment and looking back now it's even more special," Capistran said. "I feel like in that moment when I knew she was the one that scored it was like I couldn't see anyone besides Matti when I went to go for the goal hug."
On the day of the championship, Hartman reflected on the goal with excitement. After two tumultuous weeks have gone by, the memory comes with great emotion.
"Paige is my best friend, so we've been trying to get a goal together for a long time now. When it went in, I skated – I like fainted at her – we were both so excited. We were excited in the moment too, but just now knowing that that was our last game, our last goal together, definitely means a lot more," Hartman said. "It's pretty heartbreaking for sure, and I know that we haven't stopped thinking about it since we found out our season was done, but it's definitely special to get that moment together as well."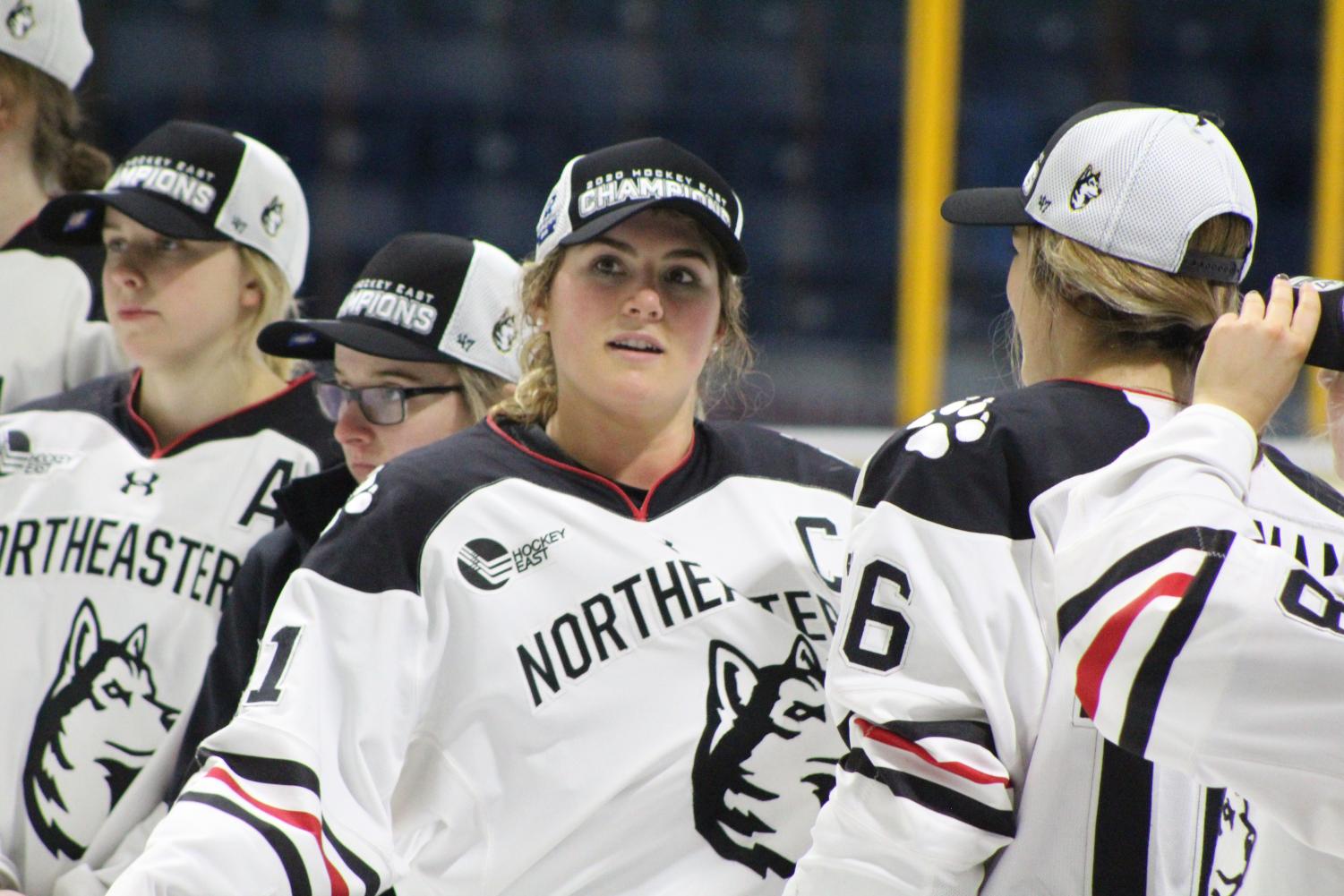 The emotional moment and third straight Hockey East championship wasn't supposed to be one of finality at the end of a career, rather just a step in the direction toward a new goal for Capistran and Hartman to reach together.
"It's awesome, obviously winning a Hockey East championship, but honestly, it's just heartbreaking because most seniors know when their last game will be, when they're untying their skates [for the last time]," Capistran said. "It's just when it shouldn't have been our last game, it just, it really stings."
The cancellation
Northeastern's NCAA opener, which would've been March 14th at Matthews Arena, was among the final dominos to fall.
"There were rumors all week pretty much. Especially when the men's Hockey East tournament got cancelled, like right away, I called [assistant coach Lindsay Berman] and asked her what was going on," Capistran recalled. "I just went to the coaches' offices and sat with her … Later that day coach [Flint] came down from his office and said that we needed to talk with the team, and then I knew immediately that the season was over."
When the NCAA made its announcement, Flint was still in the process of preparing for their game against Princeton, going over film with Mueller, Aurard and their linemate, freshman winger Jess Schryver.
"It was like a roller coaster that day; it was back and forth. We didn't know what was gonna happen, so we were just kind of in that wait and see mode." Flint said. "The girls were in the building at that point, because we were going to practice, and so I got them all together in the locker room and probably one of the toughest things I've had to do as a coach is deliver that message."
Flint cancelled Thursday's practice, but the team came back out on Friday for one more skate.
"I told them I didn't want the season to end like that," Flint said. At the end of the practice, emotions continued to flow, particularly for the seniors. "I brought [the seniors] in and thanked them for everything and told them nobody can take away the great season we had and the championships we won. I brought them all into the middle. As a team, we surrounded them and gave them a big hug. Everybody gave them their hugs afterwards and then kind of went their separate ways."
Cross, Capistran and Hartman each wore their black game jerseys during their final skate at Matthews Arena. "We love the black jerseys," Capistran said.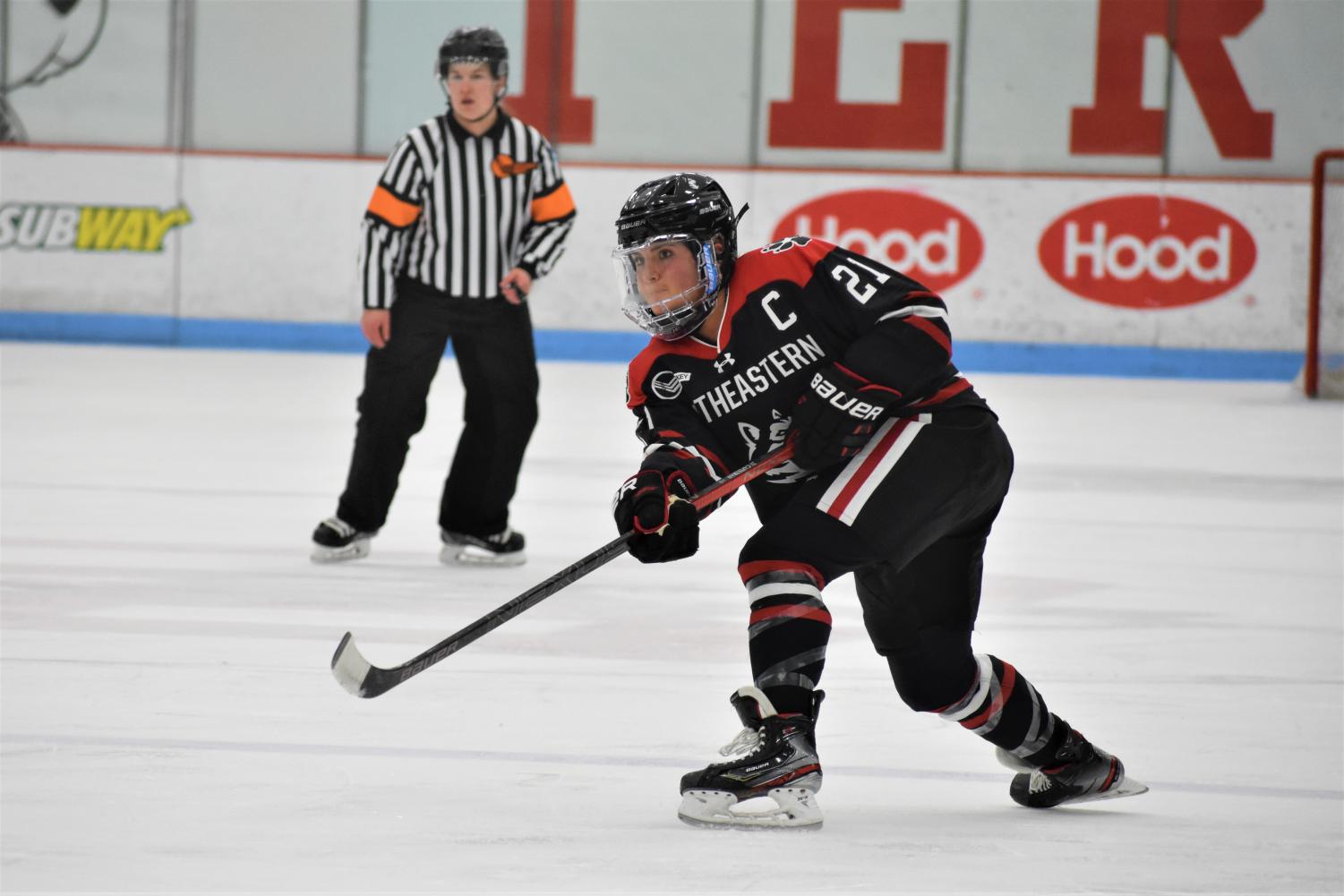 "I felt numb. I honestly don't even really remember what I was thinking. It's just weird because I guess it's just not what you imagined," Capistran said. "All year I was imagining, when I take my skates off for the last time, it would be after the national championship win."
Hartman initially didn't feel like she was in "the right mental state" going to the Friday skate.
"But then after talking to the coaches, we started to practice the next day, have a lighthearted skate, a little bit of scrimmage," Hartman said. "That was good just to get out on the ice at Matthews one last time and just kind of soak it all in one last time, appreciate it. Just to have that last moment with all of us together before everyone went home I think was better than ending on another note.
"I didn't want to get off the ice to be honest. I was very emotional. We were crying on the ice, crying untying our skates. It was definitely really tough, but at the same time, we're just very grateful to get the opportunity to play for Northeastern and achieve all that we did. I think that also contributed to the tears that day and after."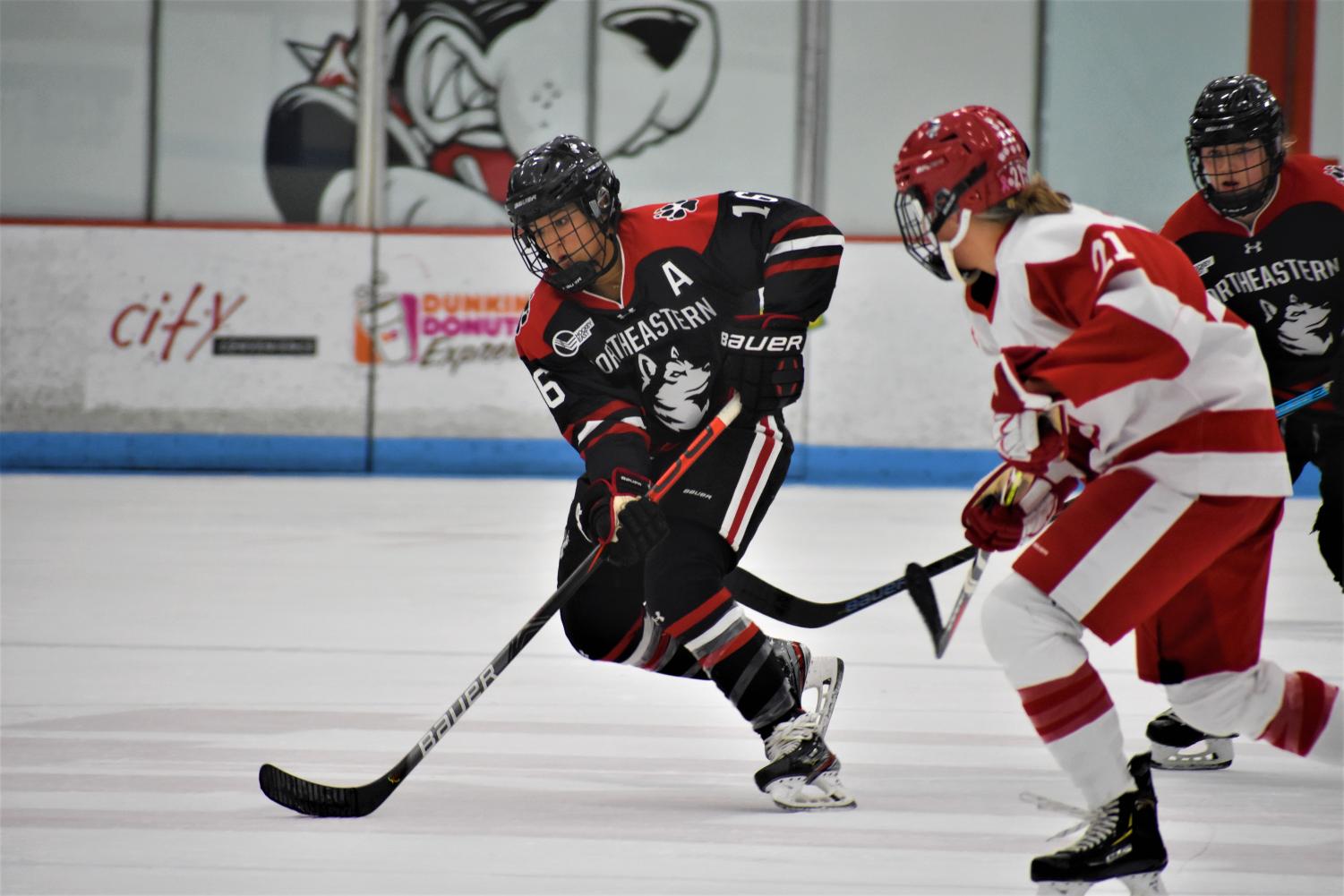 Gratitude, leadership and appreciation
The Northeastern women's hockey captains are determined by a vote among the players. Flint has each of his athletes email him names and reasoning behind each of their votes in order to ensure players are putting thought into their choices. While Flint reserves the power to override any vote, he said he has never exercised that power at Northeastern.
According to Flint, both Capistran and Hartman were "lead by example types" while at NU. He described the two as players who did "everything right," ranging from the ice, to the locker room, to the classroom, even to the kitchen. Their ability to take care of themselves as hockey players is particularly apparent for Hartman, who skated a record 152 games for the Huskies and never missed a game.
Capistran's vocal leadership started in earnest during last year's Hockey East championship against Boston College after BC sent the game to overtime in the waning moments of regulation. During the intermission, Capistran spoke to her team in the locker room and rallied the deflated group. The Huskies would go on to win that game over 12 minutes into the overtime period.
"A lot of people respected her for that. I thought she'd be a great captain as long as she could use her voice, not only lead by example, but also be a vocal leader," Flint said. "She was definitely a lot more comfortable in that role, speaking to the team and addressing the team. That's maturity and growth, as not only a player but a person."
Flint noted that Hartman brings other important characteristics to the team.
"She's always the one [who] always [has] a smile on her face, no matter what's going on and how bad things are. She's positive, she's uplifting. She'll make you laugh when you need to laugh, and she'll be there to listen to you if you need somebody to listen to you. She's just a great role model."
Both Capistran and Hartman were part of a chain of leaders that have passed through the program, starting with Kendall Coyne, who graduated in 2016. Flint noted that since she stepped up in the locker room, leadership at NU has improved each year, building off of the last group.
While both Capistran and Hartman were understandably devastated by losing a chance at competing for a storybook national title, they looked beyond the moment.
"I feel so thankful to be a Northeastern Husky. I wouldn't pick any other school, any other program to play for. So, even though right now I feel the sadness, I'm just so thankful," Capistran said.
"Coming in here, we hadn't won a Hockey East championship. We had only been to the NCAA tournament once before I got here," Hartman said. "So just to see the growth that this program has had and to see how far we could have gone this year and will continue to in the following years, I think it is really exciting and it's really special what we've built."
Even so, it's impossible not to wonder about the past two weeks, and what will forever be the ultimate "what if" for each of the graduating Huskies.
"It would have been a storybook ending, as a team, as a program, even the league, it would have meant so much," Capistran said. "No team has ever won it from Hockey East. So, if we got to that game, if we won that game, it would have meant so much to Hockey East, Northeastern, the coaches, us 27 girls. It would have been just so, so special."