Column: A tragic end to a historic Husky year
March 14, 2020
It had to be done, but that doesn't make it any less crushing. 
Sports is often our escape from reality when reality is particularly stressful, scary or frustrating. For perhaps the first time of our lifetimes, that escape is completely shutdown. The NBA was the first domino to fall, after Utah Jazz big man Rudy Gobert tested positive for coronavirus. From there, it was just a matter of time before the rest of the sports world followed suit.
The excitement of a barnburner playoff game surrounded by screaming fans is hard to replicate or describe. It's impossible not to wonder what moments we as fans will never get to witness.  But it's even harder not to feel sorrow for all the Northeastern student-athletes, whose immense hard work and dedication to their crafts has been put on hold or brought to a premature end. 
Women's hockey didn't get the chance to play in the national quarterfinals, robbing seniors Paige Capistran, Matti Hartman and Codie Cross of their chance to make Northeastern history. 
Men's hockey didn't get to finish their fight for a second straight Hockey East championship, ending the NU runs of Ryan Shea, John Picking, Matt Filipe, Grant Jozefek, Biagio Lerario, Craig Pantano, Brendan Van Riemsdyk and Curtis Frye. 
Women's basketball didn't even get to begin their tournament, shutting down a chance for Shannon Todd, Ayanna Dublin, Courtney Redcross and Rachel Aho to continue their program's growth with a strong CAA tournament run.
The women's hockey team, which set a program record for wins (32) this year, looked legitimately poised for a national championship run coming off a dominant 9-1 victory over UConn in the Hockey East finals. At the very least, the Hockey East three-peat champs were favorites to make it into their first Frozen Four in history, where they would have had the chance to play in Boston, a goal the team set before the puck dropped for the 2019-20 season. 
"Yesterday was tough to process. My heart is broken for my players and especially the seniors. It doesn't take away the amazing season we had and all that we accomplished," NU women's hockey head coach Dave Flint tweeted. "Thank you Paige, Matti and Codie you have meant so much to our program. You will always be champions."
Men's hockey, coming off a Beanpot three-peat, fought their way through one of the tightest Hockey East regular seasons in history, earning a quarterfinals berth against UMass Amherst, where they looked poised to make some noise after a commanding shutout against BU to end their regular season.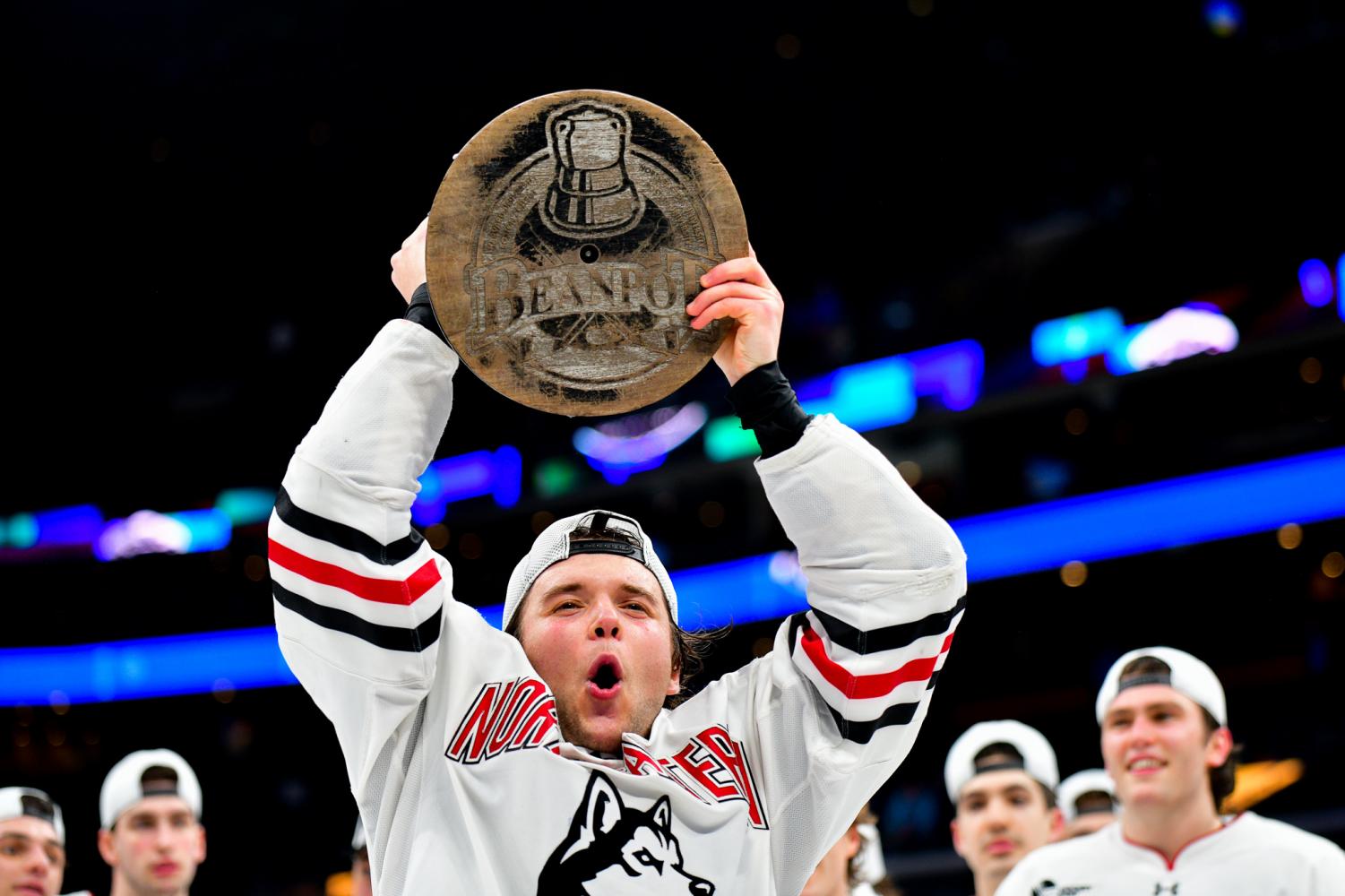 "Thank you Northeastern for giving me an opportunity to live out my dream. Nobody can take away what we were able to accomplish these last 4 years. It's an unfortunate end but I'm grateful for everything this program has done for me," Filipe tweeted. "Huskies forever."
Women's basketball finished fourth in the CAA, tying their program record for their best regular season finishing spot. Under head coach Kelly Cole, the program has grown tremendously and the team was looking for their first CAA championship after recovering admirably from the graduation of Jess Genco, the third-leading scorer in NU history, by filling her spot with excellent team play up and down the roster. 
"Run it back please," Dublin tweeted in response to the possibility of grabbing another year of NCAA eligibility.
Each of those three teams has made NU history, but now they won't get a chance to make more. Their graduating cores all left marks on their respective programs, but none of us will get to see what was still left. I've loved every minute of competition I've gotten to witness this year, and it breaks my heart that the end came like this. 
Northeastern has 13 other teams that I haven't mentioned yet, each with seniors of their own whose career as a Husky has come to an unexpected close. 
Women's swimming and diving was approaching their NCAA national meet. Men's baseball, men's soccer and women's soccer were each gearing up for springtime games after a long winter of work. The weather was just getting warm enough for the rowing season to begin in earnest. Over a dozen club sports were just finishing preparations for their spring seasons.
After months of anticipation, none of those will happen, swiping an untold number of memories and life-altering experiences from the graduating Huskies and all their teammates. 
Across all of those rosters, nearly 100 seniors appear. Some of them may get another year of play as the NCAA has announced "eligibility relief" is coming for athletes whose spring seasons have been affected, but athletes of fall sports who were already beginning playoffs are unlikely to get another crack at the college level. 
For many of those who can't come back, coronavirus has spelled the end of their athletic career. Not all college athletes aim for the pros, many play for their teammates and their love of competition and sport. That love can live on, but there is no way to salvage all the chances to experience that love on the court, track, field, ice or water that will never be. 
In the end though, it's not as if the NCAA had much of a choice. 
The environment of sports was simply not longer tenable. Athletes colliding during competition, sharing air and space, is just too conducive to the spread of what is now being classified a global pandemic. That's before considering packing excited fans into close quarters, or filling buses and planes with players to travel across the country. 
As this virus spreads, it becomes increasingly important for us all to make sure we are doing everything we possibly can to protect each other and our most vulnerable populations from this pandemic. All the energy and time we spent competing and cheering for our teams has to go somewhere, and it seems best that we focus on helping each other while we can. 
As such, despite all of our wishes to see the Husky journeys go on, it's impossible to blame the NCAA, CAA and Hockey East higher-ups for the calls they made. In fact, we should commend them for ensuring the safety of student-athletes, their fans and the general public. 
But it still hurts.