Q&A: Senior Vice Chancellor for Student Affairs on fall student life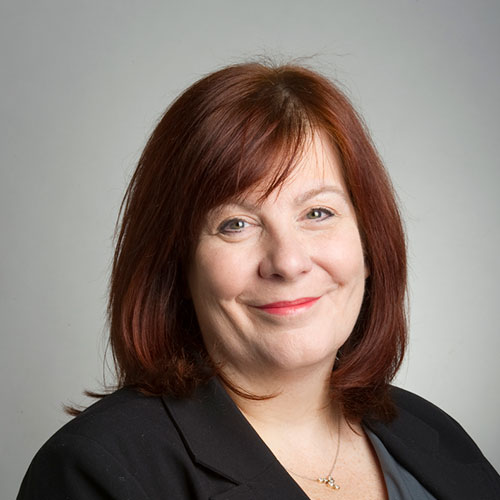 Madeleine Estabrook, senior vice chancellor for student affairs, discussed details of fall student life and safety regulations in a video call with The News Monday.
Estabrook answered questions about topics including isolation housing, consequences for violating public health guidelines, testing for students living off-campus and enforcement of the no-visitors policy in residence halls. The vice chancellor walked through a student's first five days after move-in, explored possible contact tracing scenarios and discussed contingencies in the case of an outbreak.
---
The following transcript has been edited for length and clarity.
The Huntington News: Can you walk through the first five days after move-in for a student living on campus? Let's say this hypothetical student is in a freshmen residence hall without a kitchen.
Madeleine Estabrook: First day, they'll move in, come to campus and have scheduled their first day test. So, the first thing that they will do is go to Cabot to be tested. Going into Cabot, they'll get their temperature taken. They'll have done their daily symptom checker so it will show that they're doing well. They'll check in with their NUID, get a label and go through testing. They will be instructed as to how to swab the front of their nose, and then the specimen goes into the vial that has their label on it, and they're done. So our hypothetical student would go to their residence hall room and would be there until they get their negative test result.
They can leave to go pick up grab and go food. Most of the dining facilities will be all grab and go so they can just go in. Takeout is all they're doing until they get that first negative. Then they will get a prompt to schedule their day-three test. And after they go through that and get a negative, they'll get a prompt to schedule their day-five test. And during those days, they're welcome to go outside, but they won't be able to attend classes yet.
So once they've had three negative tests, then they will be able to go to their class. If they arrive later in the move-in window, they may have to take one of those days completely remotely on NUflex. Once they've got those three negatives, then they're welcome to go to Marino, go to Snell, go and completely be back with activities that we can do on campus and in campus buildings.
HN: How will the mandatory first day of quarantine be enforced?
Estabrook: We are expecting our community to be able to understand why we're doing this. There is a [pledge] that all of us will be signing when we first come on to campus and first start the term that includes these expectations: that you will comply with the laws of Massachusetts on quarantine, that you will comply with the testing regimens that are set forth, that you will do your daily symptom checker, that you will do the other pieces of public health guidance.
We really do believe that the best way to do this is for all of us to understand why this is important to do, for us to make it as easy as possible for people to do it. So there will be masks at various places on campus and people who can give masks to people as they see them walking across campus if they don't have one. For some students who are coming here, it's going to be kind of different than what they're used to. 
HN: Outside of trusting students to make the right decisions, are there any specific plans in place to prevent off-campus parties?
Estabrook: We really believe this is about compliance and community rather than enforcement. We're hoping that as a community, we can find ways to encourage one another so that we don't have another disruption. 
We are going to have some people in our community, whether staff, faculty or students, who are going to be positive with the virus. And there are people with comorbidities, there are people clearly in different age groups than those who are entering the freshman class who are more likely to have bad outcomes. And we also know that underrepresented minorities are more likely to have bad outcomes or be hospitalized.  If you look at just the data, for the longest time, you just didn't see severity of illness until you got into the 30s. That's not really true anymore. We're seeing it all over. 
Now on enforcement, are we going to go around and count how many people are at something? Are we going to go up on Mission Hill and look at every party? I mean, we just don't have the capacity to do that. So, I think enforcement is truly about community pressure or one-on-one peer pressure, for lack of a better word. When it becomes the norm, then it's a lot easier to comply with.
Now, clearly, if somebody doesn't go to testing, we'll be running reports. First we talk to people and ask what happened, what's going on. But at some point, if somebody really doesn't want to comply with these rules, then they're going to need to be removed from the community and they can take their courses from someplace else.
HN: In the event that someone tests positive and in the course of contact tracing they share that they attended a party, how will the university encourage students who were also at that party to participate in contact tracing? Will underage students be granted some sort of amnesty to encourage contact tracing?
Estabrook: I do think that right now what we are completely much more concerned about is making sure we can find out who was at parties so that we can isolate and quarantine people. So yes, I think that the enforcement of [underage] drinking the first time is going to be much more like medical amnesty.
But the fact is if through contact tracing, we find out that the same house is holding parties all the time, then we've got a real issue with the host. And then we've got to do something, because that's not going to be acceptable for us to be able to keep our communities safe as we all want it to be.
HN: Are there any specific thresholds that would make the university take action and impose further restrictions or shut down campus?
Estabrook: There aren't any clear line benchmarks yet, and there's not necessarily going to be a single trigger. Not only are we looking at the scenarios of how to reopen, but how do we also monitor what's happening in the world and monitor what's happening in Massachusetts and in Boston and on our own campus? As we think about why and how we got to moving online in the spring, it was the same kind of triggers. What are businesses in the area doing? What are other colleges doing? What are we seeing in our own population? 
When we think about Boston right now, we know that people are making different decisions. You know, it's Suffolk and Tufts and BU and us that are open. And you know, MIT and Harvard are less open. There's information that's being passed through higher ed, and we are very involved in communicating with the governor's office as well as the mayor's office and our community neighbors, too. It's just unlikely that there will be one trigger that will say, 'And that's it.' 
HN: How many medical professionals and contact tracers has the university hired to care for students who get COVID-19 and to trace their contacts? What is that team's capacity in terms of how many cases it can handle at once?
Estabrook: I'm not quite sure of the number. At the moment, we have engaged about 24 contact tracers, and that staff will be working seven days a week. There is an algorithm that comes out of the CDC that says how many contact tracers you need and we're above that number. 
And we don't know what our population is going to be this fall. So how many students are going to show up? How many students are going to be doing NU Start, how many students are going to be doing NUflex? We don't know how many people will be remotely with us and how many people will be in the community, going through testing on site. And how many will be living off campus where we normally do in the neighborhoods?
HN: How will students who come in contact with someone who tests positive be notified?
Estabrook: At this point, they will be getting phone calls, text messages, emails asking them to call back or to get in touch. The first, most important piece is that interview with the person who tests positive. That interview is the one that asks, "What have you been doing? Where have you been? What have you done two days before your test results? Do you remember where you ate lunch?" We'll know which classes they were in, we will know whether they were remote or not and for our students who live on campus we'll know that. 
We're hoping that our students who live off-campus this year may take that part of I Am Here a little bit more seriously and give us a real current address and contact information so that we know who your roommates are, so that we can be as helpful as possible to students who live off campus. 
HN: How many students can be isolating at once? Where will students isolate? 
Estabrook: The number is going to evolve as we find out everybody who moves on campus and as there are more cancellations, then we'll be continuing to try to open up more space that will be designated as wellness space. So that's going to evolve over time. I know right now, at least we're using Burstein [for isolation housing]. But there are other spaces that we're using also. That's a start.
HN: How will testing work for a student who lives off-campus and is on co-op but still has to come to campus for clubs or a job? When and how often will these students be tested?
Estabrook: Everybody who's going to be on campus and coming to classes is going to go through the 1-3-5 test process. Students who are on co-op present a different group. So if they're only coming to campus every once in a while, then they're probably only going to get tested when they're coming to campus or once a week. It depends upon how often they're coming to campus. All of that will become distilled into a singular document that should be coming out this week. We want our co-op students living in surrounding neighborhoods to be a part of the community.
HN: How will testing work for students who are coming back to campus early to be RAs or work in Curry Student Center or for students moving from Summer II housing?
Estabrook: Testing will be the same as for every student, so they'll be doing 1-3-5. For staff who have already been working on campus, they'll only be tested once, but for our students, the vast majority, whether they're RAs or others just moving from co-op housing, will still be tested 1-3-5. You can choose a day anytime from the 17th on to be your day one.
HN: How will the university enforce that only Northeastern-affiliated people are in buildings like Curry Student Center? What will the response be if someone isn't wearing their required lanyard?
Estabrook: We're not running around shoving people out of buildings, pushing people away. There aren't going to be as many places to sit, there aren't going to be as many chairs that you can steal from another table and smush together, and there aren't going to be as many options for eating. I mean, there's going to be all takeout there. Most things are going to be limited as to how many people can be in a building and in a space. When it gets overcrowded, the people who are running that space are going to be managing that. 
I think we're going to get used to it. I don't know how happy we will be, but we do still want to find ways that the Northeastern experience and the college experience is joyful.
HN: If there is a major outbreak and students are asked to move out of their residence halls, will they receive prorated housing refunds as they did in the spring?
Estabrook: While we're building these scenarios, all of the specifics of those details haven't been determined. It's more about how do we keep this space as safe as we possibly can for one another and as safe as we want it for one for each other. But I believe that prorated refunds in the spring were fair, and I believe Northeastern is fair.
HN: Can students who test positive choose to quarantine at home instead of wellness housing if they live locally?
Estabrook: I am not going to stop any mother or father who comes and picks up their student to take them home. They should understand that they too will need to quarantine and isolate because they will be a close contact at that point. Students would need somebody to come pick them up who's then going to be living with them. This is not something where students could get on a plane and go home, or even get on public transportation and go home, or even necessarily take an Uber. This is family taking care of family and, of course, families will be able to take care of family if we can do it within the rules and within safety.
HN: How will the no-visitors policy be enforced in residence halls with no proctor like Douglass Park or the Saint Stephen Street dorms? 
Estabrook: If there's no proctor, there's not much we can do. At this point, however, if there are lots of parties going on there and we find out that everybody's positive at some point there, we may have to limit who can live there. The buildings that don't have proctors are upperclass buildings usually, and hopefully that's also a group that brings with it some maturity and appreciation of what we're trying to do.
HN: Will there be consequences for students who violate the no-visitors policy? Will they be sent to OSCCR?
Estabrook: We're working on that. Many of these [cases] are going to be sent for expedited review, because we're not going to want to wait four weeks or six weeks for some of the cases that might not have been deemed a high-risk case in other years. These are high-risk cases. We're going to do expedited review on all of these, and as I said, the first intervention is a discussion because this is about education. This is about getting us all to appreciate and acknowledge what's going on here. 
HN: We've seen a lot of students express that they are nervous and not confident about coming back to campus. What would you like these students to know that will instill more confidence about coming back?
Estabrook: I truly believe that if we as a community come together and fully participate in all of the initiatives that we've put forth here, and all of the advice that we get for public health gives us new advice or as the governor and the mayor update their advice, that we are creating a community that's as safe as we want it to be for all of us. It requires all of us, though, to be part of the solution. It requires all of us to wear masks. It requires all of us to keep that distancing. Wash hands, sanitize, wipe your countertops, go in and out of classrooms and not [rearrange chairs]. 
We are very proud of Northeastern, we're proud of Northeastern students. And we're proud of what we're doing as a community to take proactive and continuing actions to make sure that our community is as safe as we all want it to be for us.