NUPD apprehends juvenile with BB gun, raising questions on officers' methods
On Wednesday afternoon at approximately 2 p.m., two Northeastern University Police Department, or NUPD, officers responded to a juvenile carrying a BB gun in Columbus Garage, according to an email statement from Renata Nyul, a university spokesperson. The officers detained the juvenile and sent him home to his parents. A recording of the encounter was filmed and posted to Twitter Friday, amplifying ongoing conversations regarding criminal justice and the role of NUPD on campus.
"We are aware that circumstances such as these can often lead to escalation and, in some cases, tragic results. The university is grateful that the officers were able to contain the situation and keep the community safe," Nyul said via email. 
Jordan Clark, a Northeastern alum and graduate student, recorded a video of the arrest and posted it on Twitter. In the video, the two NUPD officers could be seen forcing the boy to the ground and kneeling over him as the boy said that he only had a BB gun. According to Northeastern's media relations department, the boy was apprehended as he was walking toward a toddler's playground with the BB gun was concealed in his waistband. At that point, the officers intervened, removed the BB gun from his waistband and then as other officers arrived, the boy was handcuffed. Given the young age of the boy that was detained, Clark and other students raised questions on how NUPD officers handled the situation. 
"The first thing that's apparent is the distribution of power in that video … the need for there to be three cops on top of that kid," said Gisselle Rodriguez-Benitez, a fourth-year economics major and secretary general of the Northeastern Students of Color Caucus. "I can't imagine the frustration of being in that kid's position while being told to relax and calm down. On a personal level, I'm really concerned for him and his safety and where he's at right now."
The Northeastern Students of Color Caucus, or NSCC, is one of many student organizations on campus that has called for NUPD to be defunded. For Rodriguez-Benitez, the NUPD officers' handling of this boy has reinforced that need.
"It's both very frustrating but also motivating in that we need to do more and step up how much we're getting done at this institution," she said. "This can't happen again. There should be a better way to go about this."
On Nov. 18, the NSCC, #DefundNUPD and #BlackatNU posted a joint statement to Instagram in response to the arrest which stated that they "unequivocally condemn the handling of [the] incident" and believe the officer "needlessly escalated the situation." They want to know what Northeastern is doing to "address the harm caused to the minor and his family." 
The statement also expressed condemnation of Northeastern's response, or lack thereof, to demands put forth by #BlackatNU, as well the petition for data transparency created by #DefundNUPD. The student-led organizations, which are all members of the Coalition of Northeastern Students Organizations of Color, said the University has offered "band-aid solutions," a sentiment echoed by Clark in his interview with The News. They called upon Northeastern to to "sincerely incorporate student demands, defund NUPD and invest in student and community wellbeing."
"Members of the surrounding community must be made to feel safe, welcomed and a part of the broader Northeastern community," the statement read. "Anything less is to deny humanity."
Additionally, the NSCC, #DefundNUPD and #BlackatNU encouraged students to take part in a day of action by emailing administrators, changing their zoom backgrounds, filing complaints with NUPD and sharing information to engage other students.
Northeastern University Police Chief Michael Davis told the Boston Globe that the sergeants followed standard procedure for handling a person who has a gun. Davis also told the Globe that the sergeants handled the matter calmly and did not escalte the situation.
Rodriguez-Benitez was concerned with the officers' decision to force the boy to the ground and keep him there. 
"I've seen plenty of videos of people being murdered for being in the wrong place at the wrong time and the failures of officers to de-escalate a situation appropriately. It makes me reflect back to the work that students have done over the summer advocating for the defunding of NUPD," Rodriguez-Benitez said. "There has to be a better way to account for the safety — physical and mental — of the child being arrested."
Nyul's statement noted that it is "illegal to carry firearms of any kind onto a college or university campus and that the BB gun was "deliberately altered to look like a handgun."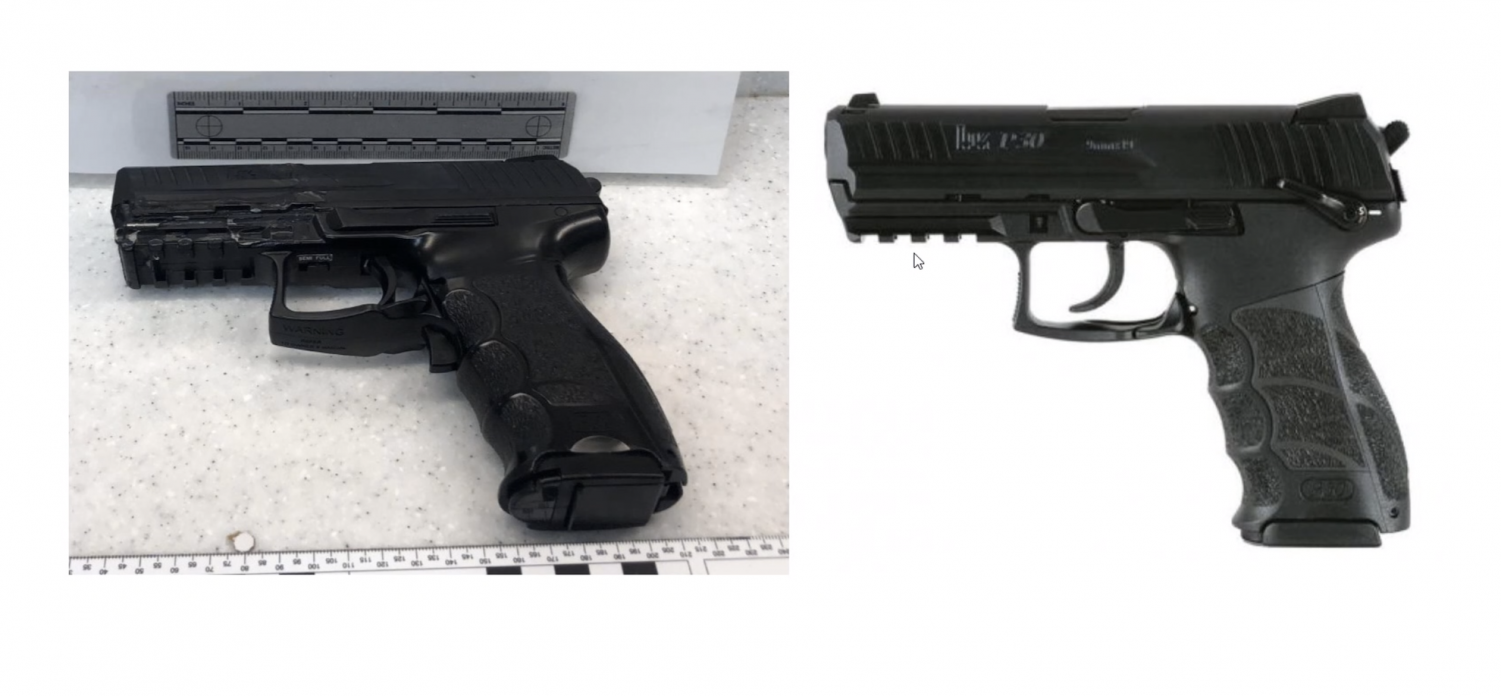 Clark noted that even after the officers had taken the BB gun, the boy remained physically restrained.
"You have the gun away from him. You know you're not in danger," Clark said. "The trauma could've ended quicker if they listened and heard [the child]."
Both Clark and Rodriguez-Benitez also took issue with the officers saying, "It's okay," to the boy after handcuffing him and lifting him up from the ground. They felt that the words were superficial and that the officer did not make the situation reflective of "not [being] a big deal." 
"You can't put someone in handcuffs and then say it's not a big deal," Clark said. 
Rodriguez-Benitez felt that the officers' handling of the incident was "alarming but not surprising" and made her concerned about the safety of her classmates and fellow members of the NSCC. Although the boy's racial identity is unclear, Rodriguez-Benitez said she still fears for the safety of the surrounding community, which is home to many people of color, a group that has historically faced excessive force from police officers.
Clark also felt that the officers' treatment toward a child raised concerns for how they might respond in other tense situations.
"I've taught in environments where weapons were involved regularly and never once would I jump a kid — especially if I thought he had a gun. There's so many other scenarios that run through my head. If this is how they act to a kid, how are they going to act to me? Or an adult?" said Clark, a former high school teacher. "I'm an African American man. I'm Black. I have a nephew. I love Northeastern. I'm an alum and a graduate student. I want my nephew to come here. I'm a teacher and I want my students to come here, but I want them to feel safe here."
Prior to the start of the fall semester, President Joseph E. Aoun announced the creation of an advisory board to improve the relationship between the community and NUPD. So far, Rodriguez-Benitez has felt that this hasn't been enough.
"[Students] have outlined proposals and specific changes that should be made, and it feels really frustrating that they were acknowledged in the new committee and infrastructure, but that they are really watering down everything students are putting forward," she said. "It feels like the admin isn't listening." 
Davis also told the Globe that they review every incident in which an officer uses force to ensure that officers follow standard procedure and to learn from each incident.
Upon being sent Clark's tweet, The News reached out to members of the NUPD advisory board. Fourth-year mechanical engineering student and member of the board, Diego Rivera, responded in an email to The News. 
"While I can't speak to the board's position, it's personally deeply disheartening to see this response, and I can assure you that we will discuss it at our next meeting," Rivera wrote.
After this incident, Rodriguez-Benitez hopes for more action in reforming Northeastern's police department.
"The work isn't done just because President Aoun sends an email that sounds nice or because minor adjustments are made," she said. "It's a structural issue that needs to be addressed. I hope this will mobilize the students into caring not just for their safety on campus, but community members that happen to be around it." 
Mihiro Shimano also contributed to this report.
Story was updated Sunday November 15th to include additional detail about the boy's location when he was apprehended by NUPD as well as the moment the BB gun was confiscated from him.
Correction: Story was updated at 5 p.m. Sunday November 15th to remove the attribution of the boy's race to Northeastern media relations. 
Story was updated Wednesday November 18th to add additional information reported by the Boston Globe. 
Story was updated Monday November 23rd to include additional reporting about student organization's reactions to the event.