No. 3 women's hockey decimates visiting Crusaders 12-0, Frankel claims HEA shutout record
If you were waiting for the No. 3 Northeastern women's hockey team's stretch of dominance to end, you're going to need to wait another few days. The Huskies followed up their strong 8-0 victory against the Holy Cross Crusaders with another absurd game, beating them 12-0, outshooting them 55-12 and limiting their visitors to just one shot on goal in the second period. The Huskies have now scored 40 unanswered goals, and haven't surrendered a goal since Jan. 22. 
"I thought it was a great continuation from last night. We were firing on all cylinders, and it was good to see. We got production from everybody, rolled all the lines," said NU head coach Dave Flint. "It was a great, great game and obviously really happy for Aerin Frankel for breaking the Hockey East shutout record." 
In the shutout victory, NU's (13-1-1, 13-1-1 HEA) sixth shutout in a row, senior netminder Aerin Frankel added another record to her extensive resume. With her 25th career shutout, she now holds sole possession of the Hockey East shutouts record. 
"It's obviously something that has taken a body of work over four years and credit to my teammates for helping me so much and being there for me when I need them. Tonight, [Megan Carter] made a huge save for me in net to preserve the shutout. I think they knew that tonight could be the night, and they helped me a lot," Frankel said. "Over the past four years, there's been a lot of ups and downs, and especially my freshman year we weren't as strong of a program just yet, but I think there's been a lot of growth… It wasn't always easy for us to win games, but now we are where we are because of the process and trusting our coaching staff."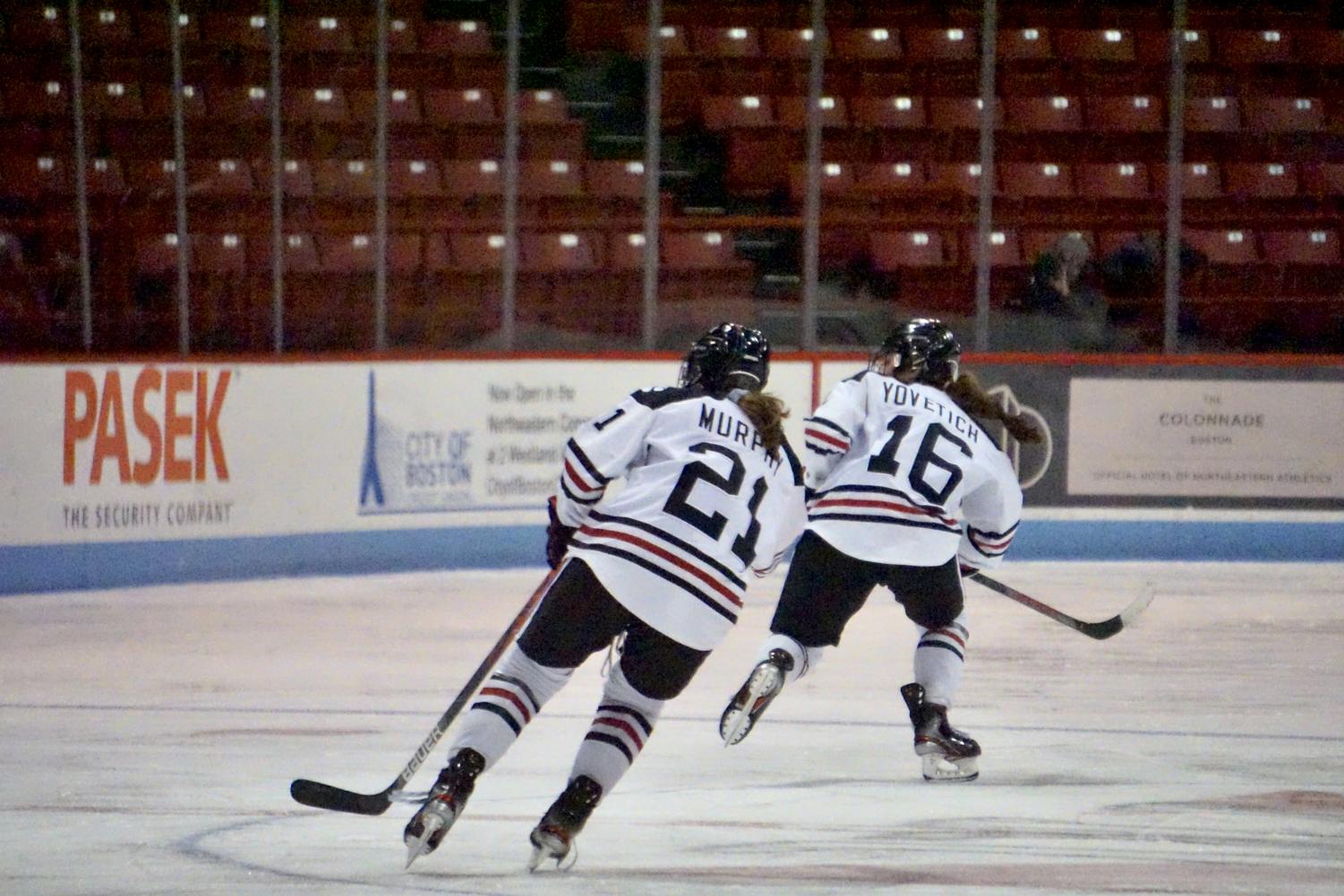 In the blowout win, 10 different Huskies scored a goal and 15 recorded a point. Senior blueliner Skylar Fontaine and senior wing Katie Cipra each scored two points, while junior center Alina Mueller recorded five points on a goal and four assists, giving her 26 points in the season. Sophomore center Katy Knoll picked up four points, while sophomore blueliner Megan Carter scored a goal and two assists, along with an honorary save when she threw her body into Frankel's to protect the goalie's shutout in a chaotic third period play out front. 
"I think the puck hit off me, bounced over to a Holy Cross player and she was about to stuff it home and [Carter] kind of dove out of nowhere and blocked it for me," Frankel said. "I said thank you to her of course, because that was a huge, probably the hugest, save of the night. She always has my back tonight and every night, just always a sound defenseman for me."
It was a true 60 minutes of hockey by NU, as they controlled the game from the opening puck drop. If college hockey had zone time statistics, it would likely be in 90% NU's favor. Their passing prowess was on full display, which allowed them to keep the biscuit out of Holy Cross' (3-12-0, 3-12-0 HEA) reach basically at all times, and they held an advantage in the shot column that at one point sat at 34-3 in the second period. 
NU's first goal of the game took a bit longer than last night's, but it was well worth the wait. Just over 11 minutes into the first stanza, Cipra carried the puck for the Huskies toward the right faceoff circle. She was at a tough angle, so it looked like a harmless play, but Cirpa defied the odds with a corner snipe just over Crusader junior netminder Jada Brennon, who had some trouble seeing the shot as Holy Cross freshman forward Grace Johnson acted as a screen for Cipra's shot. 
NU's next goal was also a beauty, but a beauty of passing. After hard work on the forecheck, sophomore center Katy Knoll sent a pass down to senior wing Veronika Pettey, who hesitated and waited for junior forward Mia Brown to come crashing off the Huskies' bench toward Brenon's cage. No one picked Brown up as she entered the zone, leaving her wide open to receive Pettey's pass and nail a backdoor shot that Brenon had no shot to stop. 
The Huskies kicked off the second period with a goal, just taking two minutes to grab their third goal of the game. NU set the strong net front presence up, and sophomore Megan Carter sent a puck in through traffic and off Brenon's chest. Knoll and Pettey were both there to pot the rebound, but this time Pettey was the scorer to give NU a 3-0 lead. 
Sniping Cipra, who made her way onto SportsCenter earlier this year, struck again in the second, after picking up a loose puck kept in the zone by senior defender Skylar Fontaine. Cipra then glided through the slot, weaving as one would do on a shootout attempt, and put a bullet into the back of the net past Brenon for her fourth goal of the season.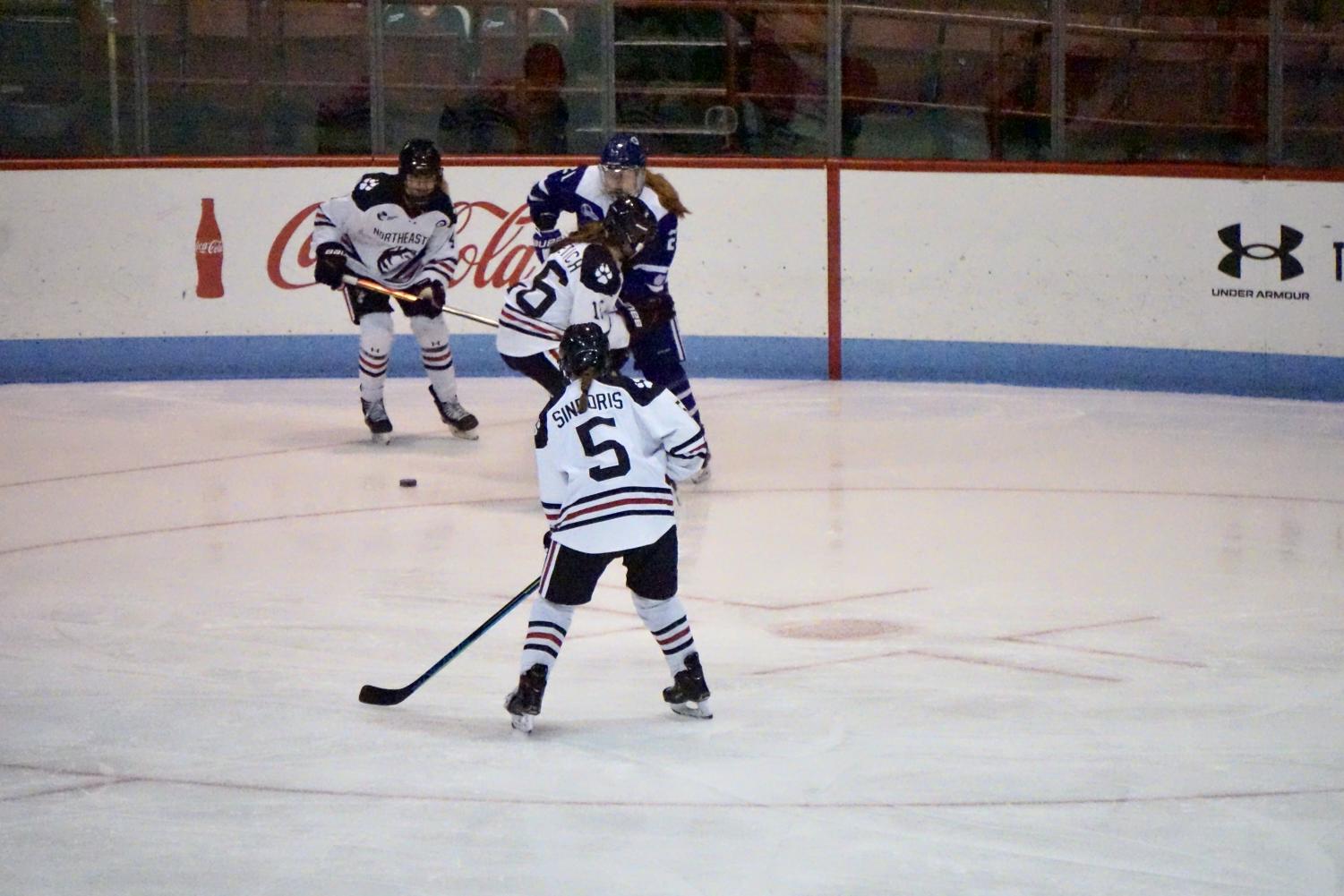 "Those were some snipes, weren't they? This week in practice, she looked awesome," Flint said. "I was joking with her… I said 'I don't know what you have been eating this week, but you look awesome, and you're playing great.' She went out there today and she was firing."
Just four minutes later, Mueller grabbed a goal for herself after jumping over freshman defender Vaia Graves, who was sprawled on the ice with redshirt junior Maureen Murphy, to work her way to a rebound from her linemate Murphy's shot. It took about a period to get their strong net front presence going, but it caused Brenon fits in the second, with Fontaine grabbing a rebound goal 40 seconds after Mueller's tally. Fontaine's was an odd one, as she sent the rebound off Brenon's skate to bank it into the Holy Cross cage. 
On the power play with eight minutes left in the second, the Huskies' "fearsome five" made it look easy. The Huskies set up a beautiful cycle, with the puck moving from Hobson to Murphy high in the zone, who sent it down to Mueller below the left faceoff circle, who whipped it across to Aurard, where the French-born forward could score her fourth goal of the weekend on Brenon, who was looking for a shot from Mueller and was unprepared for the pass. 
It took just a minute for NU to strike again, pushing the score to 8-0 with just under seven minutes left in the second period. Knoll added a snipe to her resume, sending a shot through traffic above Brenon's glove to chase the junior netminder from the game, forcing Crusader junior goaltender Sarah Street into the fire. Brenon, like yesterday, fought valiantly, but got no help from her starters in front of her. Her day ended with 23 saves on 31 shots. Holy Cross skaters only got three pucks on net during that same 33 minutes of game time. 
"The thing I've been trying to instill in them, for the last few years, is you don't stop, you don't lay off the gas," Flint said. "Just because you get up a couple goals, you don't coast. Championship teams, they play hard all the time. They play at the same level, whether they're up 10 or down 10."
Street's day was not particularly enjoyable either, as she surrendered a power-play goal with 54 seconds left in the second to Fontaine. Her goal came from the right side faceoff circle, as the defender crept in close on the power play and picked her spot for her eighth goal of the season.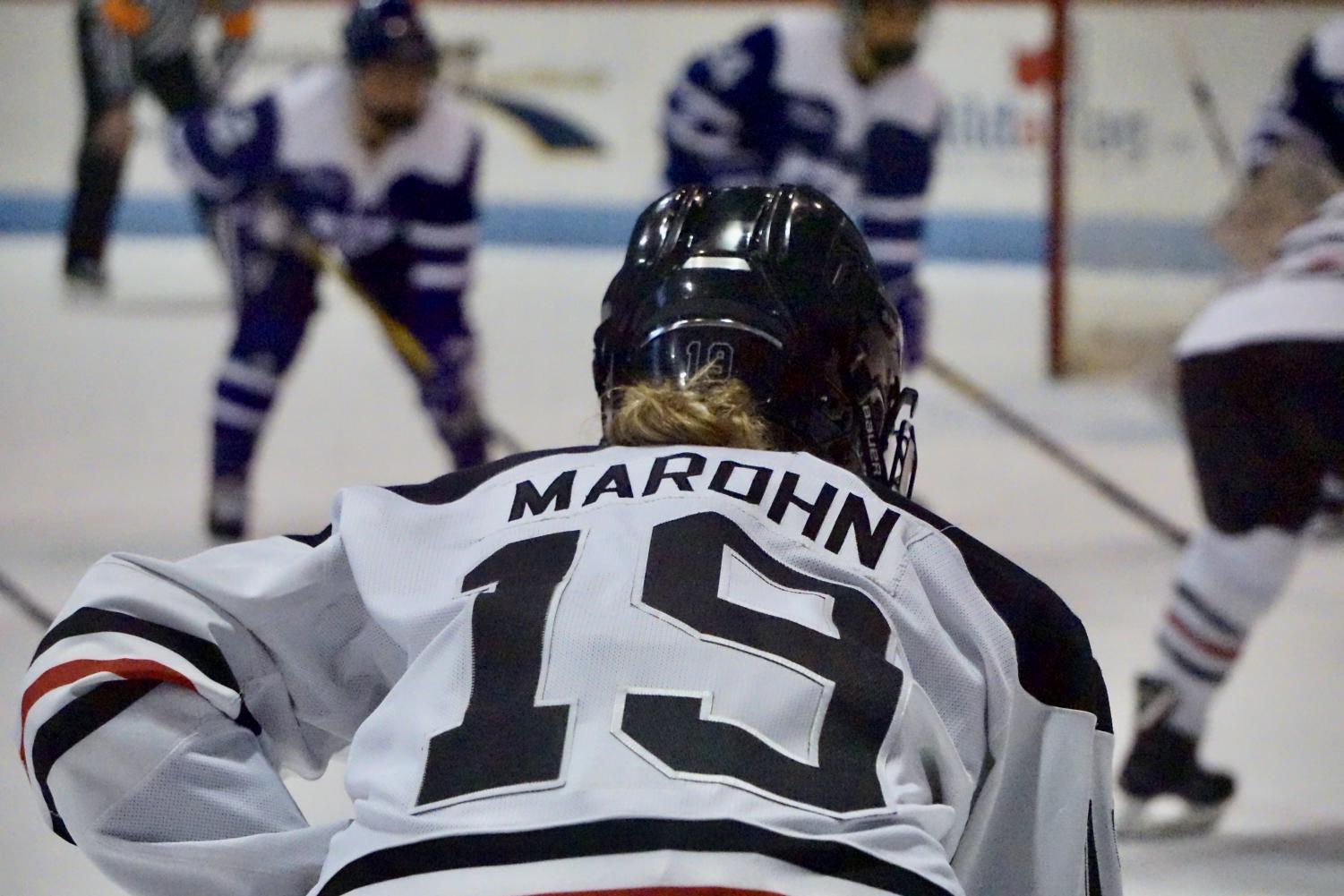 In the third period, the onslaught didn't stop. Carter, sophomore wing Peyton Anderson and junior center Tessa Ward each notched tallies in the final 20 minutes. The third period was likely Holy Cross' best, as they notched eight of their 12 shots in the period, but it really didn't matter at that point.
Northeastern remains firmly in first place in Hockey East, and they'll eagerly await the scheduling of their next games, which will be announced Tuesday. 
"We're playing really good right now, but when it comes down to it, as we reach the end of the season, our opponents are going to continue to get better and better, if we want to win the whole thing," Frankel said, noting that the Huskies will need to keep getting stronger and keep their feet on the gas pedal if they want to win a national championship.