No. 1 seed women's hockey ends No. 7 seed UConn's playoff run, secures chance for fourth straight HE Championship
In by far the closest game the No. 1 seeded and No. 1 ranked Northeastern women's hockey team has played in quite a while, the Boston-based Huskies were able to just edge the visiting No. 7 seed UConn Huskies in an immensely competitive and nearly penalty-less 2-1 win.
"I thought we were a little inconsistent tonight, but hats off to UConn. They played a great game, had a great game plan, they're so disciplined and well-coached that it was a grind for us," said head coach Dave Flint. "Credit to my players, their backs were against the wall there and they stepped up with a huge [shorthanded goal] late in the game and sealed the win."
The only penalty called in the entire contest wound up deciding the game, just not how most power plays do. With five minutes and four seconds to go in the last period of a tied game, senior blueliner Brooke Hobson sent UConn (9-10-1, 9-10-1 HEA) senior blueliner Taylor Wabick careening into the boards, taking a two-minute minor and putting her team on the penalty kill. As Northeastern (19-1-1, 19-1-1 HEA) has on five occasions already this season, they scored a shorthanded goal, none more impactful than this one. 
"I told the team… 'It's time for us. It's a gut check, and we need to step up and everybody needs to come together and compete and battle through it," Flint said of the moments before the penalty kill began. "They were lining up for the face off and I just had this feeling in the back of my head: 'We got a really good chance of scoring a goal here.' Anytime Alina, Chloé and Skylar are on the penalty kill and all on the ice, I like our chances of scoring a goal if the other team turns a puck over."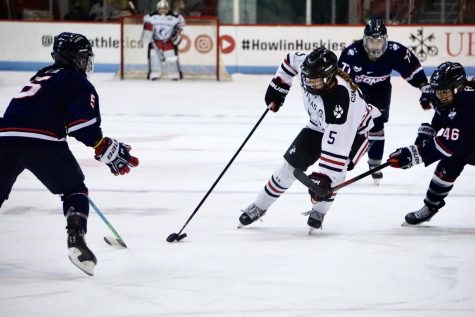 Senior defenseman Skylar Fontaine stole a loose puck in NU's zone after UConn junior forward Danielle Fox hit the ice and ripped from one end to another, drawing UConn freshman netminder Tia Chan to her side of the ice while junior winger Chloé Aurard crept toward the backdoor opened by Fontaine's pressure. After grabbing an assist on NU's opening goal, Aurard didn't hesitate when Fontaine sent her the puck, cashing in for a ticket to a chance for an NU record-setting fourth straight Hockey East Championship. 
Goaltending dominated the contest, as co-Hockey East Player of the Year senior netminder Aerin Frankel notched 27 saves on 28 shots, many of which were considerably higher quality than she's had to deal with lately with UConn's forecheck and transition game firing on all cylinders. In the third period, she made a few stupendous saves with the game and her team's postseason, making eight prior to NU's game-winning short-handed goal and four after it to close the game. 
"[Frankel] had a great game, she came up with some big saves, like she normally does. That's why she's been our backbone of our team this year. To win games, it's no secret you need a good goaltender that your team can rely on and we relied on her tonight," Flint said. "I think she wished she had that first one back, but when I look back at this year, that was the first goal that I say 'Oh, you know, she should have had it.' But I liked how we stepped up for her, and she stepped up with some great saves during the third period to help secure the win for us."
On the other side of the ice, Chan made a somewhat surprising start after her junior teammate Samantha Carpentier-Yelle had started against BC over the weekend. However, she made it quite clear why her coach entrusted her with the start and a big share of the goalie rotation this season, saving 28 of the 30 shots NU flung at her and racking up a few highlights of her own to match Frankel's performance. 
UConn gave NU a fantastic bout, and even with an open net in the final minute of the game, they didn't quit, with senior wing Morgan Wabick notching two blocks that really should have been marked down as saves to keep NU from icing the contest. Unfortunately for them, the best performance that Northeastern has had thrown at them this season just wasn't enough for UConn. 
Puck luck played a role today as the ting of a puck striking the post rang out more than once, a near-goal from Aurard that lit the goal lamp didn't make it onto the scoreboard, a Hobson shot that looked destined for a goal in the first struck a teammate instead and UConn's lone goal came off an unconventional bank shot from below the goal line. In the end, the hockey gods sided with NU and their ongoing 14-game playoff win streak and 19-game unbeaten streak instead of yet another UConn Cinderella run, robbing the No. 7 seed of another surprise run to the Hockey East Championship.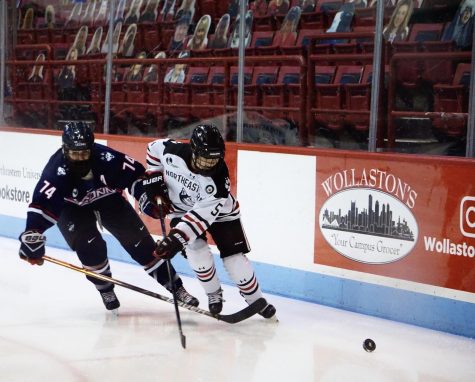 "That was probably our best game of the year. [We] really competed well, stuck to our plan of how we wanted to play and we had a few chances too… So I can't ask more for my team," said UConn head coach Chris Mackenzie. "Our team really rises to the occasion, which I'm so happy and proud of… I don't think it's anything we're doing special, but sometimes there's teams that check out late in the year and there's teams that want to keep playing… We simply sometimes just don't make it easy on ourselves, but if we got to go through the top teams to get the championship, that's fine. You're going to have eventually beat them anyway."
NU's other Hockey East Co-Player of the Year and the NCAA's leader in points, junior center Alina Mueller, scored her team's first goal of the contest and regularly reminded viewers of her status as arguably the top skater in college hockey throughout the game with fantastic stickhandling and passing. Her top line seemed almost as game-saving as Frankel at times, as in the first period they were the best at breaking UConn's blue-line-forechecking dam, the strongest at working the puck in UConn's zone and forced Chan to make some of her best saves of the evening, and Aurard, the left-wing of that line, was the star of the game with two points.
"If there was any type of [puck] contact, we were going to try to get a second player in there. We were able to be disruptive, [which] was basically what we were looking to do," Mackenzie said, adding that the game plan worked, but Frankel got in the way. "It worked pretty well for the most part, we were slowing them down, but when the top unit gets out there [and] they start throwing across ice with some speed, it can put you on your heels."
The first period surely did not go as the NU Huskies were hoping it would, as UConn was buzzing from puck drop. They employed a pretty impressive dump-and-chase game throughout, but it appeared to be at its strongest in the opening stanza, allowing them to get behind the NU defense and set up behind Frankel a few times. That gave them the chance to interrupt NU's breakout attempts as well, giving them the opportunity to take advantage of some broken passing plays and surprise Frankel with shots, but just as her team had their best game of the season Sunday, Frankel turned out one of her best periods of the year to keep her team tied, even turning away a few nifty transition scoring chances that UConn had been able to finish against BC Sunday. 
But in the end, NU won the period where it counted: the goal column. With a minute to go, sophomore forward Kate Holmes was able to keep an attempted UConn clear in their zone, which gave Flint a chance to open the door to his bench and get the first-line on the ice. They controlled the puck from there, and with just 10.9 seconds left, Hockey East scoring champion Mueller potted a pass from behind the net sent by her linemate Aurard for her 11th goal of the season, giving NU momentum to take into the first intermission. 
NU looked stronger in the second period, but UConn was able to escape with a game-tying tally late in the period. Redshirt senior defenseman Emily Reid looped the puck around the boards behind Frankel to sophomore forward Coryn Tormala, who sent a hard shot from below the goal line toward Frankel's skate as the Husky netminder looked to seal the short side, where she'd been light out for the rest of the contest. Call it an odd bounce, call it Frankel's lone mistake of the evening, either way you slice it, the puck banked in off Frankel to tie the game and only upped the intensity on the benches in Matthews Arena with a 1-1 score that would hold for the last six minutes and 23 seconds of the second period and first 15 minutes and 22 seconds of the third period.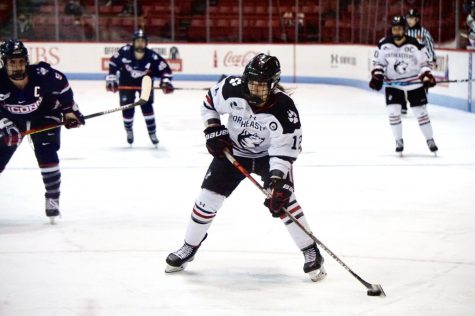 The final period looked fairly even throughout, and it was anyone's game at the point of Hobson's critical penalty. NU has scored six shorthanded goals this season now, compared to just two surrendered on the power play, so in the end, the penalty really just worked against UConn. They had strong puck movement going for the first 20 seconds of the power play, but all it took was one turnover to break the visitor's hearts tonight and send NU to the championship. 
The Providence Friars (12-6-1, 12-6-1 HEA) will be NU's opponent in the Hockey East Championship, their fourth matchup of the year and the first chance for recent transfer redshirt junior Maureen Murphy to play her former team. NU defeated the Friars in all three games this year, racking up a goal differential of 13-1. The game will be played at Matthews Arena 7 p.m. Saturday, and this most recent test should prime NU a bit for the future. 
"I told the team, it's okay for us to have some of those games, to grind out games and compete, battle and have some adversity and then come out on the winning end, because that makes us a better team, [but] it doesn't do much for my health," Flint said. "You're not going to cruise by everybody, and when things aren't going your well going your way all the time or going well for you, then you got to step up, and you got to have some composure and you got to compete and battle through it, and I thought they did a good job of that today."