Mide Oriyomi: The Red and Black hero
March 4, 2021
In a team riddled with upperclassman injuries, one underclassman has stepped up to the plate to fill in the gaps: sophomore forward Mide Oriyomi. 
Last season, then-rookie Oriyomi led the class of 2023 in scoring averages and even earned herself CAA Rookie of the Week Jan. 13 2020. This season, she shattered nearly all of her records and proves to be a key player for the Huskies. 
"Mide has been a great steady for us in the last handful of games and I think that's a position that she's comfortable being in," head coach Kelly Cole said. "If Mide can continue being that steady player, it gives her teammates the opportunity to help and contribute around her." 
Given the start-and-stop nature of playing during COVID-19, achieving a double-double, which is when a player reaches double figures in two of the five main statistics, once in the season is a hard feat. Oriyomi has achieved this feat five times this season, most recently in a win against UNCW. 
"Our team has great chemistry and all three point guards have done a good job of finding me and putting me in a position to score," Oriyomi said. 
One of her three point guards, senior Stella Clark, has seen an incredible change in Oriyomi's play and fluidity from last season to this season. 
"Our connection on the floor gets better every day. Some of my favorite plays are mine and Mide's backdoor connections because she'll sneak by and it's just such a great moment," Clark said. "I think she's been doing an amazing job this season especially taking on a bigger role after only having one year under her belt."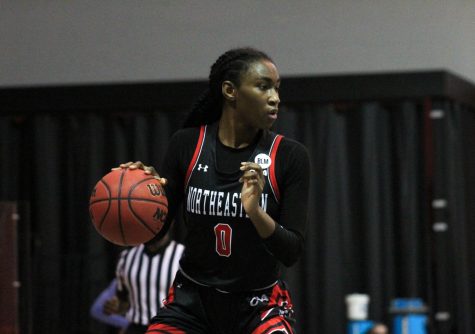 Two of Oriyomi's best games came early in the season, both against Delaware, who sit on top of the CAA standings. Despite losing both, Oriyomi was consistent in leading the charge and earned her career-high in points with 22. 
"I wanted to take advantage of my height, being a tall guard/forward, I have that advantage against the people I go against and I think my rebounding has really improved this year," Oriyomi said. "My goal is at least five boards a game."
This goal is definitely on track to being achieved as the Ontario native leads the team in rebounds, having contributed 121 of the 554 that the Huskies have grabbed this season, setting a career-high of 17 in a win against Manhattan. 
"I've definitely had to step into more of a leadership role because we are such a young team and being on the floor a lot I've definitely had to adjust to that," Oriyomi said. 
The court isn't the only place that Oriyomi is a leader; she also serves as president of the Northeastern Black Athlete Caucus, or NUBAC, and is a student-athlete representative on the CAA's United for Change committee. 
"We've made a lot of progress. We finished our mission statement, are currently working on an anti-discrimination statement and working on every school playing 'Lift Every Voice' after the anthem," Oriyomi said about United for Change. "We're thinking about what the community needs over the long-term because this isn't a short-term commitment."