No. 1 women's hockey's historic season ends with 2-1 OT loss to Wisconsin in title game
One way or another, the No. 1 women's hockey team's historic season was going to come to an end Saturday night in Erie, but it came to a more heartbreaking conclusion than anyone could have imagined. The Huskies' longest unbeaten streak since 1988 came to a shocking halt just over three minutes into overtime when the No. 2 Wisconsin Badgers claimed their second consecutive NCAA title via a 2-1 overtime victory. 
"I think we gave Wisconsin everything they could handle, so I'm just proud of my team's effort and what they've done all year long and all the accomplishments that they've had. Obviously, [the players] are all upset after the game, and I told them the reason it hurts so bad is because they care about it so much and they've worked so hard to get to that point," said Northeastern head coach Dave Flint. "They've set a new standard for Northeastern women's hockey, and it's not the last time we're going to be here. It doesn't take away from the amazing year that they've had."
The tragic 2-1 loss brought an end to a historic season for the Huskies (22-2-1, 20-1-1 HEA), one that featured their first Frozen Four appearance and win, the team's first No. 1 national ranking and first appearance in a national title game. In the end, it brought one more first for the Huskies, but a bittersweet one: their first second-place finish in the national tournament.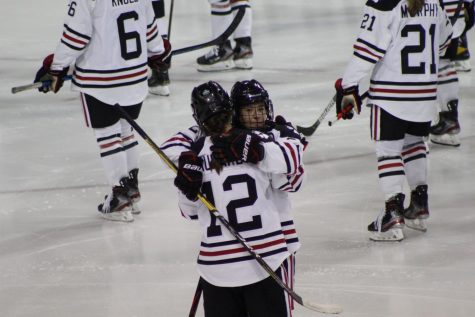 "It's a new expectation for our program that's been making big strides, and that [game] was just another hurdle. The next step in the process is to win a national championship, and credit to Wisconsin, they've been here a bunch of times," Flint said. "[Wisconsin] knows how to win, they find ways to win and that's what they did today. We're going to keep fighting, we've got a lot of our players returning for next year, so I think we'll be back."
No hockey fan could've asked for a better national championship matchup; half of this year's All-Americans took the ice while Flint, this year's National Coach of the Year, and Wisconsin's (17-3-1, 14-3-1 WCHA) Mark Johnson, women's college hockey's all-time winningest coach, looked on from their respective benches. The top two teams delivered, and the Huskies and Badgers faced off with a back-and-forth, high-flying matchup, fit to decide a national championship.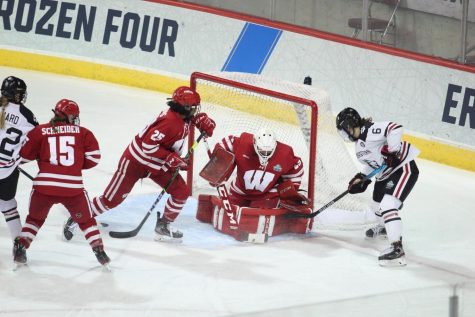 "Both teams had chances. [It was] disappointing, obviously, the way it ended," Flint said. "Also, [I] wish it was maybe a better goal that ended that game, but that's the way it goes."
The ending was or wasn't particularly storybook, depending on your perspective, as the championship tilt ended on perhaps the oddest national championship overtime winner in history: A puck shot from behind the net that banked in off Northeastern's sophomore defender Megan Carter, a star on the blueline for NU this season who was simply cutting off a passing angle.
"Megan [Carter] played an amazing game, and it was an unfortunate bounce, and there's … nothing she could have done differently. I know she feels bad about it, but it's a team game and we had opportunities to score and we didn't," Flint said, surely one of the many Huskies of the night to reassure Carter in light of the defender's stellar season and tournament that ended with an unbelievably brutal break. "It's just one of those unfortunate things, and we got to put it behind us. It doesn't change the fact that she's an amazing player, had an amazing game today and has been great for us all year."
Senior forward and top-three Patty Kazmaier finalist Daryl Watts was credited with the title-winner, a fitting goal scorer given her status as Wisconsin's top scorer and the NCAA's leader in points per game this year. In the postgame press conference though, Watts wasn't completely sure how the puck got in, erroneously believing it banked off senior goaltender Aerin Frankel.
"If I could write it and have somebody score the game-winning goal it would be her, because one of the reasons she wanted to come to Wisconsin, as she was picking out schools, was the opportunity to win a national championship," now six-time national champion Johnson said of Watts' goal, which gave her her 240th career point. Watts transferred to Wisconsin from Boston College following her sophomore campaign with the Eagles.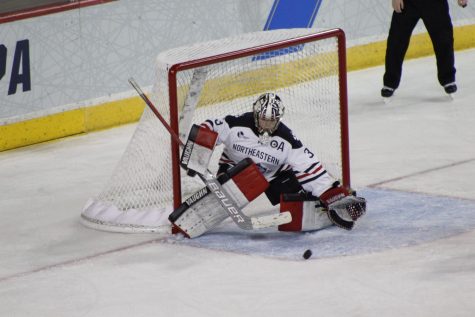 Frankel starred for the Huskies, as she always does, but the championship brought a further elevated level of play. She secured a season-high 35 saves on 37 Badger shots, and the two goals allowed are impossible to pin on the New York-born netminder, with one coming off a rebound from a strong save against a rush and the other coming on a shot from behind the net. Throughout the contest, Frankel proved her case as the unanimous goalie of the year, flashing the leather, her pads and every form of save a goalie could make, working through traffic and out of her crease to keep the Huskies afloat amid the stretches that the Badgers looked strongest in. 
"She's always locked in, and she's such a competitor. We knew she needed to be good today to give us a chance, and that's what she did. I can't even fault her for the last goal, because [it was] just a bad bounce off the defenseman and that stuff happens, but she gave us a chance," Flint said. "She's proven [that] she's the best goalie in the NCAA, [and] I'd say the best player in the NCAA, and a huge, huge reason for our success."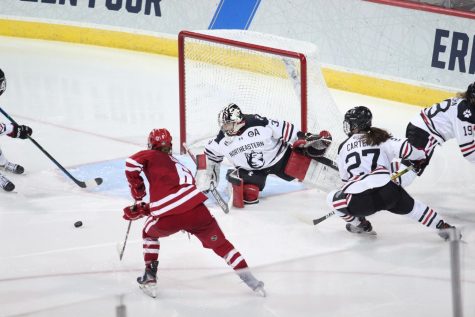 Frankel's most remarkable sequence came just over midway through the second period when Wisconsin freshman center and Massachusetts native Casey O'Brien came right out of the penalty box and behind NU's defense for a one-on-zero chance against Frankel that forced the all-world goalie to lay out on the ice and seal the crease with both her pads. The Badgers retained possession after her save, and seconds later, Frankel had to deal with another dangerous shot from the goal-scoring slot area of the ice. This time, she had Carter to aid her in defense as the defensemen performed a gutsy kneel-down in front to take up space and position herself to eat the shot. After the second puck was stopped to keep the game tied, the two shared a celebration hug. 
On the other side of the ice, Wisconsin's team defense impressed to keep Northeastern's shooters at the perimeter and block shots, protecting redshirt senior Kennedy Blair from some of the Huskies' highest danger chances. Blair played admirably for her team, making 24 saves on 25 shots on goal, but gave up quite a few rebounds in the contest for her defenders to clean up. Her defensemen were up to the task though, with sophomore defender Chayla Edwards and junior blueliner Nicole Lamantia standing out in the cleanup department for the Badgers. 
"Wisconsin did a really good job of keeping us outside, not letting us jump on rebounds and they made it difficult for us all night," Flint said. "I think goaltending was a weakness for them, and I felt like if we got some more grade-As, it would have been a different outcome."
Lamantia, who was credited with an assist on Watts' winner, also made a tremendous defensive play to break up a pass from junior wing Chloé Aurard on a three-skater NU breakaway just a shift before the title-winner.
The game's first goal came from Wisconsin freshman winger Makenna Webster 51 minutes into the contest after the teams traded rushes all game long. Webster was the trailer on another O'Brien rush, and after Frankel denied O'Brien's fourth shot on net of the night, Webster was there to pot the rebound for a 1-0 Badger lead. Wisconsin's third line was stellar in the team's semifinal victory, and O'Brien and Webster didn't miss a beat in this one either.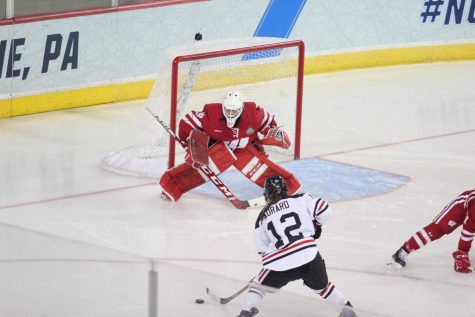 The Huskies answered back just 39 seconds later on a trademark sequence from junior forwards Alina Mueller and Aurard. The duo combined for a few fantastic one-timers starting from below the goal line this year, and this time, Mueller was the passer to find Aurard. After a fantastic keep near the blue line from NU senior defenseman and captain Brooke Hobson, Mueller sent the puck from the left-side backboards to Aurard just past the faceoff circle, where the winger pounded the puck with authority past Blair to tie the game. The tie would stand through the third period and into overtime only to be broken by Watts' atypical game-winner.  
With only NU senior wing Veronika Pettey receiving a video tribute on senior day this year, it looks likely that almost all of the Huskies will be back next season. They'll carry even more motivation with them into Matthews the next time they enter the rink, as their final moments on the ice were probably the most painful of the season for the Huskies. Flint and his players watched Wisconsin celebrate their second-straight national championship and hoist the trophy that fell just out of the Huskies' reach before departing for the locker room, a memory that will likely remain etched in their minds until they reign on the other side of the moment. 
"You see the other team celebrating and that stings, and for some players, that's fuel for what's to come next and for next year," Flint said. "It's hard for them to watch that, but I think they will definitely use it as fuel for the future."