Northeastern knocks it out of the park in 4-1 Frozen Fenway victory against UConn
The Northeastern men's hockey team (9-9-3,7-4-2 HE) triumphantly rounded the bases Jan. 7, defeating the No. 9/10 University of Connecticut Huskies (13-5-3,8-4-2 HE) 4-1. The two Huskies faced off in Boston's historic Fenway Park, participating in the fifth iteration of the Frozen Fenway series, last played in 2017.
The Huskies stepped up to the plate off a tumultuous start to the team's season, with a sub-.500 record and winning only one of their last seven games. Despite this, head coach Jerry Keefe expressed his confidence in his team, knowing that a team with Northeastern's potential is bound to struggle.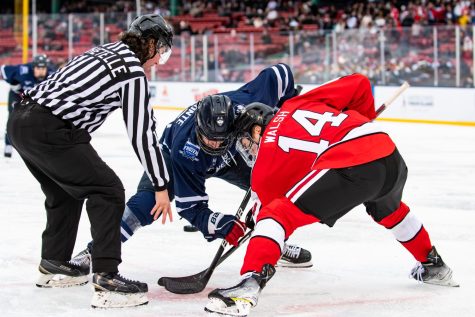 "We're not hiding from our record," Keefe said before the game. "[There are] big expectations for this group not only from the outside but from within our locker room. The one thing I will say is teams are going to hit some adversity — we've hit it, and it's all about how you respond."
During the first few minutes of the first period, the Northeastern Huskies appeared to lack the confidence Keefe had discussed prior to the game. With UConn's offense setting the pace — its defense halting Northeastern's rushes — and a poorly executed power play after UConn junior forward Ryan Tverberg was sent to the box, NU looked apprehensive at best and scared at worst.
However, much like modern-day infields, the momentum shifted. 
After a Northeastern faceoff victory in UConn's zone, senior defenseman Tyler Spott sent the puck up the ice to freshman forward Cam Lund, who whipped the puck across to senior forward and captain Aidan McDonough. McDonough, the team's leading scorer both this and last season, netted six of his 25 goals in the 2021-22 season during games against UConn. Looking to add to his tally, McDonough zipped the puck past UConn's freshman goalie Arsenii Sergeev for the Huskies' first goal of the game.
.@Hockey_Gaud this one is for you! #HowlinHuskies pic.twitter.com/DrreeeyrV1

— Northeastern Men's Hockey (@GoNUmhockey) January 7, 2023
McDonough, who grew up in the nearby town of Milton, said playing in Boston was meaningful, acknowledging the significance of the game being in Fenway Park. 
"It felt like a home game," McDonough said. "We had the band [and] we had a big student section. When we scored it got pretty loud. We could have walked here. So I think it felt like a home game."
McDonough celebrated his goal with a baseball swing, reminiscent of former Northeastern Husky Adam Gaudette, who is currently signed by the Toronto Maple Leafs.  
Northeastern captain @amcdonough10 on his home run celly at Frozen Fenway! ⚾️🏒

🎥: @GoNUmhockey #NCAAHockey pic.twitter.com/BWE9ZmPYvp

— NCAA Ice Hockey (@NCAAIceHockey) January 8, 2023
Then Northeastern had to deal with something they had rarely experienced all season: the lead. 
Instead of trying to protect its lead, Northeastern looked to expand it. Following a few minutes of back-and-forth play, Northeastern hit a double, scoring for the second time in the first period. After collecting a soaring puck, freshman forward Jack Williams weaved around the back of the net before sneaking the puck in front of the crease to graduate student forward Liam Walsh, who tapped it in for his first Northeastern goal.
Decent time to score your first as Husky! #HowlinHuskies pic.twitter.com/Edm3gVOhyN

— Northeastern Men's Hockey (@GoNUmhockey) January 7, 2023
While the NU Huskies had accumulated a two-goal lead, a prevalent penalty problem which has plagued the team for months nearly jeopardized the Huskies' good start. A hooking penalty on senior forward Riley Hughes gave the UConn Huskies a power play opportunity, but a combination of sloppy offense from Connecticut and disciplined defense from Northeastern prevented UConn from cutting into NU's lead.  
Entering the second frame with a two-goal lead, despite UConn outshooting Northeastern 15-7, NU spent the first half of the period sitting comfortably in the O-zone. The NU Huskies doubled their first period shot-on-goal total midway through the frame and began playing with the confidence, speed and swagger Keefe had touted.  
Following a Northeastern breakaway, an undisciplined tripping penalty five minutes into the period on junior forward Sam Colangelo gave UConn another advantageous scoring opportunity; however, junior goaltender and 2022 Mike Richter award-winner Devon Levi prevented UConn from scoring.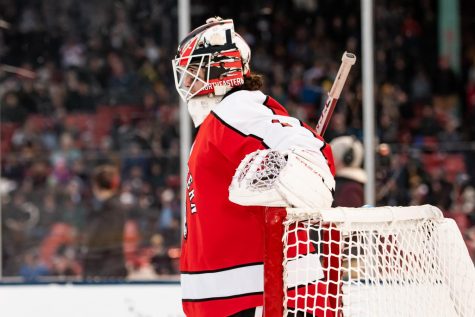 Levi, recognized by Keefe and McDonough as "the best goaltender in the country," has long been known for his post-to-post heroics and Green-Monster-esque ability to wall off the goal.
"We've got all the confidence in the world and Levi is the best goaltender in the country and we know that," Keefe said after the game. 
With a strong penalty kill and Levi's excellent play in front of the goal, both Huskies continued the period with back-and-forth rushes and near breakaway goals, but with nothing to show for either team. 
Having already shown offensive and defensive improvement in the second period, Northeastern looked to "Jonathan Papelbon" UConn by closing out the game. Much like the second period, the start of the third frame was a fast-paced skating exhibition, with neither team able to put one in. 
With less than 10 minutes left in the third period, Northeastern's two-goal lead disintegrated when a sequence of shots rocketed towards Levi, the last from Connecticut freshman forward Matthew Wood, snuck past the netminder in a similar fashion to former Red Sox player Bill Buckner. 
Don't count us out just yet!!!! pic.twitter.com/zz3AcE0PjI

— UConn Men's Hockey (@UConnMHOC) January 7, 2023
Though UConn's goal had the potential to make it a whole new ball game, a Northeastern goal 30 seconds later mitigated any chance of a Connecticut comeback. After a timely block from freshman defenseman Vinny Borgesi, Lund passed the puck across the ice to McDonough, who tapped it to sophomore forward Justin Hryckowian. Hryckowian slapped it past a UConn defender and the Connecticut goalie for the NU Huskies third goal of the night.  
This is just electric, plain and simple. #HowlinHuskies pic.twitter.com/zAffGTPvHm

— Northeastern Men's Hockey (@GoNUmhockey) January 7, 2023
UConn appeared to come roaring back, scoring another goal 30 seconds later, but it was overturned due to goalie interference. While the UConn Huskies fought valiantly to cut the lead to one, with the overturned goal and the NU Huskies' two-goal lead, Connecticut needed a miracle akin to the 2004 Red Sox in the ALCS. 
But Northeastern would not let this happen.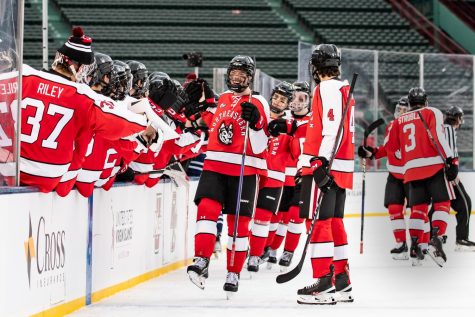 With 3:16 left in the third period, freshman forward Jack Williams poked the puck free from UConn junior forward Ryan Tverberg and chased it down, weaving through three UConn Huskies, and backhanded it past Sergeev, a grand slam for Northeastern.
With the 4-1 victory, Northeastern now sits at .500 — third in Hockey East — breaking their two-game losing streak. The two teams will face off again Jan. 14 in Storrs, Connecticut, where Northeastern will look to continue playing with confidence and the right mindset going forward.
"We want to build off of this win," Keefe said. "We needed a big win and hopefully, you know, we're just going to go one game at a time."