The Fashion Society's clothing swap builds a style community at Northeastern
In a basement classroom in International Village, some of the most stylish and creative Northeastern students met up Jan. 24 to swap outfits and inspiration. 
At their weekly Tuesday meetings, The Fashion Society holds events intended to get students talking about clothing. 
"This event is a way to be more interactive within The Fashion Society as a whole and to build community within the club," said Adriana Alvarez, a second-year cell and molecular biology major and co-events coordinator for the club. "It's good for people to mingle around and to see everyone's tastes and opinions about clothes."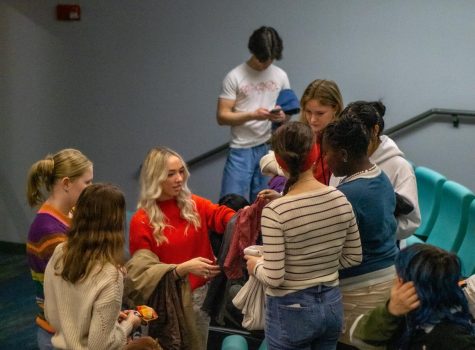 Many attendees at the meeting were new to The Fashion Society. Ethan Vassilakis, a first-year student in the Explore Program, found out about the club through social media.
"It's my first time here, and I had seen one of their scrapbooking events on Instagram," Vassilakis said. "I got into fashion because of TikTok and watching drag races, and I wanted to learn more."
Liat Weiss, a first-year international business major, said they enjoyed seeing every member's unique style.
"I feel like I have very eclectic taste and I love seeing different aesthetics," Weiss said. "I wanted to get inspiration from others and I'm really getting that here."
Throughout the hour-long meeting, attendees wandered around the room, approaching each other with their offerings in hand. Students tried on new pieces over their current outfits, and the room buzzed with compliments. 
"Fashion is such a great way to show your individuality, and to express yourself without boundaries," said Fortune Fawlae, a second-year nursing major and seasoned member of the club. "It's so exciting to take a certain piece and make it your own. One piece can be worn differently by so many people, and it's really cool to see."
Fawlae brought a variety of items to swap. She explained the pieces would give their new owners a chance to try out different trends.
"I already traded my parachute pants, which are really trendy right now and great for someone who wants to try a streetwear style. I also brought a pink corset which is super trendy and a great way to take an old fashion and make it modern," Fawlae said. 
Clothing swaps are also a great way to reduce waste and promote sustainable fashion. Vassilakis, for example, brought clothes he no longer wears to the swap, in hopes that "someone else would enjoy them as well."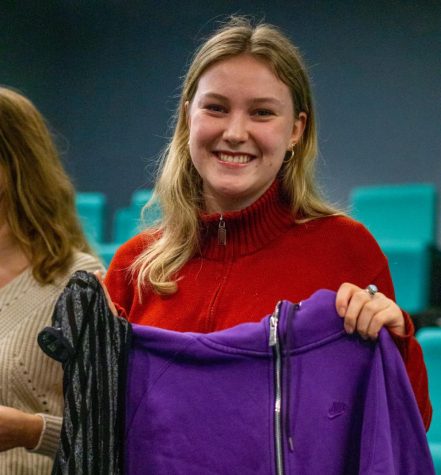 Second-year environmental science major Nikki Looney also cited thrifting as a great way to reduce clothing waste. 
"All of the clothes that I brought today are thrifted, and my outfit today is thrifted as well," Looney said. "I try to thrift whenever I can, also just because it's more affordable. I'm trying to minimize my impact in whatever ways that I can." 
She also found success in trading away her old clothes for newer finds.
"I brought this Nike quarter-zip hoodie that I thrifted years ago and I've just worn it too much. I also had a funky ballerina top that everyone has been wearing right now," Looney said. "I'm not really a fan but I figured someone would like it and I actually already swapped it." 
The Fashion Society's weekly meetings have activities ranging from tote bag decorating to custom jewelry making. Alvarez explained that the club's biggest event of each semester is their student-run fashion show. The spring 2023 show's theme is "The Deadliest Sins" and it will take place in mid-March. 
Applications for various fashion show committees, including styling, modeling, hair and makeup, event management and marketing are now open until Feb. 13. 
"Students can get involved by just showing up to meetings and following us on social media," Alvarez said. "We're always welcome to new members and new ideas."