Huskies celebrate, get educated on National Girls and Women in Sports Day
Twenty-six years after graduating from the Northeastern School of Law and now the United States Attorney for the District of Massachusetts, Rachael Rollins knows the lessons she learned as a lacrosse player at UMass Amherst have translated to her booming professional career. 
"When you're playing a sport," said Rollins, addressing Northeastern student-athletes on Solomon Court Wednesday evening, "you have coaches, you have captains…I try to go back and say, 'How can I be the best coach or captain for people?'"
Rollins was the primary speaker in a National Girls and Women in Sports Day discussion moderated by NBC 10 Boston social media producer Kwani Lunis — who graduated from Boston College in 2016 and covered the Eagles' football team for the BC Interruption, a sports media outlet at the school. The discussion was hosted by the Northeastern University Black Athlete Caucus, or NUBAC, who wanted to put on an educational discussion to kick off their series of Black History Month events.
"Being able to publicize this day and make it as essential as it's supposed to be is very important to us," said Savion Thompson, co-president of NUBAC and a junior runner and jumper for the Huskies' track and field team. "This is not only National Girls and Women in Sports Day; it's falling during Black History Month, so we need to highlight those people as well."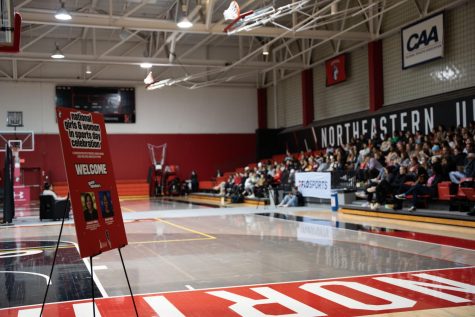 As she answered questions from both Lunis and student-athletes, Rollins discussed her history playing lacrosse, calling sports "a great equalizer" as she grew up on the field in a predominantly white sport. The Roxbury native went to high school at Buckingham Browne & Nichols — a private school in Dedham — before earning a scholarship to play at UMass.
Rollins, the first Black woman to be named the U.S. Attorney for the District of Massachusetts, recalled her days in Amherst. She told the story of how, when the athletic department cut women's lacrosse and two other women's sports, she and her teammates forged a path to bring the sports back by applying pressure to the athletic director. But, by that point, it had been a year since the team had been on the field together. 
"It's really easy to be upbeat when you're winning, but who are you when the lights go off?" she said.
The pair of speakers fielded questions from athletes from a myriad of Northeastern sports. The questions ranged from how the former athletes applied their skills to their jobs and the discrimination they faced in the workforce to what motivated them to keep going and general life advice.
"Put yourself in circumstances in which you are always learning, always being pushed," Rollins said.  
Rollins also discussed how her personality has shaped her career path, declaring that being true to yourself and working hard is one of the best ways to earn respect and forge ahead with people who are biased against you. 
"I can look back, and I worked with people who I know didn't like me," she said, "but they still had to respect me because I was that good." 
Both Rollins and Lunis entered the conversation excitedly and were grateful for the opportunity to speak with student-athletes.
"There couldn't be a more perfect thing for me to do as an [alumna] of Northeastern," Rollins said. "I just thought it was a great opportunity to learn from the students and maybe explain a little bit about the Department of Justice or my path to getting on this."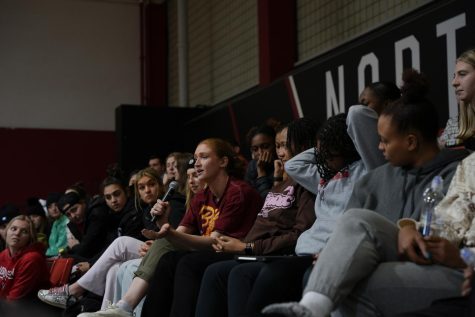 Lunis was just as interested in helping the Huskies and gained some valuable insights from Rollins and the student-athletes.
"The biggest lesson I learned from Rachael Rollins and of course the students is how confidence is so important," Lunis said. "I tried to encourage [the students] that whatever they decide to do after college, to just walk into the room confidently and know that they do belong in spaces whether or not they see other people that look like them in those rooms."
While the guests wanted to learn from the students, NUBAC co-president and senior track and field athlete Kennedee Cox took plenty away from their answers and from the cooperative effort of NUBAC, Northeastern Athletics and the guest speakers to put on this event. 
"It was exciting just because it shows how many allies we have in the athletic department," Cox said. "I'm really happy to see it; everyone walked away learning something."
Rollins certainly made sure every student-athlete walked away learning that their experiences wouldn't just make them better people, but rather make them the best examples of people.
"You're going to use all these skills because you've been on a team," she said. "You are perfectly suited to lead."