Huskies fall behind early, get burned by Drexel
The Drexel Dragons (16-5, 8-2 CAA) came into the Cabot Center Friday night with 16 straight wins over the Northeastern women's basketball team (10-10, 5-4 CAA).
There's no clever way to say it: the Dragons made it 17 with a 67-56 win.
It didn't matter that Huskies junior wing Jaelyn Batts stayed consistent and scored 12 points on her signature midrange pull-up jumpers or that junior guard Derin Erdogan got all her 13 points in the second half, there was no stopping a Dragons team that hosts the top scorer in the CAA, graduate student wing Keishana Washington.
"We knew Washington was going to get her points, and it was a matter of limiting her touches, which we didn't do," said Huskies head coach Bridgette Mitchell. "From a defensive standpoint, this wasn't our best game tonight." 
From the get-go, it was clear it would be Washington's night. The fifth-year Dragon scores an average of 26 points a night, which is third in Division I, and in Friday's game, she showed how. Washington got nine first-quarter points and was clearly the focal point of an offense that loves to pass it around for easy looks.
The Huskies kept pace at first and were down just 15-14, but the Dragons began to pull away in the second quarter. It didn't help that Northeastern turned the ball over 14 times in the first 20 minutes of the game.
Drexel used a 10-2 run to open the quarter, carried a five-point lead into the halftime break and continued to build on their strong play in the third, knocking down three triples and shooting 50% from the field, while the Huskies managed a meager 11 points, two of which were Erdogan's first of the game.
Northeastern's problem lay in the fact they continued to shoot three-pointers but couldn't knock them down. They were just 1-of-9 through three quarters.
In the final frame, the Huskies finally showed some fight, but their punch landed softly. Erdogan had 11 points and knocked down three triples, but that was the bright spot.
"She came alive and was able to do some things that she typically does at the start of the games," Mitchell said.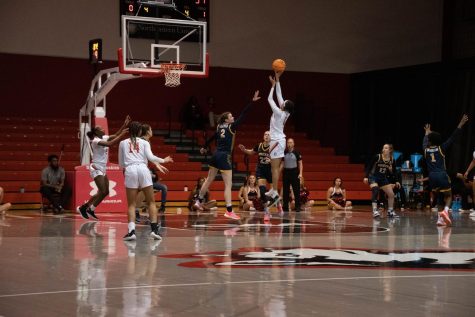 The Huskies got the score within six, but Washington, who had been building her point total quietly, hit an absurd turnaround, off-the-backboard three-pointer, extending the Dragons' lead. 
That killed any momentum the Huskies had gained, allowing the Dragons to coast to a win. Batts and Erdogan led the Huskies, with Batts nabbing six rebounds and showing her all-around talent.
"[Batts] has been consistent with what she's been able to do from a defensive perspective, and offensively, she got it going tonight," Mitchell said. "Proud of her and again, looking to build on it against Delaware."
The Huskies will look to bounce back Sunday, Feb. 5 at Delaware at 2 p.m.