Women's basketball stays on course, turns on jets late in win over Delaware
The Northeastern women's basketball team (15-11, 10-5 CAA) knew it had to flip the script after halftime Friday night in their matchup against Delaware (14-12, 7-8 CAA) in the Cabot Center.
Down 37-27 at halftime, the Huskies responded with a 22-0 run in the third and closed out their fifth straight win with a score of 70-61.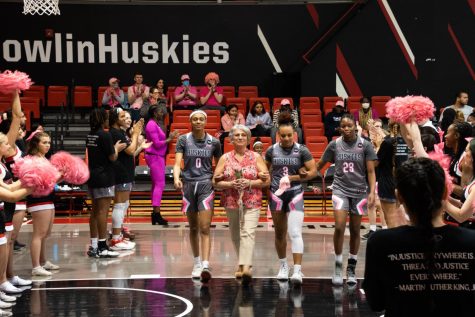 The momentum was palpable as the Huskies went into a press and forced turnover after turnover, leading to easy buckets on offense. Graduate student guard JaMiya Braxton was the catalyst, knocking down two triples and hitting two free throws during the six-minute barrage of Husky baskets. 
"I challenged everyone to all be on the court, at the same time, locked in for the next 20 minutes," said Northeastern head coach Bridgette Mitchell. "And I thought that we came out and responded. I thought that everyone was present and living in the moment, and I think that's why that run went so effectively."
Braxton's impressive play during that run translated across the entire game, as the Northwestern State transfer scored 12 first-half points and finished as the game-high scorer with 22 points on 7-of-12 shooting. 
"[Braxton] is a three-level scorer. We say that all the time," Mitchell said. "Her teammates found her, she created her own shot for a lot of those opportunities. [I'm] really impressed with [Braxton] and how she's been playing these last few games."
JAMIYA WITH THE THREEE😤#HowlinHuskies #CAAHoops pic.twitter.com/PR8J4oX5G0

— Northeastern Women's Basketball (@GoNUwbasketball) February 25, 2023
The good news about the first quarter is that the Huskies didn't allow Delaware to score until the 4:40 mark. The bad news is that at that mark, an and-one layup and ensuing free throw from Blue Hens senior center Klarke Sconiers tied the game.
Both teams just weren't awake at the start, going a combined 1-of-15 from the field in the opening five minutes. But then Delaware's alarm went off while the Huskies hit snooze. The Blue Hens went on a 14-2 run that forced Mitchell to call a timeout, and the Huskies responded to make it an 18-11 game after 10 minutes of play.
Northeastern found its mojo from midrange in the second, knocking down some tough jumpers. Delaware had a response for seemingly every possession, however, as they got out in transition and beat the Huskies at their own game.
 Delaware was on fire from deep, knocking down five triples in the frame — with three coming from graduate student guard Jewel Smalls — and went into the locker room up 37-27.
 "We didn't impede. We didn't impose our will on [Delaware]," Mitchell said. "We're a team that doesn't want anybody to go to the middle. We allowed them free middle drives the whole second quarter. And that really, really upset me."
 Mitchell said after that quarter she was "seeing red," but the response from the Huskies heightened her spirits.
 The Blue Hens scored two early baskets in the third, but after that they had to wait until the 1:47 mark to find their next one, scoring just six points in the third frame. For the Huskies, everything seemed to go right, forcing 14 turnovers in the quarter, making beautiful passes and connecting on tough layups. Northeastern went into the fourth quarter up 52-43.
Can't stop won't stop….

22-0 run!

Huskies up 49-41!#HowlinHuskies #CAAHoops pic.twitter.com/gwzOL61Q2X

— Northeastern Women's Basketball (@GoNUwbasketball) February 25, 2023
Delaware put up a fight, but all the momentum stayed with the Huskies as the teams traded buckets in the fourth. Junior guard Derin Erdogan pulled out the swagger she typically plays with, tossing a filthy no-look pass to junior forward Deja Bristol on a fast break that kept the Huskies up eight with two minutes left in the game.
Too easy….😤#HowlinHuskies #CAAHoops pic.twitter.com/dRkCUYVJTe

— Northeastern Women's Basketball (@GoNUwbasketball) February 25, 2023
Erdogan had been quiet in the first half, but found her rhythm and showed why she's the engine of Northeastern, finishing with 14 points and four assists.
"[Erdogan] realizes that our team goes as she goes," Mitchell said.  "She just started distributing the ball, taking care of it and finding her teammates and then let the game come to her." 
With the win, the Huskies have now won five in a row with three games remaining in the regular season, but they're not focused on any game besides the next. 
"A lot of people are focused on the seeds. We're focused game by game," Mitchell said. "This game, our whole focus and drive was that we wanted to get payback."
The Huskies have one more home game this season — it'll be senior day Sunday, Feb. 26 as they take on Hampton (9-15, 6-8 CAA) in the Cabot Center at 2 p.m.