For many high-school students who grew up in Boston, the city is a place they want to continue to call home for their college years. Many students who graduate from Boston Public Schools, or BPS, choose to attend Northeastern for that very reason. 
On Friday, Aug. 25, BPS graduates attending Northeastern in the fall gathered in the Interdisciplinary Science and Engineering Complex to hear from Boston Mayor Michelle Wu as well as other Boston leaders, who welcomed them to campus.
"You're choosing to stay here, at home, and to continue making this a home that's welcoming to all the new folks who are joining you here," said Mayor Wu at the event in ISEC. 
Wu asked the BPS graduates how the City of Boston and herself could better support the students. 
"We want to give you all the tools and support and opportunities so that you can be the best possible ambassadors for our city," Wu said. "Most importantly, I want to know what more our city should be doing."
Of the estimated 2,600 students starting their Northeastern experiences this fall, 184 are graduates of BPS. Many BPS seniors, especially valedictorians, are drawn to Northeastern every year and many are awarded scholarships by the university. 
"You are really going to take care of this next generation of learners," said Mary Skipper, superintendent of BPS. Skipper emphasized the pride she and the rest of the BPS administration felt toward the incoming first-year students at the event, who, she said, have done the work in high school to set them up for success at Northeastern.
Students also heard from current Northeastern student and Boston Latin Academy alum John Dume Pimentel, a fourth-year industrial engineering major, who spoke to the students about the limitless possibilities he felt the university offered him when he was deciding what to study. 
Pimentel also spoke about the value of his experiences on co-op so far, which include co-ops at TJX Companies and Wayfair. Students from across the world are drawn to Northeastern for its renowned co-op program. 
Alongside the co-op program, Northeastern prides itself on its immense global presence. 
"Think about Northeastern as a big oak tree," said Michael Armini, senior vice president for external affairs. "The tree has grown, the branches have extended out and upwards. At the same time, the reason the tree has grown deeper and stronger is because of the place the tree was originally planted. As we grow, remember our roots are here."
Many BPS graduates chose to continue their education in their home city because of their familiarity with Boston. Jake Leigh, an incoming first-year cybersecurity major, whose dad's apartment is across the street from his future dorm, was drawn to Northeastern for this reason. 
"It's nice to already know where everything is," he said. 
Mayor Wu later returned to the podium to do an open Q&A with students, sharing some of her personal experiences through her answers. 
She spoke about what she'd learned from her various successes and failures, as well as the importance of personal well-being and how she navigated her own college experience.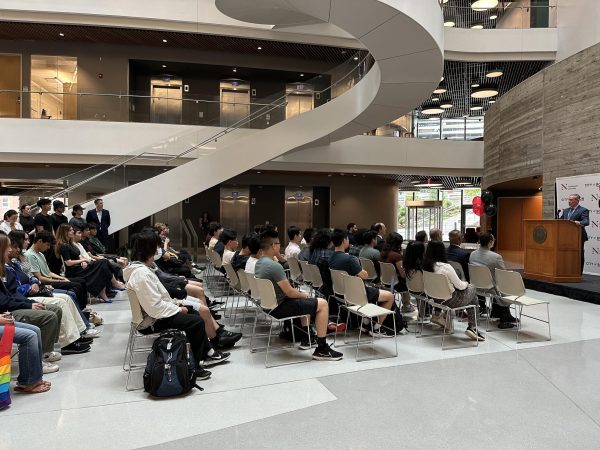 Despite being close to home, many BPS graduates still value gaining their independence from their parents upon entering college. Jillian Ryan, an incoming first-year mechanical engineering major, grew up in the South End. Heeding advice from upperclassmen and friends, Ryan decided to live on campus her first year at Northeastern to get the full residence hall experience. 
"Even though the city is familiar to me, the campus would still be new," she said. 
"My message to the students is climb high and take risks," Armini said. "But with everything you do here, remember that Northeastern is securely and safely rooted in Boston — this is your home."