The college process is a complex balancing act that students often need help navigating, but college preparation resources tend to be expensive and exclude students from low-income families. That's where Minds Matter Boston comes in. 
In 2003, the volunteer-run organization began to aid low-income students with college preparation and has since grown to serve 225 driven students in their journey toward higher education.
Through partnerships with over 20 high schools in the Boston area, Minds Matter Boston seeks out determined students from low-income households to spend their Saturdays with the organization. High school guidance counselors work with Minds Matter Boston to find hard-working students that may qualify for the program.
Each Saturday at Minds Matter is filled with programming that helps students achieve their future goals, including ACT test preparation, mentoring, college preparation work, writing support, college advising and more.
"We call ourselves a high-touch, high-yield program, meaning our supports are very personalized, they're very consistent and they have a lot of longevity to them," said Lindsey Alves, director of programs for Minds Matter Boston. 
The organization begins working with students during their sophomore year of high school and continues to work with college students on postgraduate career paths. 
"We have folks working on university campuses. We have folks working for the city of Boston. Minds Matter's reach goes really far, and that's one of our goals: preparing students to become the future leaders of the community," Alves said.
Oftentimes, students that participated in Minds Matter during their time in high school and college return to the organization to become volunteer mentors or staff members, Alyssa Perea, a programs associate and former Minds Matter student, said.
Perea returned to work for the program following her graduation from Williams College, an institution she does not believe she would have found without assistance from Minds Matter during her college application process.
"I found my way back to Minds Matter after [college] as a staff member because I wanted to work with students that were in a similar position that I was in when I was in high school," Perea said. 
Perea is not the only Minds Matter Boston student who feels passionate about returning to the organization to give back to those now enrolled in the program. Wiener Douyon, a Minds Matter Boston student and 2023 Colby College graduate, also said that he felt inclined to give back to other students.
"Minds Matter has provided the ultimate gift: opportunity. It is also why I will be returning as a mentor after graduating from college. I believe that every student should have that same gift I was privileged to have," Douyon said.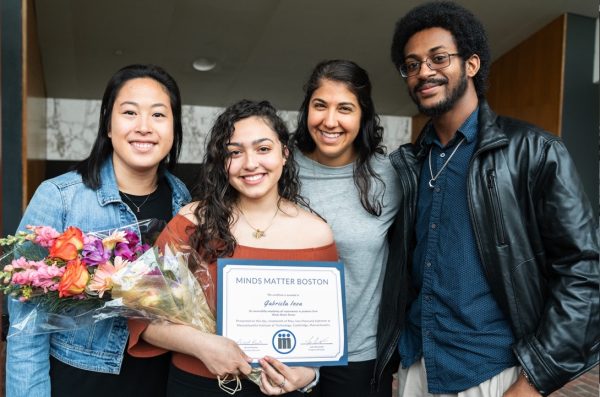 While Minds Matter Boston is now a staffed organization, it is still volunteer-driven, with over 400 volunteers each year. The program continues to look for new volunteers who have a college degree and can volunteer onsite each Saturday.
In addition to onsite support each week, students at Minds Matter attend two summer programs on college campuses, funded by Minds Matter Boston. These summer programs allow students to get a better understanding of what life at certain institutions might look like. 
The organization provided data to demonstrate their impact. 97% of 577 alumni have graduated or are enrolled in college in comparison with the 41% of high-achieving low-income students to graduate from college nationwide. 
As alumni venture into the working world, Minds Matter Boston stays in contact, granting students connections in their community that will prove valuable in the future. 
"Students are part of the Minds Matter Community forever," Alves said. "We stay in touch with our college students and alumni after the fact."