On Thursday, Seattle locals and students gathered in protest at the corner of Dexter Avenue North and Thomas Street, near the intersection where 23-year-old Jaahnavi Kandula, a graduate student on Northeastern's Seattle campus, was fatally struck by Seattle Police Department, or SPD, officer Kevin Dave in his cruiser in January. 
Participants of the rally, organized by Seattle Alliance Against Racial & Political Repression, or SAARPR, congregated to demand justice for Kandula and to condemn Dave as well as officer Daniel Auderer, who was heard in recently released body camera footage laughing about Kandula's death and saying she had "limited value."
The Seattle Police Officers Guild, or SPOG, released a statement Friday saying Auderer's comments had been taken out of context. Auderer, who is the vice president of SPOG, was reportedly talking to the Guild's president during the released footage. While they acknowledged the video that sparked national outrage included "highly insensitive comments," the Guild said the footage only captured one side of the conversation.
"Some viral videos of police actions shared by media, fail to explain the full story/context. This Seattle Police video is an example of that reality," the statement read. "There is much more detail and nuance that has not been made public yet."
Still, the video drew national outrage over the course of the week. The rally, streamed on Instagram Live, began with group chants of "justice for Jaahnavi," "no justice, no peace" and "jail killer cops." 
The group then heard from speakers, including Rick Williams, who lost his brother in 2010 to police violence. He was shot by an officer because he was holding a wood carving knife. 
"It's an ongoing struggle," Williams said during his speech at the rally, referring to police violence in Seattle. "We're going to get justice, and we're going to get it as soon as we can."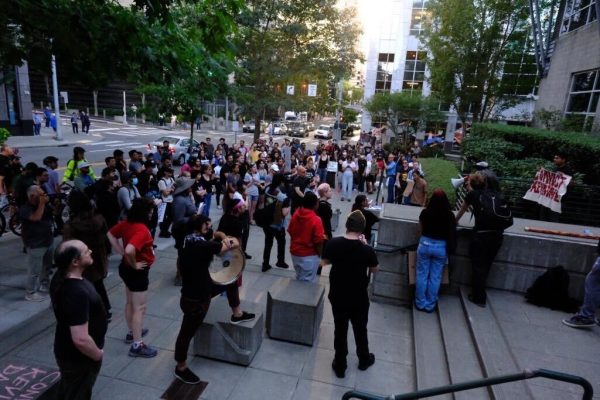 According to Auderer's statement recounting the incident to the Office of Police Accountability dated Aug. 8, his comments had been intended to be "a mockery of lawyers."
"I was imitating what a lawyer tasked with negotiating the case would be saying and being sarcastic to express that they shouldn't be coming up with crazy arguments to minimize the payment," Auderer wrote. "I laughed at the ridiculousness of how these incidents are litigated and the ridiculousness of how I have watched these incidents play out as two parties bargain over a tragedy."
Mathieu Chabaud, member of the University of Washington Progressive Students Union, spoke to protestors next.  
"Jaahnavi was a student here in Seattle at Northeastern University. She came to study information systems," Chabaud said. "The reason she is not still studying here with us is because of Officer Kevin Dave."
Chabaud said they had protested at the very same corner in January after Kandula was killed to demand justice.
After hearing speeches, the group marched to the Seattle Police precinct and continued to shout demands for justice for Kandula and other people killed by police.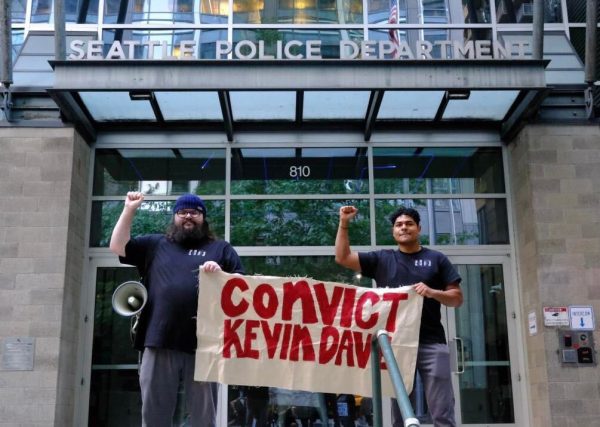 "We're pushing for community control of the police," said Rob Engel, an outreach coordinator for SAARPR, in an interview with The News. "Which is how people will be able to fire these killer cops when they display this gross disregard for human life."
Students and locals across Seattle are continuing to rally this weekend to demand justice for Kandula and accountability for officers Dave and Auderer. 
Northeastern chancellor Kenneth Henderson said in an email statement to the Northeastern community Thursday that the university plans to host vigils in memory of Kandula in the coming weeks.