After a windy day full of hurricane warnings delayed planned festivities, Massachusetts' most 420-friendly citizens enjoyed a sunny day on Boston Common for the 34th annual Boston Freedom Rally, commonly referred to as Hempfest.
Hundreds walked through the crowded Parkman Bandstand walkways in Boston Common Sunday in a smoky haze lined with booths of vendors promoting deals on bongs, pipes, oils, vapes and flower. Whether eventgoers were planning on participating in the THC or CBD experience, attendees did not have to worry about scoring before the event.
Held annually on the third Saturday of September, the rally is the second largest annual gathering advocating for marijuana law reform after Seattle's Hempfest, which Boston's rally is often confused with. The rally achieved its main goal of legalizing marijuana for statewide recreational use in 2016 and has since become a celebration of the plant's legalization.
While legalizing recreational marijuana at the state level is the main goal for many, medical marijuana — an important first step in the journey of recreational legalization — seems to be getting left behind. 
"When recreational [marijuana legalization] comes, medical programs kind of fade away," said Jeremiah MacKinnon, president and executive director of Massachusetts Patient Advocacy Alliance. MacKinnon's organization helps medical marijuana patients find products for affordable prices as well as pushes for bills that make medical marijuana more accessible. 
MacKinnon explained when states first made their medical marijuana regulations, they were too restrictive, requiring medical dispensaries to grow their own product, cultivate it, take care of their own manufacturing and act as a business.
Joining MacKinnon at his booth was Frank Shaw, founder of Frank's Friends, an initiative that helps medical cannabis patients with HIV/AIDs and financial hardships obtain medical cannabis at a reduced price.
"[Medical marijuana regluation] makes it so our medical market is largely dominated by multi-state, large corporations and not really the small mom-and-pops that really should get a shot at serving patients," MacKinnon said.
According to MacKinnon, recreational legalization opened the floodgates, and it became easier to operate as an adult-use dispensary. MacKinnon's organization is pushing for a bill that would make medical licensing systems like standalone adult-use recreational ones. This means medical marijuana dispensaries would not have to manufacture and cultivate their own products and instead sell through recreational dispensaries as another product on the menu.
Shaw, who is HIV/AIDs positive, believes that if he needs the help, others probably need it, too.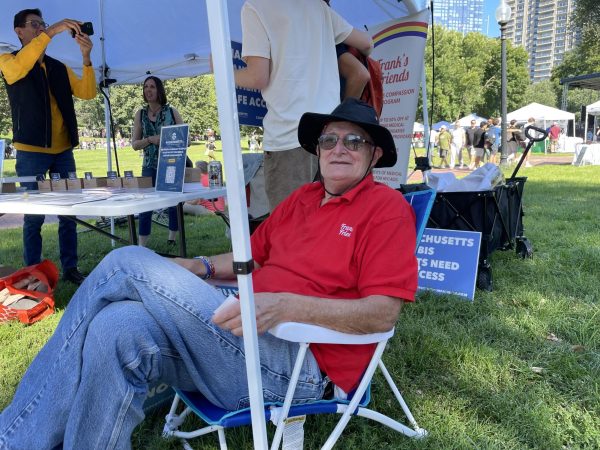 Now that recreational weed is in Massachusetts for good, another desirable garden dweller is looking for a chance to make a positive change in people's lives: psilocybin mushrooms. Commonly known as magic mushrooms or shrooms, the fungi are making a buzz in the state, with many cities like Somerville, Cambridge, Northampton and Easthampton decriminalizing the Schedule I drug.
Lucas Fernandes of Trip2Nite, a business and advocacy group of psilocybin mushrooms for recreational and medical use, grows his own mushrooms so that he knows exactly what he and his customers are consuming.  
"I bought mushroom chocolate from a friend and it turned out to be a research chemical, kept me up for a day and a half," said Fernandes, who has recovered from a heroin and fentanyl addiction. "Luckily, I was three years into my recovery, and I had been looking for medicinal benefits from mushrooms, which could have potentially sent me back to the street and I could have been doing fentanyl again."
Fernandes and other consumers have found relief in psilocybin products ranging from chocolates to dehydrated mushrooms. He said many brands are lying to consumers about what is in mushroom-labeled products to make a profit, ruining the potentially life-changing benefits of the drug for people recovering from addiction and others dealing with depression or other mental health issues.
"I get to help people — get to help this wave of Americans who, for once in their life, they're willing to try something besides what the doctors recommended," Fernandes said. "And that's the revolution of helping Americans self-medicate."  
The Freedom Rally has served as an event for activists to promote change for responsible cannabis users, a party for young adults to express their artistic visions and a fun environment to spend one of the few sunny days left in the year. 
Despite the event's misnomers, much positive change has been enacted by the many activist groups on site, along with the event organizers who make the day possible. Cannabis reform is not over yet, and much work is yet to be done in the medical sector that actively works to help those seeking pain relief.
"We're here for a freedom rally, we're celebrating people who went to prison for marijuana. And me being here allows me to feel like I'm helping in a way," Fernandes said. "I'm one of the first and one of the few. But, essentially, I'm going to have to go through everything they went through in order for us to be here today. So, I appreciate it."