The Huskies went into the 2023 Hockey East Championship with a surge of energy. A fierce, fighting drive was growing in Matthews Arena throughout last season: They had already won the Beanpot, Frozen Fenway and countless other matches, building up to that crucial performance.
Yet they fell in the first round before they had a chance to fight for the crown. Providence's overtime goal gave the seventh-seeded Friars the edge over third-seeded Northeastern, and the Huskies stepped off the ice empty-handed. 
They finished the season with a 17-13-5 record, winning eight games at Matthews, seven away and two at neutral sites.
For 13 players, the loss against Providence was their last. Some of Northeastern's most acclaimed players, like forward Aidan McDonough and goaltender Devon Levi, and three others graduated from the program and left incredible legacies. 
"It's always hard to replace guys like Devon Levi and Aidan McDonough, but that's where new guys in our lineup step up," said assistant coach Jason Guerriero. "The newcomers we brought in and the grad transfers will fill those holes and meet and succeed our expectations."
Meanwhile, eight Huskies entered the transfer portal at the end of last season, including Jeremie Bucheler, who will join the University of Vermont squad this fall, and brothers Riley Hughes and Jack Hughes, who are headed to Ohio State and Boston University,  or BU, respectively. 
In their place, 13 newcomers have joined the team, donning red and black jerseys for the first time.
Northeastern came out of this summer's NHL draft with no picks, but four Northeastern players signed professional contracts at the end of last season — defenseman Jayden Struble to the Montreal Canadiens, McDonough to the Vancouver Canucks, Levi to the Buffalo Sabres and forward Jakov Novak with the Allen Americans.
In his three years at Northeastern, Levi racked up dozens of accolades. He was a crucial part of Northeastern's 2023 Beanpot victory against Harvard, making 65 saves for a .956 save percentage and earning Beanpot MVP. In his rookie season, the Quebec native earned the Mike Richter Award twice, finished as a Hobey Baker Top-10 Finalist and tied the Northeastern record for most saves made in a game.
Levi's departure left a hole that will likely be filled by one of the two incoming goaltenders: graduate student Yale transfer Connor Hopkins or freshman Cameron Whitehead, who verbally committed to the university in 2021.
"We have new strong goalies and it's anybody's net. Cam is starting to develop some swagger and confidence," Guerriero said. "Goaltending is the most important position in hockey, so we're hoping Cam is gonna be a guy that helps us win some games when push comes to shove."
Among the new players, there are six transfers: Hopkins, who posted a .842 save percentage and 183 saves in two seasons with the Bulldogs; graduate student defenseman Patrick Dawson, a transfer from Sacred Heart University; senior forward Alex Campbell from Clarkson University; graduate student defenseman Matthew Staudacher from Minnesota; graduate student forward Brett Edwards from University of Denver; and graduate student defenseman Pito Walton from Princeton University.
The transfers joining Northeastern's squad will provide the team with an important level of experience and leadership. Seven of the incoming Huskies, though, are new to college hockey. Freshman defenseman Nolan Hayes skates onto the ice from the West Kelowna Warriors. Whitehead, the freshman goaltender, comes from the Tri-City Storm with a .899 save percentage and an incredible six shutouts. He was drafted by the Vegas Golden Knights in the 2022 NHL draft.
"The transfer guys are older, and they bring experience. They're new guys to the university, but not to the game of college hockey," Guerriero said. "They can hit the ground running and it's a smooth transition to another college hockey team."
The remaining rookies are forwards Eli Sebastian, Billy Norcross, Andy Moore and Dylan Hryckowian, and defenseman Michael Fisher.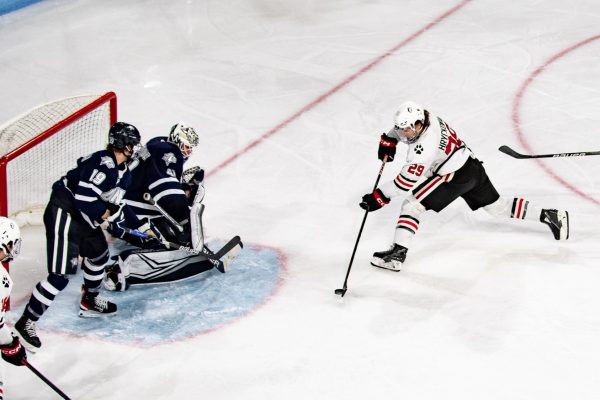 Filling previous captain McDonough's shoes will be Hockey East's Best Defensive Forward, junior Justin Hryckowian. He tallied
15 goals and 21 assists in the 2022-23 season, obtaining multiple Hockey East awards throughout his sophomore season. 
"[Hryckowian] is well-liked by his teammates and a culture driver," Guerriero said. "He sets the bar high and he pushes everybody else around him and they are motivated by him. He's had a great career here so far and he's the perfect leader for us moving forward."
He will lead the Huskies along with the team's assistant captains — senior forward Gunnarwolfe Fontaine, graduate student forward Matt DeMelis and graduate student forward Liam Walsh. 
"I've been lucky to have great captains during my time, so I'm pretty lucky to pick up where they left off," Hryckowian said. "They've left this program in a great place and that's where my focus is, leave it in a better place than I found it and it's already in a pretty great spot."
The Huskies also added a second assistant coach to the team's staff, Brian Mahoney-Wilson, who joins the program after coaching stints with the Grand Rapids Griffins of the AHL, the University of Notre Dame and the Army. Mahoney-Wilson was a San Jose Sharks draft pick who played for Lake Superior State University from 2007-2011.
While last year Northeastern was at the top of the Hockey East preseason poll, they were voted fourth this year, with rival and reigning Hockey East champion BU sitting in the first seat. BC was selected second, and Merrimack received the third-place seat, while the University of Connecticut slipped behind Northeastern in fifth place.
Some tough games await the Huskies this season that will surely put them to the test. They will play Quinnipiac twice — one an exhibition game — and a matchup against Minnesota Duluth as part of the Kwik Trip Holiday Faceoff tournament. It will be a challenge for the Huskies, given the two powerhouses made it all the way to the Frozen Four finals, with Quinnipiac coming out on top as national champions.
Northeastern's new lineup debuts Oct. 7 in its home opener at Matthews Arena against Stonehill College. Despite that the roster suffered in the postseason, the new Huskies complement the returning talent, making the team one to keep an eye on.
"To be successful, you have to be prepared," Guerriero said. "These guys are."