NU SHARE, or Northeastern Sexual Health Advocacy, Resources, and Education, is a student organization focused on advocacy for reproductive justice, sexual education and access to safe sex supplies for students of all backgrounds and identities. SHARE hosted their third annual Pleasure Party Sept. 18, which was open to all students free of charge. 
While the name may be misleading to some, the pleasure parties are completely appropriate — and clothed — celebrations of pleasure outside of just sex itself. According to Nan Venderbush, one of the club's co-presidents and a third-year psychology major, "it's just a big celebration of pleasure — it can sound a little iffy or intimidating."
Along with the misconceptions often surrounding the Pleasure Party, SHARE as a club and the content they discuss in meetings face a lot of stigma, according to Venderbush.
"When people on campus think of SHARE, sometimes they think, 'oh, that's the sex club,' and that is absolutely not what we do at all," Venderbush said. "We're about education and advocacy." 
SHARE is also a Planned Parenthood Generation Action group and partners with Planned Parenthood to receive support, financing and general advocacy work and training with a coordinator, according to Finn Seifert, the club's other co-president and a third-year human services major.
"We talk about all sexual health, and that includes everyone," Seifert said. 
He mentioned how it can be easier to access and locate resources when someone is cisgendered and heterosexual, but there is still a discrepancy amongst all college students in getting safe, affirming and affordable sexual healthcare.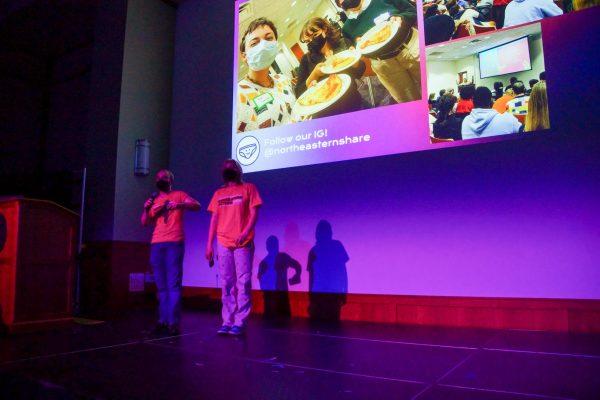 As for the Pleasure Party itself, masks were required for all attendees and were handed out by the club members upon entry. Despite over three years passing since the start of the pandemic, COVID-19 cases have been increasing in recent weeks and people are still dying, according to C Ledford, the club's social media coordinator and third-year ASL–English interpreting major. Ledford noted how disabled people are seldom discussed in regards to sexual healthcare and often have great difficulty accessing resources.
"[Requiring masks for this event] shows solidarity with the disabled community," Ledford said. 
In line with SHARE's mission to be inclusive to everyone, Ledford and another member of the club's executive board are currently designing a club event to discuss sex education and healthcare for people on all parts of the disability spectrum, whether physical or mental.
The club is also focused on growing a strong sense of community and friendship between its members.
According to Jacob Kline, SHARE's membership coordinator and a third-year computer science major, the club simultaneously educates and creates a space where people can learn from one another.
"SHARE cultivates a space that I strive to create in my other circles. A safe, non-judgemental, educational space," Kline said.
On each table inside and at the doors of the Pleasure Party, there were pamphlets and brochures about resources, the club itself and the wellness vending machine located in Marino Recreation Center. The handouts were created to provide students resources to find "safe and inclusive and affirming" abortions, STI testings and other medical care the club itself is unable to provide, Seifert said.
Last fall, SHARE implemented the wellness vending machine in order to make it easier and more comfortable to acquire necessary products. The vending machine has everything from Advil and Tums to lube and dental dams for free or reduced prices.
SHARE is "open for everyone — everything we talk about is very comprehensive [and] inclusive, and we just want anyone and everyone to feel comfortable at SHARE," Venderbush said.