With a substantial immigrant population, Boston is the destination for many who come to this country. The International Institute of New England, or IINE, is a nonprofit that supports immigrants and refugees upon arrival to New England. 
With three branches across the region, the organization assists an array of clients. The Boston branch was established in 1924 and continues to serve the Greater Boston area nearly a century later.
The Massachusetts government has been overwhelmed by incoming immigrants. In August, Governor Maura T. Healy declared a state of emergency as Massachusetts was unable to provide resources for everyone coming to the state. While the government may be unable to adequately aid all immigrants and refugees in the area, IINE works to fill the gaps. 
"The vision or goal is making sure that refugees and immigrants have the support and knowledge and skills that are needed so that they can really be successful in New England and contribute to our culture and society and economy," said Danielle Gauthier, marketing director of IINE.
IINE offers four core areas of support, including resettlement assistance, education, career advancement and citizenship services. 
These services include job skills training in preparation for employment, English classes for those who do not speak the language and legal representation while seeking citizenship. 
The organization focuses on integrating the immigrant and refugee population into the Boston community. 
"Boston has a long history of immigration and immigrants are core to the culture in the city and to our economy," Gauthier said. "Providing those stabilization services and support so they can go on to really integrate into our communities and enrich our culture."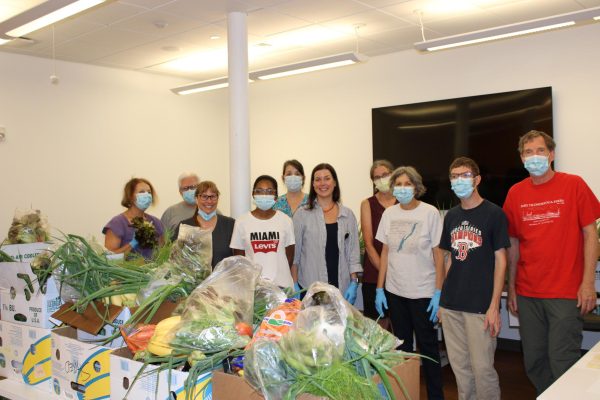 IINE is a public-private organization, partially funded by public and private sources. The organization relies on additional funding streams, including contributions by Boston citizens.
Alexandra Weber, chief advancement officer and senior vice president of IINE, is involved in funding oversight.
 "When I think of the institute's work, I think of it as Boston's history," Weber said. "And really being a city that was attracting new immigrants but also one that was integrating them."
Weber said the Boston community benefits from immigrants and refugees' contributions, and inversely, IINE depends on fundraising from Boston citizens. 
Maryna Vernyhora fled Ukraine for the United States in July 2022. In her search for safety for herself and daughter, she came across IINE. After utilizing IINE's services upon her arrival to the country, Vernyhora joined the IINE staff to help immigrants in the position she was once in. 
Vernyhora finds her work with Ukrainians to be impactful. "I'm helping a lot Ukrainians because I was in the same situation as them," she said. 
Since the federal government does not fully fund resettlement programs or integration services, the majority of support falls on organizations like IINE. As immigration rates increase, it is difficult for IINE to comprehensively serve the Greater Boston population in need of support. 
"How can we keep up with the amount of people who need services and support?" Weber said. "This is what happens when there's this level of displacement, there isn't enough of anything."
IINE strives to educate the community on integration, in hopes that Boston citizens can take part in supporting immigrants and refugees as the immigration rates rise. 
With Massachusetts unable to assist all incoming immigrants, the federal government has gotten involved and is supporting the state. Organizations like IINE are vital in a system struggling to keep up with the increasing immigrant and refugee population. 
"We've never done our work alone, but we couldn't even begin to conceive of doing it alone in this century," Weber said.