Hundreds of Northeastern community members gathered Tuesday night on Cabot Quad in solidarity with Israel. Since Hamas' Saturday assault on Israel, over 1,200 people in Israel and 900 people in Gaza have been killed, with thousands more injured.
The Quad was saturated with the blue-and-white colors of the Israeli flag as students, faculty and other community members gathered to show support for the country. Many wore the flag like a cloak. Most men wore kippot. As Jewish student organization leaders and rabbis spoke, the crowd cheered, embraced one another and cried. 
The first day of the attacks was Saturday Oct. 7 when thousands of Hamas' rockets rained down on southern and central Israel, while Hamas — an Islamic, Palestinian nationalist militant group based out of the West Bank and Gaza Strip — captured Israeli citizens and took hostages. Hamas said the attacks were in response to worsening conditions for Palestinians in the occupied West Bank and Gaza Strip, Associated Press reported, a region some human rights groups call "the world's largest open-air prison."
On Sunday Oct. 8, the Israeli government formally declared war against Hamas after its surprise attack. The government has ordered a "complete siege" of Gaza — a territory occupying 139 square miles with a population over 2 million, of which 40% are under the age of 15 — and has pledged to cut off food, water and energy to the region. The Palestinian Islamic Jihad — the second-largest militant group in the Gaza Strip — has also carried out attacks of its own against Israel since Saturday. 
"My country will never be the same," Liron Raphael, an Israel fellow at Northeastern, said in her speech at the gathering. "There will be an Israel before Oct. 7 and an Israel after Oct. 7."
Many students at Northeastern have family and friends caught in the attacks. Three Northeastern students in Israel — two on co-op and one visiting friends and family for Simchat Torah, a holy day for Jewish people — were safely evacuated.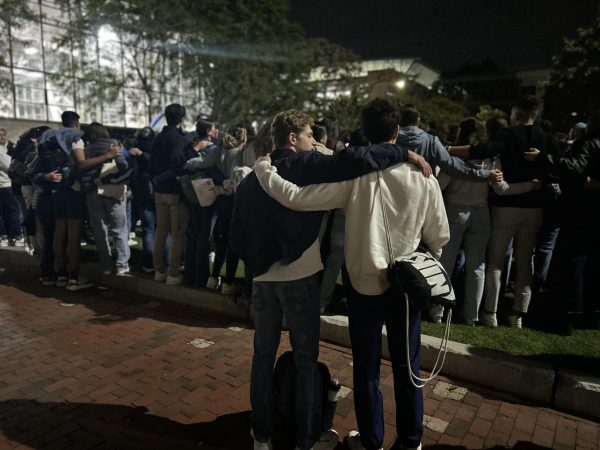 Gili Cohen, a second-year computer science and design combined major, was born and raised near Netanya, Israel. Growing up, Cohen lived through the 2014 Gaza War, but said what is happening now is unlike what she witnessed as a child. 
"I've lived through those missiles … and they became something that's sometimes normal to see in the headlines in Israel," she said. "But very quickly, I think we all realized that this wasn't the normal situation."
Cohen said since Saturday, she has been "hooked" on the news, constantly refreshing to check for updates. 
"The first few nights, I kept setting alarms for the morning, scared that news will come in while I'm sleeping," Cohen said. "Everyone I love is back there and I could have easily been in the same situation that they're all in. But life [in the United States] just keeps on moving."
Vice President of Northeastern Hillel Elizabeth Zhorov, a fourth-year environmental and sustainability sciences major, said when the attacks made headlines on Saturday, she texted in a group chat with over a hundred kids she oversaw as a camp counselor in Sderot, Israel, as well as friends and family. 
"Sderot is a city where kids don't get to experience a normal childhood due to the constant threat of rockets," she said. "For 10 days of their summer, a group of counselors from Boston take them to a safer location within Israel and just let them be kids. So hearing the news on Saturday, my first thought was if the kids were okay."
Many Jewish Northeastern students have come together at Northeastern Hillel, said Gabrielle Bailey, who helped organize the rally and is president of the club's Tikkun Olam service committee. Hillel has been open every night since the attacks began and "will continue to be open," she said, to provide a safe space for students to pray, grieve and find support. 
"That's what made this tragedy feel real to me," said Bailey, a third-year biochemistry and bioengineering combined major. "[At Hillel], students share the names of loved ones affected by terrorism. An uncle who is still missing. A cousin no one has heard from since the attack. A classmate and a sibling hiding in bomb shelters. A friend who was shot at the rave. Every Jewish student on campus has someone in their heart right now."
This conflict has divided many members of the Northeastern community. Northeastern published a statement on Tuesday, Oct. 10 addressing the attacks, but many commenters expressed their discontent with the statement not acknowledging the several reported human rights violations committed by the Israeli government against Palestinian people.
But others in the Northeastern community say this isn't the time for debate, but instead a time to mourn.
"This issue isn't political. We can put politics aside for this," said Vice President of Huskies for Israel Sabrina Chevlin, a third-year psychology and music combined major. "Human life is the priority here. … Jews are suffering great, great losses, unimaginable things, living nightmares — and there's antisemitism everywhere. It feels like shadows of the Holocaust and just a general feeling of fear amongst Jews right now."
But despite the violence, Cohen said she believes in the people of her country. 
"Honestly, I think the one thing that's been really holding me together through it all is the community, the strength and the resilience of the Israeli people in general," she said. "I also have so much trust in the Israeli people."
At the end of the rally, crowd members joined arms and recited "Oseh Shalom," a Jewish prayer for peace, as several Israeli flags waved high above the crowd.