Following a week of violence in Israel and Gaza, dozens of students gathered Friday evening on Krentzman Quad to hold a silent demonstration and pray in solidarity with Palestine. The demonstration, organized by Huskies for a Free Palestine, a group formed of "Northeastern students in solidarity with Palestine," happened as war in the region reached its seventh day. 
After Hamas — a Palestinian nationalist militant group — attacked Israel's border regions Oct. 7, over 1,400 Israelis and 2,600 Palestinians have been killed as of Sunday afternoon. By early Friday morning, Israeli military officials advised residents of northern Gaza, roughly 1.1 million people, to leave and head south in preparation for a ground offensive into the besieged territory. 
Many students at the demonstration said they were outraged and disappointed with Northeastern's statement released Tuesday on the situation in the region, which said that "the terror and bloodshed inflicted by Hamas's attacks on Israel are cause for the deepest sorrow and most vehement condemnation," and that they "mourn for all the innocent lives that have been lost."
Eli Curwin
The statement also read that the university recognized that the conflict "ignites strong views on all sides" and that they "welcome peaceful dialogue and debate that is inclusive of all viewpoints, [but] we should all be united in our condemnation of terrorism and the killing of innocent civilians." The statement drew criticism from students who said the school failed to address the role of the Israeli government in oppressing Palestinians.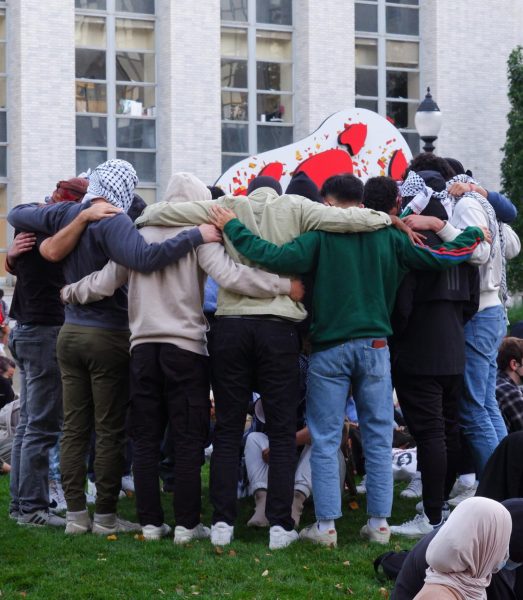 "We feel so unseen and unheard by Northeastern," said a Palestinian student who requested to remain anonymous due to fear of retaliation. "I feel unsafe on campus … when people ask me who I am, I have to evaluate if the situation is safe." 
The organizers of Friday's demonstration warned attendees to not identify themselves and asked everyone to wear masks in response to recent backlash against pro-Palestinian statements, including a conservative group that drove a truck through Harvard Square Wednesday doxing members of student organizations which publicly supported Palestine, calling them "Harvard's Leading Anti-Semites" and posting their names and faces publicly. 
"I've seen my friends getting doxed: their addresses, their emails, their names, everything online and in spreadsheets spreading around all over the internet," a student who requested to remain anonymous out of fear of retaliation said about the responses to pro-Palestinian viewpoints. "I've seen people trying to speak out and be silenced." 
After roughly 20 minutes of silence, a few students huddled around an unidentified speaker with a megaphone who expressed the pain and suffering of Palestinians to the crowd. The speaker then offered a prayer before asking the crowd to sit in silent mourning.
Eventually, the hushed quiet gave way to four local students who each told the crowd they could not remain silent while their family, friends and community were suffering. They encouraged the crowd not to be silent in their show of support for Palestinian people and to use the privilege of holding a protest to be vocal in their show of solidarity.
Another student said that they would "like to point out the bias of the university, and specifically the president, who is over here signing pro-Israel emails [while] he hasn't said anything about the victims in Gaza." 
A statement posted on Instagram by the Huskies for a Free Palestine account said that the university "offered no support or empathy to the people of Palestine, abroad or on campus," and claimed that "Israel commits genocide with weapons made by American corporations that Northeastern routinely collaborates with." 
The demonstration also highlighted what demonstrators called Israeli "genocide" of Palestinians, which many attendees felt was hypocritically ignored in the West. On Saturday, a United Nations expert warned that Palestinians are at risk of mass ethnic cleansing.
"I've just been very angry, to be honest," a second-year student who requested to remain anonymous due to fear of retaliation said. "I'm not even Palestinian and the hypocrisy that I've been seeing, especially coming from Western nations, is very chilling." 
Both Israel and Hamas-led militant groups have been accused of committing war atrocities in the region since the outbreak of the current war. Hamas' attacks killed over a thousand Israeli civilians, including 260 civilians at a music festival celebrating the Jewish holiday of Sukkot. Atrocities committed by Hamas militants were compared to Nazi massacres by U.S. Secretary of State Antony Blinken. In Kfar Aza, a farming community attacked by Hamas militants, houses were ransacked and Israeli residents, including children and the elderly, were reportedly "butchered" by the militants. 
Israeli forces and the government of Israel have also been widely criticized, both historically and recently, for reported brutal treatment of Palestinians. In the past few days, Israel's government cut off fuel, food and water supplies to Gaza, setting the stage for a potential humanitarian crisis. International organization Doctors Without Borders claimed that Israeli authorities ordered them to evacuate a hospital in Gaza in preparation for strikes against it. The largest hospital in Gaza was rendered inoperable by Israeli strikes, and multiple other shelters and hospitals have been hit by shrapnel. Refugee camps and civilian apartment buildings have also been hit by Israeli strikes. 
"I just think that if people actually saw how Palestinians were being treated, they may have a different stance on this," said another demonstrator, who also requested to remain anonymous. "But because the media and the university are so biased right now, they can't."
Eli Curwin contributed to this report.