Are Wollaston's Market prices fair? While staring down a $7.99 pint of Ben & Jerry's before movie night, or a $7.99 pack of string cheese after a spin class at Marino, this is a question that frequently nags Northeastern students and other shoppers. University staff, locals, commuters and students frequently make a pit stop at one of the two Wollaston's locations — Marino Center and West Village. But for a quick snack or forgotten grocery item, these prices can seem absurd. When comparing the prices at Stop & Shop and Whole Foods to Wollaston's, the same item costs almost $1 more at Wollastons.
Crunching milk and egg numbers is the last thing people want to do with their free time, so I did it for you. I visited Stop & Shop at Brigham Circle, Whole Foods on Westland Avenue, and both Wollaston's — more times than I care to admit — to find the disparities between grocery stores. 
During my search for the lowest price, I noticed a wide variety of brands which can be attributed to the different target demographics between stores — an important factor when considering the price of the products. Stop & Shop typically markets to a suburban demographic while Whole Foods caters to holistic, above-average income people. Wollaston's caters to students. 
Brands I quickly spotted at both Wollaston's and Stop & Shop were nowhere to be found in Whole Foods. Instead of Coca-Cola, healthier alternatives like 365 Cola, Poppi and Zevia populated shelves. Whole Foods carries niche brands, plus the mainstream brands the company deems healthy or organic enough.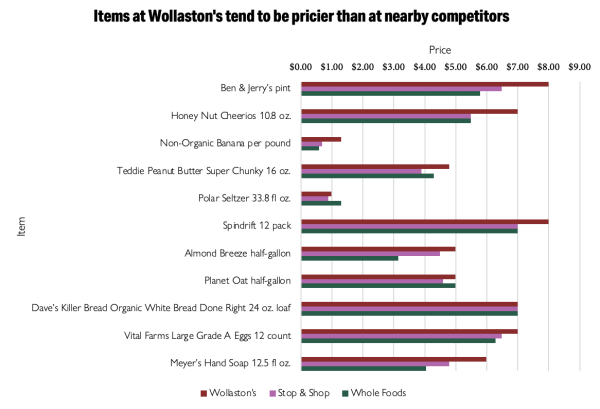 Because of its expensive reputation, I assumed Whole Foods would blow its competitors out of the water, but in the end I was surprised by the amount of times Whole Foods was the cheapest option.
During my first year at Northeastern, I lived on St. Stephen Street and frequented the Wollaston's Market in Marino Recreation Center just around the corner. I moved to West Village A the following year, and my new go-to spot became Wollaston's in West Village, conveniently located just thirty seconds from my apartment. Now as a fourth-year living off-campus, I visit Wollaston's significantly less. The campus grocer has price gouged me plenty over the years, and yet I have not made my last trip.
Why are Wollaston's prices so expensive, and who is most affected?
A lucrative location comes at a cost. Northeastern is an expensive school, our tuition is well above the national average. If Wollaston's rent is anything like student housing costs, they are marking up their products to match. First year students pay $5,305 for a standard double room, which comes out to $1,326 a month. On Mission Hill you have your own room for a similar rent, or cheaper. If Northeastern subsidized Wollaston's rent, our campus grocery would most likely lower their prices.
Further defenses are Wollaston's convenience and small-business ownership, independent from Northeastern. Rather than walking to Whole Foods or riding three stops on the Green Line to Stop & Shop, the campus shopper enjoys the luxury of an in-and-out purchase on their way to class. And, Wollaston's is the only place on campus that resembles a grocery store.
While upperclassmen do visit Wollaston's, the most frequent shoppers are likely the first and second-year students still living on campus. Younger students are not necessarily used to planning out grocery trips and budgeting time to pack food for a day of classes. Home and school goods like protractors, mops, notebooks and pens are also marked at frustratingly high prices. With limited shelf space, everything on the shelves must be intentional — the floor to ceiling display of Command Strips is quite telling of the store's target demographic.
Just because Wollaston's is independently owned does not mean it's not Northeastern condoned. While on the school meal plan, you can use your Husky Dollars at the Wollaston's counter, much like students can at local restaurants. 
A federal program that provides monthly grocery funds called the Supplemental Nutrition Assistance Program, or SNAP, cannot be used at Wollaston's, excluding Northeastern students benefiting from the program.
Over the years I have heard many complaints from my friends and peers that  Northeastern squeezes every penny out of its student body. Wollaston's, the only on-campus grocer, is another addition to this reputation.
I must be a fair critic. Wollaston's has some saving graces, like cheap coffee and a decent deli. A reasonably good small coffee will put you out $2.41, and a medium iced coffee is $2.95. There are dairy options on the counter, and almond milk or oat milk if you ask. The freshly-made deli sandwiches cost between $5.00 and $10.00, including tax, and are generously portioned. However, the lackluster bacon, egg and cheese is not worth the purchase.
Paying for convenience is also more normalized than ever. Wollaston's is popular despite the exorbitant prices because we live in the age of Doordash and Uber Eats, delivery and contact-less pickup and rising costs in an urban, post COVID-19 environment. There comes a point where we need to draw the line.
Pasted right on their storefront, Wollaston's slogan is "your neighborhood grocer." While certainly in the neighborhood, the prices do not align with the warm independently-owned demeanor they hope to convey. 
My consensus? Don't let Wollaston's take advantage of your busy student schedule. Do not waste your hard-earned money there, but don't beat yourself up when you forget lunch and the deli is your best option. 
If not Wollaston's, where? Plan ahead and hop on the Green Line up to Brigham Circle. Sign up for a Stop & Shop card to rake in the extra discounts, and if you have Amazon Prime there's an extra 10% off sale items at Whole Foods. If you stick to brands you know and stay away from the pricier, smaller ones — Whole Foods is an incredibly viable option. You can also scour the online stores of both Whole Foods and Stop & Shop to figure out where the lowest prices are for your staple goods, and when convenient drop in to either store . Preventing a Wollaston's habit is definitely the best decision for your wallet.
Carrie Gilmore is a fourth-year English major. She can be reached at [email protected]