Massachusetts passed legislation last year mandating all public higher education institutions to develop a medication abortion readiness plan for their students in accordance with their capabilities to provide services. 
As a private institution, Northeastern is not subject to this act. University Health and Counseling Services, or UHCS, does not prescribe medication abortion.  
Medication abortion is a term that refers to terminating a pregnancy by taking pills, most commonly misoprostol and mifepristone, causing the uterus to contract and expel the pregnancy tissue. Medication abortion is considered a safe procedure, often done within the first 11 weeks of a pregnancy, and is the most common method of abortion in the United States. 
Last week, NU Sexual Health Advocacy, Resources and Education club, or NU SHARE, in collaboration with Northeastern School of Law's chapter of If/When/How, launched a petition for UHCS to provide access to medication abortion. As of publication, it has 1470 signatures. 
"Northeastern loves to be progressive, and to have amazing centers and amazing resources and be on the front lines of things," said Jacob Kemp, a master's student studying media advocacy, undergraduate alum and education coordinator for SHARE. "They consider themselves a university of the future. And that has to extend to all aspects. And that includes our healthcare."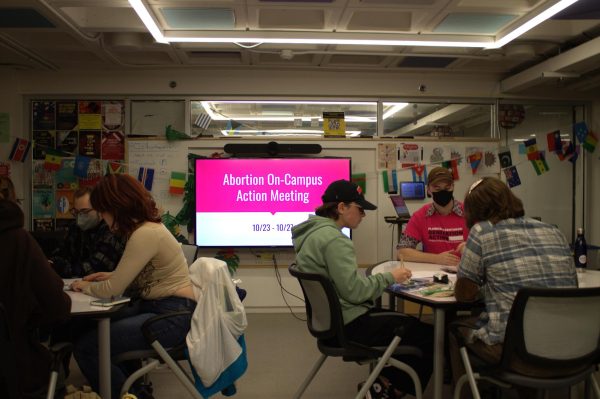 The petition claims UHCS said one to two students go to UHCS each week seeking care for pregnancy or pregnancy termination. 
Renata Nyul, vice president for communications, clarified on behalf of Northeastern, "on average, there are a few students per month who contact UHCS with questions about a wide range of reproductive health topics, including contraception, pregnancy, etc."
The renewed push for on-campus access coincided with the start of a weeklong national campaign known as Abortion on Campus Week of Action. From Oct. 23 to Oct. 27, students from more than 150 campuses across the country will take part in the campaign, according to an Instagram post by Advocates for Youth, a nonprofit advocacy group focused on reproductive justice topics. 
NU SHARE has partnered with UHCS in the past, leading to the success of initiatives like free STI testing and an emergency contraception vending machine in Marino Recreation Center last October. 
"Northeastern provides students with access to sexual health resources and emergency contraception, including a vending machine with a variety of products," Nyul wrote in a statement to The News Wednesday morning. "While UHCS is not licensed to dispense prescription medication, and is not staffed to provide 24/7 follow-up care often needed after a medication abortion, we do provide robust referral mechanisms to trusted health care partners where our students can access medication abortion safely." 
While UHCS does not have a pharmacy, it has the capability to prescribe medications and send prescriptions to be filled at local pharmacies. 
Allyson Lowitz, a third-year law school student and co-chair of If/When/How, a network of law students and lawyers committed to expanding reproductive justice, said providing access to medication abortion on campus has been a topic of conversation between student leaders and UHCS for over a year, spurred by the aftermath of the Dobbs decision reversing Roe v. Wade. 
"We had a petition we were working on, and then we closed that petition because UHCS asked us to and it was a decision we made together," Kemp said. "We felt like, 'Okay, conversations are opening up, the university is taking us seriously, we can close our petition and get into the work.'"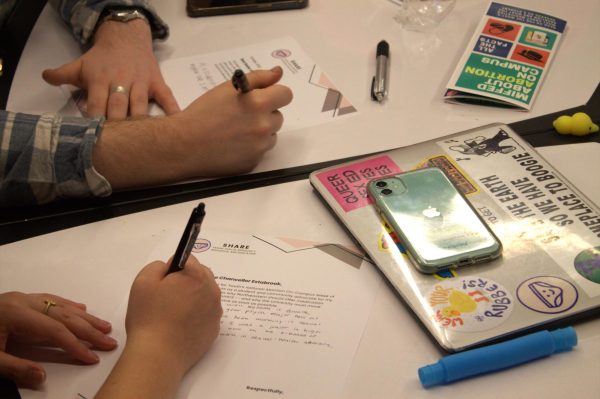 Kemp credited Christine Civiletto, assistant vice chancellor for wellness, as key to the collaboration. Resources SHARE prepared, including frequently asked questions about abortion and referral fact sheets, are available on the UHCS website. 
"UHCS worked with student leaders during the 2022-23 academic year to explore resources and wellness needs," the webpage reads. "The below information sheets are a result of student efforts to develop materials and information." 
In recent months, however, the dialogue seems to have reached a standstill, Lowitz said. That is why SHARE relaunched the petition and is escalating their efforts. 
"It is clear that the people at UHCS want to provide this. And it's clear that the stop gap is coming from above them," Kemp said. "At a certain point, when so many details are the concern, it starts to feel like the details are not the problem." 
UHCS, along with the Office of Prevention & Education, the Office for University Equity and Compliance, WeCare-Student Support Services and the Disability Resource Center, fall under the large umbrella of Northeastern's Division of Student Life. The division is overseen by Vice Chancellor of Wellness & Student Success Dan Solworth and Senior Vice Chancellor for Student Life Madeleine Estabrook. 
Kemp and Lowitz were careful not to place blame for the problem on any individual and instead emphasized the depth and breadth of support for providing medication abortion from students of many colleges and backgrounds. 
"We're putting pressure on the administration and showing that there is widespread student support for this," Lowitz said.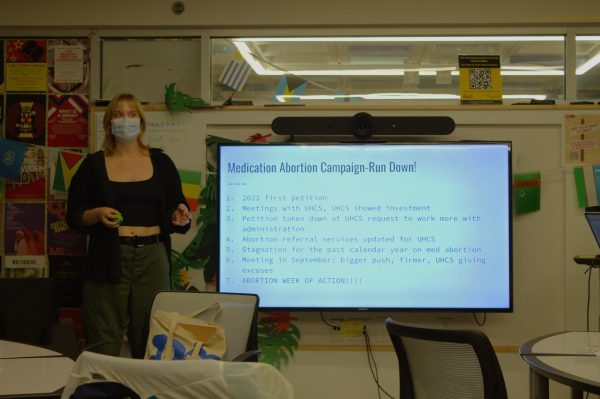 The petition calls on Northeastern's administration to "provide a concrete plan to bring medical abortion access and resources to Northeastern." 
NU SHARE members are taking action throughout the week to promote the campaign. They are organizing a letter-writing campaign to Estabrook, gathering signatures for the petition and speaking to students at Curry Crossroads, Centennial Commons, Snell Quad and Dockser Commons. 
"We were at this point where we felt ready to escalate," Kemp said. "We didn't plan this national movement, but it came at the right time for us to really dig in."