About 70 students blocked off a walkway through Centennial Common on a dreary, misty and cold afternoon Thursday during a die-in demonstration calling for a ceasefire in Gaza. 
Huskies for a Free Palestine, a campus group that is unaffiliated with the university, organized the die-in, in which students sat or laid on the ground to represent people who have been killed in Gaza. The gathering opened with speeches from activists who admonished the Israeli government for its relentless attacks on Gaza. 
"When people use social media, it's just really easy to see numbers and not think of the actual human bodies lying on the ground," said Darcy Flaherty, a third-year sociology major. "It's just kind of a visual reminder of like, these are human lives." 
After speeches and rallying cries, die-in participants dispersed through Centennial Common, one of the busiest thoroughfares on campus. Some sprawled out on the brick ground under the cold mist while others sat under umbrellas, listening to organizers read poetry through a megaphone and encouraging passersby on their way to class to join the protest. 
"You may walk by, business as usual, but you can also join us in solidarity," a speaker at the rally, who did not identify themself, said through a megaphone. "Every hour, 35 Palestinians are killed. Remember that when you change from class to class. … When you have the freedom and mobility to move, you have an education. Many others do not."
The demonstration was originally scheduled for Oct. 31 but was abruptly delayed due to what Huskies for a Free Palestine said was a fear of retaliation from the university. The rescheduled date fell on a day where temperatures dropped into the low 40s — several students huddled for warmth as they sat in the rain.
"It's cold, but what are Gazans doing? They don't have water, they don't have food — I don't think being out in the rain is so hard to do when you're speaking out for human rights," said Aysha Chaudhry, a Northeastern student who attended the protest.
The die-in was among several demonstrations held at universities across Boston Thursday, including Berklee College of Music, Boston University, Harvard University and the Massachusetts Institute of Technology. Hundreds also flocked to the Ritz-Carlton Hotel in downtown Boston to protest Vice President Kamala Harris, who visited the city for a campaign event. 
"People say it's a nuanced issue, and there is nuance, but there's not much nuance you can get out of genocide," said a student who asked not to be identified. "So it's important to show up where you can, donate where you can, be present where you can. …  It's important to show that there are people on Northeastern's campus who are supportive of Palestine."
On Thursday, the White House announced Israel agreed to formal daily four-hour humanitarian pauses on its attacks in select areas of Gaza to allow civilians to flee the ravaged war zone, a result of increasing pressure from the Biden administration. Many critics say the humanitarian pauses are inadequate, as they provide little relief from the Israeli government's daily bombings. 
"We are doctors in our nature. And what you are asking us to do with a humanitarian pause is to bring in the equipment necessary to stitch people up and repair them, and then to start the bombing again and for us to then fix them," Doctors Without Borders executive director Jennifer Tierney said. "That is not enough. We need a ceasefire."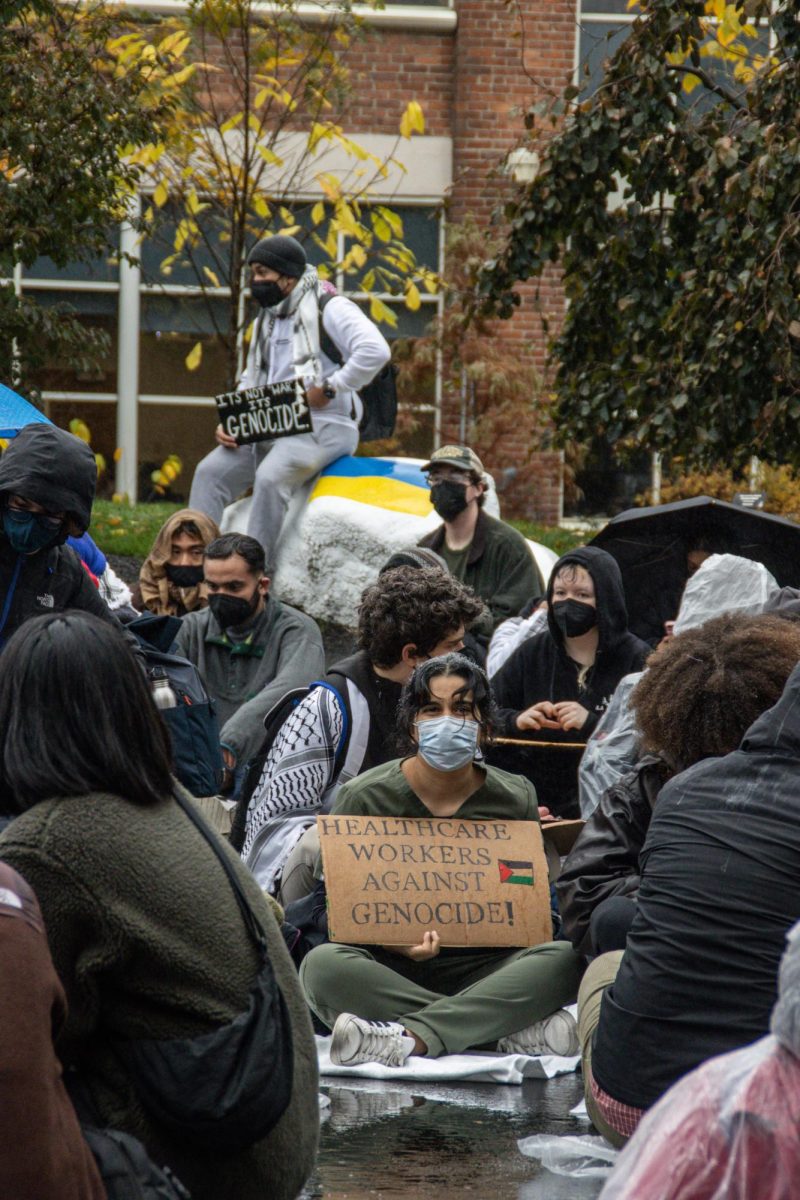 "In specific locations for a given period, a few hours here, a few hours there, we want to facilitate a safe passage of civilians away from the zone of fighting," Israel's prime minister Benjamin Netanyahu said in an interview on Fox News that aired Thursday.  
The death toll in Gaza surpassed 11,000 on Friday, according to the Hamas-run Gaza Health Ministry. Israeli officials revised its death toll estimate Friday night, lowering the estimated number of people killed in the Oct. 7 Hamas attacks from 1,400 to 1,200. 
Editor's note: This article has been updated to provide a more accurate estimation of the number of students participating in the die-in.