Three days before the expiration date of a contract between the union representing 330 cleaners at Northeastern and the Maintenance Contractors of New England, or MCNE, the union wrapped up another week of bargaining and negotiations. If an agreement is not reached by Nov. 15, the union, which represents 12,000 janitors across Massachusetts and neighboring states, will go on strike.  
Contract negotiations between the union, Local 32BJ of the Service Employees International Union, or 32BJ SEIU, and MCNE began Sept. 14. In addition to demanding increased wages, a primary concern during negotiations is creating more full-time positions for janitors. Currently, only half of the janitorial staff at Northeastern are full-time employees, said Roxana Rivera, assistant to the president of Local 32BJ, in an interview with The News. 
Typically, contracts are renewed every four years. However, the contract renewal set to happen in 2020 happened during the beginning of the COVID-19 pandemic. The contracts were negotiated virtually and only saw "minor changes," meaning the cleaners' contract has remained largely unchanged since 2016, according to Franklin Soults, a spokesperson for the union.
"We've made some strides in regards to the standards for janitors. But the issue that still remains is that Massachusetts has always been a part-time market," Rivera said. This means that when clients like Northeastern University contract out services, it's based on a part-time model, not a full-time model, meaning employees don't have a pathway for full-time work. 
The union's demand for more full-time positions is spurred by financial complications created for part-time employees, whose employers are often not required to provide benefits such as healthcare and paid time off. But many employees are discouraged to work another part-time job because it would disqualify them from getting federal benefits like state health insurance and food stamps, said Ana Gonzalez, a cleaner at Park Plaza Office Building and a member of 32BJ's bargaining committee.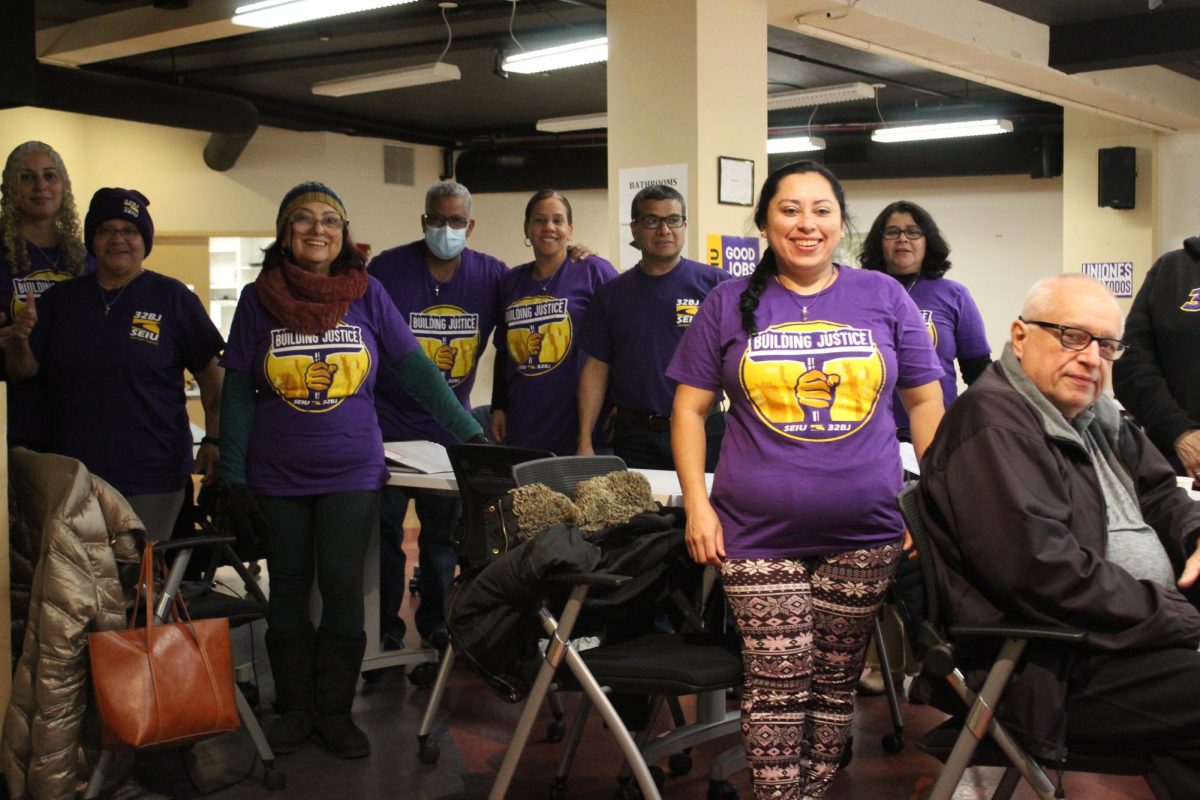 "You pass one penny, you do not qualify, but you go to the supermarket and everything is so expensive, how are we gonna pay for everything?" Gonzalez said. "For rent? For food?" 
This was particularly relevant during the COVID-19 pandemic, which was an especially hard time for cleaners, Gonzalez said. At home, she said many resorted to food pantries to feed their families. 
Going to work was anxiety-inducing for many cleaners, Gonzalez said, who would pray alongside her coworkers at the beginning of every shift during the pandemic. 
"Until today, nobody from the company has said thank you to [any] of us," she said. "Instead, we got sick. We didn't get paid [enough]. They didn't agree to give masks. We had to fight because they were not giving us the sanitizers we needed. And we feel extremely underappreciated for what we did [during COVID-19]."
It was not uncommon for employees or their families to get sick, Gonzalez said. This forced many to isolate themselves from their families. 
"Somebody asked me, why are you here today? Why are you asking for the full time?" said Gonzalez, who is a part-time employee averaging 25 hours a week. "I went out of my house every day [during COVID-19] and I was getting into my house every day, but I couldn't hug my son that was at my same house because I went out to work."
Another point of contention for Northeastern cleaners are those that work the night shift, Rivera said, who are advocating for higher wages. 32BJ represents cleaners at higher education institutions including Northeastern, Emerson College and University of Massachusetts Boston. These institutions demand more than commercial buildings because it's a "24/7 operation," Rivera said.  
During COVID-19, a core group of Northeastern janitorial workers were kept on while the rest were laid off, said Tomasa Rodríguez, who has been a cleaner at Northeastern since 2000. Rodríguez was placed on leave in March 2020 and brought back to work in September 2020, but caught the virus shortly thereafter. 
"It was a really tough period. In fact, it feels like I have a mental block to it," she said. "It was really hard to go home, to have to immediately strip off your clothes, not be able to be really close to your family until you took a shower and cleaned yourself off. It was a period that was really hard, especially for my family that is so close and likes to be together so much to have to be so isolated."
More negotiations and bargaining meetings are set to continue into next week until the deadline Wednesday at midnight.
"Nobody wants to give up what they think is important. And this is a big change that we're asking for, to really do a concerted effort to especially convert these part-time jobs to full-time jobs," Soults said. "After COVID, the importance of that just became so overwhelmingly evident to members, as it should be to everyone."