Northeastern women's basketball (2-0, 0-0 CAA) faced off against The University of Massachusetts Amherst Thursday for its home opener at the Cabot Center. Coming back from Easton, Massachusetts, with a Monday night win over Stonehill College, the Huskies brought the energy back to Boston for a 78-74 upset against the Minutewomen.
UMass Amherst finished last season 27-7 as the Atlantic 10 regular season champions, falling to Saint Louis University in the Atlantic 10 championship and later Harvard University in the National Invitational Tournament. This meant that the Huskies were big underdogs going into the game.
An active, aggressive first half put the Huskies up 42-36, led by senior guard Maddie Vizza who posted three three-pointers. Still, the Huskies knew they had to keep the momentum going and finish strong against the Minutewomen, who were favored by 6.5 points.
With a score of 75-65 and 44.4 seconds left of the game, the Huskies appeared to have another win in the books. But after senior guard Jaelyn Batts fouled out, junior guard Kristin Williams of the Minutewomen stepped up to the foul line. Williams made two of three free throws for UMass, which were followed by another jumper and a subsequent three from senior guard Jemany Mapp of the Minutewomen to bring the game within one possession. 
Vizza was able to bring Northeastern back to a two-possession game with two more free throws, but UMass was still in the game, with senior guard Stefanie Kulesza knocking down a jumper with an assist from graduate student guard Tori Hyduke — cutting the Husky lead to three.
Being able to remain calm in moments of chaos was a Northeastern goal from the preseason, so even when the Minutewomen made their late run against the Huskies, Northeastern was able to stay focused and secure the 78-74 win. 
"They wanted to be better about being calmer in moments where teams have their run and continue to execute," head coach Priscilla Edwards-Lloyd said. "That's still a work in progress, but I really was excited that we came together and when UMass started to make their run, we still found ways to get the game." 
Even though senior guard Derin Erdogan took an injury to the right shoulder in the game against Stonehill, the Minutewomen struggled to keep up with her as she tallied five defensive rebounds. Erdogan was only able to shoot with her left arm, but still secured a free throw to clinch the win over the Minutewomen in the final seconds of the game.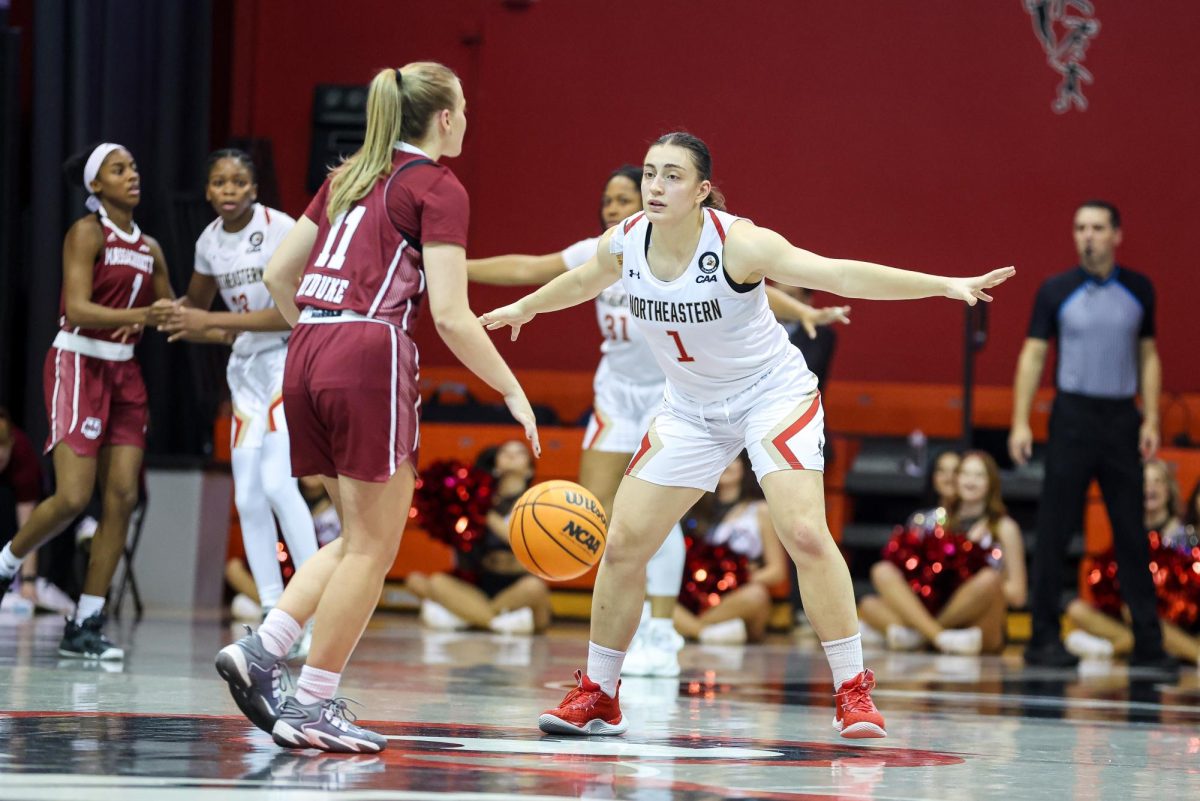 "Derin is our trooper," Edwards-Lloyd said. "She finds ways to just make plays when they matter. She knew she was gonna be playing with some pain today and she handled it well. She was able to lock in and ice the game for us."
Junior forward Asha Parker notched a career-high 18 points for Huskies. 
"Asha's a great athlete," Edwards-Lloyd said. "She's worked a lot on her offensive game. We knew that was something that would be open and we had faith that she would make those plays, and she did a really good job today of sticking to the game plan and being confident in her offensive game"
After missing the season opener, fifth-year guard Jaelyn Batts made her season debut against UMass with eight points and four rebounds. 
"Jaelyn is a game changer," Edwards-Lloyd said. "She does a lot of things, she can play multiple positions, she can guard multiple positions, she brings the energy. She has some really, really big rebounds and really big effort plays that just energizes us so I'm excited to see her back on the floor." 
Northeastern took advantage of 26 fouls from UMass, shooting 24-for-33 from the free throw line. The Huskies also shot well throughout the game — a team overall 51% —  , outshining the Minutewomen by 11.3%. 
Northeastern traveled to Chestnut Hill Sunday to face Boston College, falling to the Eagles 67-58.