At the inaugural event of the journalism school's new Jack Thomas Lecture Series, Boston Globe Media CEO Linda Henry spoke to students and faculty Thursday, Nov. 9 about the trajectory and role of local journalism in an era of intensifying international conflict and growing technological influences. 
The conversation, held in EXP and led by Meg Heckman, an associate professor of journalism and media innovation, provided an inside look at the Globe's strategies, challenges and successes over the last decade.
As local news struggles across the country, the Globe has persevered, leaning on Henry's philosophy that "time is the greatest of all innovators." Since Henry became the CEO of Boston Globe Media after purchasing the company with her husband, John, in 2013, she said the company's financial successes can be attributed to its versatile and ambitious business model. It has expanded its coverage well beyond Boston, broadened its target audience to new age groups and sectors of industry and invested in video and audio content.  
"It's hard for me to say what we're not doing," Henry said, referring to the expansion of the Globe.
Henry repeatedly emphasized that she "works with smart people" and said the Globe's capacity to adapt to new technologies and markets depends on "the creativity of all the people we have at the organization." With a volatile technology industry reaching into the news market, media organizations like the Globe face uncertainty as "the environment keeps changing," Henry said.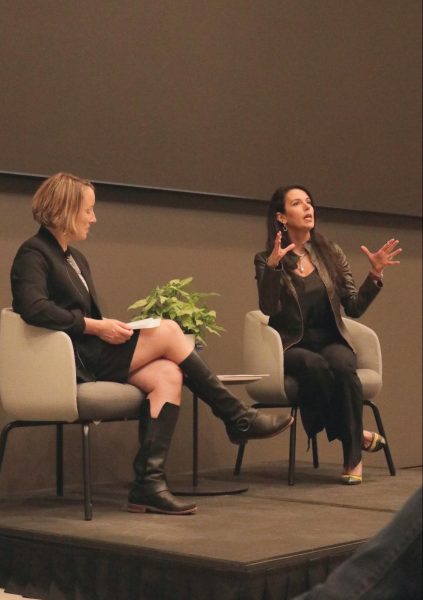 In particular, the rise of generative artificial intelligence, or AI, threatens to transform journalism. Henry, however, said she sees the potential for these tools to positively impact journalism; Globe journalists now have access to an AI headline generator, which analyzes their article and returns a list of suggested headlines.
"[Henry] put a positive face on the media, which is something that I think is not a common occurrence in today's day and age," said Megan Moffat, a fourth-year behavioral neuroscience major. 
Though the changing news environment necessitated a versatile business model, the Globe never strayed from its local roots. Henry said she believes the role of the Globe is to be "the world's leading experts" on Boston.
"Cities function better when there is a strong, trusted, functioning, well-resourced newsroom at the core of it because more people show up to vote, and more people run for office," Henry said. "There's greater trust in institutions because people know that there's somebody watching."
To properly fulfill this role, Henry emphasized the importance of having people with a diverse range of racial backgrounds and gender identities, creating "newsrooms that reflect the communities you're covering." 
Elana Lane, a fourth-year journalism and interaction design combined major, said she appreciated Henry's emphasis on employing staff with diverse professional skill sets.
"Within journalism, being able to be not just a reporter, but also maybe a design student, … that's my goal eventually," she said. 
Lane is waiting to hear back from the Globe about one of its more than 30 co-op opportunities for this spring.
As global conflict intensifies and international issues manifest in the lives of Bostonians, Henry reminded the audience of the continued importance of local journalism. 
"People do trust their local media," Henry said. "People do trust the people that are in their neighborhoods, on the ground and in their communities."