Northeastern Students for Justice in Palestine, along with the university's law school chapter of the same organization, held a chalk-in Nov. 15 on the paths encircling Centennial Common. Participants wrote the names of thousands of Palestinians who have been killed by Israeli forces during Israel's counterattacks in Gaza in response to Palestinian militant group Hamas' unprecedented attack Oct. 7. 
Participants covered the sidewalk encircling Centennial Common with the names and ages of thousands of Palestinian victims of the Israel-Hamas conflict. The demonstration was organized in a collaboration between recently-reactivated Northeastern Students for Justice in Palestine, or NUSJP, and the recently-formed law school chapter, NUSLSJP, in solidarity with the thousands of Palestinians who have died in Israel's attacks on the country, according to Mariam Hassan, a first-year student in Northeastern School of Law.
The Gaza Health Ministry reported that more than 11,100 Palestinians have been killed as of Nov. 13 in Gaza since Hamas launched an attack, according to the Washington Post.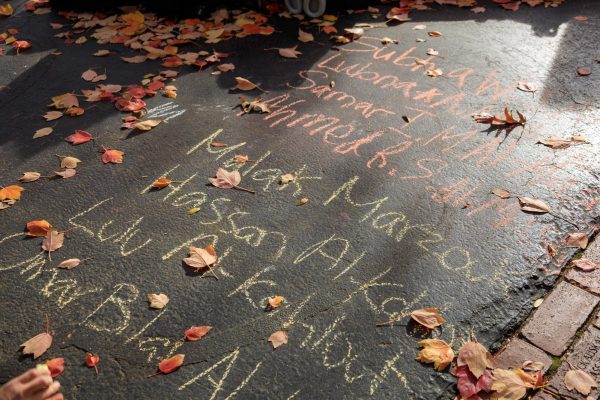 "You can see the different last names and the fact that families are literally getting obliterated together," said Sarah Abouchleih, a third-year computer science and business administration combined major and organizer with NUSJP. "It's supposed to be a very disturbing visual."
Around 20 to 50 students participated in the chalk-in, Hassan said. They wrote names from a list of over 7,000 casualties publicly identified by the Gaza Ministry of Health released in late October after President Joe Biden expressed doubt in the total death count. . Participants chalked about 2,500 names during the six-and-a-half-hour event, according to SJP's Instagram. The list of names, which spanned 150 pages, was also posted on the window of NUSL.
Hassan helped organize participants at the chalk-in and distributed the list of names for students to work from. She said she hoped the chalk-in raised awareness for victims of the conflict through a medium that was visible to the community. 
"It's really important for us to physically honor the lives of people that have passed away,"  Hassan said. "I want people to see that people stood out here for over two hours … and we're not even going to get close to the end of the list."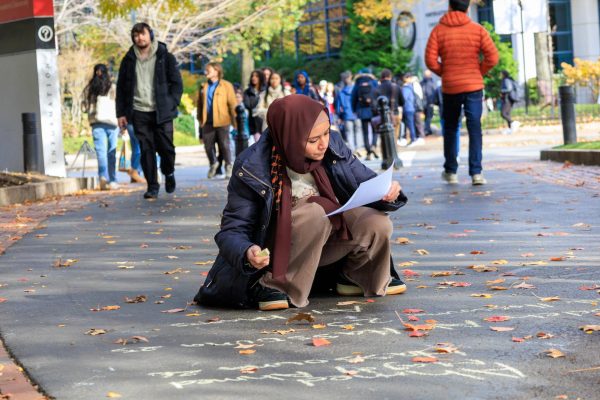 "I'm really, really happy that [Hassan] ended up booking Centennial because this was the most reactions that you can get,"  Abouchleih said. "Every single person that's been walking by has been looking at it and everyone's been reading. … I've seen people look at it and be surprised."
Students remained in Centennial from 12:30 p.m. to 7 p.m., sitting on the pavement as the sun set and reading off names from the 150 sheets of paper. 
Several universities including Columbia University and The George Washington University have suspended campus chapters of SJP, and Brandeis University banned the group Nov. 7. Organizers said retaliation from the university is a significant concern. After years of inactivity, NUSJP announced Nov. 8 it would return to organizing demonstrations.
Organizers received university permission to cover Centennial with chalk and complied with the Center for University Involvement's chalking guidelines, organizers said. But Hassan said the two SJP chapters find the university's demonstration regulations limiting.
"It becomes impossible to do indoor things, disruptive things, and that's what solidarity with Palestine means," Hassan said. She said the club does not have the resources or funding to organize a larger display.
"There's kind of a glass ceiling, and we're at that glass ceiling right now," she added. "We're not where we want to be social justice-wise because there's so much more that should be said and that our Palestinian brothers and sisters deserve for us to say."