Growing up in Plateau State, a small city in northern Nigeria, Dr. Ebere Azumah said no one told her what to expect when she got her first menstrual period. A self-directed learner, she took to reading textbooks to educate herself, which helped fuel her lifelong dream of becoming a doctor.
Azumah moved to the United States when she was 16 years old, completing her undergraduate degree, medical school and master's in public health. She began practicing independently as an OB/GYN after finishing residency in 2014 and currently works in Maryland. But through her schooling and training, she continually sees women suffering from a lack of knowledge about their anatomy and bodily processes. 
In the summer of 2019, Azumah, alongside Bria Gadsden who stepped down from her role as executive director of the organization in January, founded Love Your Menses. Originating in Boston, they created the nonprofit group in response to the growing menstrual wellness needs of girls, menstruating youths and women. When they started, menstrual equity groups did not have the presence that they do today, Azumah said, meaning the group had to learn how to run the organization as well as figure out how to expand. 
"At the time when we started, we were just learning," she said. "And we didn't have extra resources to hire anybody. So we learned on the fly, and we just kept on doing it. And then we expanded to Nigeria because people saw the work we were doing and reached out to us."
Shortly after the founders obtained their non-profit status and began applying for grants, the pandemic began. COVID-19 highlighted women who struggled with period poverty, Azumah said. "COVID does not stop menstruation," she said. The pandemic left many girls who relied on schools to get menstrual products empty-handed. In response to this, Love Your Menses introduced their "period packages" campaign, delivering packages of menstrual products to women in Boston and surrounding areas.
Stories of girls in need of menstrual product  inspired the I AM Bill, which the Massachusetts senate passed on Oct. 26. The I AM BILL aims to increase access to menstrual products in prisons, homeless shelters and public schools. 
Despite the setbacks of COVID-19, Love Your Menses expanded to Connecticut, Washington D.C., Maryland and Virginia, helping girls combat period poverty. Worldwide, 800 million people are menstruating every day. The American Civil Liberties Union, or ACLU, estimated that at least 500 million of them can not afford or access menstrual products.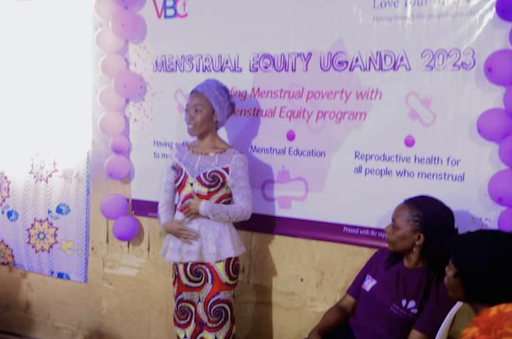 From the start, Azumah said she knew that she wanted to extend the reach of Love Your Menses overseas. As of 2023, the organization has a presence in Liberia, Nigeria, The Gambia, Haiti, Uganda, São Tomé and Príncipe and Kenya. 
"Most ladies [in Kenya] are struggling from period poverty," said Briston Barasa, a graphic and social media team member based out of Kenya. "Some men in town are taking advantage of that instead of allowing our ladies, our daughters to be in school and study." 
The group's latest move happened in September with the addition of pop-up "period workshops" across Boston. 
"We just want to build an environment where Black and brown girls as well as all menstruators are comfortable in learning about [periods]," said Yetunde Bankole, menstrual equity Boston coordinator who joined the organization in August. "[Girls] could be with their parents or even their mates, and [our goal is] making [periods] something that's comfortable for them to want to know about instead of waiting until they get their cycle."
For a long time, menstruation has been stigmatized and something that girls needed to hide, Bankole said. "[Nothing like] this program was around when I was growing up, and I really wish it was just like a lot of older women," she said. "They're like, 'Where was this when I was growing up?'"
To sustain this multinational organization, Azumah built up a staff of program coordinators, designers, researchers, medical students and educators. Azumah, who described herself as a "big picture" personality, said her team members are more "detail-oriented."
The group feels united by a shared passion for learning, advocacy and education, said Dernsta Darang, a Boston program coordinator. "They're very passionate about what they're doing. They really do care," she said. "And that's how I am. I'm a very compassionate person and I really want to take part in making a difference within the population, within our communities." 
The overarching mission is in the name itself, coined by Gadsden Azumah said it is meant to be counterintuitive. 
"My partner, like many other people, did not really love her menses while growing up, because one, [women] didn't really have enough information about menstruation. And then for some [women], it's a time of pain. And for some, it's a time of shame," she said. "So [the name is] like empowerment. The goal was to empower women…by changing how women view their menses. Like, you know what, why don't you love your menses? Why don't you love yourself?"