[UPDATED] Midnight campaign criticizes administration for sexual assault response
By Morgan Lloyd, new staff 
TRIGGER WARNING: This story contains material which may be upsetting or harmful to survivors of sexual violence.
Students walked the deserted hallways and quads of Northeastern Thursday at midnight, taping signs to poster boards, windows, bathroom walls and benches for their campaign to hold the administration accountable for how it handles campus sexual assault.
By 4:40 a.m., Northeastern University Police Department officers were seen taking the posters down.
The NEU Too campaign kicked off by posting signs made to resemble the Faces of Northeastern promotional signs hanging around campus that feature student quotes. However, the posters instead feature stories from survivors of sexual assault and harassment and direct students to the campaign website, where they can anonymously share their own stories. When the campaign launched, the site featured 14 accounts of Northeastern students and alumni who experienced sexual harassment and assault. By Thursday night, there were 44 stories.
"Our goal is really to shine a light on the problem and to give survivors a voice," said Katey Laubscher, the spokesperson for the NEU Too campaign. "We want Northeastern to handle all cases with compassion and support and to really make the campus culture open and supportive. We feel like this is the first step towards that."
Five of the six poster designs displayed survivors' quotes. One said, "I was told that I would have to adjust my life so that it did not coincide with his." Another, "I was harassed at co-op by an older man." The sixth poster had links to the NEU Too website and social media.
The campaign began as a final project for Professor Greg Goodale's Persuasion and Rhetoric class. Laubscher, a fourth-year political science and communication studies combined major, said it was highly influenced by the #MeToo movement and the recent coverage of sexual misconduct allegations in the media.
"We feel like there's a moment right now where people are really connecting with the fact that sexual harassment and assault is just really deeply seeded in society, and it's kind of not been talked about openly until now," Laubscher said."So, we really just think the #MeToo campaign was such an amazing expression of people sharing their stories with so much courage and talking about the experiences that they had, and so NEU Too is just kind of highlighting that it happens at Northeastern, too."
A university spokesperson did not respond to three requests for comment by Thursday night.
The campaign began at midnight, when students began taping up their posters across campus. Fifth-year communication studies major Meghan Murphy started in Centennial Common, attaching posters to benches and Adirondack chairs before heading toward Forsyth Street, hitting "anywhere we see that's still bare."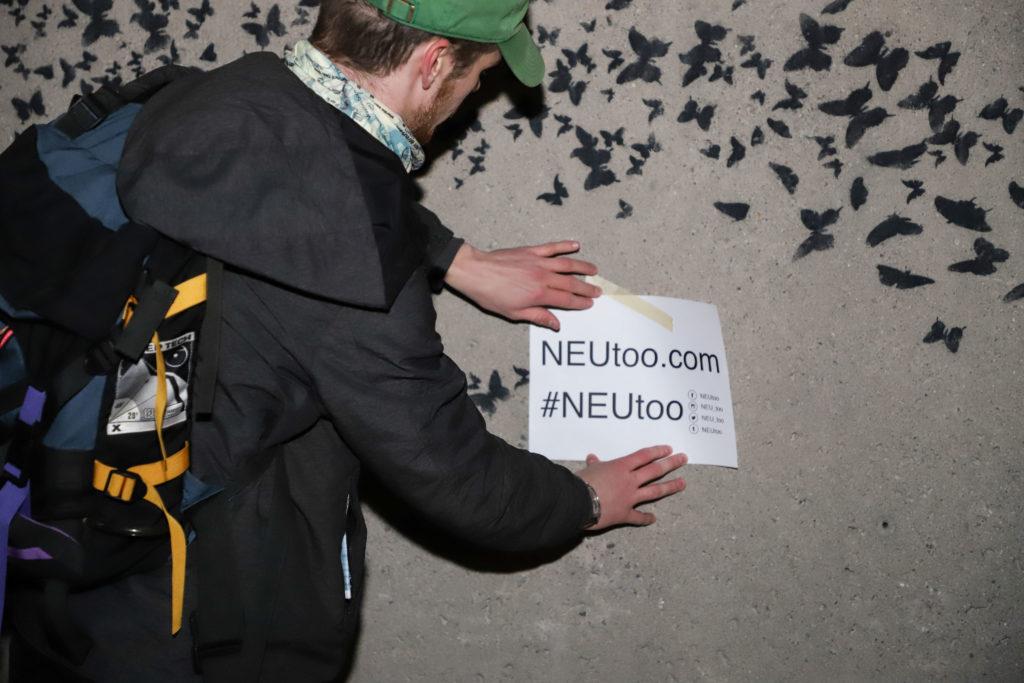 "I think the administration is probably going to want to try and tear them all down as soon as possible," Murphy said. "At least a good number of students who have morning classes get to see them."
Nate Caldwell, a second-year communication studies major, shared Murphy's concern that administration would seek to remove the posters.
"I do think they're going to get taken down," Caldwell said. "I hope that they stay up long enough that people notice. But, our goal is not to have every single student on campus see one of these flyers in person. Our goal is to have every single student on campus hear about them, either by word of mouth or our social media."
Around 2 a.m., four students hanging up posters [location] were stopped by an NUPD officer who had been following them outside of East Village, according to third-year communication studies major Will Smith, who was present at the scene. The officer asked for their names.
"We said, 'I don't really think that's necessary,' and walked away," Smith said.
The group was then stopped by another police car. The officer asked to see their Husky ID cards and told them they could not post anything without university permission, after which the students stopped putting up fliers.
"I think they read them and they knew what it was," Smith said. "That's why there was a sort of attention to it."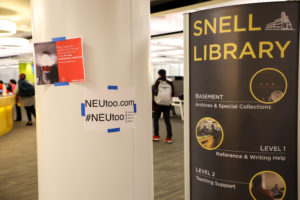 The Northeastern administration has been criticized for its handling of sexual assault cases in the past. In November 2016 a student sued Northeastern for the alleged mishandling of her sexual assault case three years earlier.
"We want to hold the university more accountable. We're tired of awareness campaigns that don't do anything," second-year political science major Brennan Balasubramaniam said. "We've got too many stories on this campus of the university mishandling cases."
Laubscher emphasized the importance of increased accountability for the administration in how they handle sexual assault cases.
"Even if the administration handles cases well nine times out of 10, we still want to eliminate that one time that it wasn't handled well," Laubscher said. "That's really our goal, is just consistent adherence to policies."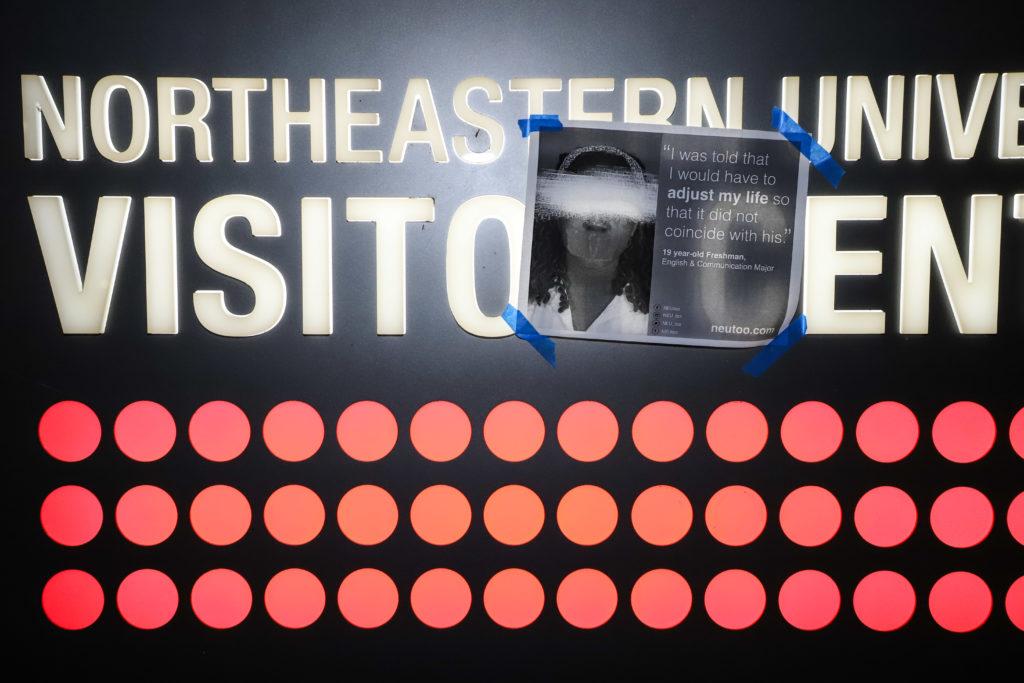 For Laubscher, it is essential that the students and administration address the issues that have allowed sexual assault and harassment to continue at Northeastern.
"If we could get the administration to consider expanding its resources, or even just opening up a conversation with administrators, we feel that if we can make the campus even a little bit more open to this conversation, that's something we'll be happy with," Laubscher said. "Our goal is to really have an administration that makes Northeastern a safe haven for survivors and not perpetrators."