Beanpot hero Jordan Harris looks beyond individual success, appreciates supporters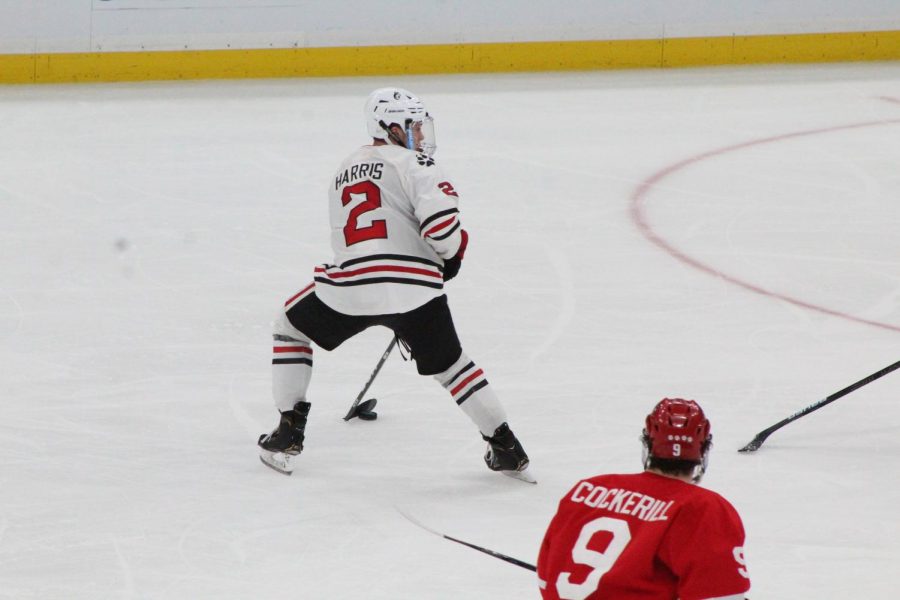 Northeastern sophomore and starting defender on the men's hockey team, Jordan Harris has had quite the year. The Montreal Canadiens prospect played for Team USA over winter break, and scored the winning goal in the Beanpot final on Feb. 10. Despite his success, he's quick to redirect focus from himself to those who support him.
Ask him about the best part of making Team USA, he'll tell you it was his dad coming to the games. Ask him about his Beanpot winning goal, he'll talk about how well his goalie played. Ask him about the best part of the NHL draft, he'll tell you it was being there with his family.
"My whole life I really looked up to my brother and my dad," Harris said. "I always wanted to follow in their footsteps."
The Haverhill, Massachusetts native started the game young in a hockey family. It was around middle school that he started to realize if he worked hard enough, he could make something of the sport.
Mike Kesselring, Harris's current teammate and a freshman defenseman, grew up playing against Harris.
"We always played against each other," said Kesselring. "My dad would always come home and say 'Oh, Jordan was so good today,' when I was playing against him … I'd get a little rattled, a little jealous."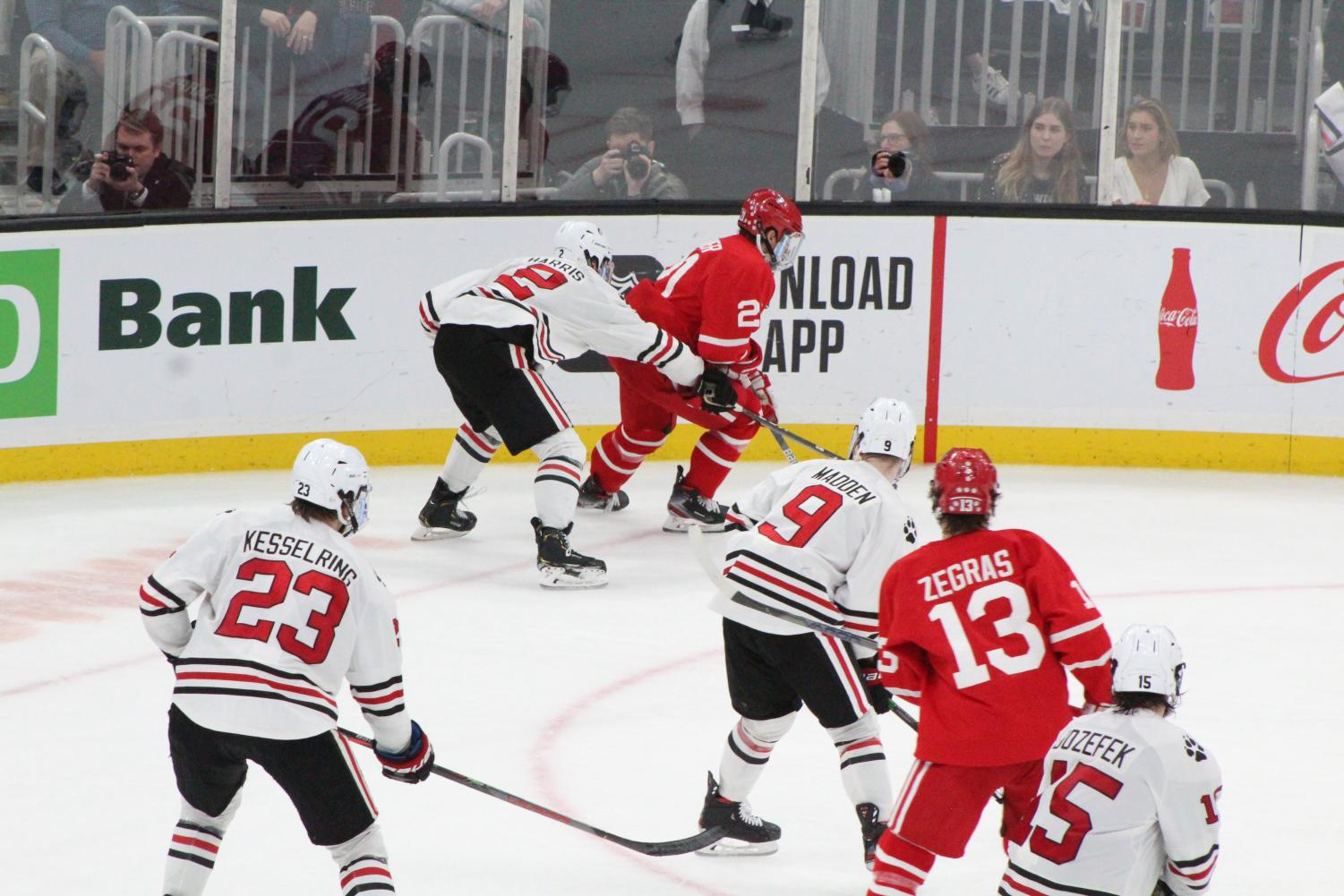 After spending his freshman year of high school at Haverhill High School, Harris followed his older brother Elijah to Kimball Union Academy, a private boarding school in New Hampshire.
"I got to play one year with him which was pretty cool," Harris said. "Definitely my brother going there was kind of like that extra push."
Over his three years at Kimball Union, Harris played in 111 games and had 18 goals and 64 assists. He was captain in the 2017-18 season.
During high school, Harris went through two major scouting processes. One to find out where he would play in college and another to see if he could be drafted into the NHL.
"For us, he was an elite skater at that age," said Northeastern men's hockey head coach Jim Madigan. "Smart player, great skater, moves pucks really well and had a real good skill set and showed really good hockey IQ and hockey sense. For us, it was an easy one because he just stood out.."
For Harris, Northeastern was a perfect fit all around.
"That was really special, especially being from Mass," Harris said. "I'd say one of the biggest things was being able to earn a scholarship here just because my family has sacrificed so much — even outside of money, just time and energy —to help me with my dreams. Being able to earn a scholarship and end up here where they could still watch me play was really special."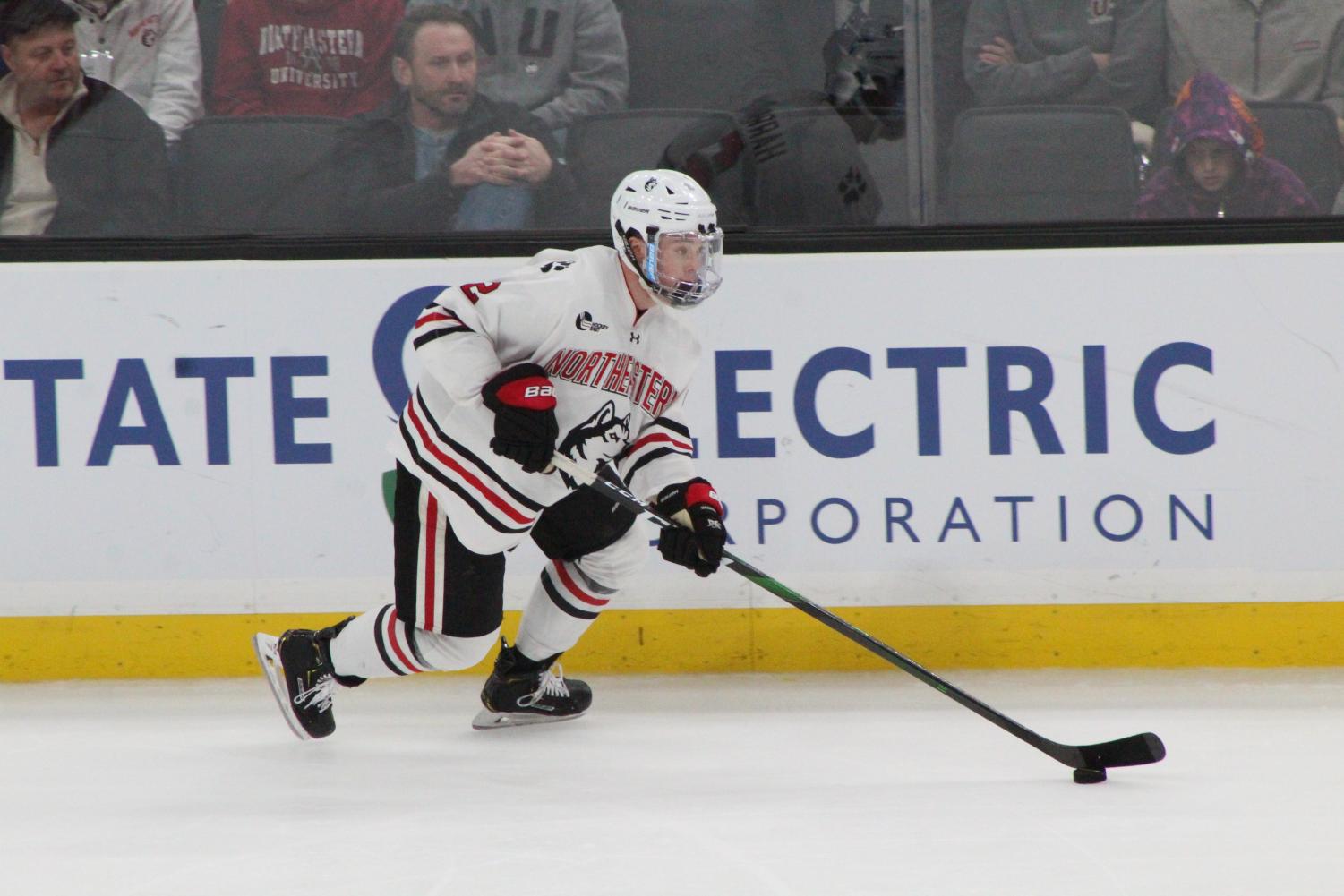 After his college plans became clear, Harris still had to wait for the NHL draft. Harris was the 71st overall pick of the 2018 NHL Entry draft, taken by Montreal as a third round pick right before his freshman year.
"That's one major defining moment where it's like, OK this is actually starting to pay off and it's really special," Harris said. "My parents were crying. It's cool. It was really nice to have them there."
Harris grew up a Bruins fan — the arch rivals of Montreal. "I heard so many jokes, 'You're going to the rival' and stuff like that," Harris said. "It was honestly shocking to end up there, but it's good. It's a good organization and they care a lot about their players."
After the draft, Harris arrived at Northeastern for his freshman season. He played 39 games and had one goal and 12 assists. Now in his second season, Harris said he has an even better understanding of the game.
"Having so many games under his belt as a freshman, playing as long as we did and in some big games, he grew from that experience," said Madigan. "He came back this year and you just knew what to expect and how to play."
He's also taken on a bigger role as a team leader.
"He's pretty much the best person, teammate you could have on your team," Kesselring said. "He's the hardest worker every practice, in the gym after practice, before with his preparations. It's just really nice to have him around the locker room, he's a good leader for us."
Over winter break, Harris played for the U.S. National Junior Team at the 2020 International Ice Hockey Federation World Junior Championship in Ostrava and Trinec, Czech Republic.
"It's another defining moment, kind of like the draft, where it was something that I really wanted to be able to do. That was the first USA team I've ever made," Harris said.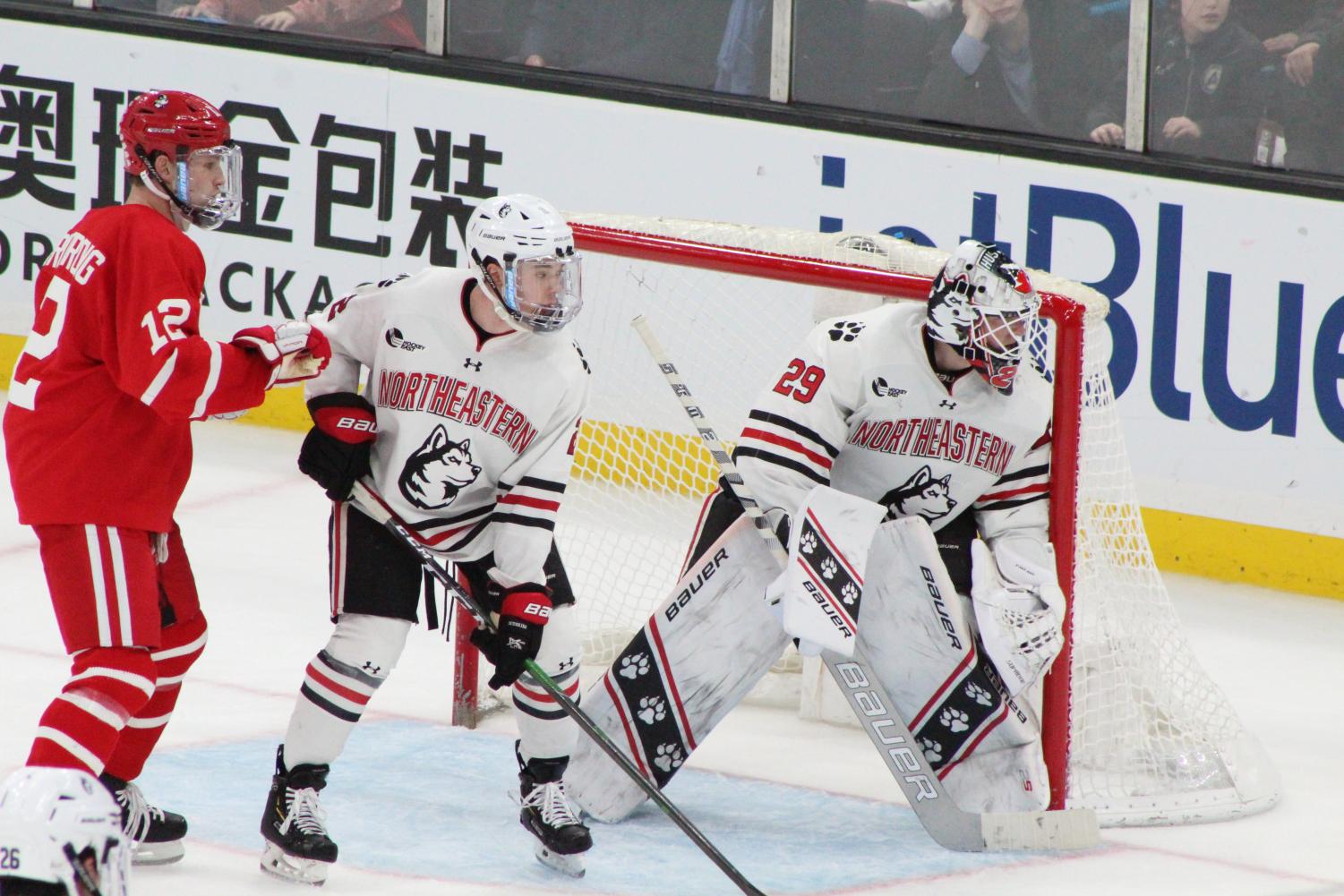 Once Harris returned to Northeastern it was nearly time for the Beanpot. Northeastern beat Harvard 3-1 on Feb. 3 and faced Boston University in the finals on Feb. 10. The game was epic. BU came out of the first period up 2-0 only for Northeastern to come roaring back in the second. TD Garden was electric and as the third period closed out it looked like a sure win for Northeastern who was up 4-3. Then BU scored with a mere second left.
"You look over at the coaches and they're just shocked," said Harris. "Everyone was shocked on the bench. Nobody knew what to say."
The final went into a five-minute overtime, then a 20-minute second overtime.
"We just kept saying 'Let's get through this little five minute overtime and then we'll regroup and go into the next overtime a little more refreshed.'"
Northeastern was on a power play with 14:33 left when Harris scored the game-winning goal. He immediately skated to hug his goalie Craig Pantano, the whole team following with helmets, gloves and sticks flying through the air."It was just a relief to have the game over at that point," said Harris. "It was really special. I wasn't really trying to pick that spot particularly but thankfully it went through and found its way to the back of the net. I thought about Craig instantly just because of how good he's been for us all season, so I immediately thought to skate back to our goalie and give him a hug."
Madigan noticed Harris' team celebration as well.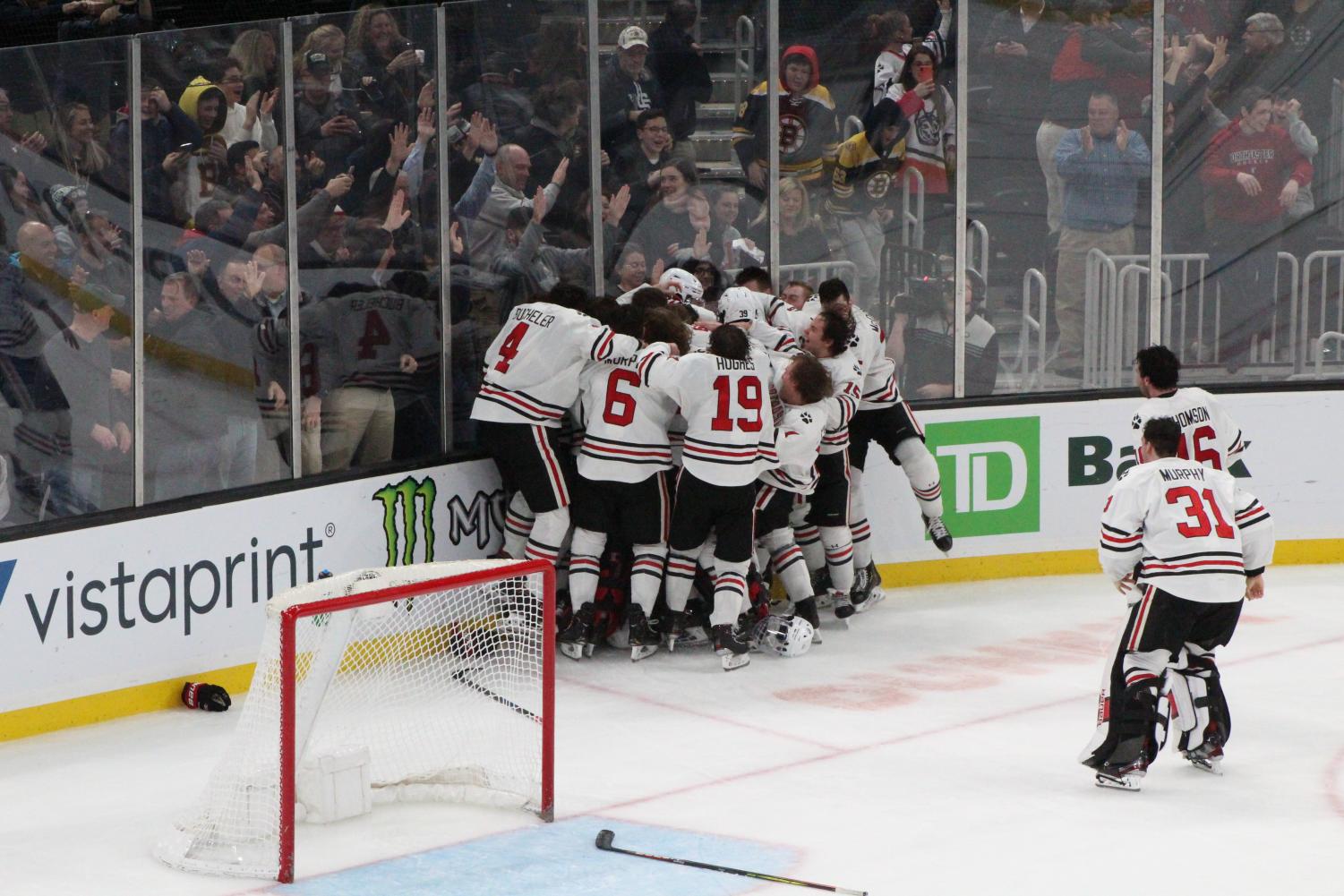 "If you saw the way he celebrated, it wasn't about him. He skated right down to the end of the goal to celebrate with our goaltender," Madigan said. "Everyone came down there so it was a team celebration, not an individual celebration. That's who he is."
After the Beanpot, Harris and his team were set to start their postseason. However, on March 12 the NCAA canceled the rest of the season due to the coronavirus. Harris and the Huskies were supposed to play UMass in the Hockey East quarterfinals that weekend. While Harris could've turned pro after his sophomore season, the defenseman will be back with the Huskies for at least one more year.
The team ended with a record of 18-13-3. Despite the short season, Harris ended the season with three goals, 18 assists, and 21 points. All of which were career-highs.