No. 2 women's hockey routs UNH 7-0 in the Hockey East quarterfinals
The Women's Hockey East quarterfinals came and went this weekend with plenty of upsets, as Boston College and Boston University were both eliminated Sunday, but the No. 1 seed and No. 2 ranked Northeastern women's hockey team prevailed over the visiting No. 8 seed University of New Hampshire Wildcats in a resounding 7-0 defeat to continue their 18-game unbeaten streak. 
"I'm obviously pleased with the outcome. [I] thought we played fast from the drop of the puck and really were relentless for the full 60 minutes, which I love to see. Things really clicked for us, and I thought it was a great effort from the goal line out," said head coach Dave Flint. "Every player contributed tonight in a certain way, so [I'm] pleased with the effort, pleased with the score and hopefully we keep it rolling on Wednesday."
After largely dominating the first period en route to a 15-5 shot total deficit, the Huskies (18-1-1, 18-1-1 HEA) took complete control with a five-goal second period. In the game, NU outshot UNH (7-14-1, 7-14-1 HEA) 46-21, dominated puck possession and kept the pedal to the medal for every second of the game, even up late in the third period. Their ferocity was partially fueled by the fact that UNH had tied the Huskies earlier this season and played them tight in all four prior contests, Flint said. Again, the Wildcats brought an extra physical edge to the game, which culminated in minor moments of chippiness, with UNH freshman wingers Chavonne Truter and Nicole Kelly antagonizing Husky skaters all evening. 
"We talked about everybody keeping their composure. They're a physical team, and they're trying to get us off our game. I told [our team], 'don't let them do it, don't fall into the trap, and if they make you mad, just do it on the scoreboard,'" Flint said. "They did that. I think [our team was] a little pissed off at some of the plays, but they kept their heads and they played hard and took care of it, like I said, on the scoreboard."
Physicality, shot blocking and preventing attackers from getting close to their net have been UNH's calling cards on defense this season against the Huskies this season, but none of those were effective tonight. UNH did manage to block 18 shots in the contest, but it was just too easy for NU skaters to get close to redshirt junior Ava Boutilier's net. Eventually, the Huskies chased her from the game midway through the second period after their fifth goal of the game. It was a major statement by the Huskies, particularly after Boutilier's incredibly impressive first period that featured 14 saves to keep her team in the game. 
"We stressed it this week and in pre-scout: To score against them, you have to commit to get into those dirty areas around the net. Their goalie is good, [so] if you don't get in there and bang in rebounds and make things difficult for her, if you're perimeter, she's just going to stop pucks all night," Flint said. "I thought we were really good, I mean we were like sharks around the net tonight, and that's why we were successful."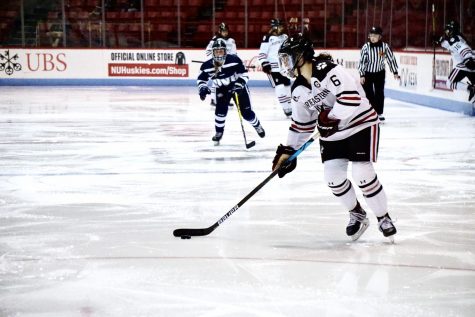 The Huskies got goals from seven different players in the game, showcasing their incredible depth and highlighting their ability to score from any lineup configuration, which Flint referenced as an important factor for making a deep playoff run. Junior forwards Alina Mueller and Chloé Aurard each notched two points, while redshirt senior wing Andrea Renner picked up three assists. Given the massive goal total, it would be easy to overlook senior goaltender Aerin Frankel's 21-save shutout, but as she always does, the New York native shined for NU, particularly while her team was on the penalty kill. Frankel's shutout represented her ninth of the year, which is best in the NCAA, and in the process, Frankel set a new school record for most career minutes played, adding to her increasingly impressive resume. 
"We run four lines, we play our extra skater too, and that, for me, is reassuring, knowing that… we have any of those lines we can roll out there. We've even this year put our third and fourth lines against teams' first lines to get mismatches for our first line," Flint said. 
Sophomore center Katy Knoll kicked off the scoring for NU with her 11th goal of the season six minutes into the contest on a beautiful passing play from her linemates Renner and senior wing Veronika Pettey. Renner backhanded the puck along the back boards to Pettey behind Boutilier's net, where Pettey swiftly sent a pass to a net-crashing Knoll who scored from just in front of the UNH netminder's crease. It was Boutilier's only mistake in a masterful first period, but her skaters were unable to provide her much support on either end of the ice. 
🚨KNOLL🚨

Katy Knoll secures the first goal of the game to take the #HowlinHuskies to a 1-0 lead over the Wildcats.

1P | 9:55 | 1-0 pic.twitter.com/CK6sSCAJ8g

— Northeastern Women's Hockey (@GoNUwhockey) March 1, 2021
"[UNH] needed to shoot a lot more, I think halfway through the first period, we were being out-shot 9-0. You're not going to beat Northeastern by not shooting. They have a great goalie and a really deep team, and you've got to put shots on net often, and we just didn't do that enough especially the first," said UNH head coach Hilary Witt.
Boutilier's heroics could only last so long though, particularly as her team's defense collapsed around her in the second period. NU got to goal-scoring areas with ease, which forced Witt's defenders to work extremely hard in the second. The Wildcats only dressed five defenders today, which Witt didn't want to use as an excuse for the loss, but it certainly caused them some additional fatigue. 
Senior forward Katie Cipra started the onslaught six minutes into the second with a backhand-snipe from a standstill a few feet from Boutilier, then Pettey finished a beautiful two-skater play with a backhander of her own two minutes later. Senior defender Skylar Fontaine got her 10th goal of the season 13 minutes into the second stanza with a strong power-play snipe through traffic from the slot, and sophomore center Kate Holmes followed up 22 seconds later from Boutilier's blocker side to finally chase the beleaguered veteran from the contest with the score tilted 5-0 in the Huskies' favor. 
"I think that they were hungry for pucks. They were hunting pucks on the forecheck like I haven't seen us do this year, and they were just all over UNH," Flint said. "One went in, and I think they got hungry for a second, and the confidence built up and they just kept going and going."
UNH's replacement goaltender sophomore Nikki Harnett performed admirably for her team, making 18 saves on 20 shots, but the damage had already been done by the time she entered the game. Junior wing Mia Brown was the first Husky to tarnish Harnett's line with a beautiful coast-to-coast unassisted goal after she stole the puck at the NU blue line and ripped down the right wing toward Harnett's cage and beat the sophomore goalie with a rocket wrister from the right-side faceoff circle with 30 seconds left in the second period.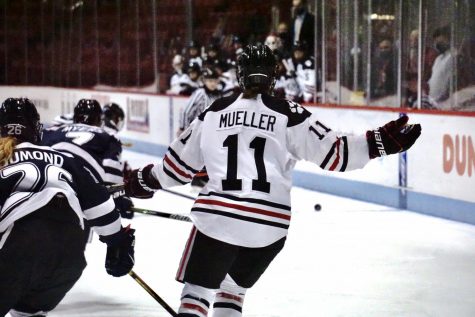 Mueller got the team's final goal midway through the third period with a nasty play that very few skaters could make, kicking a pass that Aurard put behind her to her stick and sniping Harnett's cage high-blocker side for her 1oth goal of the season. Mueller currently leads the NCAA in both assists and points. 
NU's next opponent for the semifinals will be the UConn Huskies (9-9-1, 9-9-1 HEA) who Northeastern defeated 2-0 earlier this season and 9-1 last year in the Hockey East championship. UConn just pulled off a 5-1 upset against top-ten BC this week, so Flint and his team will not be taking them lightly. 
"I just told them in the locker room, 'Hey, they just beat up on BC 5-1.' So it's not going to be an easy game, and they know none of the games in the playoffs are easy," Flint said.  "So, we'll prepare like we normally do, but definitely stress to them the importance of us giving an effort like we did tonight."