Men's basketball to take on William & Mary in first game of CAA tournament
At the beginning of the 2020-21 basketball season, the CAA preseason coaches' poll projected the Northeastern men's basketball team would finish seventh in the conference. 
Instead, they won a share of the regular season title and will be the No. 2 seed in this weekend's CAA tournament. Sunday, the Huskies' (9-8, 8-2 CAA) first matchup will come against William & Mary, whom they have not played this season due to COVID-19 cancellations.
Having only played three games during February, it could be difficult for NU to get going in Sunday's matchup. Over the past two weeks, the team has dealt with COVID-19 protocols that limited their activity. They have not played since Feb. 17, a loss to North Carolina away from home.
"[It's] a challenging time for everybody, but [we're] working through the protocols up here at Northeastern, doing the best we can," said head coach Bill Coen about the difficulty of playing during a pandemic. "You're always worried about timing when you've been off that long…Most of all I think you got to get your mindset right."
The CAA has long been a wide-open crapshoot, and that is no different this year. James Madison and the Huskies, No. 1 and No. 2 seeds, were both projected to finish in the bottom half of the league at the start of the season, but here they are. Each of the four appearances that NU has made in the CAA Championship game came when they were not the No. 1 seed, including last year's magical run to the title game while finishing sixth in the conference.
"If there was ever a year that it's unpredictable it's this one. So many teams are gonna play in the tournament that we haven't played all year long," Coen said. "It could potentially be the first time you're competing against one another…I think the team that plays the best over three days is going to win it."
When the Huskies take the floor Sunday, they will be coming off almost three weeks of rest. If they win each game, they would have to end up playing three games in three days, but it would all be worth the final prize of both a CAA Championship and an NCAA Tournament berth.
How the Huskies got here
NU played one of the most interesting non-conference schedules in the country this season. It seemed as though Coen would play against anyone, even responding to a Twitter post from perennial ACC powerhouse North Carolina to go and play them in Chapel Hill. Along with the Tar Heels, Coen scheduled games against numerous Power 5 teams, including Georgia, Syracuse and currently No. 6 West Virginia, all away from home. 
While their non-conference record certainly left more to be desired (1-6), the Huskies still gained some valuable experience playing against athletes that most likely would not be seen in CAA play. 
"[The non-conference schedule] helps your athletes prepare for what they're facing, what they're gonna face in CAA play," Coen said after the first conference matchup with Elon. "If you have the right guys in the locker room, they understand the process. And it's something we keep preaching. That's all part of it. It's not where we are today, it's where we're going, where do we want to be at the end of the day."
Moving into the conference schedule, the Huskies started out on fire, winning their first seven conference games over Elon, Hofstra, the College of Charleston and James Madison before suffering their first loss at home to eventual No. 1 seed JMU. 
Then, the cancellations hit. 
First, it was a two-week pause for the Huskies after a positive case within their program canceled series against Drexel and Delaware. They managed to play three more games against Towson and North Carolina before their final series with UNC Wilmington was cancelled due to "multiple positives in their tier one travel party." 
Keys for NU heading into CAA Tournament 
With a conference record of 8-2 this year, Northeastern has had great success against its CAA opponents. Outlined below are some of the key factors that NU will need to improve upon if they hope to bring home a CAA title Tuesday night. 
As one of the top three-point shooting teams in the CAA at 35.5%, NU will need to continue their hot shooting if they hope to qualify for March Madness this year. The difference in three-point shooting percentage for NU in wins versus losses is quite drastic, shooting 5.5% higher from deep in wins as compared to losses.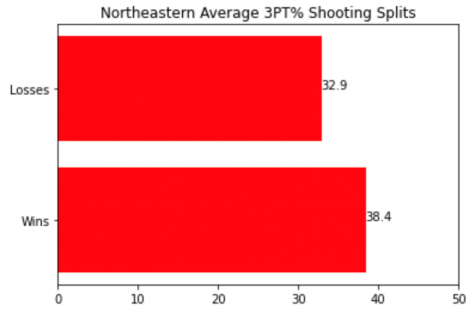 Turnovers have been another key indicator of success this year for the Huskies. NU is averaging almost 16 turnovers per game in losses, compared to 12.6 per game in wins. This starts with CAA Defensive Player of the Year and point guard Tyson Walker. If Walker can lead this offense while taking care of the ball, NU will be in a good position to make a run in the CAA tournament.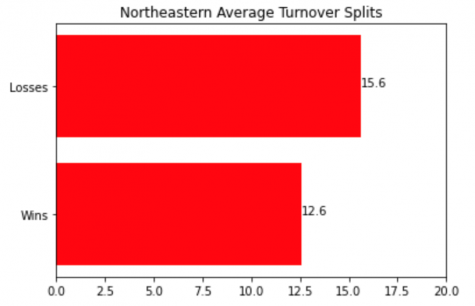 The last key for the Huskies is getting production out of their supporting cast. Walker is leading the Huskies at 18.5 points per game, but NU has struggled to find a consistent second scorer in losses this year. Freshman and CAA sixth man of the year Jahmyl Telfort has been a pleasant surprise this year for coach Coen, but it is risky to rely on someone with so little postseason experience to be that second option come playoff time. The redshirt junior pairing of guard Shaquille Walters and forward Jason Strong will need to step up for the Huskies if this team wants to continue its season beyond next week.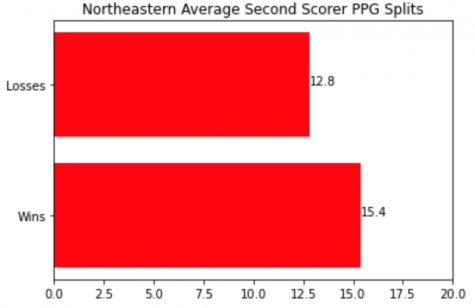 The challenger: William & Mary
The Huskies will face off with the Tribe in their first matchup in the CAA tournament. This is the first time NU has played William & Mary in the CAA tournament since their CAA Championship win over the Tribe in 2015, 72-61.
The Tribe had a short season that was impacted by the pandemic even more than the Huskies'. They only played 15 games and finished with a 6-9 record, going 4-6 in CAA play. In order to play the Huskies, they took down UNC Wilmington in the first round of the tournament, 73-60.
The Tribe are led by second-team All-CAA senior guard Luke Loewe, who has scored an average of 16 points per game. While William & Mary and NU haven't faced off this season, Loewe scored nine and 10 points in his games against the Huskies last season. Against UNCW Saturday night, he scored a team-high 17 points along with CAA Rookie of the Year guard Connor Kochera.
Kochera has been a reliable second option for the Tribe, averaging 13.7 points per game along with just under five rebounds per game. Junior forward Quinn Blair has also provided some offense with 11.6 points per game in the regular season and led the team in rebounds per game with 5.8.
Offensively, the Tribe have struggled all season to score, as they have the second-lowest field-goal percentage in the CAA at 41.5%. Northeastern has been solid, holding teams to 43.4% shooting all year, which is fourth-best in the conference. William & Mary were able to win Saturday's contest with 43.9% shooting from the field, but it could prove to be more difficult against NU.
On top of their field goal struggles, the Tribe also holds the worst three-point percentage at just 23.9%, but they've held their opponents to 32.3% from downtown all season long. As the Huskies love to shoot the three-ball, the Tribe will present a challenge to their long-range game.
One aspect of the game that both teams have trouble with is their rebounding margin. On average, the Huskies are out-rebounded by three each game, while the Tribe are outrebounded on average by just under two a game. 
The Tribe will be a worthy opponent for the Huskies, who have not lost to a CAA opponent when playing them for the first time this season. The only thing to do now is play the full 40 minutes. Tip off is at 6 p.m. Sunday evening.