No. 1 women's hockey battles back in 3-2 OT semifinal win over UMD for chance at national title
It didn't start off well for Northeastern women's hockey this afternoon, but the first period isn't the stanza that decides a hockey game; that right is reserved for the third. With a masterful final period and similarly impressive subsequent overtime, the No. 1 Huskies lofted themselves into their first national championship game appearance via a 3-2 overtime win over No. 5 University of Minnesota Duluth. 
"[It was a] very exciting back and forth game, and they gave us everything we can handle. [I'm] obviously thrilled for the opportunity to play in our first ever national championship game, and [I'm] just really proud of my team and their resiliency, going down 2-0 and battling back to win in overtime today," said Northeastern head coach Dave Flint. 
Senior blueliner Skylar Fontaine cemented her legacy as a Northeastern (22-1-1, 20-1-1 HEA) legend with the overtime winner to send her team into the national championship game, a goal that secured her spot as the greatest point-getter from NU's blueline in program history. With half a minute to go in the game's sudden death overtime period, she stole an attempted UMD (12-7-0, 11-5-0 WCHA) breakout at their blueline and simultaneously robbed them of a chance to head to the title game, swiftly gliding through UMD's slot and shooting against her momentum to snipe the back of the Bulldog cage. 
"I think it was a defenseman that was looking to go [to the] weak side, and we talked about it all game that they look there, and a couple times throughout the game, I just noticed it. I decided to step into [the pass], caught it and was trying to shoot the opposite way of the way I was going to throw the goalie off," Fontaine said of her 122nd career point, the most important of her career yet.
Fontaine also had 16 shots on net and an assist in the contest, and with two goals and an assist in Northeastern's quarterfinal win as well, she has emerged as a Frozen Four hero for the Huskies.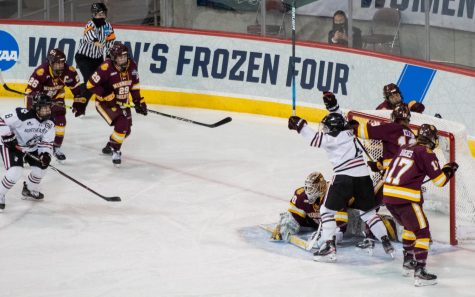 Senior wing Veronika Pettey, who looks to be playing her last season at NU after being honored at senior day, despite the extra year of eligibility NCAA athletes have been granted this year, wasn't ready for her career to end yet. She emerged as a hero alongside Fontaine in the contest, as with UMD holding a 2-1 lead and 14 minutes to go, Pettey poked the puck loose at NU's blue line and chased it all the way down the ice to UMD's backboards, where she froze it and sent it backward to redshirt senior Andrea Renner. 
Renner showcased her trademark hard shot within seconds, but UMD junior goalie Emma Söderberg made the first save. The velocity of Renner's shot forced the puck to pop out front though, and sophomore center Katy Knoll launched a shot of her own. Like Renner, Knoll was turned away, but she stuck with it to grab her own rebound and snuck the puck past a lunging Söderberg to tie the game and swing the momentum completely in the Huskies' favor. 
"It was a great, great play, and [Pettey] battled in the corner too to win the puck. I was telling them all game, 'Hey, we got to get pucks to the net,' and Katy Knoll got to the net and banged in the rebound there," Flint said. "It was a huge goal for us, gave us a ton of momentum."
The Huskies needed the momentum after a slow first 30 minutes that UMD controlled with their top-tier speed and forechecking ability. Senior goalie Aerin Frankel had to bring out every weapon in her save arsenal to get her team afloat early, making 13 of her 26 total saves in the first period. Frankel's glove, in particular, stood out today, and in the third period and overtime, she flashed the leather on numerous windmill saves to keep the game tied. 
"They were all over us in the first, and we just weren't moving our feet. We hadn't seen that speed in a while, and they were doing a good job of taking away time and space, and then we weren't making good decisions with the puck," Flint said. "After the first period, that intermission, I told them, 'Hey you got to relax out there, but the defense has got to move their feet.'"
On the other side of the ice, Söderberg starred as well, particularly later on. After NU's slow first period, the Huskies launched an assault on the Swedish netminder's cage to the tune of a 43-15 shots on goal deficit. Söderberg stood particularly tall in the overtime period, robbing senior center Tessa Ward of a goal well-deserved for her forechecking efforts over the course of the contest. Söderberg's 44 save contest came up just one save short of the top-five most saves in a Frozen Four game leaderboard, and ultimately, one save short of a chance at a national championship. 
Outside of Frankel's usual stardom, Fontaine's two points, Pettey and Renner's assists, redshirt junior Maureen Murphy's seal-breaking tally and the beastly forechecking from the team's third line led the way this afternoon. 
The first period was in Duluth's favor, largely in part to the Bulldog's aggression in front of Frankel's cage and at the Huskies' blue line. Strong play from the UMD defensemen interrupted one Husky breakout after another, and constant screening from second-line forwards sophomore Mannon McMahon and redshirt junior Naomi Rogge made Frankel's first 13 saves immensely challenging. The Huskies only managed four shots on net in the period with their shots colliding with UMD defensemen in the slot anytime NU couldn't get out in transition. UMD managed 24 blocks in the game, nearly double NU's 13 shot blocks in the contest. 
"[Frankel has] been like that all year and her whole career for us. You can see by watching the game today, the style we play is pretty wide open and we're going to give up some odd man rushes," Flint said. "We rely on her to bail us out in some situations, and she did that today. Even when we had a slow start, she kept it 0-0. If we go into the first intermission down one or two, it might have been a different game."
The second period looked much better for NU, but the lone factor of the game that persisted was UMD's net front presence on both sides of the ice. In that 20 minute stretch, UMD's presence in and around Frankel's crease decided the goals. The Bulldogs' first goal was a tad controversial, with Rogge making contact with Frankel at her right-side post as an intentionally wide shot from UMD junior defender Kailee Skinner popped off the backboards and in front of the net. Frankel remained jammed up by Rogge, which gave her linemate McMahon an open door to shoot the loose puck through, pushing the game to 1-0 10 minutes into the second amid clamors for a goaltender interference call from the NU bench. 
"They did a really good job of getting bodies to the net. They're really good at finding the soft areas in front, and just getting pucks there," Flint said. "I think we tightened it up in the second and third and in overtime, [we were] a little better with our sticks, wingers were better at getting in shooting lanes."
The next tally came from a similarly aggressive chasedown of a loose puck in front by the Bulldogs. Five and a half minutes later, Frankel was unable to control the rebounding puck after making a nifty pad save and no Northeastern defender was there to bail her out. With three Huskies emerging from behind Frankel's goal line to come after her, junior wing Taylor Anderson blasted the loose rebound into Frankel's net untouched by NU, lifting the Bulldog lead to a demoralizing 2-0.
"I think it definitely took us the first period or so to get our feet moving and realize how quick [UMD] was, since we haven't played a team as quick as them," Fontaine said. "I definitely think that getting into our rhythm and seeing how they play and getting the first period under our belt really helped us… For me personally, I love playing fast games because, I mean, I do have speed myself, so it's always a fun time when you're playing other teams that are equally as fast and can push me and push my teammates."
NU continued to press on the Bulldogs though, and at the end of the period, drew two penalties. The Bulldogs had been physical throughout, but crossed the line a bit late in the second, giving Northeastern 90 seconds of five-on-three hockey. The second period ended without a goal on the special teams chance, but NU came back in the third with 40 seconds left to work with, and a fantastic centering pass from Fontaine set Murphy up right in front of Söderberg, perfectly positioning the Providence transfer to bust one in 42 seconds into the period for her 100th career point. Senior blueliner and NU captain Brooke Hobson also grabbed an assist on the play. 
"I told them to have some patience on the five-on-three. We were just forcing pucks, and we were a little too anxious," Flint said about the difference between the power play before and after the intermission. "I told them, 'Just get in and get set up and move the puck, then look for your opportunity.' I felt like they made a pretty good adjustment there at the beginning and popped that one in, and then turned things around for us."
Five minutes later, Pettey made her career defining defensive poke and chasedown to set up Knoll's game tying tally, which pushed the momentum completely in NU's favor and granted Pettey with her 50th career assist. A few more fantastic Frankel saves to deny McMahon and one well-placed stick from senior defenseman Lauren MacInnis later, the game went to overtime. 
Both Frankel and Söderberg did everything in their power to extend the game, and the referees buried their whistles, opting to let relatively obvious penalties by both squads go uncalled in the extra period. Senior wing Anna Klein looked poised to send her team to the title game late in the period after breaking down Frankel and sending her lunging to the ice, but with an open net to shoot at, she overskated the puck partially due to Frankel's initial aggressive effort. 
With just 26 seconds separating the teams from another intermission and another OT period, Fontaine mercifully ended the contest. In the 2018-19 season, NU battled back in a similar fashion from an early deficit to force overtime in the national tournament's quarterfinals, only to fall 3-2 to Cornell. This year, Fontaine felt the team's depth and discipline kept them from that fate.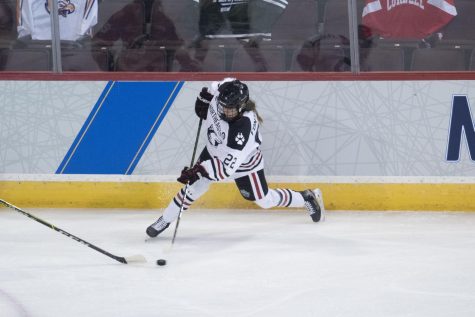 "We lean on each other, and we have great culture [so] we always know we believe in one another and we have great communication. I definitely think this year, we are very deep and there's trust in every single person on this team," she said. "I think that keeping our feet moving, getting pucks to the net, following what the coaches say and just being very disciplined is what was different this year."
NU will face the No. 2 Wisconsin (16-3-1, 14-3-1 WCHA), the consensus second-best team in the nation that hovered above NU in the national ranking for much of the season's early portion, in the national title game. The Badgers knocked off No. 3 Ohio State (13-7-0, 12-6-0 WCHA) 4-2 in their semifinal matchup. 
Both Fontaine and Flint agreed that the trial they faced today, which was without a doubt the fastest team they've faced and closest game they've played this year, will serve to prepare them for their final test: the national championship game. 
"I think that this game just showed what every team is made of in this tournament and that every team is going to bring their best, and I think that this was a great opportunity for us to realize that games aren't going to be 5-1 [or] 6-1," Fontaine said. "I think that this really pushed us, and it prepared us for what Saturday is going to be like. We just believe in one another so much, and we knew that we could come back and win this game. We ended up doing it together, and hopefully we move on and do it together on Saturday."