Frozen Four bound: No. 1 women's hockey punches ticket to first Frozen Four berth with 5-1 win over RMU
One down, two more to go. For the first time in program history, the No. 1 women's hockey team has fought their way into the Frozen Four and sit just two wins away from the largest trophy in women's college hockey. The Huskies had to battle through a hot goalie, but NU's all-nation top six forward group and top defensive pair were impossible to match this afternoon as NU punctured the No. 8 Robert Morris University defense five times in a physical 5-1 win.
"[RMU] worked extremely hard and gave us a good game, so, congratulations to them. [I'm] obviously pleased with our first trip to the Frozen Four," said Northeastern head coach Dave Flint. "[I] thought the team played really well in all zones. I thought we executed, we were pretty solid defensively and just a huge win for Northeastern women's hockey."
The classic duo of junior forwards Alina Mueller and Chloé Aurard, who each finished with a goal and an assist, tag-teamed to open the scoring for NU (21-1-1, 20-1-1 HEA) with a first period short-handed goal, while senior Hockey East Defenseman of the Year Skylar Fontaine scored two of NU's other goals, including the game-winning goal, and earned an assist. Each of those three tallies showed off NU's impressive speed, particularly that of Fontaine, while Mueller grabbed a nifty goal in tight to go along with her assist. Senior wing Katie Cipra had NU's other goal on a spectacular deke just inches from the RMU (16-8-1, 11-7-1 CHA) cage, allowing her to flex her own signature stick skills alongside her speedy teammates. 
NU dominated in transition this afternoon, and Aurard and Fontaine's combined three tallies in open space represented just a fraction of the top-notch scoring chances the Huskies used their speed to create. While NU's depth was solid as usual, their top two lines and the defensive pairing of Fontaine and senior captain Brooke Hobson were the main drivers today, and their play led to a puck possession bonanza for the Huskies that amounted to a 46-21 shot differential in NU's favor. The Huskies also manufactured a fantastic net-front presence, giving them a shark-like predatory presence in the offensive zone to heighten the pressure of their possession.
"We definitely had that going today, and that's what we need. When we play like that we're really good. When we're hungry for pucks, and we're hunting pucks down and we're aggressive around the net, we're successful," Flint said. "When we start to go perimeter and we don't want to get into the dirty areas, we're very vanilla. So, it was great to see, and that's something that's going to be really important moving forward."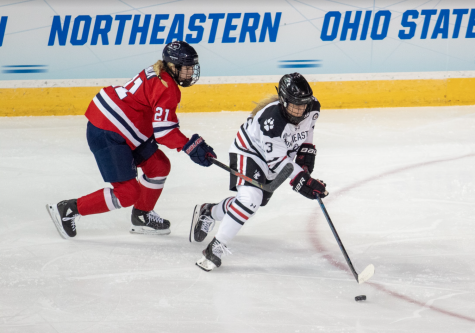 The Huskies pushed their nation-leading unbeaten streak to 21 games with their first NCAA tournament win, but their work isn't done yet. They will face No. 5 Minnesota Duluth (12-6-0, 11-6-0 WCHA) after the Bulldogs' 1-0 overtime defeat of No. 4 Colgate (15-7-1, 8-4-0 ECAC).
Robert Morris put up a valiant fight against the Huskies for the first two periods, but NU outright controlled the final 20 minutes to build on their already comfortable 3-1 lead. RMU hung around in the first two periods thanks to sophomore goalie Raygan Kirk, whose ultimate 41 saves on 46 shots faced and .891 save percentage don't reflect her elite level of play this afternoon as she turned away numerous high quality scoring chances throughout, including two one-on-zeros by Mueller. In the end, Kirk just didn't get enough help from her defensive skaters around her. Not to be outplayed, NU senior goaltender Aerin Frankel made 20 saves of her own on 21 shots, including a few impressive reaction saves. 
"When she's been in the net this year, she's given us a chance to win every game, and she is an outstanding goalie. I wish we would have given her a little bit more support back there, because… when Northeastern came at us, they really came at us," said RMU head coach Paul Colontino. "She did a nice job of making the first save, and in many cases the second save."
Kirk, who hung up a 36-save shutout in her team's conference finals, couldn't keep NU out of her net eight minutes into the contest on RMU's first power play of the game. In typical NU penalty kill fashion, Mueller, Fontaine and Aurard all got a full head of steam down the ice upon stealing the puck and got behind RMU's overly aggressive forward group, who wound up too deep in NU's zone on the special teams chance. Mueller carried the puck along the left wing and with Aurard and Fontaine trailing, Mueller looked to her French-born linemate and newly-crowned NCAA leader in shorthanded goals to finish off the chance. Aurard received the pass just a tad behind her, forcing her to hesitate, but not enough to shake her shot as she beat Kirk five-hole for her 15th goal of the season. 
"We actually had a couple of nice looks, and Frankel came up with a couple of nice saves. Just as quickly as we came up with a couple nice looks, they transitioned out of the zone with just great explosiveness and caught us four-deep," Colontino said. 
Fontaine grabbed NU's second goal just over eight minutes into the second period with another showcase of her breakaway speed. She was able to work her way right into Kirk's face by bursting between two RMU defenders near their blueline and working through the center of the Colonial's zone alone. At the end of her solo journey, she potted her 12th goal of the year with a slick forehand snapshot. It was a broken play from RMU, and NU capitalized on those each chance they got. 
"You want to slow a team like that down as much as you can, or at least make life very difficult and make them have to go through layers to get to the net," Colontino said on NU's ability to work in transition. "They opened up the ice really well, so we did the best we could. Unfortunately when you play a team like that, there are just going to be moments where it does just break down."
RMU got on the board next during an odd momentum swinging sequence at the end of the second period. The contest had been extremely physical throughout, a hallmark of RMU's play according to Flint, and the NCAA tournament referees had buried their whistles deeper than most women's college hockey officials when it came to checking during the contest. The lone exception came when an RMU skater collided with Mueller in the neutral zone and the Swiss Olympian delivered a resounding reverse check to send the hapless Colonial to the ice, catching a two-minute minor in the process. Mueller was frustrated by the call, and it was hard to blame her given that the game was tight-checked throughout and that she had not initiated contact. 
RMU's second power play went considerably better than their first. With less than a minute to go in the second period, RMU senior blueliner Emily Curlett pounded a loose puck into the net before Frankel could react to a recently blocked shot, giving Curlett and her team a fighting chance with a 2-1 lead. 
"I thought our PP unit came out great and, in particular, Emily Curlett did just an awesome job of doing what she does on the powerplay, which is finding loose pucks and hammering 'em home," Colontino said. "That's what she does, she's just got a bomb for a shot."
Mueller's revenge came about from another interesting officiating choice 47 seconds after the RMU goal. With 10 seconds left to go in the second, RMU sent the puck down the ice toward Frankel's net for what looked like an icing. However, as the puck ricocheted off the back boards, it looked as if RMU had been just quick enough to chase down their own wayward pass and avoid the icing as Frankel was forced to touch the puck, but an icing whistle still came. 
The unconventional whistle after Frankel's contact with the puck gave NU's top unit a faceoff in the RMU zone with ten seconds left, and they didn't waste it. A faceoff win and a netfront presence from Mueller triggered a backbreaking goal with four seconds on the clock to push the score to 3-1 and trigger a monstrous celebration from the all-world center.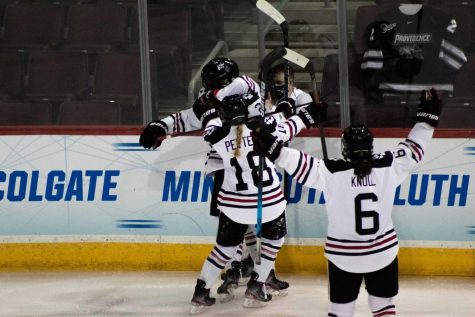 "That tells you the makeup of our team… On their power play, we block a shot and it goes right on their kid's stick, who hammers a one-timer in the net. So, all sudden you got a little adversity… But they didn't hang their heads, they didn't complain about it, they just went to work and they popped one in," Flint said. "[When Mueller] came off and was talking to me [about the penalty], I said 'Hey, listen, it's done now. If you're upset about it, go score a goal.' And guess what? She went and scored a goal. She's just a competitor, she wants to do well, so she just beared down and she was like, 'Alright, I'm gonna go get a goal.' And that's what she did."
Whether it was fatigue on the Colonials' bench or disappointment due to the Mueller goal, the Huskies pounced and maintained a constant net front presence en route to a 15-4 shot differential in the period. NU's offensive aggression had been strong throughout, but it was particularly troublesome from RMU's point of view in the waning minutes of the game. 
"[It was] a close game right until the end of the second there. I think if we were able to go into the second period 2-1, we might have had a little bit more, not to say life, but energy," Colontino said. "[NU] took advantage of a great play and put themselves in a good position moving into the third period."
While less significant in terms of the game's outcome, the final two NU goals from Fontaine and Cipra were certainly as significant in terms of highlight reel value. Cipra robbed RMU defender junior Gillian Thompson in her own end and whipped right to Kirk's cage, undressing the RMU netminder with a beautiful deke to set up her backhand. The deke-and-goal added another feather to Cipra's playoff cap, and the senior wing now has three goals in the last four games. Fontaine matched Cirpa by scoring with just one hand on her stick as she reached out to direct a well-placed pass from sophomore center Katy Knoll to close the scoring with six minutes to go to push the score to 5-1. 
While Fontaine and her teammates have much to celebrate after their first NCAA tournament victory, the work isn't done yet. The Huskies will have to face Minnesota Duluth later this week, but first, they can bask in the glory of a new achievement to add to their already impressive resume of four-straight Hockey East Championships. 
"Our whole locker room was so excited, and we can't wait to move forward. We're just going to take one day at a time and hopefully do well in this upcoming game," said Fontaine, who is yet to lose a Hockey East playoff game as a Husky. "Since I've been a freshman, we've grown so much, [and] we've come so far. I think that a lot of time and effort has been put in, especially this year with everything being so unpredictable. I think it's just a great feeling to come out here and [see] everyone play with the biggest hearts." 
Fontaine's leadership, and that of the other Hockey-East-playoff-unbeaten senior class, gives Flint confidence that even on the program's highest stage yet, the team will be composed. 
"It's not their first rodeo. They're confident in each other, and I think that gives some confidence to our younger players. I told them before the game today, 'You've done everything you can to prepare for this moment, so we're ready for it, so nobody should be nervous.' It's the same thing on Thursday," Flint said. "It's like a test in school where you know if you prepared for it or not, right? They've done a great job preparing for this, and there shouldn't be any jitters or anything like that when we come to Thursday."