'We're getting our swagger back': Huskies look to carry newfound power into the Beanpot tournament
The end of January means one very important thing for the Huskies: Beanpot is coming.
 The men's ice hockey team (13-9-3, 11-4-2 HE) will head to TD Garden Feb. 6 once again to compete in the 70th Beanpot tournament, Boston's most highly-anticipated college hockey rivalry series, where they will face Boston University (19-6-0, 13-4-0 HE) for the third time this season. 
Beanpot wages a war between Beantown's four biggest Division I hockey programs — Northeastern, BU, Boston College and Harvard — and drives them to compete for a pot-shaped trophy and earn city-wide bragging rights for the year to come.
Though the battle does not affect conference standings, it will be personal for both teams, as the Huskies fight to dismount the reigning Beanpot champions and the Terriers seek to stop Northeastern in its tracks for the second year in a row. In last year's title game, BU topped Northeastern in a 1-0 slugfest behind then-sophomore forward Dylan Peterson's goal in the final two minutes of the game. 
Northeastern is 1-1 against BU this season, skating to both a heroic last-period victory and a crushing overtime defeat in a home-and-home series last November. As they head into the next matchup, the Huskies are looking to extend their five-game win streak marked by victories against No. 14 University of Connecticut and No. 15 Merrimack College. To do so, they will need to do three things: focus on the offensive details, stay out of the box and come awake defensively.
One of Northeastern's greatest roadblocks this season has been its difficulty completing passes and finishing plays; five of its nine losses have been decided by one goal. The Huskies often struggle with closing gaps and communicating on-ice, two things which cannot happen against a competitive team like BU — a group that only has one regulation home loss so far this season (Northeastern's 2-0 win Nov. 18). 
In head coach Jerry Keefe's eyes, this first step is vital.
"I think some of our details are getting better — they need to be better," said Keefe at Monday's Beanpot media luncheon. "Our commitment to checking in the middle of the rink and back pressure has been a big emphasis for us. That's helped us offensively because we have the puck more."
A huge component of Northeastern's recent scoring efforts has been the emergence of graduate student forward Liam Walsh as an offensive force. After a slow start marked by no points and an injury that sidelined him for much of October and all of November, Walsh is on a five-game point streak that began with a goal against UConn at Frozen Fenway in early January.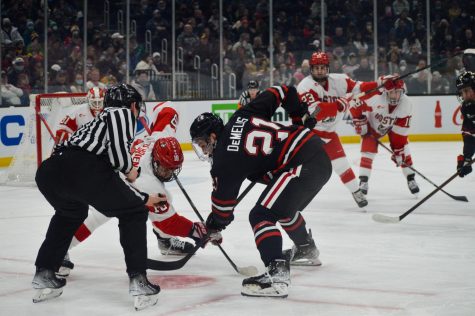 Walsh, who transferred from Merrimack this season, attributes this sudden spike to an increased comfort level on Husky ice.
"Coming back [from the injury] … and being able to play those back-to-back games has really allowed me to be more comfortable with the system," Walsh said. "Getting familiar with some linemates has been a big bonus as well."
As Walsh and other middle-liners heat up, the top line — usually featuring senior Aidan McDonough, sophomore Justin Hryckowian and freshman Cam Lund — gets a bit of a break. 
"We feel like [our strength] is up the middle," Keefe said. "It allows us to really use our depth in each game now."
In addition to an improved full-strength play, the Huskies have also cleaned up their penalty kill. Northeastern's .856 penalty kill ranks No. 8 in the country, but Keefe knows that isn't enough.
When penalties come from lazy moves or sloppy plays, they put the team at an unnecessary disadvantage. A team's best bet is to be disciplined and clean.
"Your best penalty kill is not taking penalties," Keefe said. "When you're playing teams like … BU, you've got to make sure that you're disciplined, you're prepared on the [penalty kill]. You've got to have all five guys … on the same team."
When the Huskies lose momentum, they struggle to regain it. Back-to-back penalties could mean the difference between another shot at the trophy or a demotion to the consolation game in the upcoming tournament. 
In moments like those, having a goalie as strong as Levi — a .927 save percentage has him tied for sixth in the country — is extremely comforting for a team's defensive core. 
There is a danger in having this safety net, though. A defense that is too reliant on a brick-wall goalie puts too much pressure on the netminder. One goaltender can only do so much; they are the backup defense, after all.
As Levi, who missed last year's tournament to play for Canada's Olympic team in Beijing, takes the Beanpot ice for the first time, he will need a steady and forceful defense protecting him, and his team knows that.
"If [Levi] sees the shot, he's going to save it 99% of the time," said senior defenseman Tyler Spott. "If we just clear the lanes and get guys out of the net front, he's going to make the save … We don't want to take advantage and play too risky."
Northeastern entered this season as the favorite to win the Hockey East regular season. After a bumpy start to the season, they quickly dropped from the pairwise ranking. In the last few weeks, however, Northeastern seems to have gotten back on its feet. Before the Huskies make the trek downtown, they will face UConn for the third time this season in their home barn Friday. If Northeastern can carry that momentum through the next week, it should have a shot at the 'pot. 
"We're getting our swagger back," Walsh said. "Getting those [five] wins has been really big for the morale around the room, and [it shows] that we believe in this group — we always did. … We know we can do it, and we're proving that now."