Skyrocketing application rates to Northeastern — which have risen almost 50% in four years — resulted in a record number of undergraduate applications to the university for fall 2023. Northeastern accepted 5.6% of applicants from a record-breaking 96,327 applications for the incoming freshman class, down from 6.7% in 2022, according to a Northeastern spokesperson. 
Northeastern officials attributed the appeal of the university to a global, research-centered education. The school has expanded to include a network of 14 campuses in recent years and offers "professional experience in 146 countries and on every continent," according to a Northeastern Global News article. In February 2023, the university announced it would begin accepting students to the Oakland and London campuses for all four years in addition to long-standing alternative admissions programs such as N.U.in and Global Scholars. 
"The global university system has absolutely enhanced the university's brand. The opportunity to study, research and participate in co-op and other experiential learning programs remains very attractive to families," a university spokesperson told The News in an email. "We are excited to have multiple entry points for students to pursue a Northeastern education."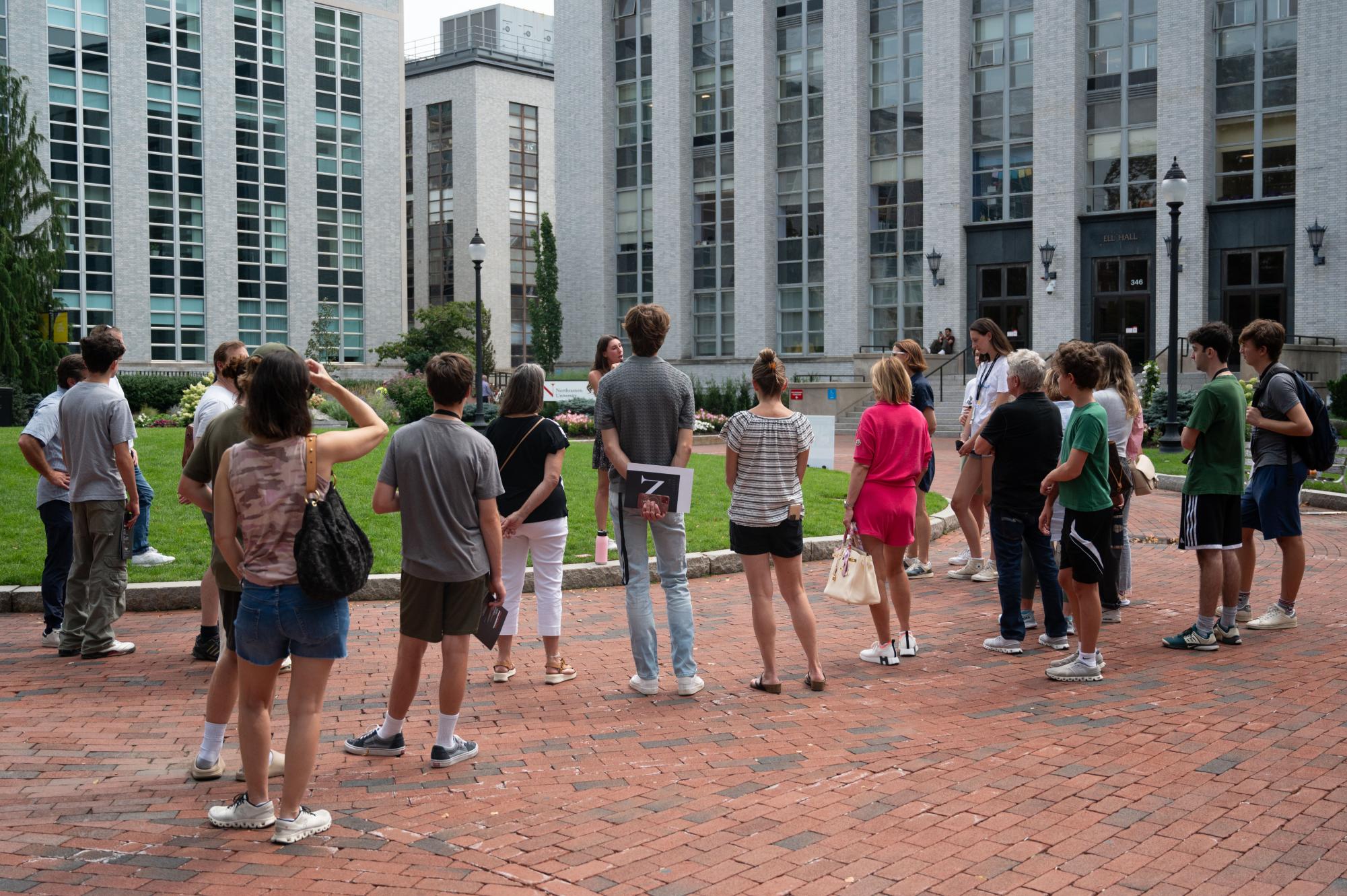 Aarushi Gupta, an incoming first-year student pursuing a computer science and biology combined major, didn't apply to any alternative programs but was accepted into the Oakland Global Scholars program — something she cited as both a pro and a con. 
"I think my biggest con [of going to Northeastern] was that the first year will be in Oakland," Gupta said. "I wasn't expecting to have to move to both opposite ends of the country, but the more I think about it, the more excited I am to get a chance to live in both the Bay Area and Boston."
Gupta applied to the university for its renowned co-op program, something many prospective students are drawn to, and said for her, it was a large factor in favor of attending. She was enticed by the opportunities and resources the university offers, as well as its study abroad and experiential entrepreneurship programs. 
John Kuropatkin, an incoming political science and economics combined major, will be spending his first year abroad at the London campus. Like Gupta, he didn't apply to an alternative program and said he felt like he was given an "ultimatum" on whether to attend. 
"I feel like [alternative admissions programs] are a positive, but being forced into a program you didn't apply for seems a bit jarring," Kuropatkin said. "I felt like there was no changing what I could do. However, if you chose to take this experience, I'm sure that it's nearly impossible for there to be a negative experience."
Kuropatkin applied to Northeastern for its breadth of academic paths and resources to "discover [his] passion." He is a Boston native and also chose the university because of his love for the city and familiarity with it. This made it harder for Kuropatkin to decide to enroll in the London program, along with missing the "traditional" U.S. college experience, cost and lack of facilities like a gym. 
"One blaring [negative] reason is spending my first year of college in another country. It is a massive leap," Kuropatkin said. "However, despite this and a few other personal negatives, the experience is invaluable and is a once-in-a-lifetime opportunity."
Around 2,600 students matriculated to the Boston campus for the fall semester, with another 200 to 300 at the school's London and Oakland campuses. The university did not provide an acceptance rate for Early Decision applicants and did not clarify whether the 5.6% admit rate included those accepted to alternate campuses when asked in an email interview. According to the aforementioned Global News article, students were asked to select their preferred undergraduate campus on the application for the first time. 
Despite the university's claims that a global education makes the school more appealing, many students still cited the school's Boston campus as their main allure to the university. Thomas Mourier, an incoming mechanical engineering and bioengineering combined major, was accepted into the Boston campus. A Boston native, he chose Northeastern because of its proximity, financial aid offerings and strong engineering program compared to other schools in the area. 
"I wanted to be at a school where I could really focus on my major but still be close by because I think [Boston] is a perfect college town to go to," he said. 
Mourer will be commuting to campus, something he said was a positive due to overcrowding problems the university has faced in recent years. Northeastern currently houses around 10,000 undergraduate students on the Boston campus and provides resources to those moving off campus after their second year, according to the university spokesperson. 
"The university is currently working with the City of Boston to secure 800 additional on-campus beds through a proposed residence hall at 840 Columbus Avenue. Additionally, the university's London and Oakland campuses are serving undergraduate students," a university spokesperson said. The school also recently became a permanent tenant at the Sheraton Boston Hotel, providing additional housing to 854 students. 
Vanessa Joseph, an incoming economics and business administration combined major who will be attending the Boston campus in the fall, said going to the main campus was an important factor in her attending the university. To her, the "city and the school feel intertwined," and while study abroad opportunities are important, no experience can replace the Boston campus. 
"I think it's an overall positive and allows for many people to study abroad who might not have once on campus already," Joseph said. "But I do know a few people who got into N.U.in who didn't go because of that. I'm just hoping it helps balance housing out." 
Regardless of what campus they are on, undergraduate students can expect to pay around the same attendance price – including tuition, housing, fees and standard dining plan – of $81,472 for the 2023-2024 academic year. This includes those on the Boston and Oakland campuses and students in the N.U.in, Global Scholars and London Scholars programs. The price includes $62,392 in tuition and fees, up from $59,752 for the 2022-2023 academic year. 
"Experiential learning continues to be a highly attractive value proposition for families. Each year, Northeastern enrolls a remarkably talented and diverse group of students and each year the pool to select from is increasingly outstanding," a university spokesperson said. "Whether or not the total number of applications continues to grow year over year, we are confident that the academic rigor, global experiential learning programs, research enterprise and opportunities for mobility across our network of campuses will continue to attract the best and brightest applicants."