You've probably seen people playing roundnet at the beach or a neighborhood barbecue, but likely never knew that the laid-back game is also a rapidly growing competitive sport. 
More commonly known by the brand name Spikeball, this popular backyard game isn't just for parties anymore, and Northeastern is home to one of the most successful collegiate teams in the nation. 
In May, the Northeastern Club Roundnet team traveled to Richmond, Virginia to compete in the 2023 Spikeball Roundnet College National Championships. It brought both a D1 and a D2 team, each placing highly in its division.
"I think D1 was going into it knowing they were super competitive and fighting for a spot," said Thomas Estella, a fourth-year bioengineering major and the president of Northeastern Club Roundnet. 
After facing off against the 14 other schools that earned a bid to nationals, the D1 crew finished fourth, just shy of the top three slots claimed by University of Akron, University of Texas and Ohio State University, respectively. Although Northeastern defeated Texas in the semifinal, it fell to Ohio in the following round and was ousted from the podium.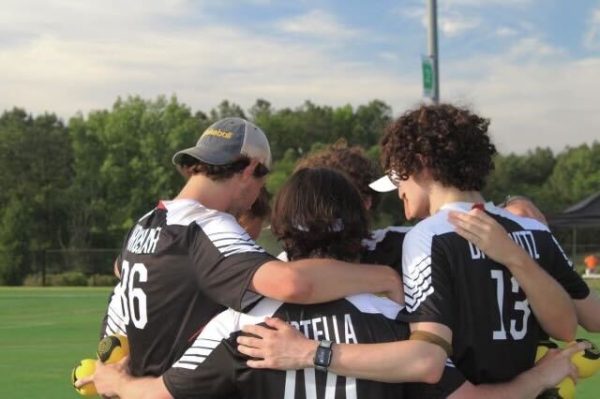 In the next series down, Northeastern's D2 team claimed the title, earning first place amongst a group of 16 with a perfect 10-0 run. 
"We were pretty confident going into D2 that we would have a run for the finals, having enough Premier players to fill up a second team with some of them," Estella said. "That was kind of unheard of before this year."
The Spikeball Roundnet Association designates athletes as Premier when they claim top positions in Spikeball Tour Series competitions. Northeastern has 12 active Premier players, a rare feat for a collegiate team. This made Northeastern the only team to have two Premier players on its D2 roster at nationals. 
The Spikeball Tour Series piloted a big change this past season, incorporating five pairs into one D1 squad — three open, one women's and one mixed. Previously, D1 had only included the three open teams. 
Two of those women were Malia Wanderer and Abby Lamontagne, who represented Northeastern well in their championship debut. The pair only lost one match and played a big role in the team's high finish. 
"It was really cool to have the addition of the two teams," said Wanderer, a third-year computer science major. "It carved a path for us [to] have more of an impact in the club."
Both Wanderer and Lamontagne were relatively new to the sport when they stepped onto the field for their first practice, but were able to thrive with the top level of the club after the new format was introduced. 
"Everyone's really positive and welcoming, and everyone just wants to get better at the sport," Wanderer said. "And a lot of us have this year, which is cool to see how we all grew. Especially starting from where we started our first year, having zero experience playing competitive roundnet."
Wanderer and Lamontagne left the tournament with a 15th place ranking worldwide, and both will still be eligible to compete next season.
"They showed up at the tournament, no one knew their names, and they left the tournament [with] everyone talking to them and wanting to get to know them," Estella said.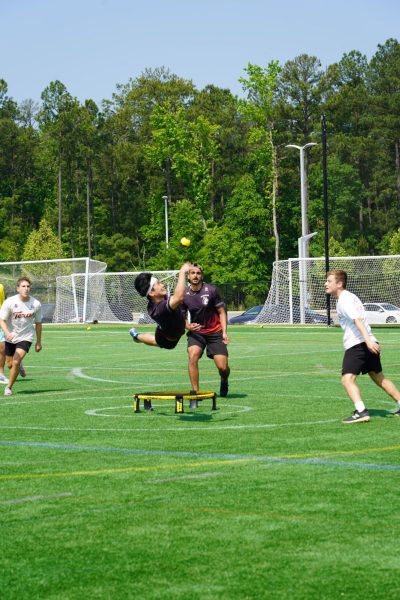 This comes just a few years after Northeastern's club team introduced tryouts to its schedule. Growing from just a few nets on Carter Field at the club's start in 2017 to approximately 120 active members in just a few years, the team continues to attract and produce high-profile players. 
In fact, one athlete, Sunny Gu, a Northeastern alum who graduated with a combined degree in computer engineering and computer science this past May, but was still able to finish off the season with his team, was one of just four members of the collegiate roundnet community featured on an ESPNU documentary about the sport. The network followed him around during the tournament, highlighting both his experience as a first-generation Chinese-American in the sport and his weekend at nationals. 
And although many of the members of Northeastern's roundnet team enjoy the competition, the focus is simply playing together as a community.
"Spikeball is a backyard game. Not many people take it seriously … no one really knows how intense and how competitive it can get but with the communal aspect of the sport," Gu said. "Everyone has that like 'we want to win,' but overall we care about having a good time." 
Members of the team practice formally three times a week but play their own pickup games outside of practice. Some have even traveled to competitions outside of the collegiate season with friends from the team. 
"Our club is Spikeball, but I don't want you to feel like this club is just for the sport," Gu said. "It's also for the people as well."