After performing on the national stage in Daytona Beach, Florida, last spring, the Northeastern dance team is aiming for another chance at a championship title. This summer at qualifiers camp, the Huskies walked away with the highest status — a gold bid — to solidify their spot at nationals next April. 
Alongside 14 other collegiate teams, the Huskies attended qualifiers camp at Bryant University Aug. 2-4 to compete for a bid to the National Dance Alliance college championship. 
"Camp really gets you in that mood to compete again," said team member Isabella Guzman, a fourth-year mechanical engineering major. "It kind of gets you back into the spirit of things."
Along with a guaranteed spot at nationals, Guzman said the bid comes with a few advantages. Perks include discounted registration fees as well as priority when choosing hotel rooms and the order in which the groups perform. The higher the bid, the later the teams are assigned to compete within their division, which is preferred by most groups.
While teams can showcase their skills virtually or in-person, the Huskies saw the trip to Bryant University as a head start to the season.
"We usually choose to do it in-person because it's a good opportunity to be seen by who's hosting nationals," said captain Kelsey Hagen, a fourth-year cell and molecular biology major. "Also, it's a good bonding experience for all of us to go away before the season starts."
Before qualifiers camp, upperclassmen hosted younger members of the team in Boston to practice their choreography and spend time with teammates.
During the first day of camp, the dance team competed in a game-day performance they had rehearsed over the summer. The team performs this style of routine at basketball games, while the pep band blares Northeastern's fight song. 
Over the next two days, each team had to learn a new dance choreographed by the camp's hosts before performing it on the final day. The routine included jazz, hip-hop and pom styles. The choreography was roughly a minute and a half in length, just about the duration of the Huskies' nationals performance, which took four months to master. 
"Neither our coach nor the people judging our routines expect it to be perfect when you're learning it in two days," Hagen said. "But for us, it's a nice way to see how our team works with each other."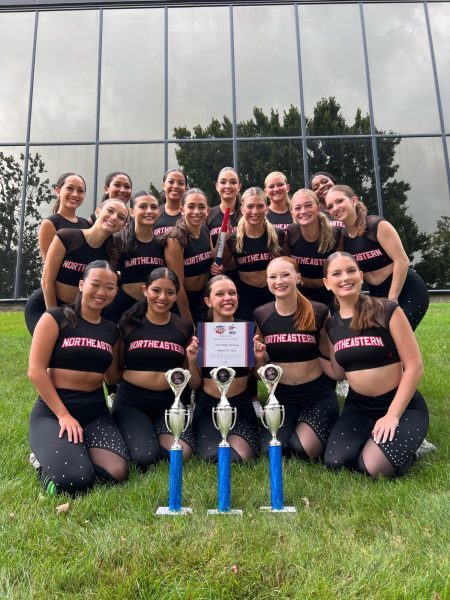 Learning new moves in a time crunch can be a challenge, members of the team said. Hagen said she and her team squeezed rehearsals in during lunch breaks and practiced until midnight every night to perfect their number.
"It definitely is exhausting, I think both mentally and physically," Guzman said. "But a lot of the time, we are all feeling the exact same way. We're all in pain. We're all going through the exact same thing, so a lot of our teammates will hype each other up to make sure that everyone is doing okay … We're really all in this together."
At nationals in April, the Huskies placed in the top 10 for their hip-hop performance, while their team dance received a top three designation — the group's best placement in school history. After a remarkable run last year, the team hopes to build upon its success this season and beyond. And their performance at qualifiers camp proves the team is right on track.
"I feel like this particular team has found their flow," head coach Nicole Vicino said. "It's feeling really cohesive in the first few weeks that we've been together as a team."
This is Vicino's 10th year with the Northeastern dance team — five as a dancer and five as a coach. Looking back over the last decade, she said the team arrived at qualifiers camp with more confidence and preparation than in the past.
"My message to them is that they've got it this year," Vicino said. "I really think this is their year to win a national championship. They have all the tools they need to succeed. They just have to work hard and work together."