Polls opened Tuesday, Sept. 19 for the Graduate Employees of Northeastern University, or GENU-UAW, who are voting to be represented by the United Auto Workers union, or UAW, after years of delays in voting due to pushback from Northeastern administration and Trump-era anti-labor laws. Voting, held in Robinson Quad, will last until Sept. 21.
On Tuesday morning, the Interdisciplinary Science and Engineering Complex, or ISEC, Pedestrian Bridge was covered in pro-union slogans written in chalk, including "Grad Union Elections Polls Open 10-12" and "VOTE YES" alongside arrows pointing towards the Robinson Quad where voting is taking place. The chalk messages continued to reappear after being washed off repeatedly throughout the morning. The News was unable to determine who was writing the slogans or who was washing them off.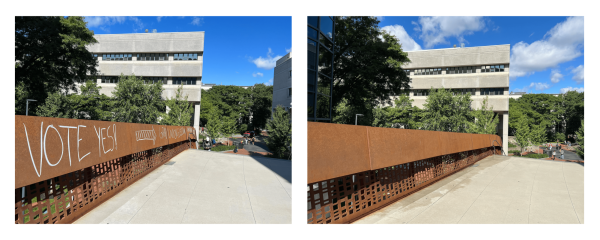 The union received authorization from the National Labor Relations Board, or NLRB, July 14 to hold a vote on whether to be represented by UAW in bargaining talks with the university. Currently, the UAW represents 60,000 graduate workers nationwide. 
GENU-UAW originally established itself at Northeastern in 2015. The union, composed of graduate student workers, teaching assistants and research assistants, formed simultaneously with many other colleges and universities in the country. Graduate student unions are pushing to negotiate contracts with employers for higher wages, enhanced health insurance and protections for international graduate workers, among other demands.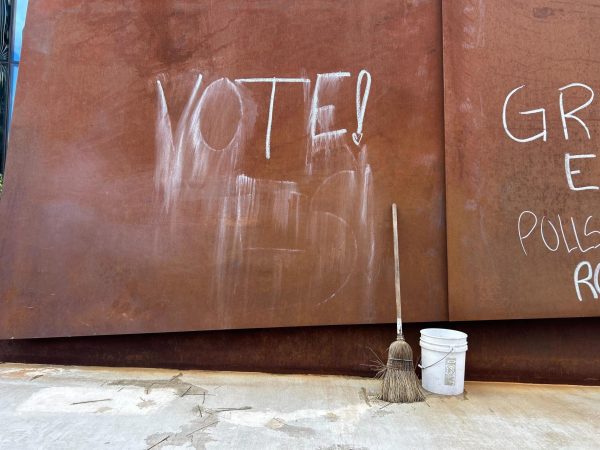 Other colleges and universities' graduate student unions have had success unionizing. In April 2015, the GEU-UAW at the University of Connecticut received a 9.3% compound wage increase over three years, as well as employee health benefits, travel reimbursement, child care and six weeks of paid maternity leave. Also in 2015, workers at the University of Washington won a contract providing more child care subsidy funds, tuition and fee waivers, wage increases and workload protection for their hourly employees. 
In the past several months, graduate workers' attempts to unionize have been lauded by local government officials. In May, April and August, Boston City Council, the City of Somerville and Cambridge City Council respectively passed resolutions condemning Northeastern's anti-graduate union stance and supporting graduate workers. On Monday, Senator Elizabeth Warren tweeted in support of GENU-UAW, writing "Northeastern research and teaching assistants do powerfully important work and help keep the university running. I stand in solidarity with @nugradunion workers in their union organizing and fight to win a fair contract."
Voting takes place on Tuesday, Wednesday and Thursday from 10 a.m. through noon and 2 p.m. until 6 p.m. at Robinson Quad, but union members have set up numerous voting parties across campus.