On Tuesday, members of the Northeastern community gathered on the Boston campus to pay tribute to the memory of Jaahnavi Kandula.
Kandula, who was pursuing a master's degree in information systems at Northeastern's Seattle campus, was killed in January when Seattle Police Department, or SPD, officer Kevin Dave struck her with his police cruiser as she walked through a crosswalk. Dave was driving 74 mph in a 25 mph zone, according to an SPD investigation report.
Kandula's story made headlines again Sept. 11 when body camera footage showed SPD officer Daniel Auderer laughing and joking about her death.
An email sent to the Northeastern student body on Monday invited community members to participate in "a moment of reflection, remembrance, and unity." The gathering, which took place in the Sculpture Garden on the Boston campus, included remarks from five university officials. 
Dean of Cultural and Spiritual Life, Bob Jose, began the ceremony by addressing the recent release of Auderer's body camera footage.
The video showed Auderer, the vice president of the Seattle Police Officer's Guild, burst into laughter while on the phone with the Guild's president, Mike Solan. Auderer is then heard saying of Kandula, "Just write a check — $11,000 — she was 26 [sic] anyway. She had limited value."
"It has come to light that her death was more than just a tragedy — it was enshrouded in injustice," Jose said. "We now know that Jaahnavi's death, although a terrible accident, included a police response that diminished her value of life."
Satyajit Dattagupta, chief enrollment officer, senior vice chancellor and special advisor to the president, spoke after Jose. Dattagupta grappled with the effect of Kandula's passing on the community.
"For a lot of us people that are from the Indian and South Asian diaspora, Jaahnavi represents a sister, a friend, a classmate, a colleague — somebody that represents the dream of wanting a better life," Dattagupta said. "The pain that we feel as a community today, and have felt for a while, is something that cannot be put into words."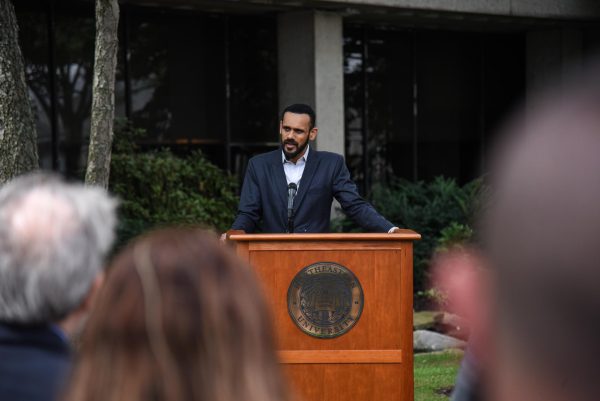 Kenneth Henderson speaks to the crowd from the podium. During the ceremony, Henderson acknowledged Kandula's ambition and courage in being able to travel halfway around the world to attend school in the United States.
Dattagupta validated the frustration many students felt after the recent footage release.
"What happened last week is unfathomable and the words keep echoing in our heads, so if you are a student or anybody that has felt anger or rage, just know that that is absolutely what you should be feeling," Dattagupta said.
Earlier this week, NU Sanskriti, Northeastern's Indian student association, called for a response by university officials and increased support for the Indian student population after the release of the body camera footage. 
"I would say to our Indian and our South Asian students that there is no community without you, you are the Northeastern community no matter what part of the world you come from," Dattagupta said. 
Anjali Premjit, vice president of student affairs in the Graduate Student Government and a graduate student in the College of Engineering, addressed the crowd and urged action.
"There was increased distress that was created in the community recently in light of insensitive and demeaning thoughts made by a police officer about an immigrant woman of color," Premjit said. "That strikes very close to home for most of us, and we can really hope that strict measures are taken to condemn these actions. 
Premjit said she hoped students would "seek comfort in community."
On Thursday, Sept. 14, Kenneth Henderson, Northeastern's chancellor and senior vice president of learning, sent a campus-wide email condemning Auderer's comments and acknowledging the Indian student community's pain.
Echoing his email, Henderson spoke highly of Kandula to honor her at the event.
"Jaahnavi was an international student who came to this country, like many of us in the crowd today, really pursuing her dreams and those dreams were tragically cut short earlier this year," Henderson said. "She traveled half the world to be here in the United States, she left her family, she left the comforts of home, and that takes real courage. It takes ambition, and that tells us a lot about who Jaahnavi was."
Sagar Rajpal, associate director at the Center for Spirituality, Dialogue and Service concluded the ceremony by playing three chimes from a singing bowl as a moment of remembrance and reflection.
Sagar Rajpal plays chimes from a singing bowl. The chimes were played to give a moment of peace and remembrance in honor of Jaahnavi Kandula.
"Know that she was, is, and will always be a celebrated part of our community," Dattagupta said of Kandula.