Hundreds of students rallied in Centennial Common Friday evening in solidarity with Palestinian people as violence continues to rage in Israel and Gaza. It was the second gathering in the past week organized by Huskies for a Free Palestine.
Protestors gathered to listen to speeches at Centennial, holding pro-Palestine messages hand-scrawled on posters and cardboard boxes. As dusk fell, they proceeded to march though campus, moving down Huntington Avenue and circling back to the Common through Snell Library Quad. Students in residence halls along the route were drawn to their windows as the crowd marched through West Village Quad chanting "Free Palestine" and "Long live Palestine."
"We are standing here together witnessing a catastrophic unfolding of history as we mourn people on the ground in Gaza who are being mercilessly bombarded and killed in what we can deem as nothing but genocide," said one of three anonymous speakers at the rally.
On Oct. 7, the Islamic, Palestinian nationalist militant group Hamas launched an attack on Israel, killing an estimated 1,400 people and wounding 4,629, ABC News reported. Israel's response to the attack has killed 3,785 people and wounded 12,500 in Gaza, according to the Hamas-run Ministry of Health in Gaza. Israel declared war on Hamas Oct. 8, and has advised more than 1 million Gazan residents to evacuate in anticipation of a ground invasion.
Since the attack, tensions on college campuses across Boston have intensified. Many students said they feel unable to safely speak out in support of Palestine without being labeled as anti semitic. Even when they do, speakers at the rally stressed, they feel unheard by the university, which one speaker accused of silencing pro-Palestinian sentiments and "promot[ing] academic dialogue only when they feel like it."
The speakers, who remained anonymous and wore masks due to privacy concerns stemming from recent doxxing of students at Harvard University, emphasized their opposition to antisemitism and thanked Jewish students who showed up to stand in solidarity with Palestinians.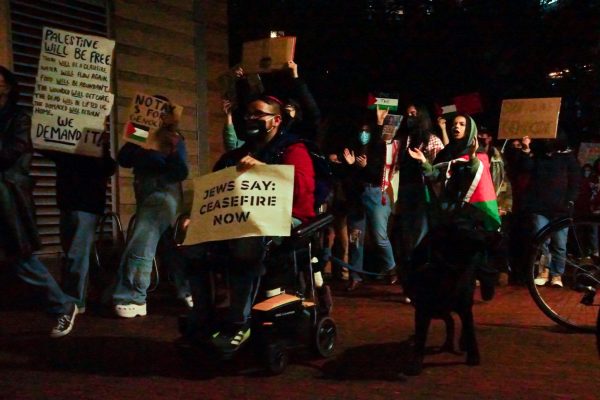 "Zionism and Judaism are not the same thing," one speaker said. "Zionism believes in the formation of a land for Jews at the expense of Palestinians, whereas Judaism is a religion. That is why today we see Jews who oppose Israel's stance on Zionism."
Hundreds of Northeastern students and several student organizations, dissatisfied with the statement published by President Joseph E. Aoun, Provost David Madigan and Chancellor Kenneth Henderson Oct. 10, have released statements, petitions and open letters calling on the administration to address deaths in Gaza and the role of Israel in oppressing Palestinians. 
"As war now ravages Gaza and Israel, we mourn for all the innocent lives that have been lost," the statement read. "We realize that the Israeli-Palestinian conflict ignites strong views on all sides. … But we should all be united in our condemnation of terrorism and the killing of innocent civilians."
Yafa Suleiman, a local Palestinian who heard about the rally on Instagram, has family living in the West Bank. She said she came to the march to speak up for human rights on behalf of those who are scared or not in a position to advocate.
"[My family is] safe, but to me, I'm Palestinian, and everyone in Palestine is my family," Suleiman told The News. "As a Palestinian it's very stressful. I am very proud to be a Palestinian, but at the same time, it's very hard to be one."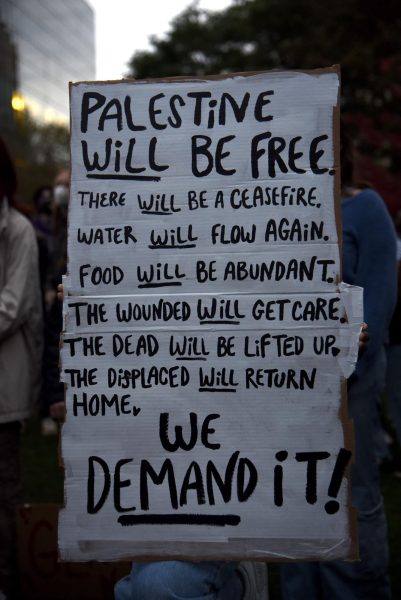 In the days before the march, a post on the Huskies for a Free Palestine Instagram account enumerated five demands for the university: "Issue a statement in support of Palestinian people and acknowledge ongoing genocide in Gaza; take meaningful steps to ensure that Palestinian, Arab and Muslim students are safe on campus; prevent online doxxing, harassment and retribution against Northeastern's community members who speak out in support of the Palestinian people; stop collaborating with organizations complicit in Israel's genocide of Palestinians;" and withdraw all university endowment investments in the war industry. 
"I think it would be important for [the administration] to put out a statement encouraging a ceasefire," said Zoe Goffe, a third-year politics, philosophy, and economics major. "I think a lot of the media is kind of warping that right now and encouraging people to avoid that, but I think obviously peace is the best option here."
As storm clouds crowded the sky and rain began to fall, one of the protest's organizers proposed concluding the rally before the march due to inclement weather. Rally attendees erupted into a dissenting chant: "March in the rain!"
Organizers announced a class walkout at noon Monday and called on students to attend a nationwide Students for Justice in Palestine rally in Washington, D.C. Nov. 4. 
"I encourage everyone that's afraid to speak, to speak up because this is the time," Suleiman said. "We don't want another Native American story to happen. We don't we don't want another Holocaust story to happen again. We don't want another slavery story to happen again."