Hackathon inspires creative solutions for aviation company operations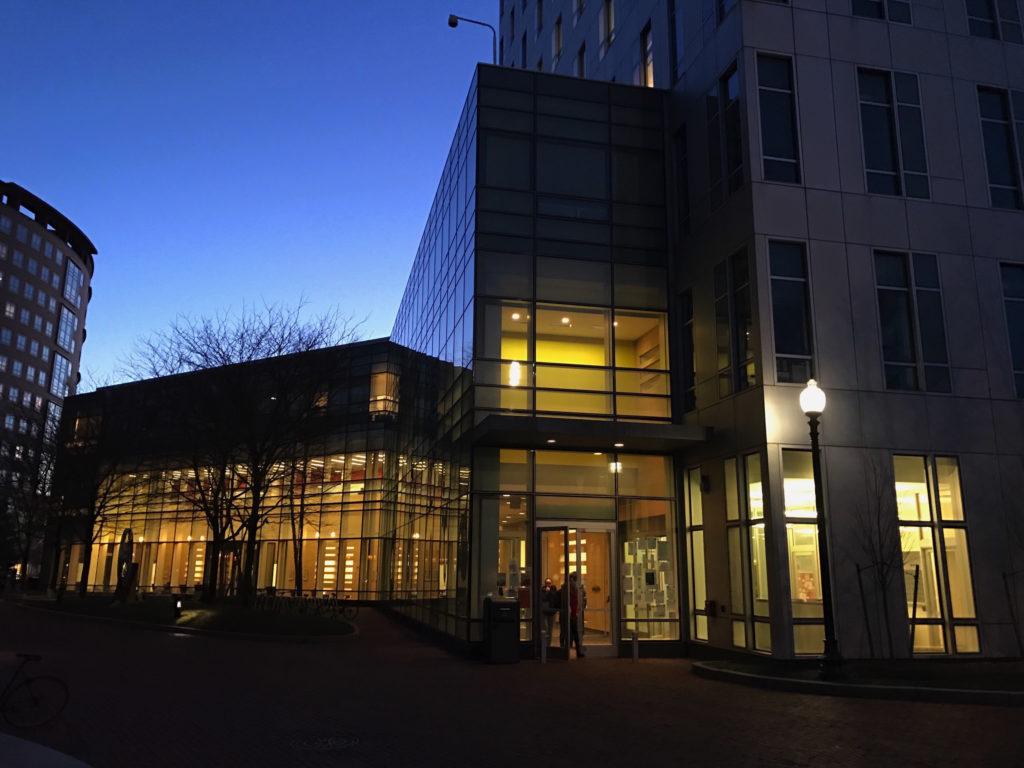 General Electric Co. (GE) turned to Northeastern University graduate students over the weekend to find innovative ways to improve their infrastructure. The multinational conglomerate, specifically its aviation division, sponsored a graduate hackathon in West Village H on Saturday and Sunday which aimed to find new systems and applications for the company's data, shipping and licensing operations.
"There are teams looking at different problems and operations for automation in international trade compliance," said Rob Lawson, the leader of international trade compliance for GE Aviation. "We're looking for ways to evaluate imports and exports so we can be more accurate and faster."
Lawson said participants in the hackathon could take on one or more of four specific problems, which included data transfer, invoice simplification, classification and managing export licenses. Virtually all of the projects produced dealt with massive sets of GE data – finding ways to catalogue the shipping specifications and make accessible for clients and administrators, as well as alerting the appropriate parties when orders were not within the parameters of government export regulations.
Students were especially interested in the hackathon because they could possibly produce solutions that would be used in the real world.
"These are real challenges in the industry," said Parul Singh, a computer science graduate student. "It's not scaled up or down. This is an opportunity to use my skills and to learn with a real problem and create a real solution."
By Sunday afternoon, 50 students participated, forming 10 groups and creating 14 individual projects, said Constance Ferreira, a development officer in Northeastern's College of Computer and Information Science.
Four winning projects were selected by a panel of GE officials, one for each of four categories: best quick hit, most robust, best user experience and most total impact.
Graduate computer science students Shail Shah, Aunsh Chaudhari, computer engineering student Raxesh Patel and informatics student Rasesh Saraiya won the best user experience winner with their project called "Charles Com." The program provided a way for GE clients to quickly gain information by texting an automated service that would instantly reply with whatever information was needed, as they demonstrated with an enlarged video of their texting interface.
For instance, in the group's demonstration, they typed, "What is the shipping number for washer?" and the program instantly responded with the requested information.
The winner for most robust was a project titled "Good To Go," which was a complex software program designed to facilitate the encryption of files sent between clients and the company.
The winner of most total impact was called "Blue Team," designed by data science graduate students Ramkishan Panthena, Sumedh Sankhe, Tyler Brown and Parivash Hajiyani. The project focused on creating a system that could be utilized by administrators and clients to help alert both parties when licenses expired or changed, thereby helping them avoid government fines or sanctions.
Participants came from a range of study areas, but shared some common reasons for being attracted to the competition. Many of them wished to use their skills to make projects that would help people.
"My intention was to build tools to help companies solve problems, and hopefully help mankind," said Amit Patil, an information systems graduate student. "I want to engineer software that gets people to do less manual work. People have lots of problems. Tools like this will help them."
The partnership between GE and Northeastern was a natural one, given the pre-existing recruiting relationship between the two as well as GE's 2016 move to Boston, Lawson said.
"Since we moved our headquarters to Boston, we've made a big investment in Boston," Lawson said. "GE wants to be connected to the city and its universities."
The hackathon is a tool often used to cull ideas from an academic institution, and this one seemed to fit both groups' needs well, said Andrea Cox, GE's manager of engineering compliance and quality.
"We need to find ways of doing things differently," Cox said. "This is a way we can think outside the box, looking for things we can take back and use in the real world. It's crowd sourcing that we're hoping to leverage directly into our system."
Photo by Derek Schuster